LAMBORGHINI'S SUPERCARS Part 1:
1963 Miura to 1990 Countach
If presented with the word 'supercar' in a game of word association, most people's first response would likely be 'Lamborghini'. From the stunning Miura of the 1960s, through to the outrageous Countach of the '70s and '80s, the '90s Diablo, the '00s Murciélago right up to the current Aventador, Lamborghini perhaps more than any other maker has epitomised the supercar genre.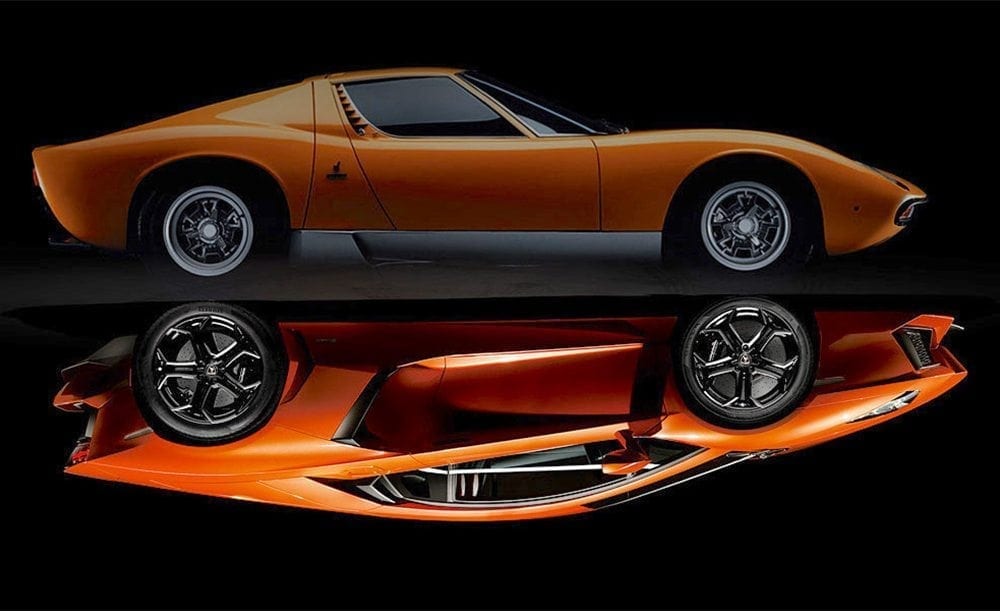 Having founded a tractor manufacturing business in 1948, Ferruccio Lamborghini enjoyed increasing success during Italy's post-war boom of the 1950s. Later on that decade he successfully expanded into making oil heaters and air conditioners, and flush with cash he personally owned a string of Alfas, Mercedes, Jaguars, Maseratis and Ferraris. Having found flaws in all of them he became famously disenchanted with a Ferrari gearbox and took his gripe to Enzo himself. Il Commendatore responded saying that Lamborghini should stick to making tractors and leave the business of high performance cars to Ferrari, and this prompted Lamborghini to form Lamborghini Automobili in 1963. Based at Sant'Agata near Bologna, his cars would be similar in concept to Enzo's road models, but more civilised, luxurious and refined.
Created by a team of swiftly recruited ex Ferrari engineers led by Giotto Bizzarrini who designed a new V12 engine, along with ex Ferrari and Maserati chassis designers Giampaulo Dallara and Paulo Stanzani, plus the renowned body stylist Franco Scaglione, the prototype 350GTV was revealed at the Turin show in 1963.
However, the GTV's styling wasn't universally liked and so Lamborghini had it swiftly reworked by Touring of Milan in time for the 1964 Geneva show. Now called the 350GT, this was Lamborghini's first production model and 135 were built. In 1966 the 350GT was replaced by the more powerful 400GT of which around 270 were built in a few different guises.
With their tubular chassis these front-engined GTs followed a well-trodden path in terms of their basic design, but the extravagant chassis presented on the Lamborghini stand at the 1965 Turin show – a steel 'swiss cheese' monocoque with a transversely-mounted V12 situated right behind the cockpit – was a strong indication of what the company had up its sleeve.
MIURA: 1963-1972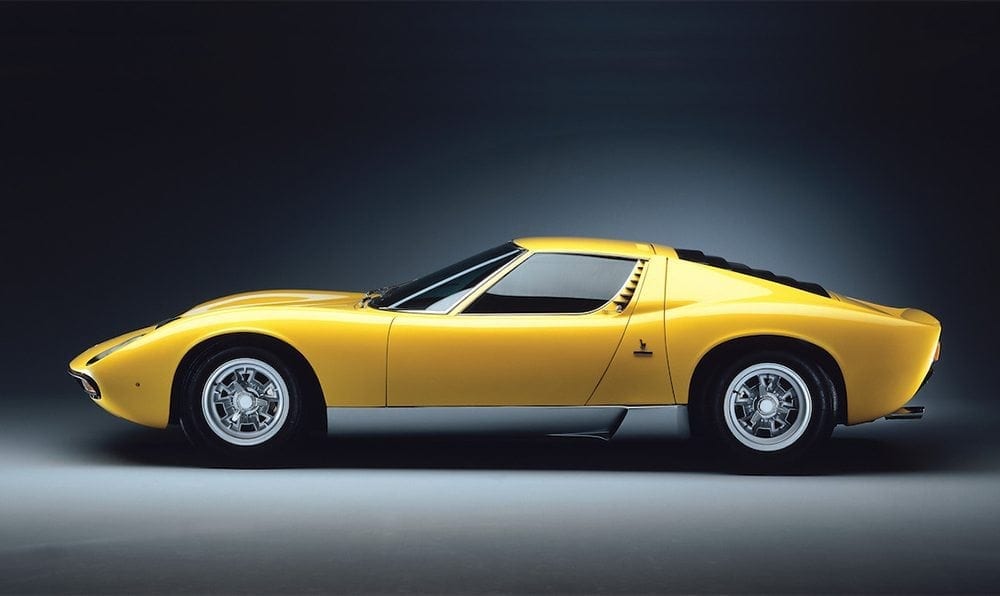 Cooper introduced the mid-engined layout to Formula 1 at the 1957 Monaco GP and took its first win along with the World Championship the following year. Ferrari and Lotus followed suit in 1961, with Ferrari taking that season's title, while Porsche's mid-engined F1 contender appeared in 1962. It wasn't until 1963 that Ferrari campaigned its first mid-engined sports-prototype racer, the 250P, while at the same time Ford was busy developing its prototype GT, soon to become the legendary GT40 racer.
At this time Ferrari and everyone else's high-performance road cars were still front-engined with a tube-type chassis, but Lamborghini's young engineers Dallara and Stanzani were particularly enthused by the midengined Ford and were keen to break the mould.
As soon as he'd seen the Miura's prototype chassis at Turin in 1965, Nuccio Bertone approached Ferrucio Lamborghini and proclaimed, "I am the one who can make the shoe to fit your foot". The pair shook hands, but Bertone's plans were temporarily jeopardized by his chief designer Giorgetto Giugiaro leaving the company to form his own firm ItalDesign. Guigiaro's position was soon filled by the young Marcello Gandini, and so it was down to the relatively inexperienced 25 year-old to interpret and action Bertone's ideas.
The first complete Miura – complete, that is, apart from an engine which didn't yet quite fit into the space allotted – was subsequently unveiled at the 1966 Geneva show and both press and public were stunned by the new P400's (P for Posteriore) purposeful beauty.
Meanwhile, gritty New Zealander Bob Wallace was tasked with developing the car's handling and dynamics, duties which were primarily carried out on the public road, just as he had done with the earlier 350 and 400 GTs.
Although some had predicted that such an advanced car wouldn't make it to production, the Miura was a runaway success at Geneva, enthusiasm was sky-high and Lamborghini's Sales Director Ubaldo Sgarzi was soon flooded with orders. If that weren't enough, Ferrucio's flair for publicity saw him park a bright orange Miura outside Monte Carlo's Hotel de Paris shortly before the 1966 Monaco GP. With a company employee revving the V12 engine, Casino Square soon became jam-packed with onlookers and this alone provoked a further 17 orders, which in turn persuaded Ferrucio to reconsider his view that the Miura was too outlandish for public consumption and that it could be more than an image boosting show car.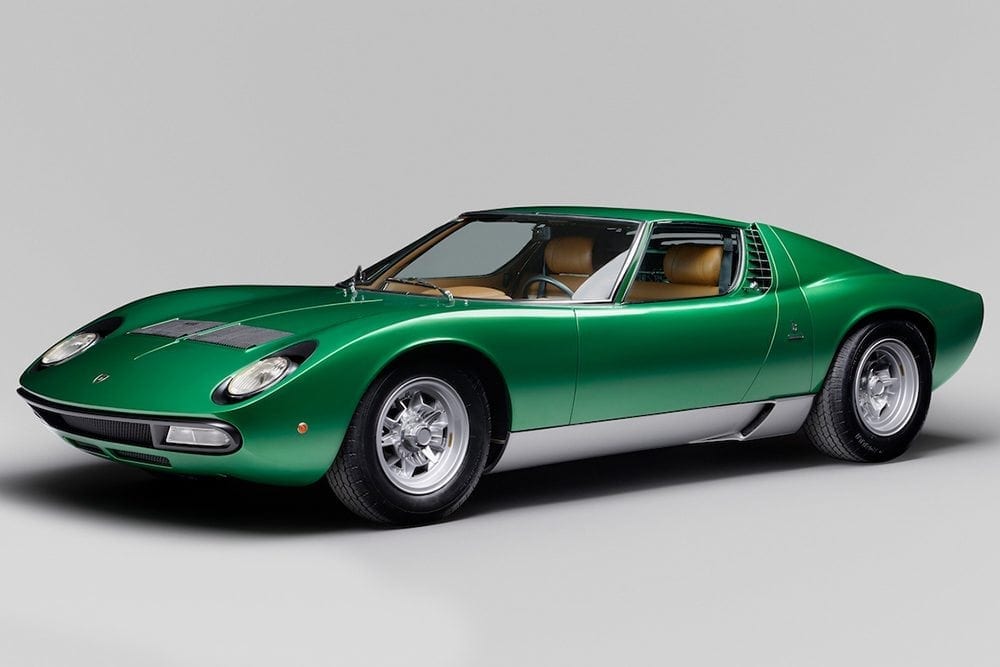 Named after the fiercest breed of fighting bull (Lamborghini, perhaps not coincidentally, was a Taurean), Miura production started in earnest in 1967. Ferrari launched its mid-engined 6-cyl 246 Dino that same year (a year that also saw first deliveries of the mid-engined 4-cyl Lotus Europa), but it would be a good six years before the Maranello firm would launch its first mid-engined 12-cyl road car, the Berlinetta Boxer. During this time the Miura became the choice of playboys, film stars, musicians, industrialists, racing drivers, the rich and royalty, and for many the Miura established Lamborghini as the world's premier supercar maker – the term 'supercar' not being common parlance until the Miura.
Although the Miura's proportions and styling were undoubtedly influenced by Ford's GT, the Miura was necessarily much roomier inside and its transversely-mounted V12, with a BMC Mini-inspired unit-construction transaxle delivering drive to the rear wheels, made its design unique.
The P400's 350bhp 4-litre engine was essentially an upgraded version of the 400GT's 320bhp V12, while the P400S introduced in '68 made 360bhp and the 1971-73 P400SV put out 380bhp. This kind of power coupled with such a low-slung and slippery body certainly made the Miura fast, but without the benefit of wind tunnel development, and with 42/58 front/rear weight distribution, the Miura's front end could become worryingly floaty when approaching its claimed 170mph top speed – a situation addressed if not fully resolved by the SV's small chin spoiler.
In addition to those engine upgrades, plus certain transmission and lubrication system improvements, the 400S and 400SV also benefitted from wider tyres and improved creature comforts such as leather upholstery, electric windows and optional air conditioning.
Accurate production figures for older cars are hard to come by, but it's thought that a total of 763 (or 764) Miuras were built from 1966-73, including 275 P400 and 338 P400S. Just 150 SVs were built, largely because when the SV was launched at the 1971 Geneva show it went almost unnoticed as Lamborghini had also brought along a prototype version of the Miura's replacement. Suddenly the Miura, unarguably the world's most stunning car, had become old hat.
Footnote
Despite Ferrucio Lamborghini's directive that his firm would never go racing, Bob Wallace and Paulo Stanzani built one competition spec Miura based on an SV. With twin front spoilers and very wide wheels concealed by massively flared arches it was dubbed the 'Jota'. Being 250kg lighter and with 440bhp, it could hit 62mph in 3.5 secs and was capable of 190mph. It never did race, it was sold in 1972, and subsequently written-off in a high-speed crash.
Utilising many Jota components, about half a dozen (max) Miura SVJs were built by the factory in period, while just one Miura Roadster was created by Bertone in period for the 1968 Brussels show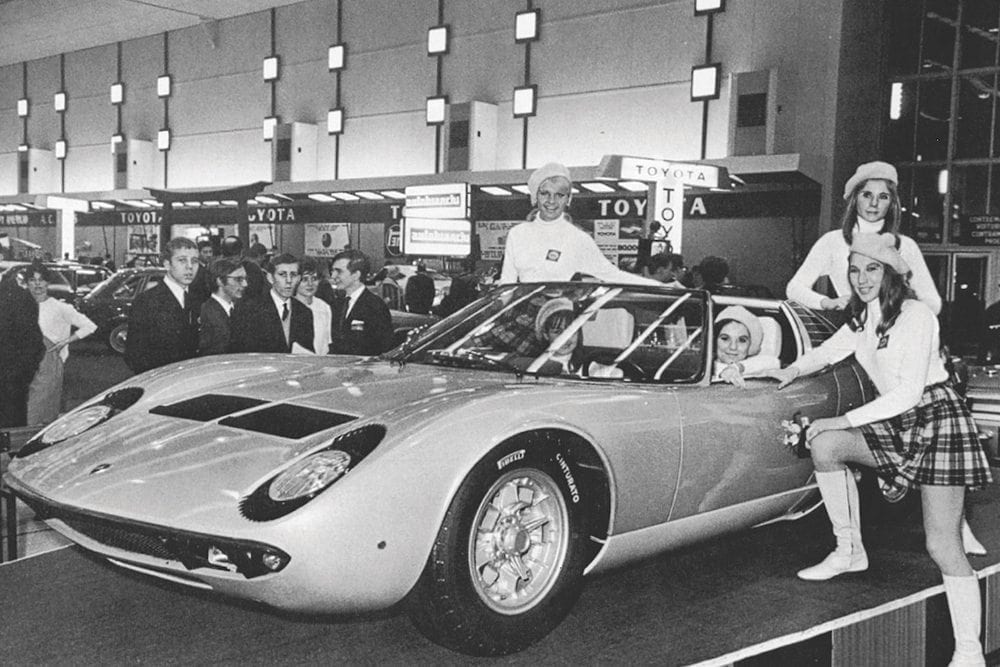 COUNTACH: 1974-1990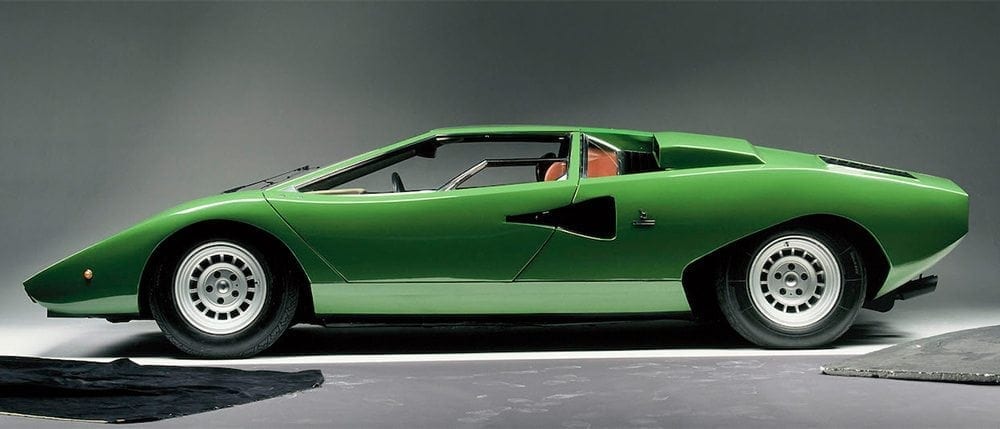 Notwithstanding the competition from rival Maserati and its new midengined 306bhp V8-cyl Bora, it might have been expected that Lamborghini's 380bhp Miura SV would have been the Geneva showstopper of 1971. And with Enzo Ferrari having long insisted that a midengined 12-cyl road car would be too much for Joe Public to handle, the Maranello firm's 339bhp 365 Berlinetta Boxer wasn't revealed until the Turin show later in the year. This, you would have thought, would have put the Miura SV firmly under the Geneva spotlight.
But it was not to be for Lamborghini completely upstaged both itself and indeed every other car at the show by revealing the Marcello Gandini designed LP500 – the first Countach prototype. According to Lamborghini 'This utterly spectacular model left all those who saw it speechless with admiration'. Its sleek and aggressive snout with a flat windscreen connected seamlessly to the front bonnet, and a roof that continued over the engine cover all combined to form a single gradual curve that went from front to rear. In short, the scissor-doored Countach ('Countach' being a complimentary Italian expletive) marked a truly innovative, astonishing and completely new stylistic concept and, once again Lamborghini had completely destroyed all preconceived notions of how a supercar, or indeed any car, could be.
Although the bright yellow LP500 (LP for Longitudinale Posteriore) show car was a prototype, everyone know it would go into production, not least because customers tussled on the stand to be the first to own one and sales staff were fully occupied taking orders.
The LP500 reverted to a tubular space-frame chassis and it was powered by a longitudinally-mounted 5-litre V12, with the gearbox located ahead for the engine so that the gearstick was directly connected thus avoiding any long and imprecise linkages. This meant that the propshaft went from the gearbox through a tunnel in the engine block to the rear differential. All somewhat unconventional, but unconventional was no barrier to Lamborghini.
During development the LP500's 4,971cc engine proved to be something of an overkill and so by the time the production version was launched at the Geneva show in 1973, engine capacity had been reduced to 3,929cc and it was now called the LP400.
At around the same time, industrial relations were becoming a major headache for the patriarchal Ferrucio Lamborghini, and frustrated by this he sold his majority stake in the firm to the Swiss Georges-Henri Rossetti in 1972, and his remaining shares to friend René Leimer the following year.
However, work at Sant'Agata continued unabated and the 370bhp, 180mph LP400 went into full production at the end of 1973 with the first car being delivered to an Australian in early '74. From then until 1977 the factory turned out 158 LP400s.
The 350bhp LP400S was introduced in 1978 and, aside from its reduced power due to the tough economic and political constraints of the time, the 400S featured a number of noticeable revisions. These included a front spoiler to reduce lift, an optional rear wing (primarily for aesthetics) and, not least, boxy wheel arch extensions to house the new 5-hole Campagnolos shod with the newly introduced low-profile tyres by Pirelli and Michelin. The suspension was also redesigned by Dallara to capitalise on the new wide wheels and revolutionary rubber.
A total of 237 LP400S were delivered from 1978-1982, but these were rocky times for Lamborghini. The company had been in temporary receivership and by 1980 it was considered finished and put up for liquidation. Fortunately the wealthy owners of a sugar empire in Senegal, French brothers Jean-Claude and Patrick Mimran, stepped into the breach becoming major investors in 1980.
The brothers, assisted by Emil Novaro (their plenipotentiary in Sant'Agata), immediately started reconstructing the company and Nuova Automobili Ferruccio Lamborghini SpA was formed in January 1981. Ex Maserati engineer Giulio Alfieri was hired as Technical Director and the Mimrans assumed full control four months later.
The Mimran's capital injection finally made it possible to resume serious development work on the Countach which had essentially remained unchanged since 1973. In 1982 its V12 motor was taken to 4,754cc – the first capacity increase on Lambo's top-of-the-range model since the Miura. Now with 375bhp and called the LP5000S (5000 so as not to be confused with the LP500 prototype) the Countach was back up to speed – a claimed 181mph to be precise. The 5000S also benefitted from a subtle cabin refresh, the rear wing had now become de rigueur and 321 were built up to 1985.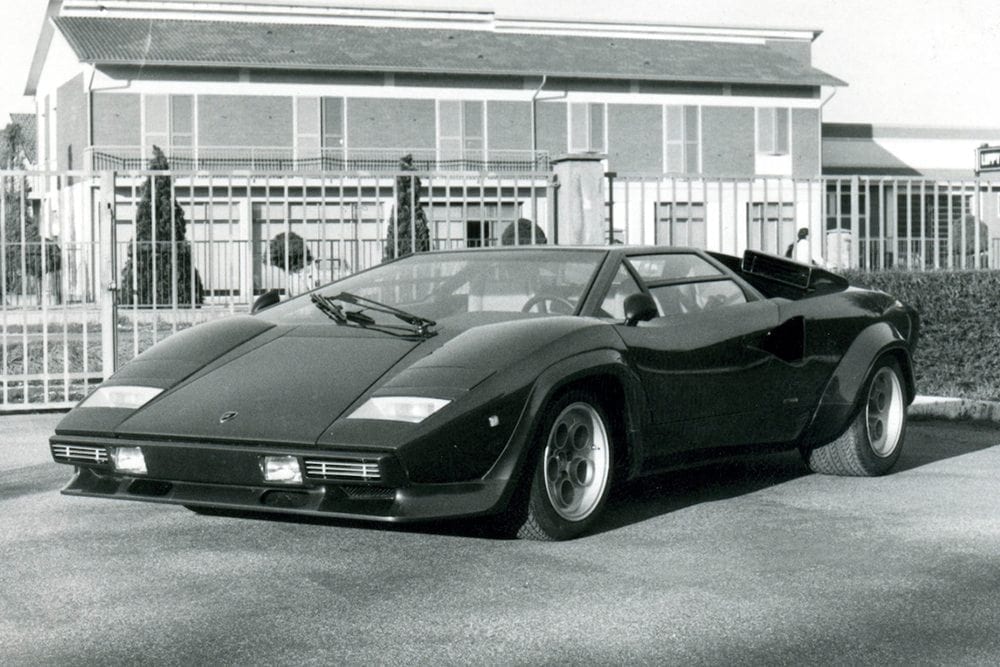 With Ferrari's 10% cheaper, 390bhp Testarossa having débuted the previous year, the Countach now had to up its game again, and to that end Alfieri created the 5000S Quattrovalvole which was first presented at Geneva in 1985. In addition to the new 24-valve cylinder heads (48v in total) the QV had its six side-mounted carbs relocated to above the heads for improved breathing (thus reducing the already restricted rear vision to almost zero), and capacity was upped again, this time to 5,167cc.
These changes to what was essentially now a 22-year old engine were good for a rival-trouncing 455bhp, 0-60 in 4.9 secs and a max of 183mph. On later QVs the downdraught Weber carbs were replaced by Bosch fuel injection and power curiously dropped to 414bhp. This was barely enough to fend off the 180mph Testarossa, but a previously unprecedented 631 QVs were built from 1985-89 making it the second best-selling Countach model.
By 1987 Lamborghini was back on firmer ground financially, and on 23rd April 1987 the company's ownership transferred from the Mimrans to the US Chrysler Corporation headed by Italian-American Lee Iacocca. Now with even greater financial support a variety of costly concepts and projects were undertaken, not least the Mauro Forghieri-designed 3.5-litre V12 Formula 1 engine built initially for the French Larrousse équipe (and later the Lotus and Minardi F1 teams). But largely because of these glamorous Detroit-led activities the now 16-year old Countach found itself some way from the top of Iacocca's list of priorities.
The final Countach, the 25th Anniversary model, was first presented at the Italian Grand Prix at Monza in September 1988 – the same year the Countach's successor, code-named the 132, had initially been due for launch. An all-new range-topping model would of course have better supported Lamborghini's silver anniversary celebrations, but the Countach's replacement wasn't to appear until 1990.
Instead some 657 25th Anniversary models were delivered in 1989 and 1990, thus bringing the total Countach production figure to around 2,000 and proving that the car never lost its appeal. This despite the 25th Anniversary looking like a body-kitted special with all manner of go-faster grilles, skirts and strakes being added by none other than a young Horacio Pagani…
On the upside, the 25th Anniversary's engine was back up to 455bhp and the car now boasted a reduced 0-60 time of 4.7 secs with the same 183mph max. And with Pagani on board, Lamborghini was also now using of carbon-fibre and composite materials, while the final Countach also benefitted from the latest in engine management technology.
Its contentious styling aside, the 25th Anniversary was the most refined, best handling and fastest series production Countach built.
Footnote
A handful of made-to-order Countachs were built, three of them for the Slovenian-born Canadian oilman Walter Wolf. As one of Lamborghini's most valued and influential customers he was credited with 'inventing' the brash style of the LP400S and 5000S.
Apart from the original LP500 prototype (which was destroyed during crash testing in the UK), in 1984 Lamborghini built just two LP Turbo S versions based on the LP5000S, the second of which still exists. With a twin-turbo 4,754cc V12 they made 748bhp at maximum boost and could accelerate to 62mph in 3.7 secs and hit 208mph.
In 1987 Lamborghini's newly formed Composites Department headed by Horacio Pagani (standing on the right in the photo) constructed the one-off Countach Evoluzione. This had a chassis made entirely from composite materials in place of the standard steel spaceframe. The cabin, floor, roof, transmission tunnel and both bulkheads were also made from composites, as were some body panels, the rest being in sheet aluminium. It weighed getting on for 500kgs less than a production 5000S QV and it achieved reached 205mph at the Nardo test track but it proved unsuitable for production as any accident impact might well have required renewal of the entire chassis. The car was destroyed in an experimental crash test, but much of the newly acquired technology found its way into future models.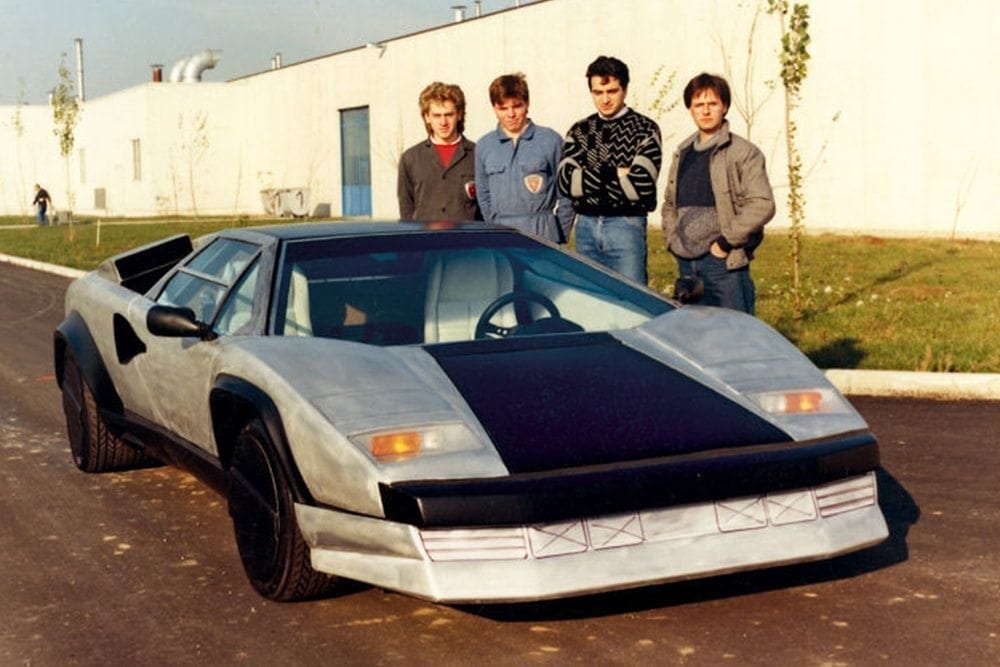 NOT DONE YET…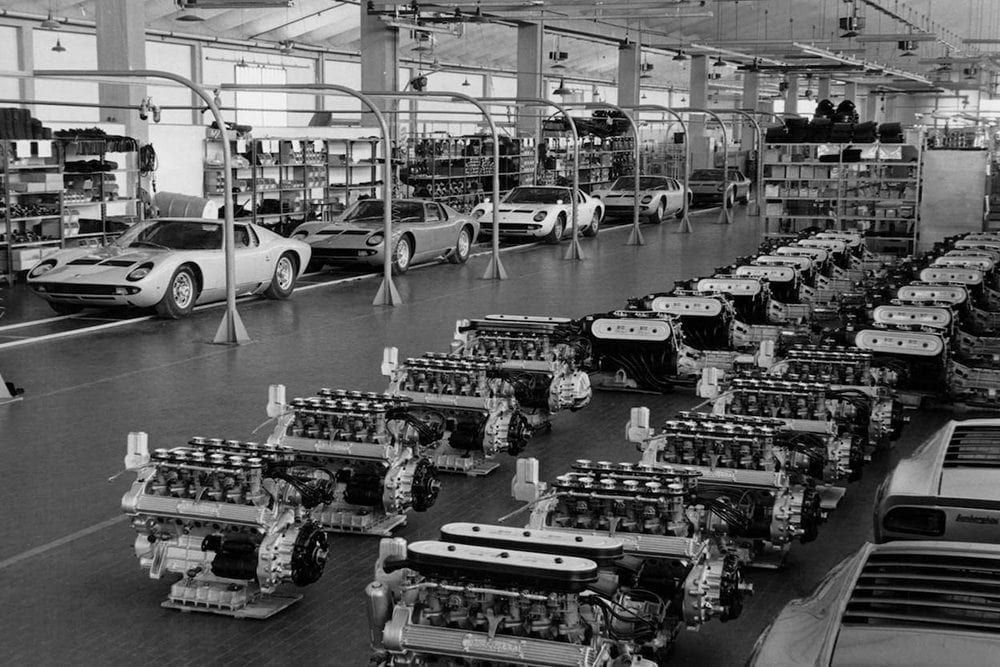 Here ends Part 1 of our Lamborghini supercars timeline. Many would say that the Miura and Countach were the purest, most outrageous and fabulous production supercars ever built, and with current values such as they are (see below) the market would agree.
Others however could well argue that Lamborghini's best was yet to come as the more recent generations are more accommodating, easier to drive, better built, faster still, no less exotic and, not least, somewhat more affordable. So, standby for Part 2 coming soon: Diablo, Murciélago and Aventador.
Meanwhile we've created bespoke finance solutions for many Lamborghinis for numerous clients. To discuss how we might help you own the car of your dreams, please call one of our experts today on 020 3355 0035.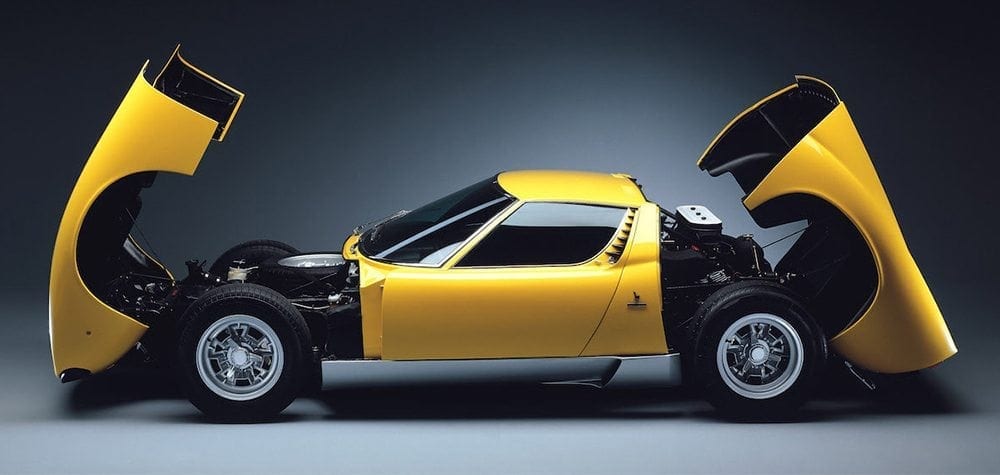 LAMBORGHINI MIURA
Engine: 3,929cc 60° V12 cyl
Transmission: 5-speed manual, RWD
Power: from 350 to 380bhp @ 7,000 to 7,800rpm
Torque: from 262 to 286lb/ft @ 5,000 to 5,500rpm
Performance: 0-60mph from 6.7 to 6.0 secs, 165 to 180mph max
Weight: from 1,125 to 1,298kg (dry)
Price in 1968: £5,800 approx
Value now: up to £965k (P400), £1.2m (P400S), £2.25m (P400SV)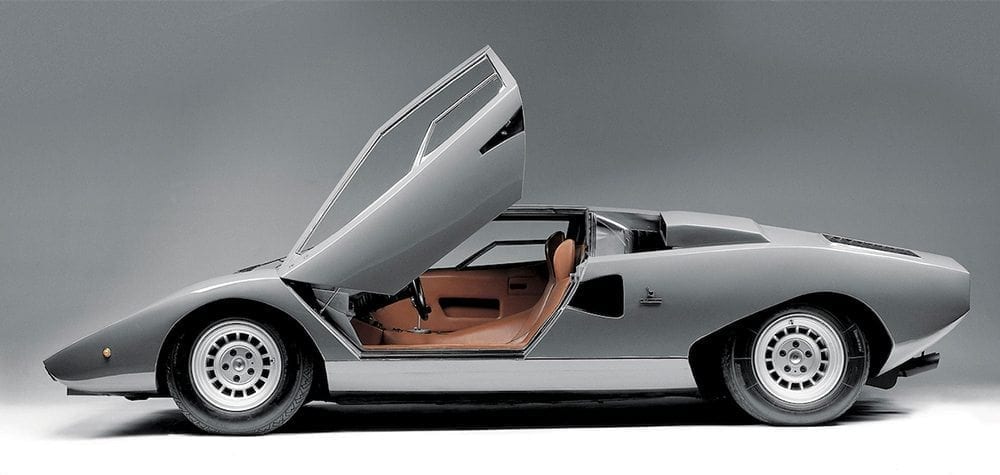 LAMBORGHINI COUNTACH
Engine: 3,929cc, 4,754cc & 5,167cc 60° V12 cyl
Transmission: 5-speed manual, RWD
Power: from 350 to 455bhp @ 7,000 to 7,800rpm
Torque: from 268 to 370lb/ft @ 4,500 to 5,200rpm
Performance: 0-60mph from 5.9 to 4.7 secs secs, 174 to 183mph max
Weight: from 1,065 to 1,590kg (dry)
Price in 1985: £76,000 approx
Value now: up to £241k (LP5000S), £322k (LP400S, LP5000S QV & 25th Anniversary), £1.21m (LP400)