Considering investing in a classic car but have reservations about complex and costly maintenance, availability of parts and unforeseen running costs? We're here to help.
Following our How to Buy a Classic and How to Maintain a Classic guides, we've now put together a shortlist of affordable but highly desirable models which, if purchased in very good to excellent condition, should all prove to be relatively easy and inexpensive to keep on the road while also providing driving thrills and ownership satisfaction, not to mention their investment potential…
We won't claim that they'll be quite as low-stress as, say, a new Lexus, or that every spare part for them is sitting on a shelf ready and waiting, but these cars are all supported by a good network of well-established owners clubs and specialist dealers, all of whom would be pleased to assist before and after any purchase (the relevant owners club being your first port of call).
Please note that our quoted estimated values are ballpark figures (Summer 2018) for cars in very good-to-excellent mechanical and cosmetic condition but without significant competition provenance or special historical importance.
Summer is here and the choice is yours.
Alfa Romeo Duetto/Spider
Produced in four different series over a 27-year period, Alfa's Spider was the last car to be designed by Battista Pininfarina, founder of the famous Turin design house. During that time the car was subjected to more than its fair share of facelifts and minor restyles – some dictated by growing safety legislation, with some during the 1980s looking hurried, which in turn didn't improve the car aesthetically.
The early boat-tailed Series 1 model – the Duetto (1966-68) – was publicized by its role in 1967's The Graduate, although with a price close to that of a much more powerful Jaguar E-Type even that exposure didn't make early Spiders a common sight on UK roads.
With a smooth 1,570cc 4-cyl DOHC engine making around 110bhp, the Duetto was good for 113mph and some 6,325 were built. This was soon followed by the 117mph Spider 1750 Veloce (1967-69) of which 8,701 were built. The distinctive boat-tail rear end gave way to the Series 2's cut-off Kamm-tail in 1970.
Over the years a number of engine capacities were offered from 1.3 up to 2.0 litres with the more powerful 131bhp 2-litre variants being good for 124mph.
With sweet steering, a slick 5-speed gearchange, efficient disc brakes, a decent ride, a one-handed hood operation, a civilized demeanour and mostly gorgeous looks, the Spider proved popular on both sides of the Atlantic. By the time production of the final version ended in 1994 a total of 82,500 had been built.
Ford Lotus Cortina
Originally officially called the 'Consul Cortina developed by Lotus', the car was the result of a tie-up between Lotus and Ford of Britain, the latter seeking a sportier image for its ubiquitous family saloon.
With a 105bhp 1,558cc twin-cam engine from the Lotus Elan, the Mk 1 was good for 0-60 in 8 secs and 105mph, while other modifications also significantly improved handling and braking over the standard Cortina. A number of other equipment and cosmetic enhancements also set the Lotus model apart, both inside and out.
The redesigned Mk II replacement came on stream in 1966, and now with 109bhp it was good for 108mph. Production ceased in 1970, by which time 7,333 Lotus Cortinas had been built, the Lotus badging had been dropped, the cream/green paint was no longer obligatory and the model had been renamed Cortina Twin Cam.
NB. Be aware that Lotus Cortinas are easily faked, and replicas masquerading as genuine items are not uncommon. Due diligence with regard to originality and provenance is paramount.
Ford Mustang
The original 'pony car', the Mustang first hit US streets in the Spring of 1964. At first it was available as either a notchback hardtop coupe or convertible, with the sleek Fastback version joining the line-up a few months later. Its appeal was immense, and huge sales figures were bolstered by the other Detroit makers having little or nothing to rival it at the time.
The first entry-level Mustangs were powered by a modest 170 cubic inch (2.8-litre) 105bhp straight six, but many opted for a V8 which up to the early 1970s was available in at least six different capacities with anything from 164bhp right up to the 400+bhp of the 'Boss' V8.
The Mustang was redesigned for 1967 and it grew somewhat in the process – the most famous example being the '68 GT Fastback as driven by Steve McQueen in Bullitt. To combat the increased competition from rival makers it was redesigned again for 1969 with a further increase in size and heftier styling, and this was followed by more of the same for 1971 – as driven by Sean Connery in Diamonds Are Forever.
Although produced in great number, genuine original Mustangs are none too common, so expert verification of any prospective purchase is highly advisable.
Datsun 240Z
During the 1960s Japanese makers demonstrated that they could build good sports cars – Honda's S800 and Toyota's S2000 being two fine examples – but by the end of the decade Japan had no two-seaters to sell to the US in significant number; no car to rival the sporty but dating British models that had sold so well stateside over the previous 10-15 years.
Enter, in 1969, the Datsun 240Z. What the 240Z may have lacked in brand cachet it certainly made up for in other ways: beautifully proportioned European styling, a no-nonsense 2.4-litre 151bhp straight six engine with 5-speed gearbox, rear-wheel drive and 125mph performance. The Z also had well sorted steering and suspension, and like the E-Type and MGB hardtops it offered a good practicality with its hatchback and ample loadspace for two.
So, not only did it tick all those boxes, it also sounded brawny, had charisma and was competitively priced – all good reasons for its six-year, 156,076 car production run. A true GT, the 240Z has long been considered one of the greats among 1970s sportscars.
Lotus Elan
At a fraction over 1.42 metres in length and weighing around 700kg, the Elan was both compact and light, and with a raucous 1,588cc 4-cyl DOHC Lotus-developed Ford engine under the bonnet it also went like stink.
Under its undeniably pretty glass-fibre body was a novel steel backbone chassis, sophisticated wishbone suspension and all-round Girling disc brakes. Produced in kit form or ready built in 1500, 1600, S2, S3, S4 and Sprint guises, power went via a 4-speed gearbox to the rear wheels and rose from the early (and very rare) 1500's 105bhp up to the 126bhp of the 'Big Valve' Sprint introduced in 1970.
In its day the Sprint was exceptionally rapid: Autosport mag recorded 0-60 in 6.2 and 0-100 in 18.9 with a 121mph max. In a straight line up to around 90mph it was a true giant killer, and with exquisite steering, tenacious roadholding and terrific chassis balance almost nothing could hold a candle to an Elan's agility and speed on a B-road blast.
Austin Healey 3000
Preceded by various versions of the 4-cyl Healey 100 of 1952 and the 6-cyl Austin Healey 100/6 of 1956, the Austin Healey 3000 Mk. I arrived in 1959.
Featuring similar, low-slung and shapely two-seat roadster bodywork, the so-called 'Big Healey' was initially powered by a 124bhp 3-litre straight six which with a 4-speed gearbox gave it 114mph potential. Front discs came as standard, with overdrive, wire wheels and nominal rear seats being optional.
The Mk. II 3000 arrived in 1961 and its triple carbs helped boost power to 132bhp. This was soon followed by the Mk IIa with a fully convertible hood, wind-up windows in place of side-screens and a curved windscreen, while 2+2 seating had now become standard. The final Mk. III incarnation of 1964 boasted 148bhp, a 120mph top speed, servo-assisted brakes and a glossy walnut dashboard.
Despite the 3000's unsophisticated engine and chassis, dated steering and crude suspension, its looks, performance and character made the car a sales success. Almost 43,000 were built, the vast majority exported to the USA, while works 3000s also proved to be a force to be reckoned with in international rallying.
Sunbeam Tiger
Introduced in 1959, the pretty Sunbeam Alpine was the Rootes Group's affordable sports car offering. However, with a 4-cyl 80bhp motor the Alpine wasn't a hot performer, and following the 4.7-litre Ford V8-powered AC Cobra's success, it was triple World F1 Champion Jack Brabham who initially sowed the seed to shoehorn a big V8 under the Alpine's bonnet.
The idea soon came to fruition. Ford supplied Rootes with its 4.2-litre (260ci) V8 engine (smaller, so as not to upstage the Cobra), and following some under-bonnet re-engineering and bodyshell stiffening, the Sunbeam Tiger went on sale in the US in '64 and in the UK the following year.
The Mk. I Tiger wasn't so much a drag strip weapon– more a long-legged mile-eater with a plush wood-veneer dash. Even so, with 164bhp and lashings of torque, 0-60 came up in 9.5 secs while top speed was an respectable 117mph. Although the Tiger's suspension and steering wasn't state-of-the-art, and it still looked much like its humble Alpine sibling, it sold well enough with 6,495 Mk. Is built, most exported to the US.
In 1967-68 Rootes built 571 Tiger Mk. IIs powered by Ford's 4.7-litre (289ci) V8, (7-litre Ford V8s now powered Cobras). Not sold new in the UK, the 289 was identifiable by its cross-hatch front grille and body stripes, the 200bhp Mk. II had a 7.5 sec 0-60 time with a 125mph max, although an optional 245bhp performance pack was also available.
It was all going rather well, but then Chrysler took a 100% controlling interest in Rootes, Chrysler bosses didn't want Ford engines in their cars and, despite trying, no Chrysler V8 motor would fit and so Tiger production ceased in early '68.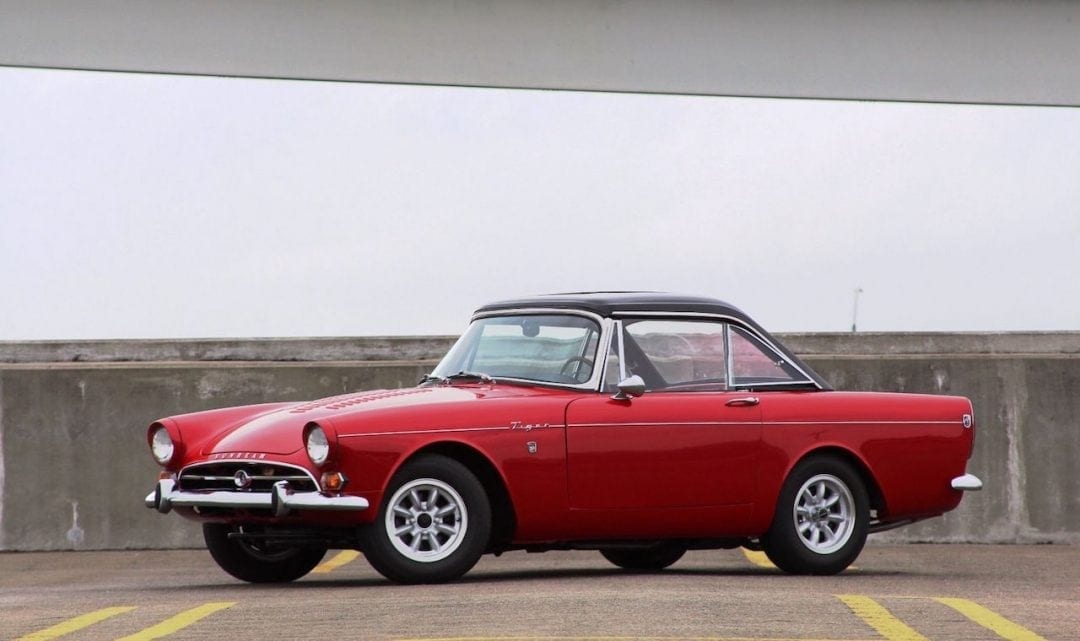 Porsche 924 Carrera GT
Despite its front-mounted 2-litre 4-cyl VW/Audi engine producing a lacklustre 123bhp, the entry-level 924 introduced in 1976 was a sales success and it greatly helped haul Porsche out of its big financial hole originally caused by the early 1970s oil crisis. The much more lively 170bhp 924 Turbo followed in 1977, and in 1979 Porsche exhibited a 924-cum-944 styling concept some three years ahead of the 2.5-litre 160bhp 944's introduction.
Meanwhile Porsche had decided to enter three 924 'Carrera GTs' in the 1980 Le Mans 24hr race, but to do this it needed to build 400 of them for Group 4 production-class homologation. This it duly did, but not until the following year when 406 were built, including 75 in right-hand-drive (all pre-sold) and six prototypes. (The three racing 924s finished the '80 Le Mans in 6th, 12 and 13th place in a prototype class against much faster machinery.)
Based on the 924 Turbo, the production Carrera GT came in red, silver or black. A higher compression ratio, digital ignition and an intercooler helped raise power to 210bhp, which coupled with just 1,180kg of weight meant 0-60 in 6.9 secs and 150mph. Extra air intakes, glassfibre wheelarch extensions and a lowered ride height were some distinguishing features, while its 49/51 weight distribution contributed toward the car's sublime handling.
It may not have a rear-mounted 6-cyl air-cooled motor, but the 924 Carrera GT has nonetheless become a genuinely iconic Porsche.
We're passionate about classic cars at JBR Capital and we can quickly build a bespoke finance package to suit your needs. So if you're interested in acquiring the classic of your dreams then please call one of our experts today on 020 3355 0035 to explore your finance options. Meanwhile, happy hunting and good luck.