The Grand Prix de Monaco Historique, an event that occurs every two years, reunites a great variety of car enthusiasts and collectors in the Principality. It provides racing events for cars as early as the 1930s, all the way up to the 1980s with everything from Formula 1 to sports cars participating in different categories, all vying for the top spot.
In conjunction with this event, there were two significant auctions taking place, by Bonhams and RM Sotheby's.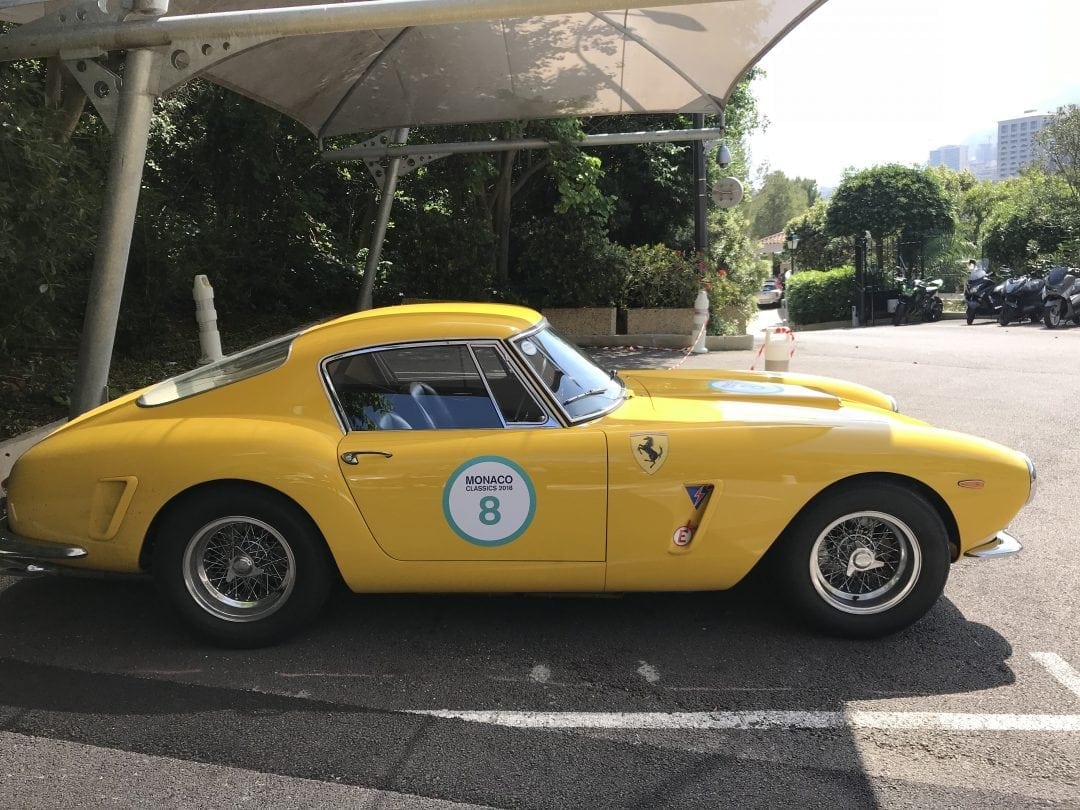 The Bonhams auction was hosted at the incredibly scenic location of Villa La Vigie, located at the Eastern edge of Monaco. The mansion, built in 1902 by Sir William Ingram, possesses breathtaking views of Monaco and the auction hosted Monegasque royalty as well as ex-Formula 1 supremo Bernie Ecclestone and everyone in between. As the warm sunset on this spectacular location and the eclectic array of cars, the bidding began in the cooler evening with a buzzing atmosphere brewing in the tent.
The early No Reserve lots got bidding underway with most reaching prices around their lower estimates. A 1970 Fiat 500 Beach car in baby blue (lot 101) being the greatest performer having reached a hammer price of €30 000.
The no reserve status continued with a grey BMW 2002 Turbo (lot 107) doing well, reaching a price of €88 000 (est. between €80 000 and €120 000) while the 1968 BMW 2000 CS Coupé (lot 104) proved to be a bargain, hammering down at €18 000, its lower estimate being €35 000. The disappointment for the brand continued as its iconic 80s supercar, the 1M, one of 453 built and finished in orange, failed to sell, bidding started at 420 and could only manage 460.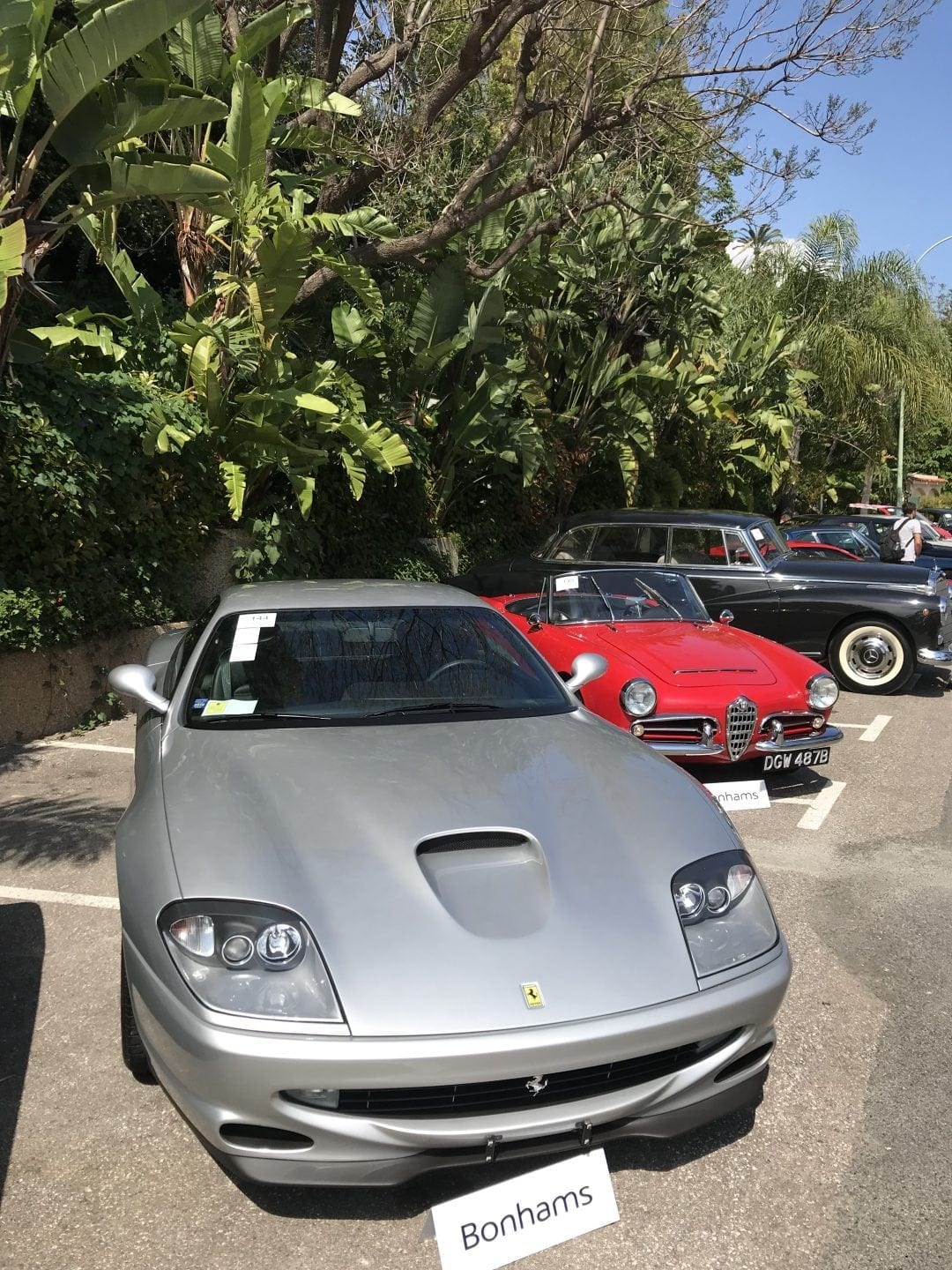 Various Porsches were under the hammer throughout the weekend, featuring in all auctions. Lot 115 was a matching number and highly original 1973 Porsche 2.7 RS Touring with a sought-after factory sunroof, finished in white with black Carrera detailing, offered without reserve. The bidding commenced at €300 000 and was fiercely competed for within the room; however the enthusiasm soon dissipated, as the car made €500 000, probably partly due to the fact the car had covered 248 000 kilometres. Its subsequent lot (116) was a 1992 Porsche 964 Carrera RS, finished in a rare combination of Rubystone Red with purple inserts in the seats. The car's relatively mild mileage, good condition and no reserve appeal meant it achieved a very respectable hammer price of €200 000. A much more modern equivalent of this was lot number 142, a 2011 Porsche 911 (997) GT3RS 4.0 litre coupe. This car was delivered new in France, subsequently being registered in the UK. A well optioned, white example, the bidding commenced at €280 000 and stopped at €320 000, short of its low estimate of 380 000.
The sale covered the market quite well, also including several pre-war gems. The first of which was a 1931 Bentley 8-litre tourer (lot 123), one of 80 surviving examples, bodied as a 2 door, 4 seater tourer. Unfortunately, the room's pricing expectations did not much that of the owner's as bidding ceased at €600 000, shy of its low estimation of €800 000. The car is believed to have been sold after the auction. Lot 134 was a 1950 Delahaye 135M Cabriolet, beautifully finished in silver over a light blue interior with a dark blue canvas hood, hammering out at €260 000.
Mercedes and Ferrari hit low estimates
Mercedes Benz was represented by two silver roadsters. Its star of the show was a 1957 300 SL Roadster (lot 128) with matching numbers chassis, engine and transmission, looking impeccable after having had a thorough restoration in 2011. Its great condition and provenance meant it sold above its low estimate at a hammer price of €1 060 000. The next lot was a 1967 280 SL Pagoda which was one of the first 100 to be delivered and was used as a test and show car. This example had recently had a full body off restoration by marque specialists and the gavel went down at its low estimate of €200 000.
Ferrari provided some headline acts over the auction weekend but Bonhams' 1953 Ferrari 625 TF Two-Seat Spider (lot 137) did not live up to its high expectation. The factory competition car saw bidding start at €2.8 million and it quickly petered out at €3.4 million, while its low estimate was at a much greater €4.5 million. The previous lot was a very desirable 1974 Ferrari 365 GT4 Berlinetta Boxer. The example presented very well in its factory colour combination of "Grigio Ferro" over red leather interior with black inserts. The car that was gifted by Enzo himself to Peter Schetty sold at a hammer price of €290 000, just surpassing its low estimate. A 2002 Ferrari 575M coupe finished in a similar colour combination, with a manual gearbox and only 1800 kilometres on the clock failed to sell as the bidding in the room could only get up to €180 000 from its €140 000 starting point, shy of its €240 000 low estimate.
One of most talked about lots of the sale was number 132, a 1955 Jaguar XK 140 SE with an original C Type racing engine and a body styled by Giovanni Michelotti, in need of a restoration. The unusual lot had some interested because it had a racing engine and others because it was such a unique project yet to be completed. This interest certainly manifested itself in the room as at least 5 different bidders entered the race to buy it. The no reserve lot soared past its estimate of between €20 000 and €50 000 and hit a scarcely believable €310 000.
Formula 1 cars prove popular
The crown jewel of the auction was the 1993 McLaren-Cosworth Ford MP4/8A Formula 1 (lot 119) single seater that Ayrton Senna drove to his 6th and last victory at Monaco. Besides that significant history, the car is in running condition and possesses the very same engine and gearbox which propelled him to that race win, something very rare for a race car. The room was a hive of activity when this lot came up and bidding quickly jumped from 2 to 3 million euros. The momentum gradually slowed as every bid seemed to be a bigger and bigger hurdle. The gavel came to rest when the price hit an eye watering €3.65 million, the ultimate owner of which is rumoured to be none other than Bernie Ecclestone.
Ayrton Senna had a second race car come up for auction, one with a very different but arguably greater significance for his Formula 1 career. His 1984 Toleman-Hart TG184 (lot 124) which he used to finish 2nd that year in Monaco in treacherous condition show cased his talents as a driver and kick started his reputation for his wet weather mastery. This example had bidding start at €400 000 and it continued all the way to reach €1.4 million; eclipsing its high estimate of €1 million.
The last of the trio of F1 cars had to be a Ferrari race car was also up for auction on this faithful Friday evening. As dusk turned to dark, a 1987 Ferrari F1/87 (lot 135) that was campaigned by Michele Alboreto. This car was one of the last to be commissioned under Enzo himself and comes from the era of the turbocharged V6 monsters, churning well beyond 1000 horsepower's and driven through a 6 speed manual gearbox. The bidding for this car was slightly more subdued than for the two previous Formula 1 cars and bidding reached €580 000.
Overall, this auction proved successful for Bonhams as the excited atmosphere in the tent lead to most cars finding new homes at prices which hovered around the low estimate. The fact that quite a few of the cars were without reserve certainly helped the sale through rate but, nonetheless, the market seems to be paying a premium for rare, good quality and low mileage examples.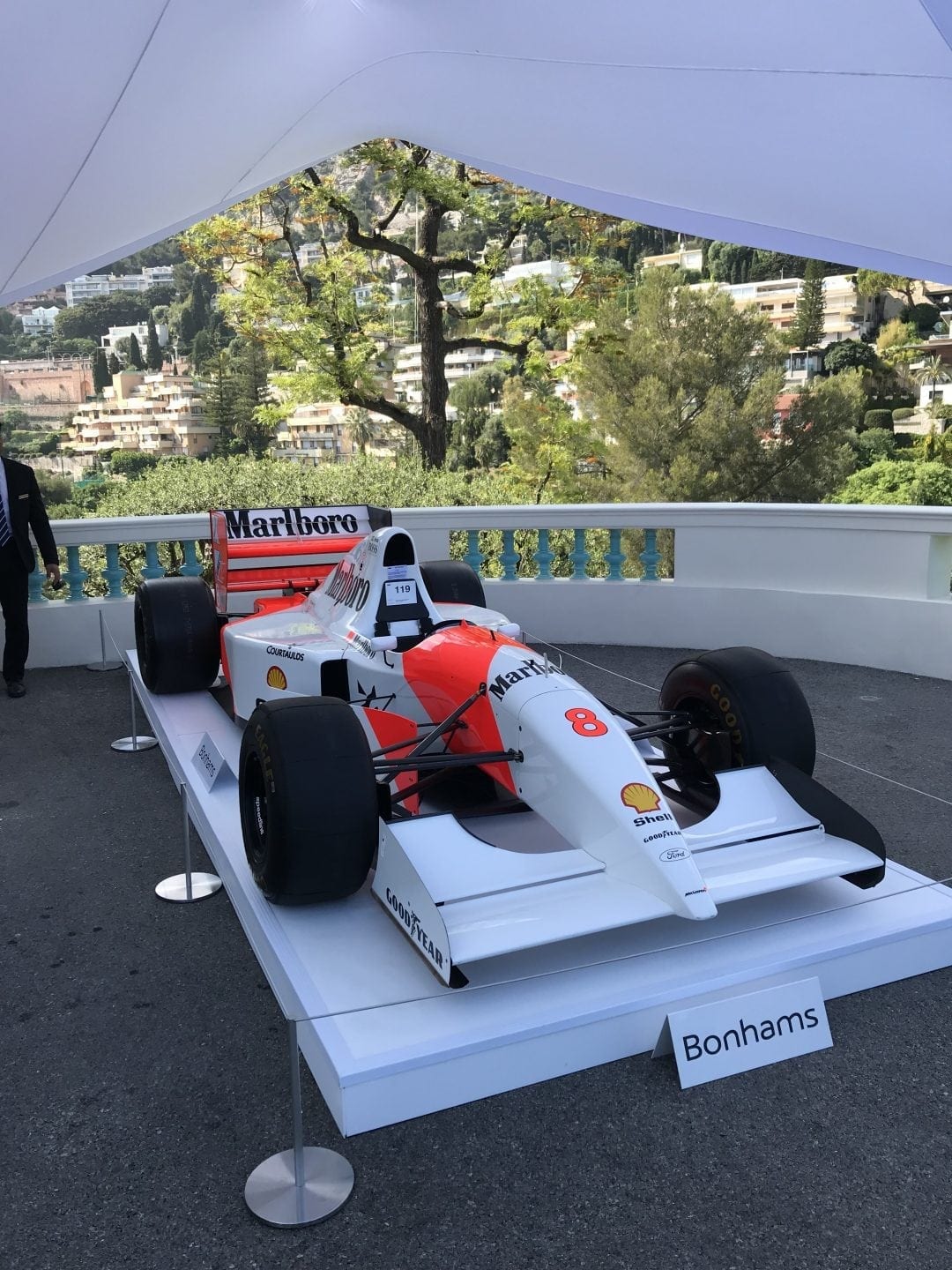 The RM Sotheby's auction took place on the Saturday 12th of May, on a slightly cooler and clouded afternoon. The car enthusiasts and potential bidders flocked to the modern super-structure of the Grimaldi Forum as the airy auction room was filled with a diverse pallet of machinery for sale.
Bidding commenced to a great start as a concourse condition 1960 Chevrolet Corvette (lot 114) flew past its estimates (€90 000-€120 000) and reached €290 000 at the hammer. The light blue example, with its original engine, certainly raised some eyebrows with that sale figure.
The bidding in the room was also strong for one of the most iconic cars of the British motoring industry, the Jaguar E-type. Lot 133 was a recently restored example with matching numbers, originally delivered to the US, reaching its higher estimate of €200 000.
Lots 139-142 featured a diverse mix of Porsche 911s. The first of which was a rare 996 Turbo S which was optimistically estimated at between €150 000 and €200 000. Despite its unique colour of "Gelbe Orange" and its high spec, the car's momemtum could only take it to €110 000. A similar fate awaited an earlier produced Porsche Turbo, in Group B spec (lot 140), which saw its price reach only €135 000. The star of this collection was an extremely highly specced and low mileage 1973 2.7 RS Lightweight (lot 141) ordered new by a Finnish Rally driver. This car failed to produce as the bidding war between phone bidders and members of the audience ended at €1.1 million, well shy of its low estimate of €1.4 million. The poor performance for Porsches continued as a 1969 Porsche 911 2.2S, used for testing and development only managed €180 000, even though its matching numbers engine and chassis had recently been restored by marque specialists.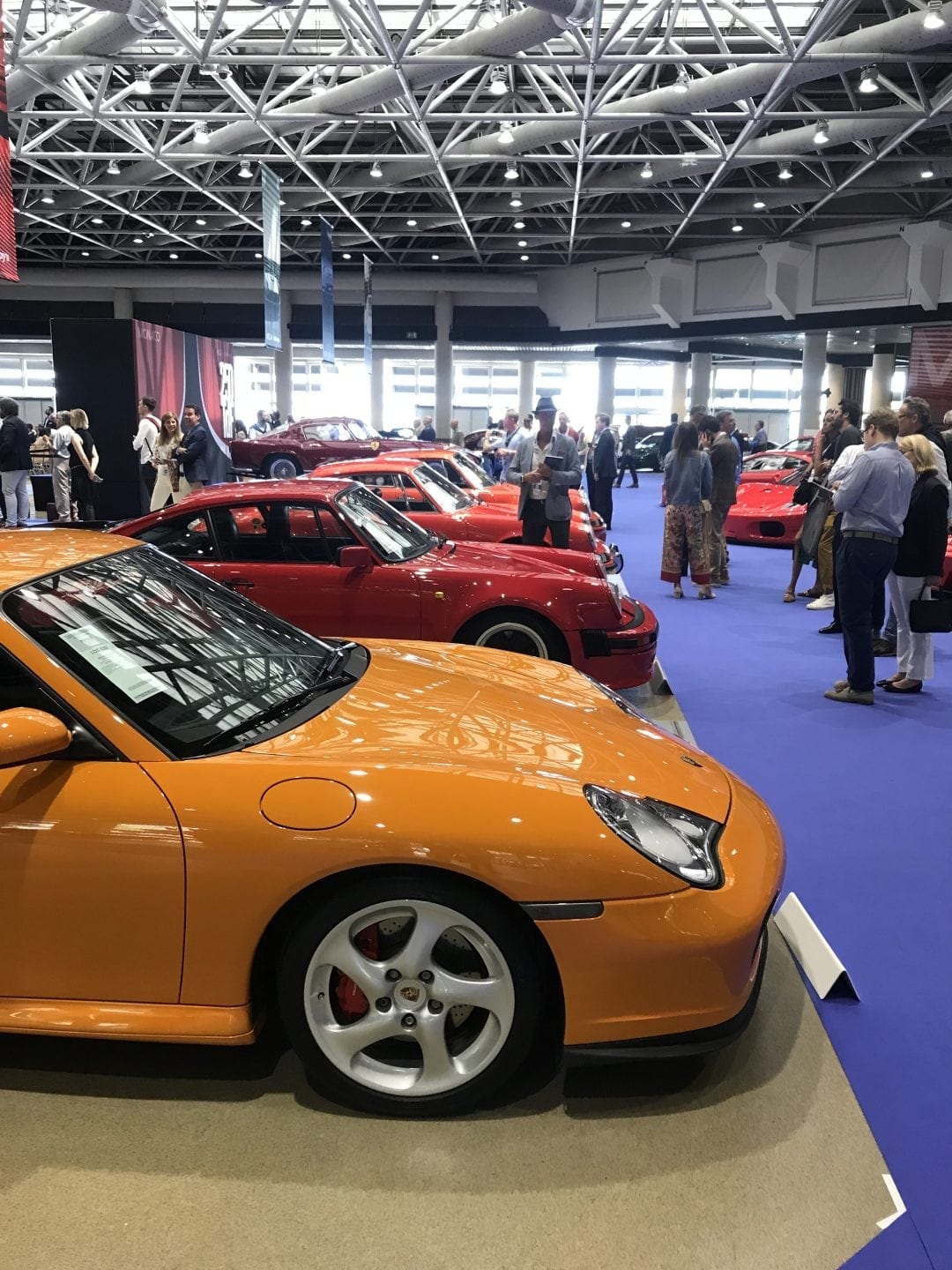 Mixed results for Ferrari
Ferraris featured heavily in this auction as all eras of the marque's prestigious history had representation. Results were mixed throughout for the most prestigious of collecting brands. Interestingly, both highly original examples of the Ferrari 265 GT4 BB (lot 121), the most desirable of Berlinetta Boxers, and the Ferrari Dino 246 GT, once owned by F1 driver Rene Arnoux, just eked out sale status, performing just shy of their lower estimates.
The modern Ferrari supercars of the 2nd millennia were on show at the auction with mid-engined V8s and front engined V12 cars for sale. The earliest mid-engined car to come up on the block was a 2003 Ferrari Challenge Stradale (lot 149), formerly owned by Jean Todt. This car's discreet silver over black specification did not help it to sell as the hammer passed at €160 000 (estimated between €190 000 – €210 000). The young brother to this car, the 2008 Ferrari 430 Scuderia (lot 123), also in silver over black, with only 2000 km on the clock only managed to reach €175 000 (estimated between €200 000 – €240 000).
The front-engined V12s of this era did better with lot 184, a 2011 599 GTO in a metallic black with an interior inspired by Hermes leather hitting its low estimate of €600 000. Meanwhile, a stellar 2006 Ferrari 575 Superamerica (lot 158) performed well in excess of its high estimate, as competition in the room was fierce for this example, with bidding beginning at €400 000 and ceasing when the hammer went down on the price of €760 000 (est. €550 000 – 650 000). The price achieved was due to its single ownership history, low mileage and great condition.
There were two more surprising results from the Ferrari cars as a 1974 Ferrari Daytona, with the desirable plexi-glass covered headlamps and factory air-conditioning, did not meet its expected low estimate of €550 000, only being able to make €490 000. A 1984 Ferrari 512 BBi with less than 11 750 miles from new was sold without reserve and the gavel descended on the highest bid of €160 000, €65 000 shy of its lower estimate.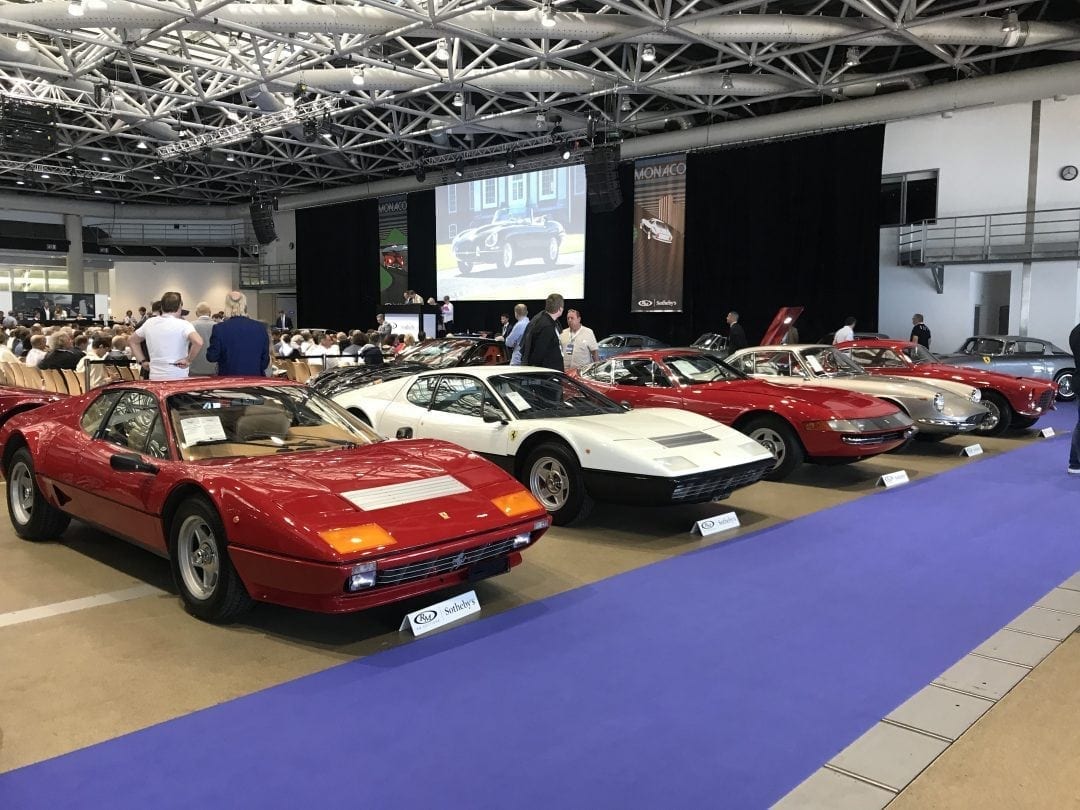 275 GTB sets the room abuzz
The stars of the auction were also dominated by Ferraris as the highest selling car was a light blue over tan interiored 275 GTB (lot 160) restored to concourse condition by marque specialists. This example had the room buzzing as bidding for the car commenced at €1.1 million and two individuals competed until the final price of €1.85 million. The other good performer in the high stratosphere of classic Ferraris was a 1962 Ferrari 250 GT Cabriolet Series II, the 172nd of 200 ever produced, with its matching engine and gearbox. The bidding for this car began at €800 000 and seemed to have lost momentum at €1.2 million but a second lease of life took it up to €1.5 million, well above its lower estimate. The most anticipated lot, and highlight of the auction, was a 1957 Ferrari 250 GT Berlinetta Competizione in "Tour de France" body style. This car has period competition history, with its highest finish of 2nd at the 1958 Grand Prix of Spa-Francochamps. Despite being Ferrari Classiche certified and matching numbers, the car did not meet or surpass its lower estimate of €7 million, the gavel ending the bidding at €6.2 million.
The limited production modern supercars performed well at the auction too with a 2015 Bugatti Veyron 16.4 Grand Sport Vitesse (lot 148) reaching just above its higher estimate of €1.5 million (est 1.2-1.5 million), despite being of US origin. A brand new RUF CTR3 Clubsport, fresh from this year's Geneva Motorshow, also exceeded expectation with a hammer price of €980 000.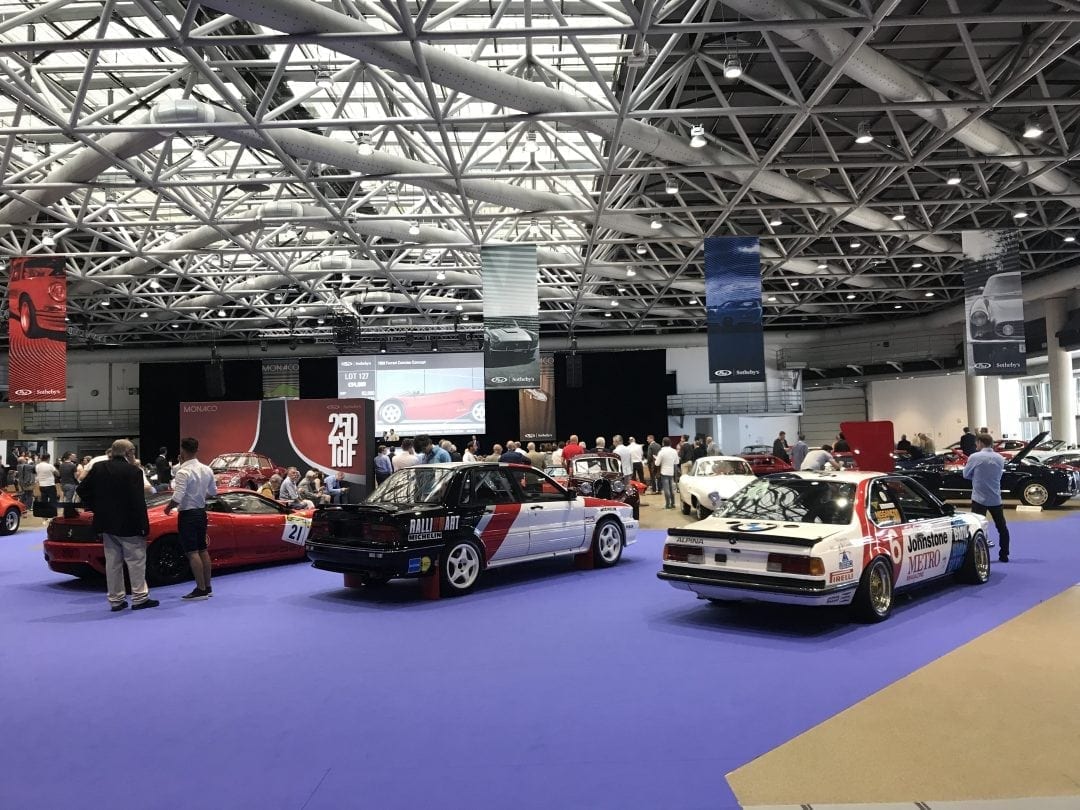 Stunning cars brought mixed results
Overall, both auctions experienced good sales over the Historique Grand Prix weekend, with the divide between the good and the exceptional automobiles there to be seen.
Some potential trends in the market were evident as totally original cars did not perform as expected. High end modern performance cars produced in relatively high quantities did not sell well but the highly limited examples did better than predicted. Porsche's incredible performance over the last 2 years or so was not evident at these auctions, with even the most desirable of examples not selling. The most sought after manufacturer, Ferrari, saw its mediocre examples experience some disappointing results. On the other hand, the blue chips of the brand in the most expensive bracket sold well, except for the star of the RM Sotheby's auction.
If you're looking to acquire your dream car at auction, JBR Capital can arrange a bespoke auction finance solution for you, as well as options for equity release on your existing vehicles.