"Give me Goodwood on a summer's day, and you can keep the rest," the great, late British racing driver Roy Salvadori famously said. Well, after a year of on-off-on lockdowns and very little driving, Goodwood on a spring day, when the sky is the colour of burnt toast, when the thunder is rolling across the Sussex downs and when then next downpour is set to arrive any second, will do just fine too.
These were the conditions that 200 drivers of a truly dazzling array of supercars braved to descend on the West Sussex motor circuit on Sunday 16th May. For Supercar Driver (SCD.), which organised the event, it was a case of history in the making, as Director Adam Thorby explained:
"We started Supercar Driver ten years ago with a very simple ethos. It's all about getting people out in their cars and enjoying them. We've had events all over the UK and in Europe, but we've never been to Goodwood before."
It was a historic moment for Goodwood too. The motor circuit, which the current Duke of Richmond's grandfather, Freddie March, opened after the war in 1948, had surely never seen an ensemble like this before. In the first of two, hour-long parade laps, 100 supercars sat five abreast in a line that seemed to stretch back forever.​
It was an epic sight that caused even the very elements to hold their breath. For a moment, the stormy weather abated, and the sun shone briefly down. And when the drivers began to rev the engines of their charges, and the cry of at least 100,000 horsepower howled around Goodwood's historic pits, the hairs on the back on the neck of everyone stood on edge.

At the wheel of a Porsche 911 GT 4.0-litre RS, Lincoln Reeves gave an insight into what it was to be right at the heart of the action. "I looked over, and there was McLaren P1 next to me. I had a Pagani Zonda F in front of me and a Koenigsegg behind me. It was quite surreal to take it all in. OK, we were behind a pace car, but you could still get up into third gear and have a little play at times."
McLaren Senna, Porsche 959, McLaren Mercedes Benz SLR 722, Porsche Carrera GT, Koenigsegg Agera R, Ferrari 330 LMB, Ferrari LaFerrari, Ferrari F50, Ferrari Dino GTS, Aston Martin Vantage GT 12, the line-up went on and on, the machinery ever more mesmerising and ever more disparate. Yet, there was a common bond. The joy on the drivers' faces and the sheer pleasure at being in the company of fellow enthusiasts again were universal.
A grinning Jodie Kidd flashed the V for Victory sign from the cockpit of a hyper-rare Koenigsegg CCXR Edition. Capable of mustering up to 1000bhp from its flex-fuel 4.8-litre twin-supercharged V8, it is one of only 49 examples ever built. The only problem, from Jodie's point of view, was that it was still rolling on the exact same rubber it had left the factory in Ängelholm, Sweden, on 13 years ago.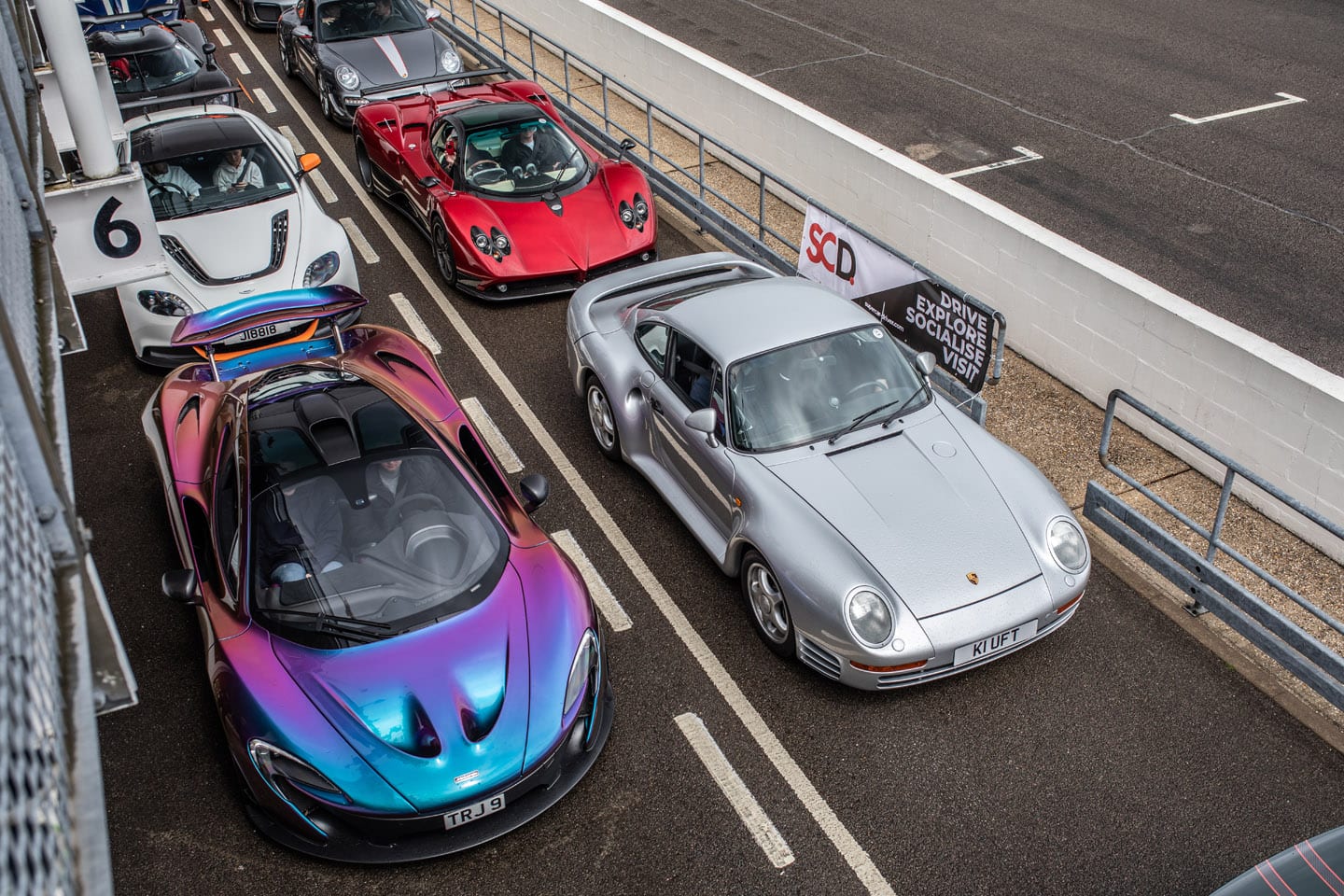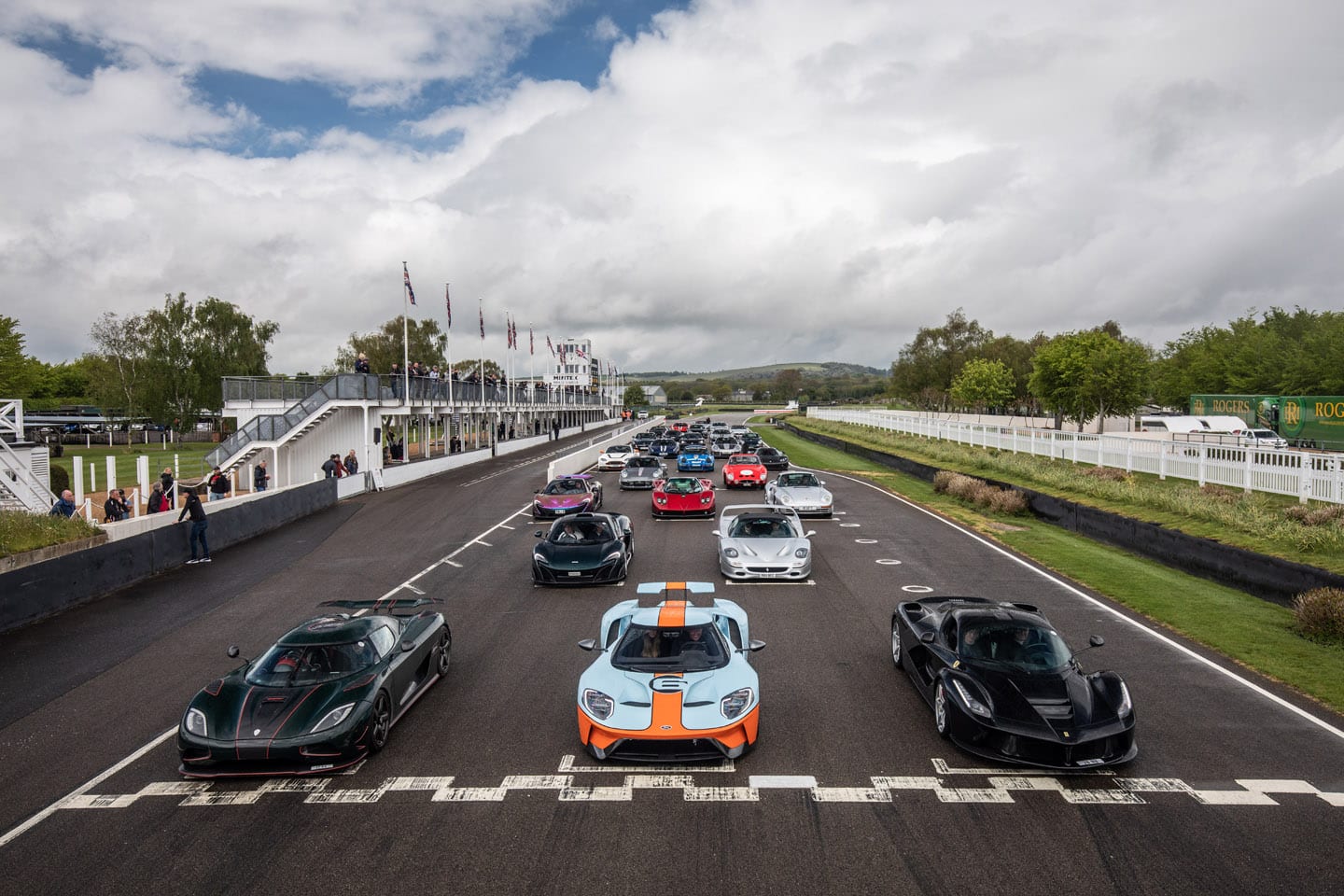 "It's got an awful lot of torque for such very old shoes," reported Jodie. "OK, so we weren't going that fast today behind the pace car, but it was the first time I had driven it, and when the rain came down, it made for a lot of fun on those '08 tyres. It really is a proper driver's car, though. It's just so analogue – with no electronic assistance systems to help you out." The grin on Kidd's face, and her infectious laugh, showed not just how much she had enjoyed driving around the Goodwood Motor Circuit but also the day Supercar Driver had put together. "It's just magic to be driving a car like this and to be out and about seeing people again."
After the parade laps, some guests indulged in full, helmets-on, hammer-down flat-out laps of a circuit, the layout of which has remained unchanged since it opened in September 1948. Many others were happy to chew the fat on their bacon sandwiches from the Goodwood NAFFI wagon, catch up with friends, make new ones and enjoy the sunshine, which finally turned up.

"This is my first outing with Supercar Driver. I only joined the club two months ago," Larry Annan told us. "It seems to be full of really good people, and the cars they've brought along are just amazing."
Glancing at the rain streaks and track dirt on his Ferrari 458 Speciale, Larry smiled ruefully. "I love my car; it's like a piece of art. It's like a sculpture to me. But like all these guys here, I like to use it. It will take me the whole day to get it clean again tomorrow. But I don't mind. That's the price you pay for driving it – not keeping it in the garage just because it's raining."