These articles you're about to read cover the History of Concept Cars and Concept Cars of the Future. We bring this to you during the run up to the Tokyo Motor Show – historically an event in which global car manufacturers take us on a trip to the future in a number of extraordinary concept cars.
Car manufacturers have built concept cars as prototypes for styling, technology and engineering innovations since the late 1920s. Touring the world at motor shows, the concept car is often a distillation of ideas – and a reflection of the auto industry at that given time. But it should also be considered a recruiter of talent: concept cars have inspired and energised generations to want to work in the car industry.
This is no better articulated than in the extraordinary curves of the 1938 Buick Y-Job – considered the father of all concept cars. Designed by Harley J. Earl, a genuine visionary, the Y-Job wowed the crowds with an electric roof and electric windows – but it was the sculptural body that subsequently inspired generations of car designers. It was a car that never saw production, but its influence extended far and wide into the automotive world.
Furthermore, the Y-Job is one of the most acute demonstrations of how the concept car reflects the world around us. It was created during the era of the Great Depression in the USA, when disposable incomes shrunk and car manufacturers struggled to attract customers into showrooms. Harley Earl's Y-Job was envisioned as a 'dream car' – a four-wheeled antidepressant and a slice of pure mechanical optimism for a nation (and a world) blighted with crisis.
Curiously, in the same decade the architect and design visionary R. Buckminster 'Bucky' Fuller presented a very different idea for a car of the future: the three-wheeled Dymaxion. This was a far more practical vision of advanced motoring, and one which focused on fuel efficiency and high speeds. The prototypes were blighted by handling limitations and crashes, and the lozenge-shape drew gasps of horror rather than joy, but it was perhaps the fact that the Dymaxion reminded the consumer of the negatives of the world around them – rather than the promise of a greater future – that led to its eventual failure. However, 80-years later the Dymaxion's emphasis on interior space efficiency and its 'MPV' styling are the norm.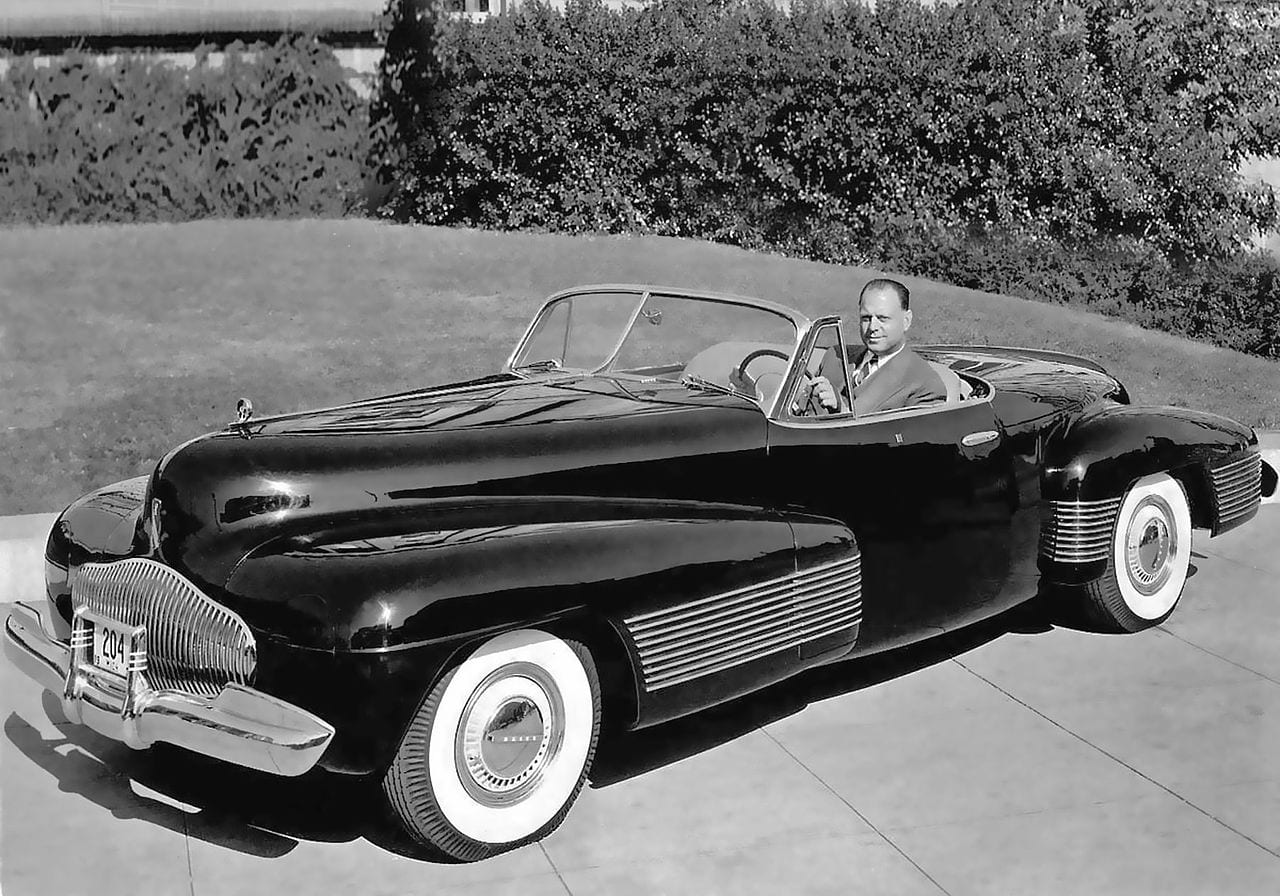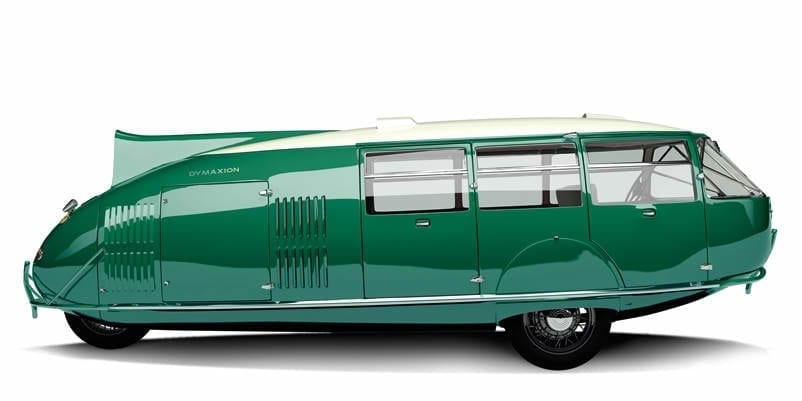 The Y-Job influenced general US car design for fifty years, but occasionally a concept car comes along that makes rival manufacturers surrender to its brilliance – and vow never to mimic or replicate. The Lamborghini Countach concept, revealed at the 1971 Geneva Motor Show, is one such car. The styling, by Marcello Gandini of Bertone, remains a car design high-point and like the Y-Job before it inspired and encouraged a generation to seek a future in the car industry.
On the eve of the 2019 Tokyo Motor Show, it feels like the car industry is seeking another Y-Job or Countach moment. The challenges facing the world of transportation are well documented – and there is a real need for a vehicle that blends the practicality of Dymaxion, the allure of the Y-Job and the chutzpah of the Countach.
Intriguingly, the answer may not be a concept car at all. Did you know that a number of car manufacturers are now actively building engineering and styling concepts for piloted drones? We look forward to seeing the Lamborghini one…
History of Concept Cars
How concept cars reveal what the future of motoring may hold
No international motor show would be complete without concept cars – the fashion models of the automobile catwalk oozing glamour, glitz and a glimpse into the future.
They're the stars that draw the crowds, the weird and wonderful futuristic cars with the wow factor.
Whether cars of the future or just plain futile, they take centre stage on manufacturers' show stands, after months of well-planned and orchestrated 'leaks' and 'spy' shots to taunt, tease and build the tension in the run-up to the big reveal.
But, while they may be presented as a shop window for the shape of things to come, so often it's a case of the concept not becoming reality with many of them more a flight of fancy, than a dream design, and never intended to go into production and take to the road rather than the rostrum.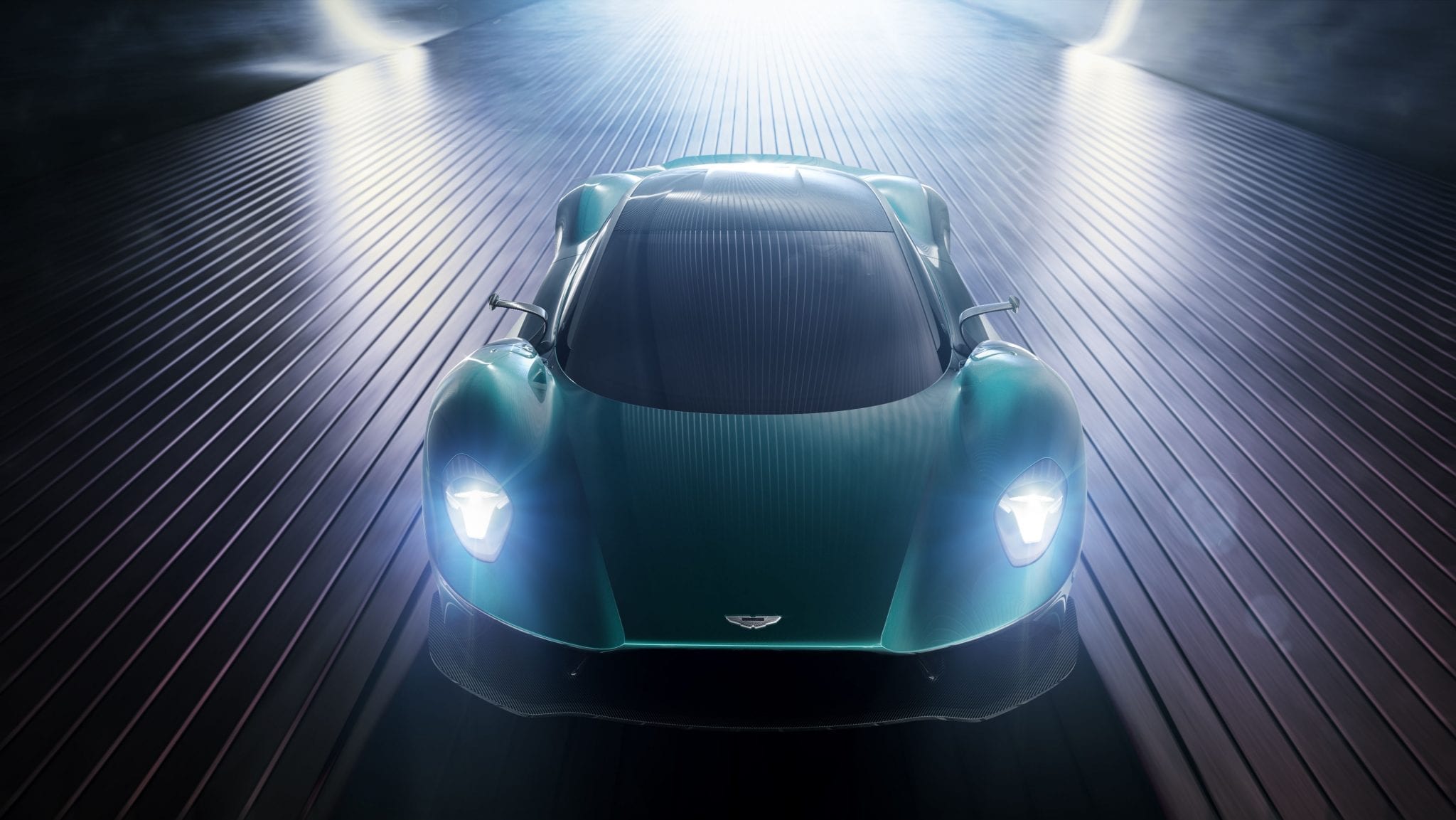 What is the point of a concept car?
Concept cars are often the centrepiece and centre of attention of a manufacturer's show stand.
Many will be styling studies, showing a brand's latest design thinking and, more importantly, to gauge public reaction to its new design language or brand image. Get the right reaction and it is more likely to make it into the metal and full production.
Other concepts will be much closer to reality and give potential customers a first chance to see a car in the metal, especially important if it is one that is destined to go in production in the near future. It helps create awareness, excitement and even drive early orders to build momentum ahead of the actual launch date.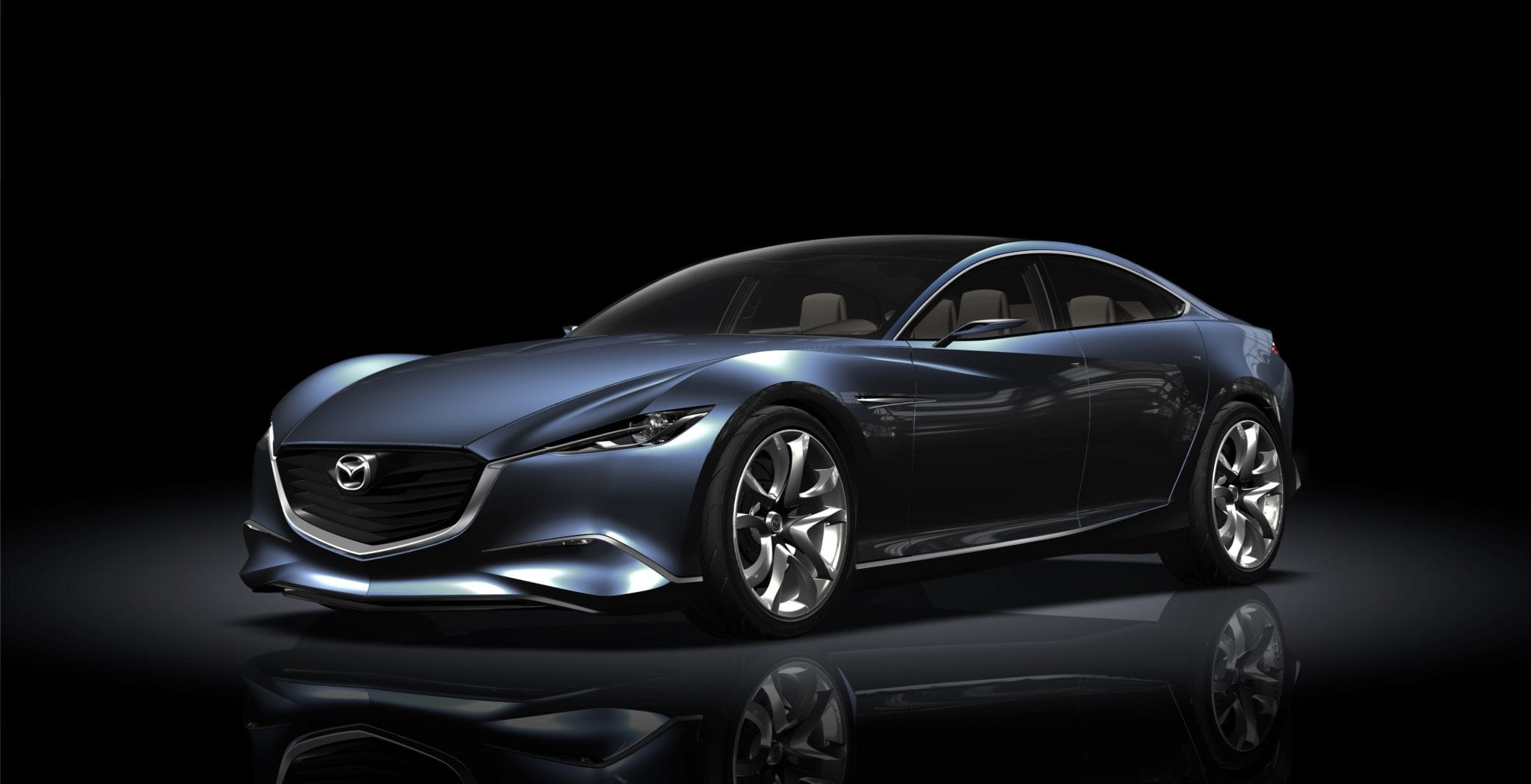 A sense of movement – Japanese concept cars and the 'soul of motion'
A stunning concept from an unlikely quarter came in 2010, courtesy of Mazda. Not a brand particularly known for dynamic design, it revealed the Shinari, a four-door, four-seater sports coupe which introduced the Japanese manufacturer's new design theme, 'Kodo – Soul of Motion', aimed at emphasising a sense of movement.
The Japanese word shinari describes the powerful, yet supple, appearance of great resilient force when objects of high-tensile strength, such as steel or bamboo, are twisted or bent. It also refers to the appearance of a person or animal flexing its muscles ready to pounce. Either way, it's now shaping every new Mazda model.
So, what happens to concept cars?
Once the show is over, and the publicity machine has ground to a halt, a concept car has often served its purpose and they face mixed fortunes.
Some will end up in the crusher, or be dismantled, others will be kept for posterity, becoming part of the manufacturer's heritage in its private collection or a motor museum.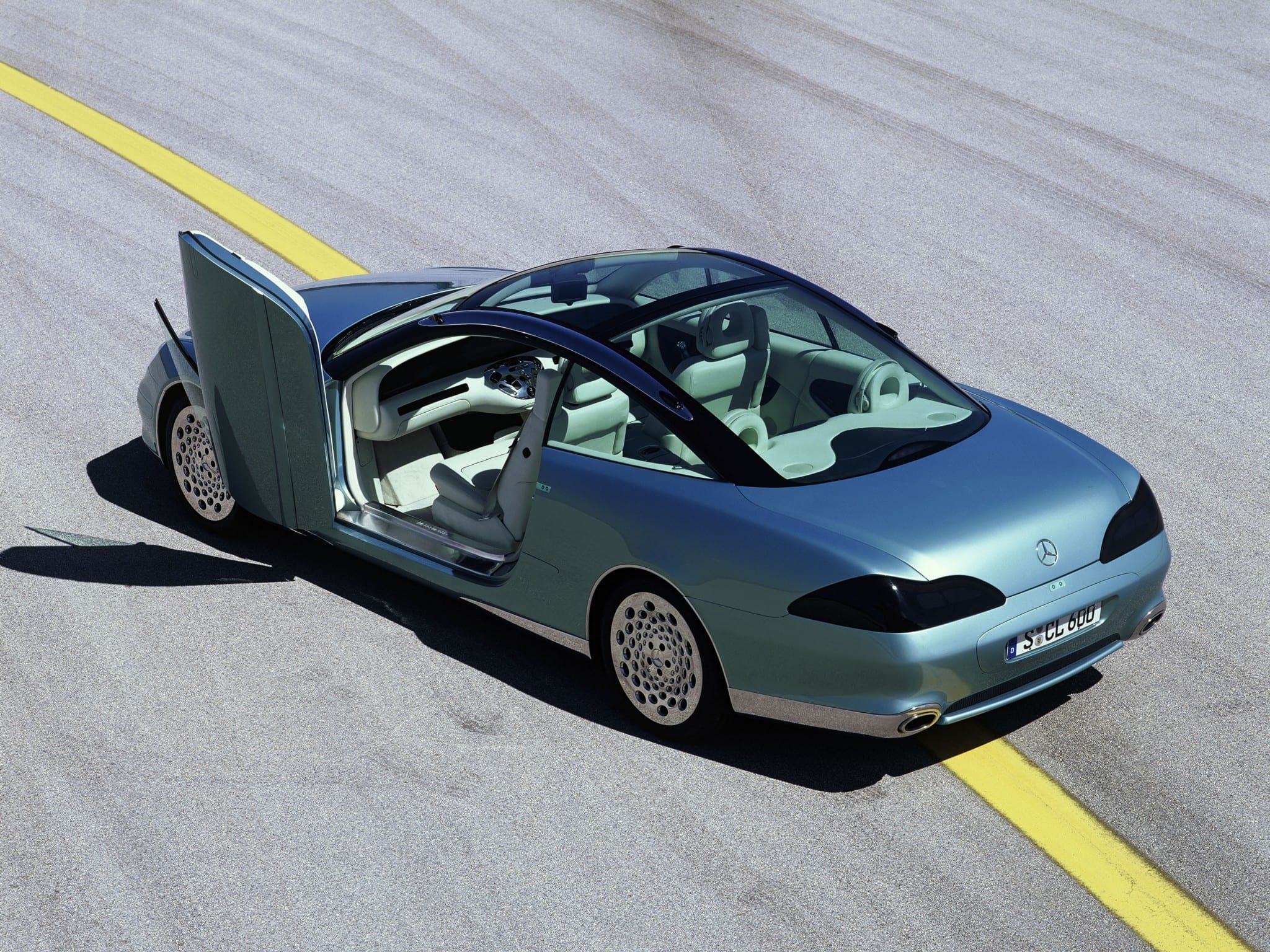 A Mercedes museum piece?
Meanwhile, at Mercedes-Benz World, at the historic Brooklands motor racing circuit in Weybridge, Surrey, the 1996 F200 Imagination concept car is a big attraction.
Rather than side mirrors, four cameras on the roof pillars, and a fifth in the back bumper, beam images to screens in the cabin, including a display where you'd normally have a rear-view mirror.
And joysticks, dubbed Sidesticks, control the car – push them forward to accelerate, back to brake and left or right to turn. With one on the door panel and another in the centre console, engineering both left and right-hand drive cars was no longer necessary.
A window into the future of Mercedes technologies, the F200 also had active suspension to control body movement, voice recognition, window airbags and bi-xenon headlamp with six modules which adapted their lighting pattern to speed – all later used in production models. Even the 'butterfly' doors were adapted for the SLR while the overall design previewed the later S-Class and CL-Class.
One thing that rarely happens is that they are sold and driven on public roads… assuming they can even be driven at all.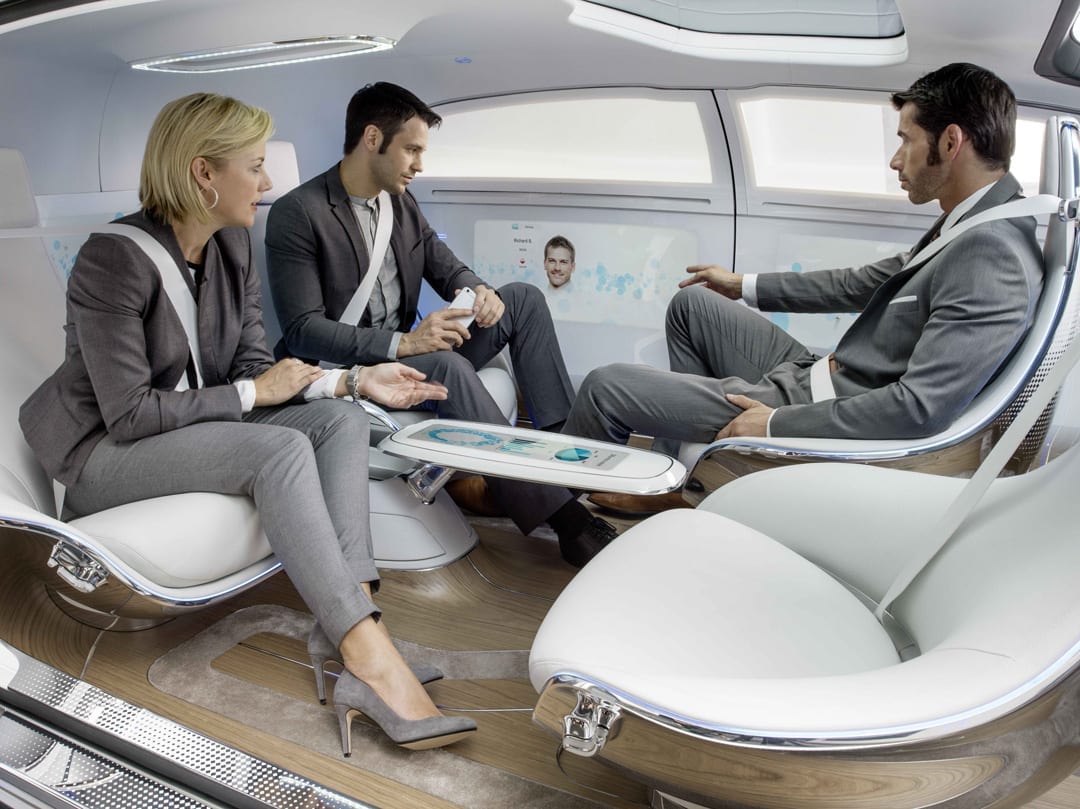 What do companies do with concept cars?
Sometimes the final car that actually makes it into production can feature a finished design that has been so diluted for various reasons, such as cost, production time, complexity or over-complicated styling, that it can come as something of a disappointment.
Often the concept car will never make it to the road, well certainly not in any recognisable form but, rest assured, look carefully and future models and the eagle-eyed will pick up design cues and distinctive details from concept car that made big impressions at earlier motor shows for both the right and wrong reasons.
Concept car design through the decades
Here we look at some of the models, from both sides of the Atlantic Ocean, which made their respective decades extra eye-catchingly special.
Often the concept car will never make it to the road, well certainly not in any recognisable form but, rest assured, look carefully and future models and the eagle-eyed will pick up design cues and distinctive details from concept car that made big impressions at earlier motor shows for both the right and wrong reasons.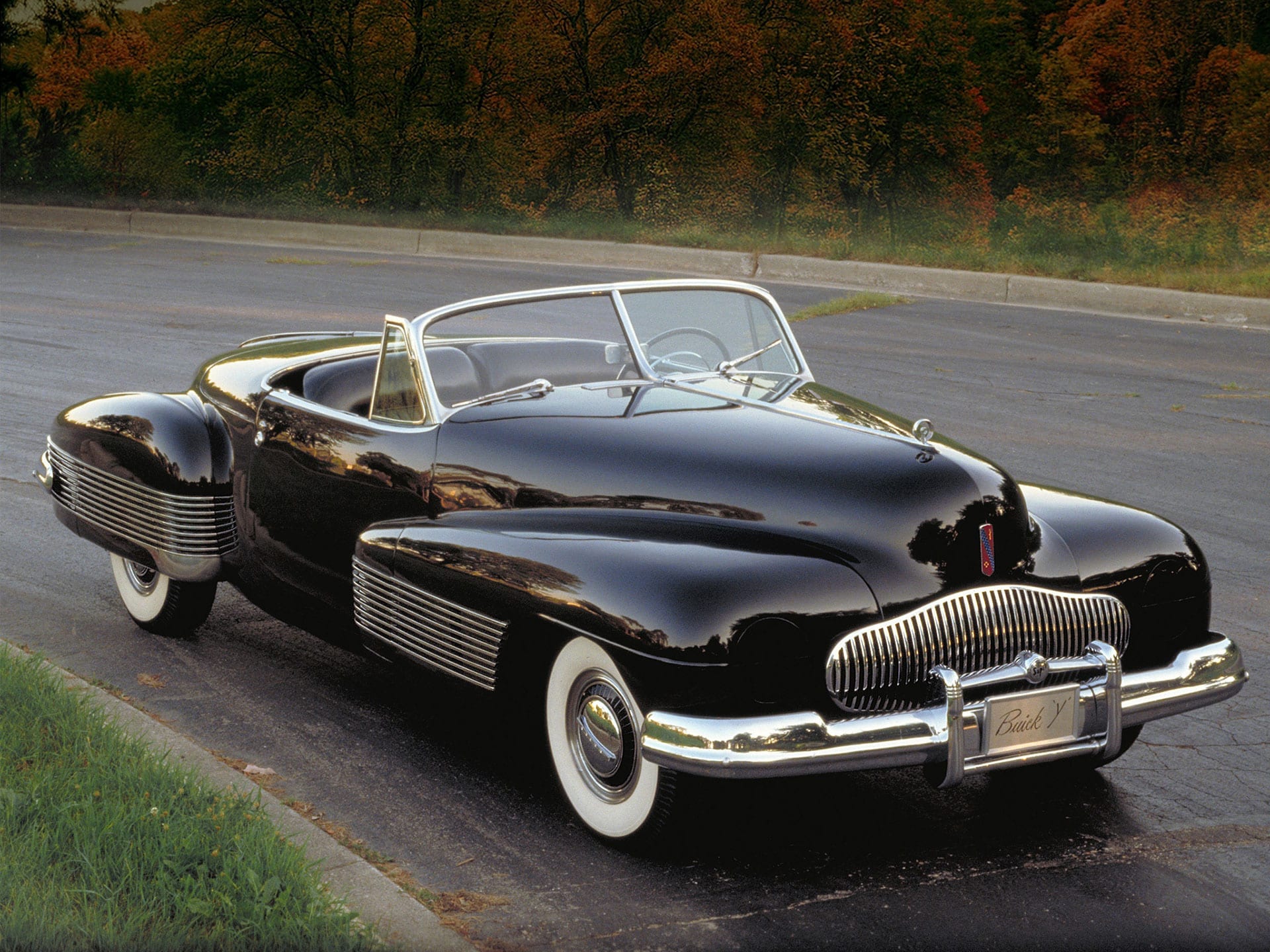 1930s – What was the first concept car?
The Buick Y-Job, the vision of famous General Motors designer Harley J Earl and launched in 1938, is generally considered to be first concept car.
All experimental cars were called 'X', so either Earl simply went to the next letter in the alphabet to signify his concept was better still or he chose it because it was used extensively in the air industry denoting the most advanced prototype planes.
The Buick Y-Job's forward-thinking features included an industry-first power-retractable soft top that was stored beneath a metal deck panel, power-operated hidden headlamps, electric windows, a 'gunsight' bonnet ornament, wraparound bumpers, flush door handles and the vertical waterfall grille design still used by Buick today.
It never saw production but influenced Detroit style for decades to come.
The 5.2-litre, eight-cylinder car was driven by Earl until he replaced it with a 1951 model car.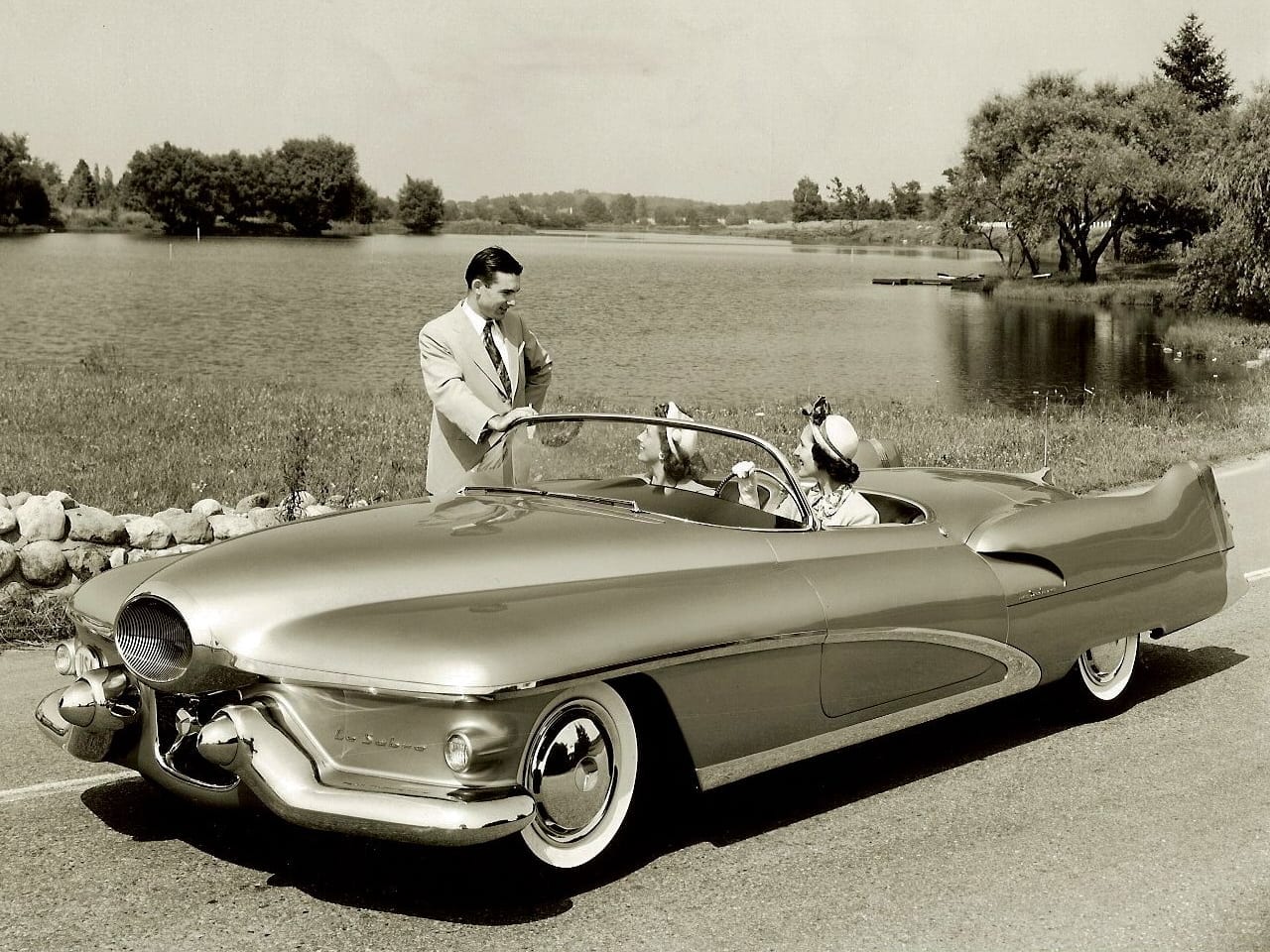 1950s – From Jet Age to Space Race
The war-torn Forties saw most auto shows take a bit of a back seat but things literally took off again in the Fifties with a new era of futuristic concepts inspired by the Jet Age and, later that decade, man's quest to discover what lay beyond our planet in the Space Race.
And in 1951 Earl produced the low, sleek, General Motors LeSabre which was inspired by a jet fighter plane.
It featured hidden headlights, a powered roof and helped introduce a 12-volt electric system to the American market, and is still used by vehicles today.
Meanwhile, in 1953, Oldsmobile created its Starfire concept convertible, a sleek two-seater named after Lockheed's F94B Starfire fighter.
Its standout features included glass fibre bodywork, a wraparound windshield, combination bumper-grille and bucket seats.
Meanwhile in Europe, a concept highlight of the Fifties was the slippery, low-drag Alfa Romeo BAT (Berlina Aerodinamica Tecnica) cars, a futuristic but realistic joint collaboration with Italian design house Bertone.
Not the forerunner of the Batmobile, three aerodynamic studies, with large back bumpers and curved fins, were created – BAT 5 in 1953, BAT 7 in 1954 and BAT 9 in 1955.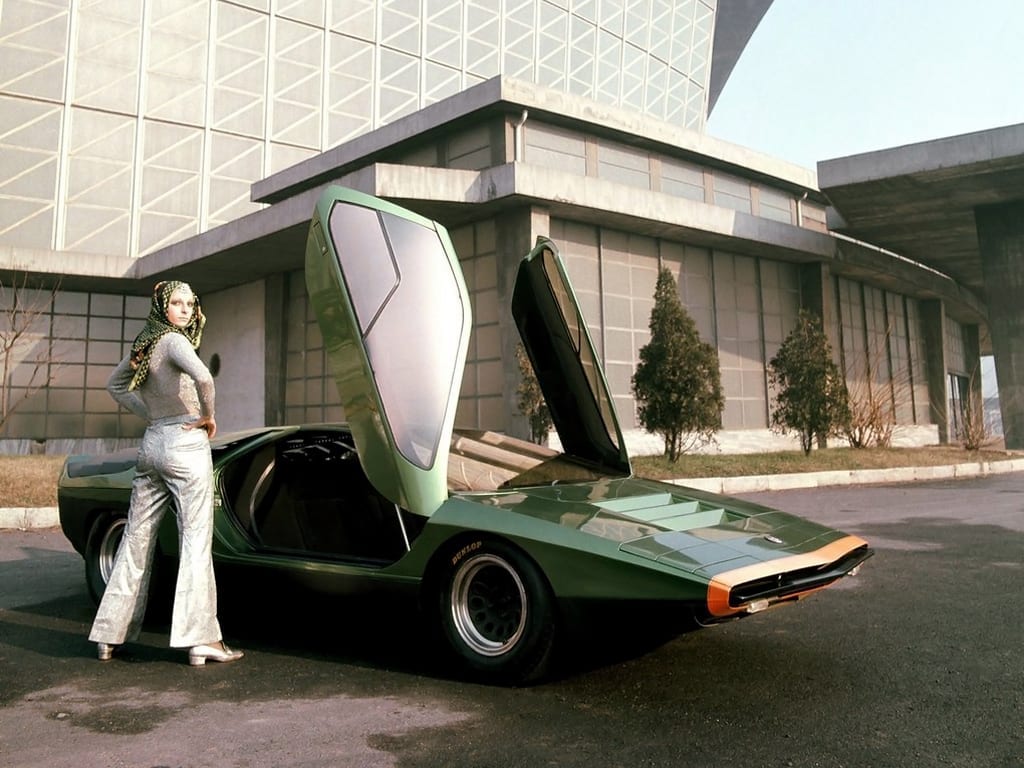 1960 and 70s – From the awesome to the outrageous
The weird and wind-friendly design concepts continued but by the end of the Sixties we started to see a new trend for the weird and wedgy.
Here we turn our attention to Europe, in particular Italy where its world-famous car-makers and design houses created the awesome and outrageous. Take the Lamborghini Marzal revealed in 1967, designed as a true four-seater Lambo to go alongside the 400GT 2+2 and Miura. With its huge glazed gull-wing doors and enormous louvred rear window, it remained a one-off but the general shape and many of the ideas were later used in the Lamborghini Espada.
The Marzal concept was driven by Prince Rainier III, accompanied by his wife, Princess Grace, in the traditional parade lap before the 1967 Monaco Grand Prix. The Marzal's home was the Bertone Design Study Museum until it sold at auction in 2011 for 1,350,000 euros. It was a look also created by Alfa Romeo with the Carabo – its name is derived from the Carabidae beetles which resulted in the vivid green and orange paintjob.
The Carabo, with its scissor doors, is seen by some as the predecessor of the Lamborghini Countach which was also designed by Marcello Gandini. The Carabo heavily influenced many car designs to follow well into the next decade. The low, sleek wedge-shaped supercar continued into the Seventies and the Lancia Stratos Zero, at the turn of the decade, was designed to be the lowest at just 84cm tall.
How do concept cars make it into production?
A year later, the Maserati Boomerang concept car, designed by Giorgetto Giugiaro, was unveiled as a design study. By 1972 it had developed into a commercially-launched Maserati Bora.The Boomerang was registered as a road car, but intended as a one-off show car, and has had several owners. Bonhams sold it at auction in 2015 for 3,335,000 euros.
The sharp angles and wedge shape can be seen in the 1976 Lotus Esprit, 1979 Maserati Quattroporte and 1981 DeLorean as well as family cars from Volkswagen – the original Passat and Golf from 1973 and 74.While many of these concepts developed into production models in their own right, although often bearing different names, they also heralded the shape of things to come with some design elements finding their way into mainstream models and marques.
Looking back to drive ahead
The concept cars paying homage to the past
Concept cars aren't always about shaping the future.
Some pay homage to an icon by giving a modern interpretation of a classic or iconic blast from the past.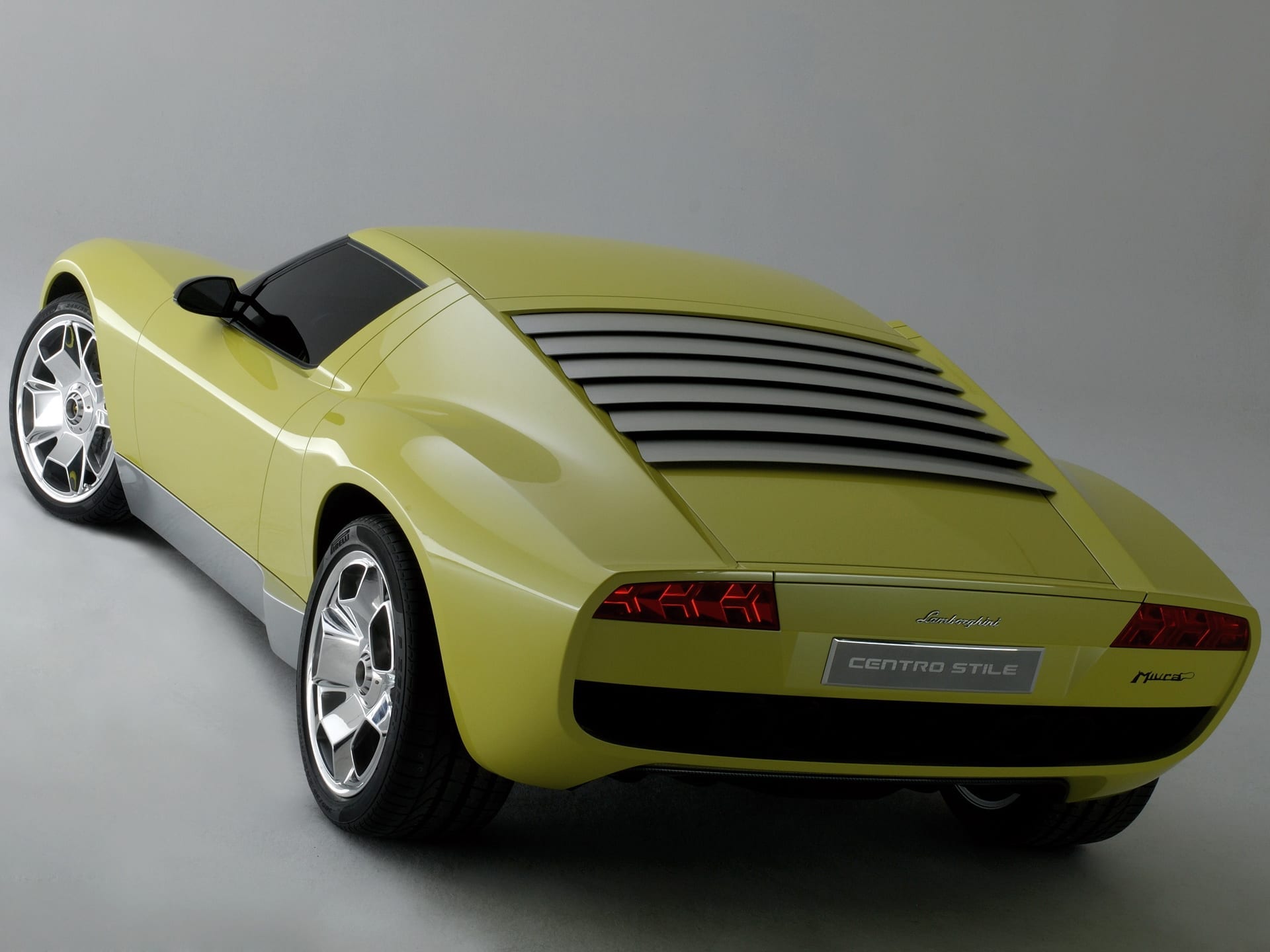 Lamborghini Miura Concept
Lamborghini revealed the Miura Concept in 2006, the 40th anniversary of the first supercar to have a rear mid-engined, two-seat layout which was in production from 1966 until 1973.
The retro-styled Miura Concept used the underpinnings of the more modern Murciélago but was never intended for production. Instead it was a celebration of Lamborghini's history while the brand itself was about the future.
Audi Quattro Concept
Audi produced a quattro concept for the 30th anniversary of the original car and its renowned, rally-bred all-wheel drive system.
Unveiled in 2010, it was based on the Audi RS5, weighing only 1,300kg and with a 150mm shorter wheelbase, and featured a modified 408PS 2.5-litre five-cylinder turbo petrol engine and sixth-generation quattro transmission.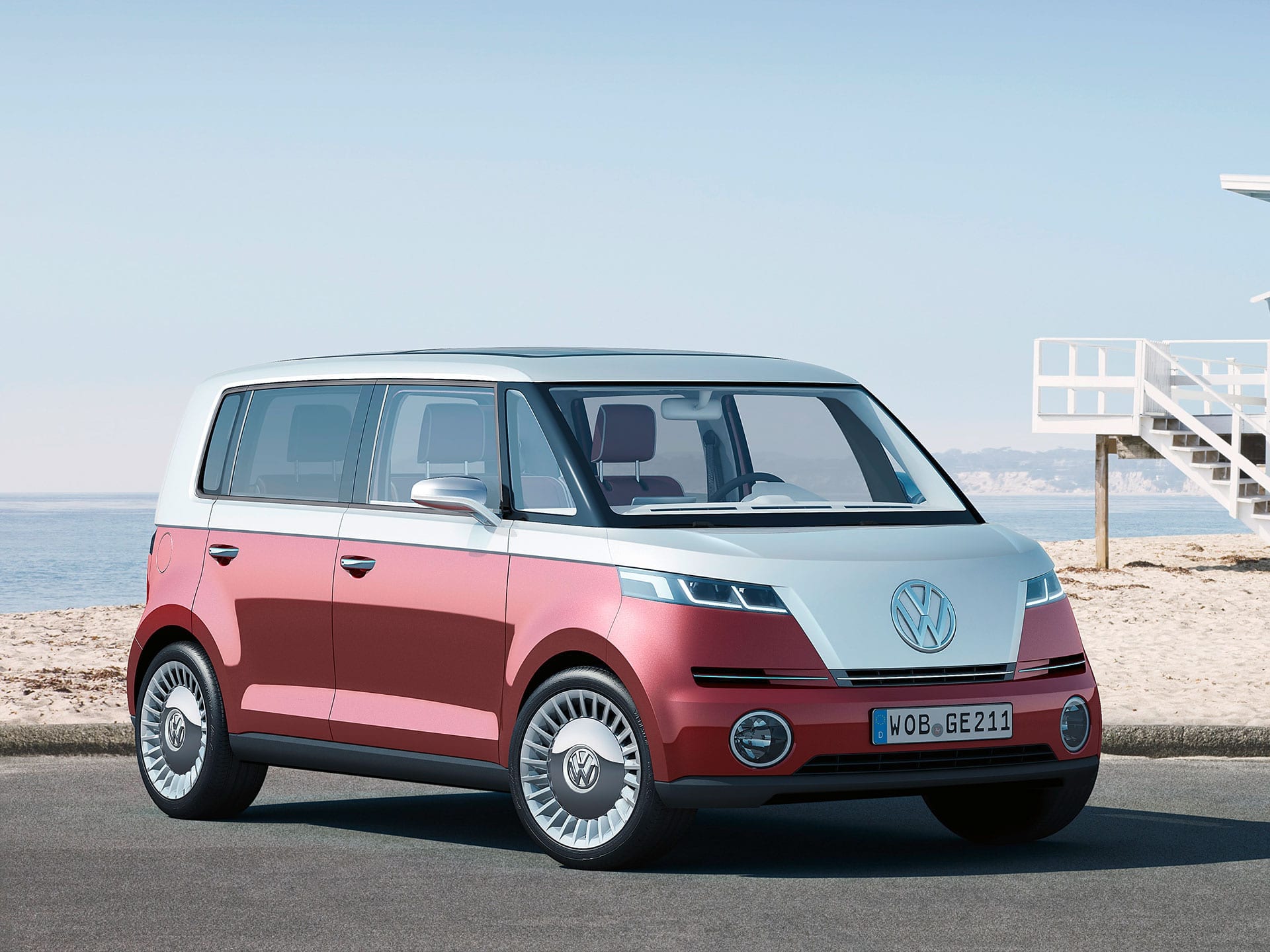 Volkswagen Bulli Concept and ID Buzz
Having shown the Volkswagen Bulli Concept in 2011, a people-carrier with two rows of three seats and a modern take on its original VW microbus, it now takes the campervan back to the future with its ID Buzz.
But the rebirth is finally set to happen with the all-electric, autonomous driving ID Buzz due to go into production by 2022.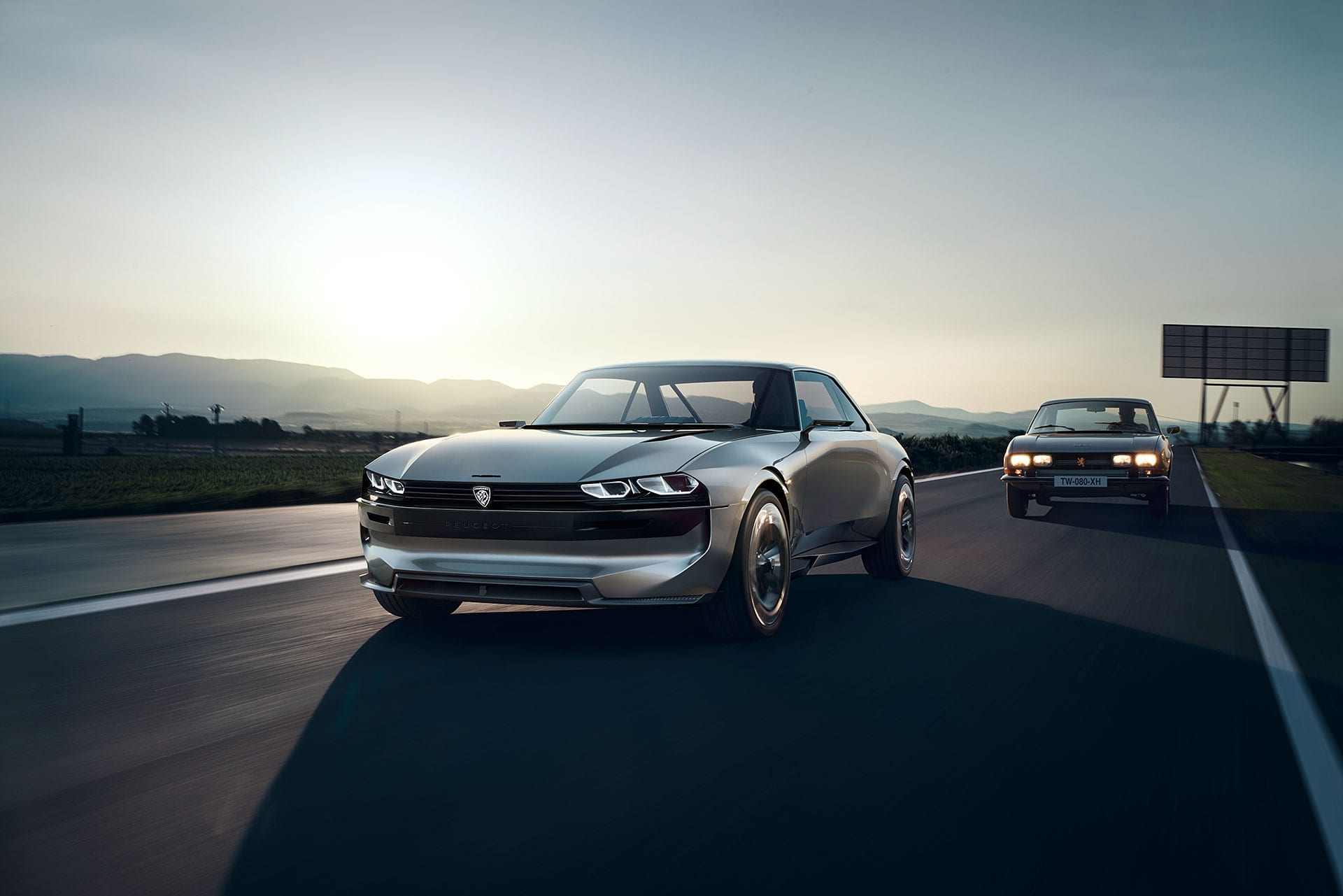 Peugeot e-Legend
Peugeot's e-Legend, revealed in 2018, is inspired by one of the best-looking Peugeots from five decades ago – the Pininfarina-designed early-1970s 504 coupe.
But while the profile might hark back to a golden era, the e-Legend will help take the French car-maker into the future.
Its bespoke electric platform and all-wheel-drive all-electric powertrain, developing 456bhp and 800Nm of torque, would propel the concept to 62mph from rest in less than four seconds and on to 137mph while being capable of up to 373 miles on a single charge. Peugeot says such figures are a realistic vision.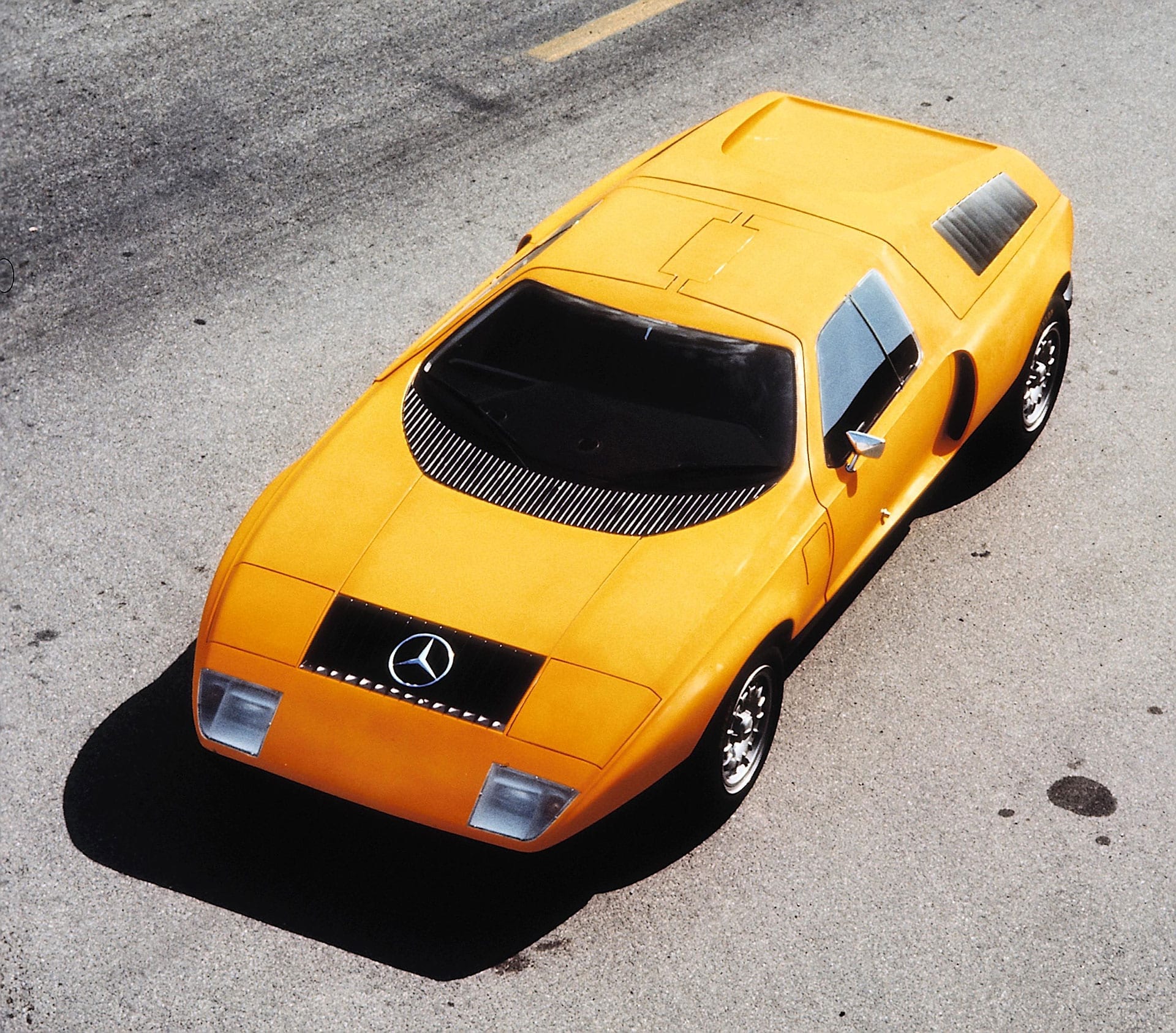 Mercedes-Benz C111
Concept cars are not just about show, some are designed for go. Mercedes-Benz's C 111 had a double life as research vehicle and record-setter.
A super sports car with gullwing doors, unveiled in 1969, this research vehicle concept quickly became the dream car of the 1970s but never actually went into production despite speculation Mercedes-Benz was creating a successor to the legendary 300 SL 'Gullwing'.
But the C 111 went on make its mark testing fuel-efficient diesel engines, driven by the oil crisis of the early Seventies, with a 3.0-litre, five-cylinder turbo diesel in 1973. Three years later it set 16 world records, 13 of them for diesel cars.
In 1978, the successor model, with a 230hp diesel engine, achieved another nine world records. The last version of the car, with a 500hp, 4.8-litre V8 petrol engine, broke the world circuit record at 403.978km/h (251mph) a year later.
Concept cars 1990s and 2000s
1990s
The 1990s produced some memorable concept cars but, sadly, they were pipedreams and so many great designs and ideas did not come to fruition… more's the pity as they were so desirable and don't get any less so with the passing of time.
Let's look at some of the Nineties stars.
Ford GT90
The mid-engined, high-performance Ford GT90, a secret project unveiled in 1995, was a spiritual styling successor to the Ford GT40 and GT70 and predecessor of the Ford GT. It was the first Ford to feature its 'New Edge' design which took to the road with the Ka city car.
Sharing Jaguar XJ220 components, it was built around a honeycomb-section aluminium monocoque with moulded carbon fibre body panels. The 720hp, 6.0-litre, 48-valve V12 with four turbochargers was mated to a five-speed manual transmission. The very hot exhaust would damage the body panels so ceramic tiles, like those on the Space Shuttle, were used to prevent the car melting!
It was said to be capable of 0 to 60mph in 3.1 seconds, 0 to 100mph in 6.2 seconds and 253mph flat out. It never actually made it into production but appeared in the several video games and a prototype was tested by Jeremy Clarkson on Top Gear.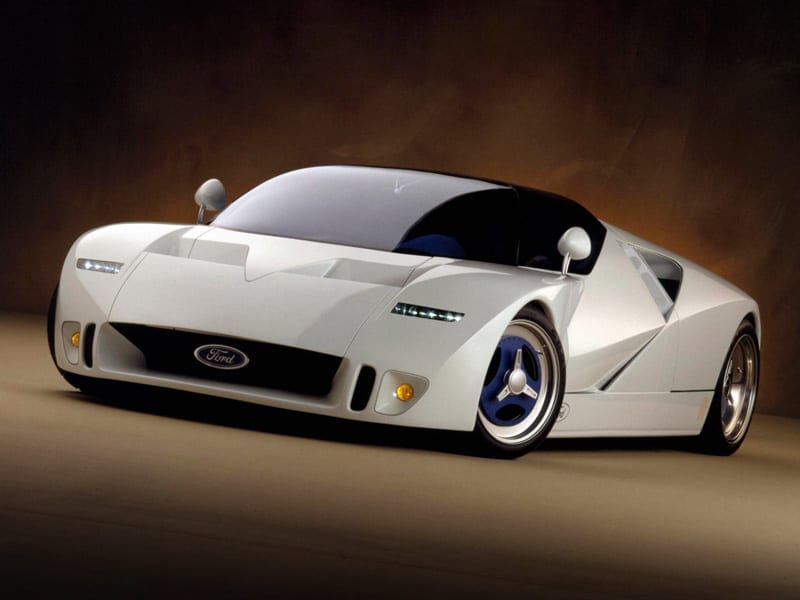 Alfa Romeo Nuvola
The Alfa Romeo Nuvola coupe, shown in 1996 with a polyester body, was intended to be the rebirth of coach-built cars. It was based on a modern space frame chassis so independent coachbuilders could add virtually any body style from coupé to roadster to shooting brake.
Nuvola is Italian for 'cloud' but also hints at the legendary Italian racing driver Tazio Nuvolari. Power came from a 296hp, 2.5-litre, twin-turbo V6 engine, with six-speed manual transmission and four-wheel drive, making it capable of 0 to 60mph in six seconds and 174mph.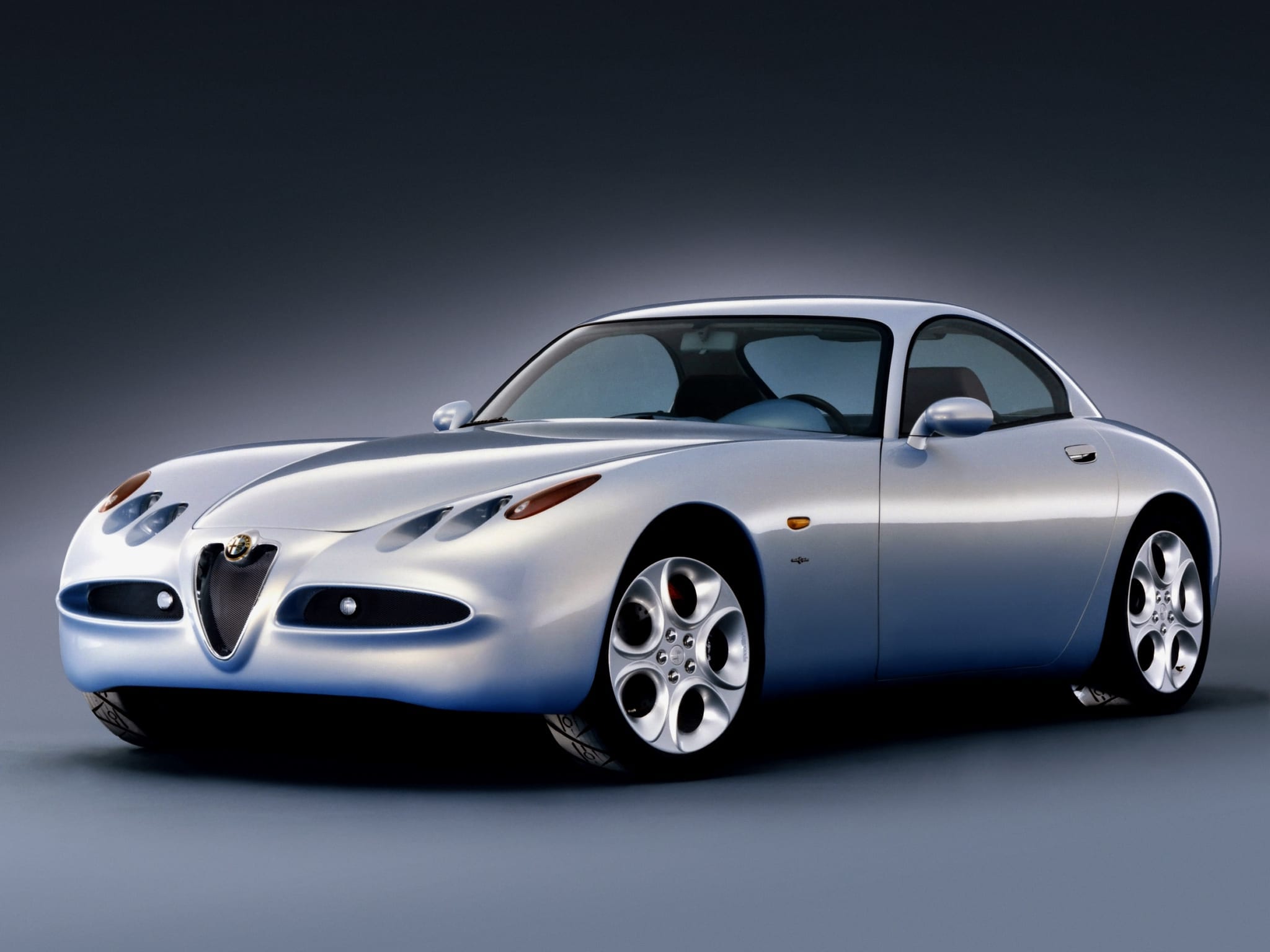 Volkswagen W12
Another favourite from video games, the 1997 Volkswagen W12 mid-engine concept car used a 414bhp, 5.6-litre, 12-cylinder engine and four-wheel drive.
Designed by Italdesign, the aim was to prove Volkswagen could build a supercar. There was also an open-top roadster.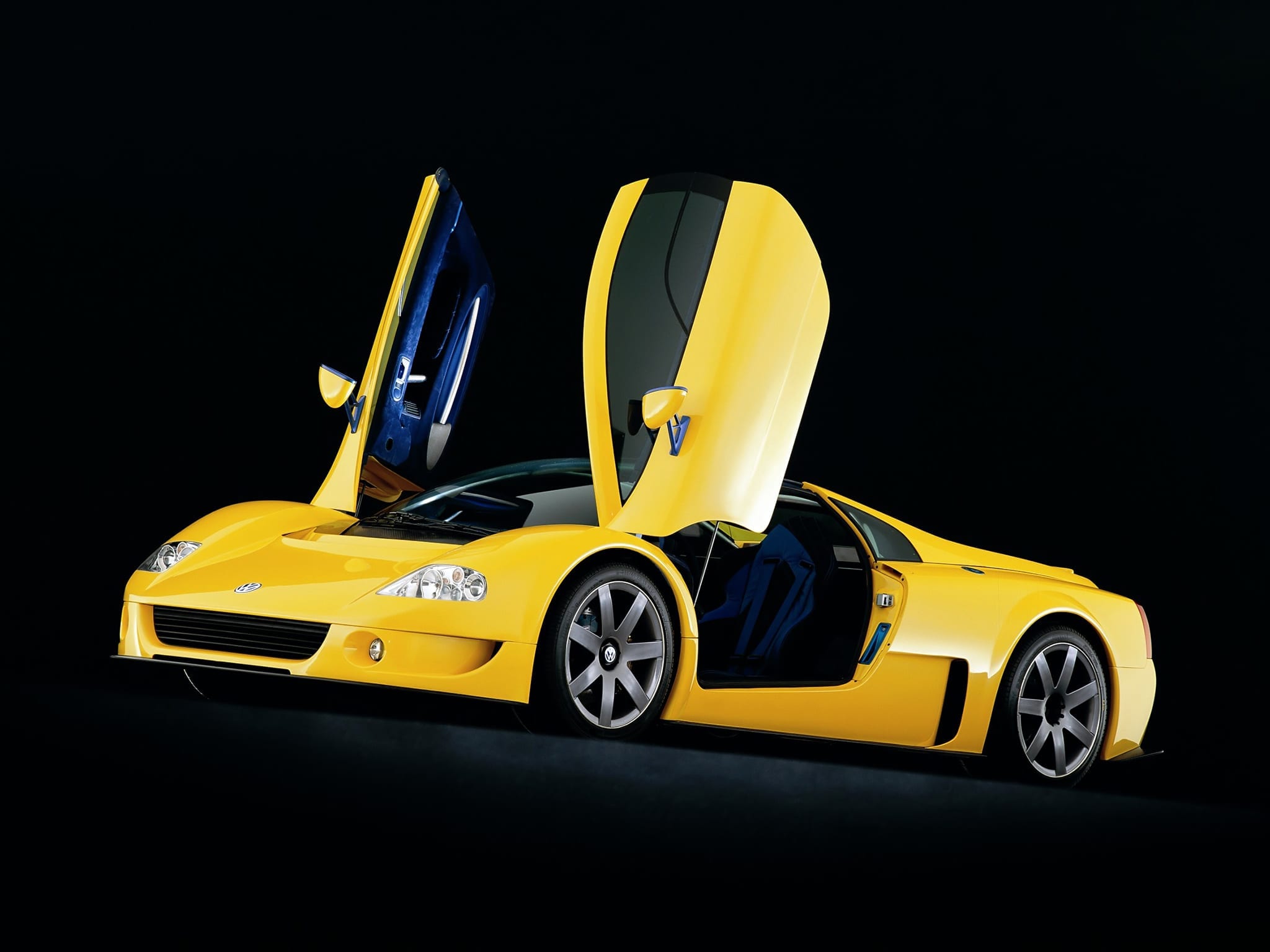 Jaguar XK180
The Jaguar XK180 concept car of 1998 celebrated the 50th anniversary of the XK models. This two-seater had a 450bhp, 4.0-litre supercharged V8 engine and could reach 62mph from rest in 4.5 seconds and go on to 180mph.
Drawing on XK-R technology, only two were ever built.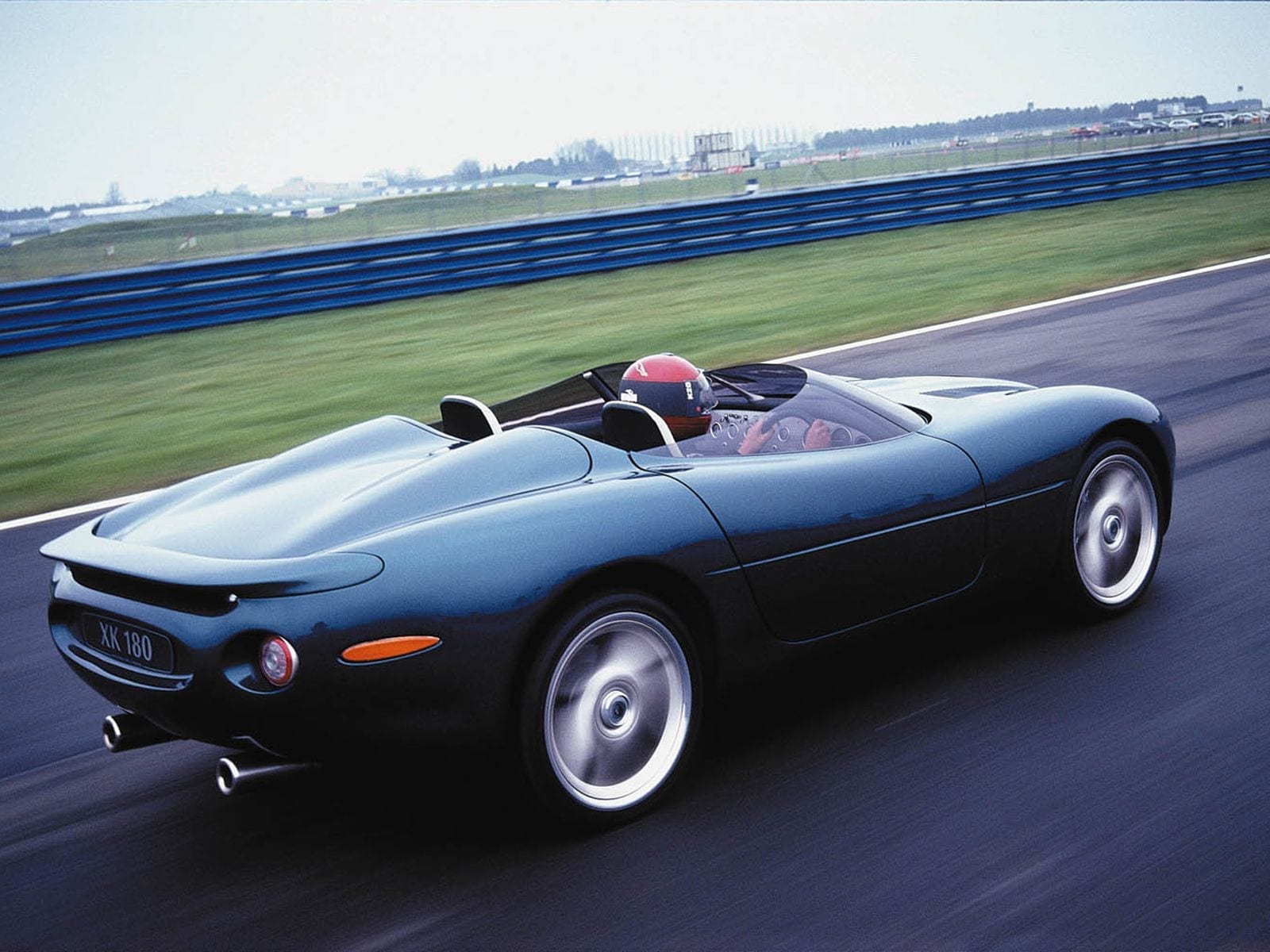 BMW Nazca
The BMW Nazca C2 concept sports car of 1991 was designed by Italdesign and is an evolution of the Nazca M12. Its carbon fibre body and space frame meant it weighed only 1,100kg. The engine cover and front of the car were made from a single piece of molded carbon fibre with a glass engine cover over the 300hp, 5.0-litre, V12 engine shared with the BMW 850i. Its unique door mechanism comprised conventional doors and windows opening in a gull-wing arrangement.
In 1992 the Nazca C2, with a redesigned front, Alpina-modified engine with an extra 50hp and shedding a claimed 100kg, was unveiled. A total of three cars including the M12 were produced.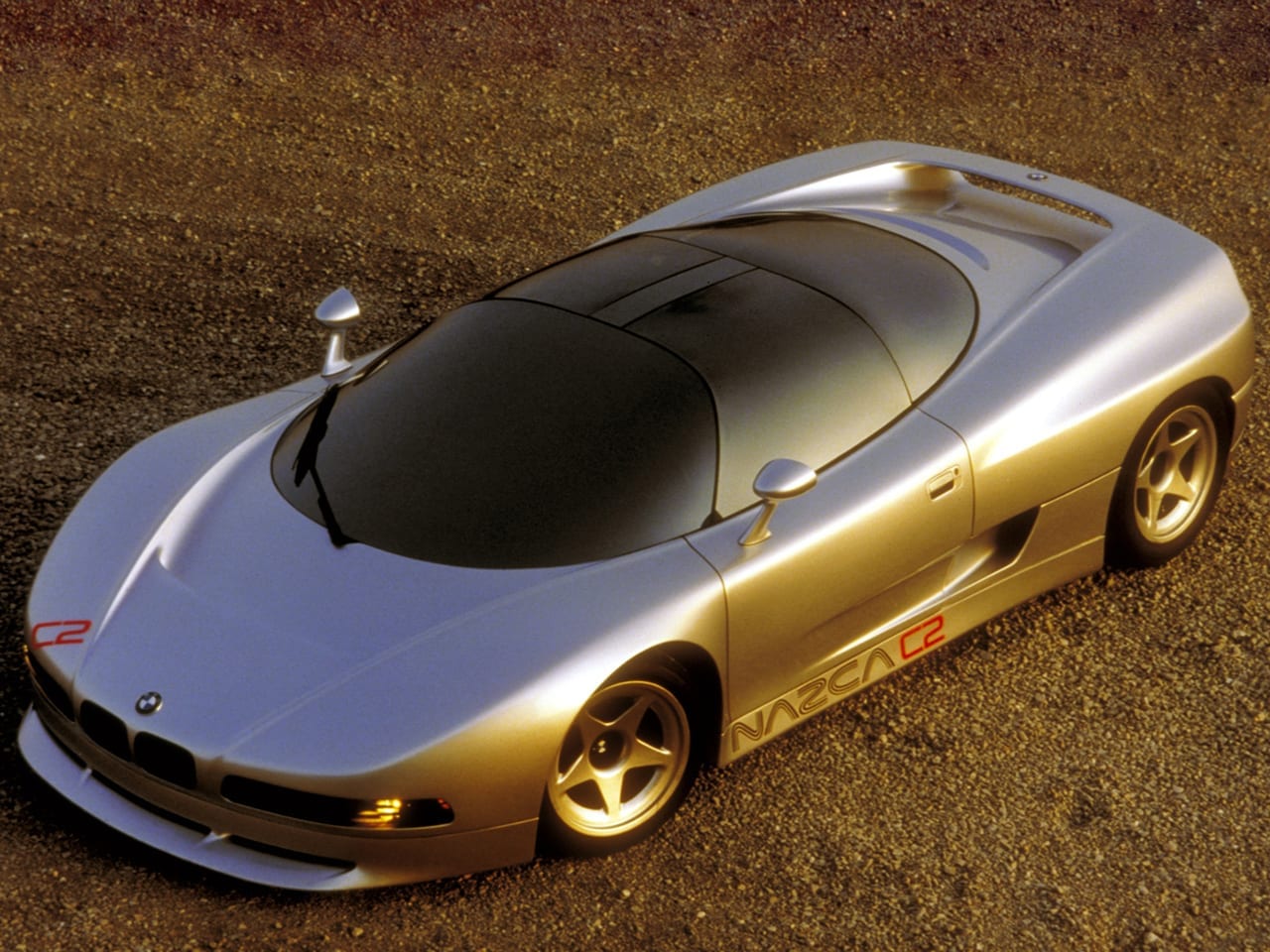 2000s
The new millennium saw some concept cars looking back as much as forward, harking back to past models, anniversaries as well as to the future of personal transport.
Here we look at some of the highlight concepts of the 2000s.
Maserati Birdcage 75th
This 2005 futuristic supercar honoured the classic Maserati Birdcages of the 1960s and Pininfarina's 75th anniversary. Built on the Maserati MC12 GT1 race car's carbon fibre chassis, it's powered by the Ferrari/Maserati F140 V12 engine tuned to deliver around 700bhp.
Two rear spoilers automatically raise at speed, the Perspex windscreen stretches almost front to back and, with no doors, you get in and out by raising the bubble canopy. Its connectivity theme includes a steering wheel centre like a mobile phone and the car had a Motorola Bluetooth headset and cameras so the driver could share the driving experience with others.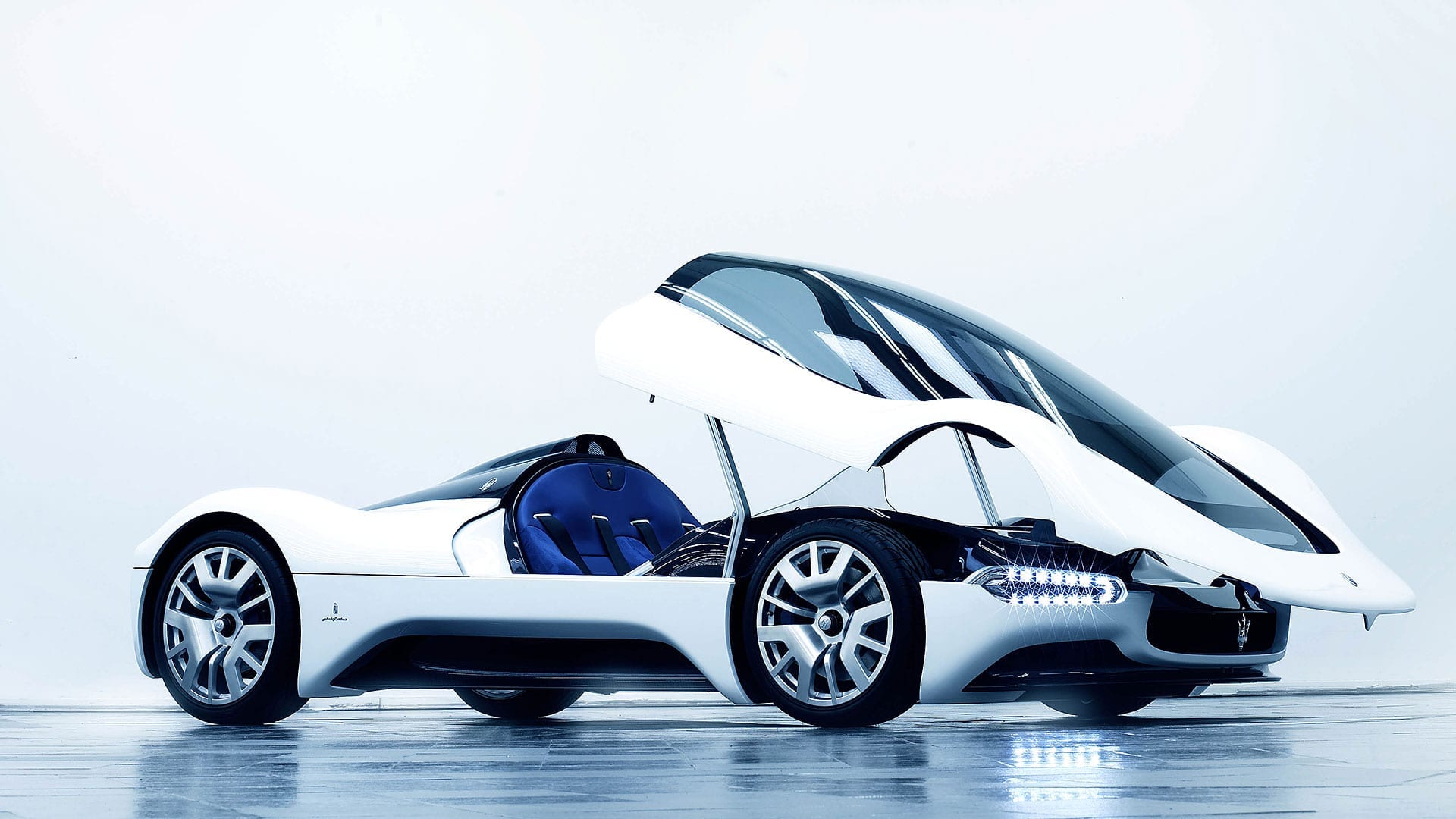 Alfa Romeo BAT 11
It may look futuristic but the Alfa Romeo BAT 11, shown in 2008, arrived more than half a century after the aerodynamic BAT 5, 7 and 9 design studies.
Another collaboration with automotive design house Bertone, the BAT 11 was based on the Alfa Romeo 8C Competizione.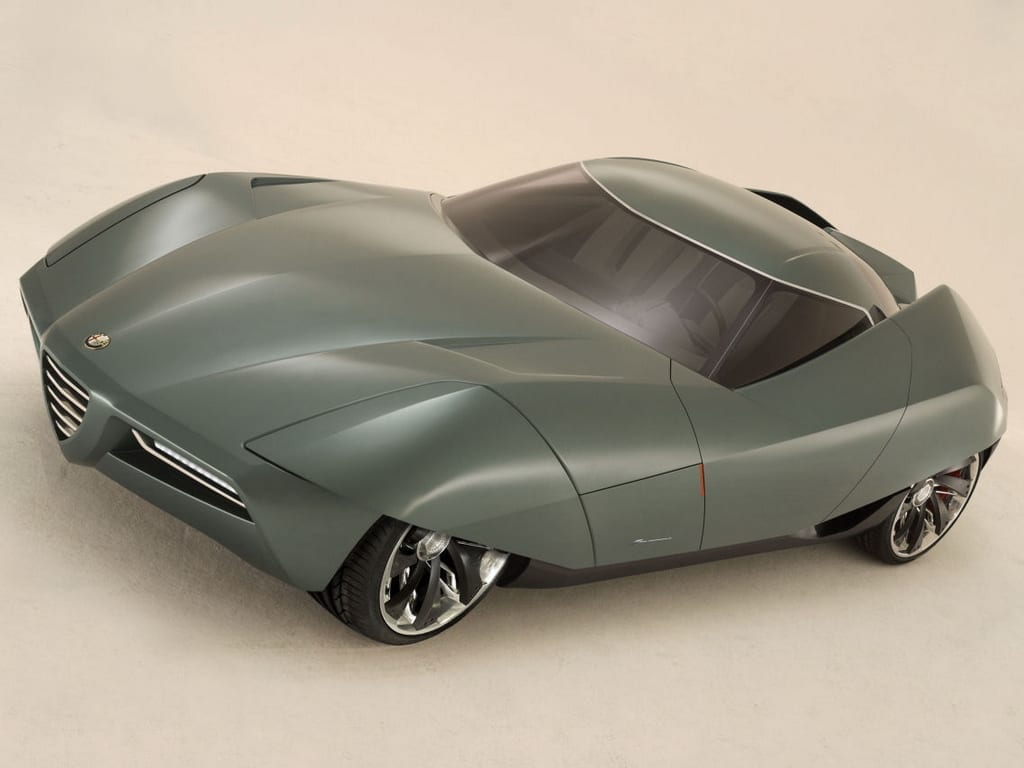 Mercedes-Benz F400 Carving Concept
Debuting in 2002, the F400 Carving was as much research vehicle as concept car with dynamic systems to enhance active safety, dynamic handling and driving pleasure.
The camber angle on the two-seater sports car's outer wheels could be varied up to 20 degrees and, along with newly-developed tyres with different treads on the inner and outer areas, provided 30% more lateral stability to improve grip and cornering ability and shorten stopping distances.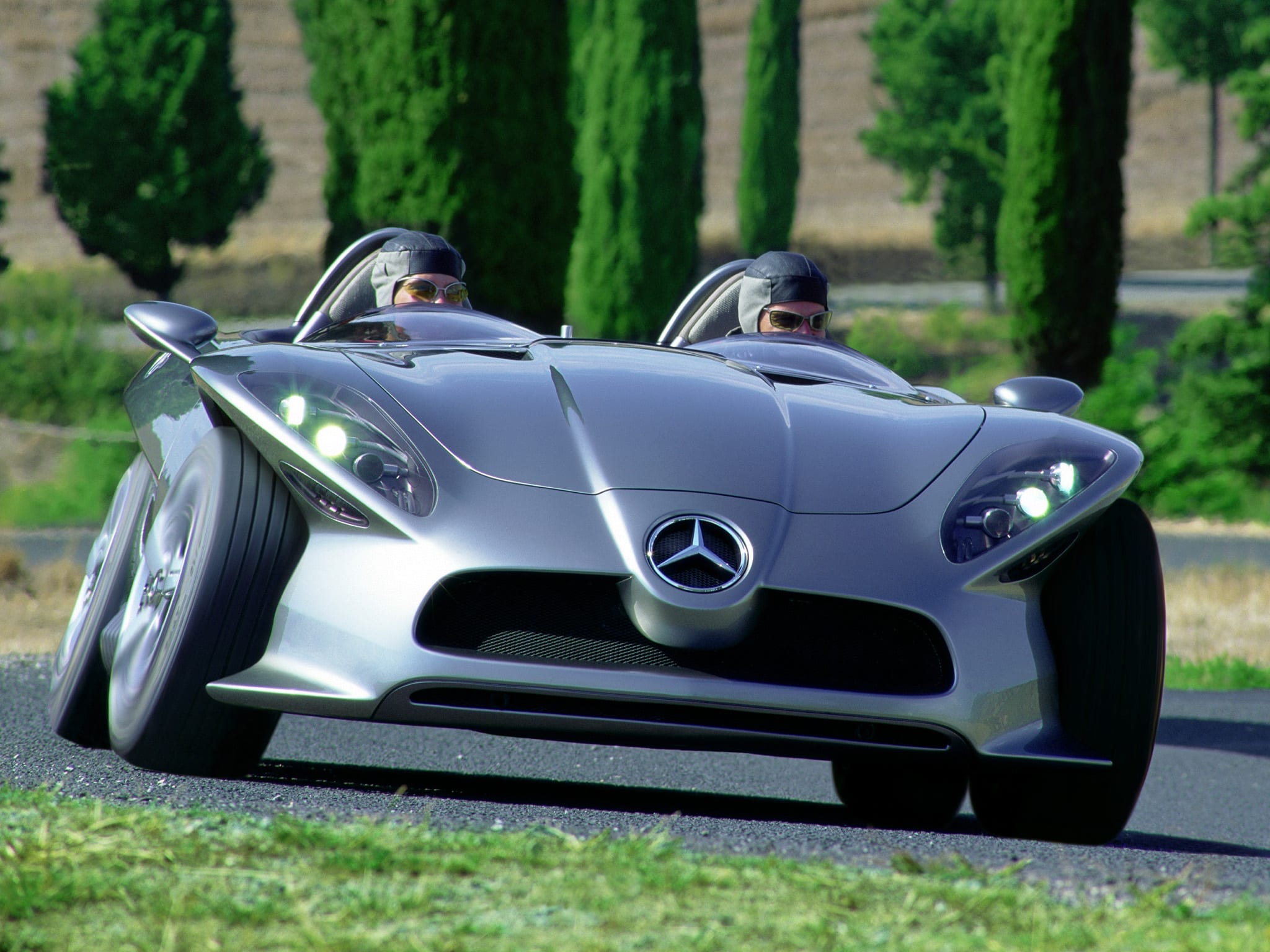 Peugeot Flux
The Peugeot Flux was a 2007 sports car concept, also designed to be capable of light off-roading.
It has an aluminium chassis, plastic body panels, polyurethane seats and runs on hydrogen.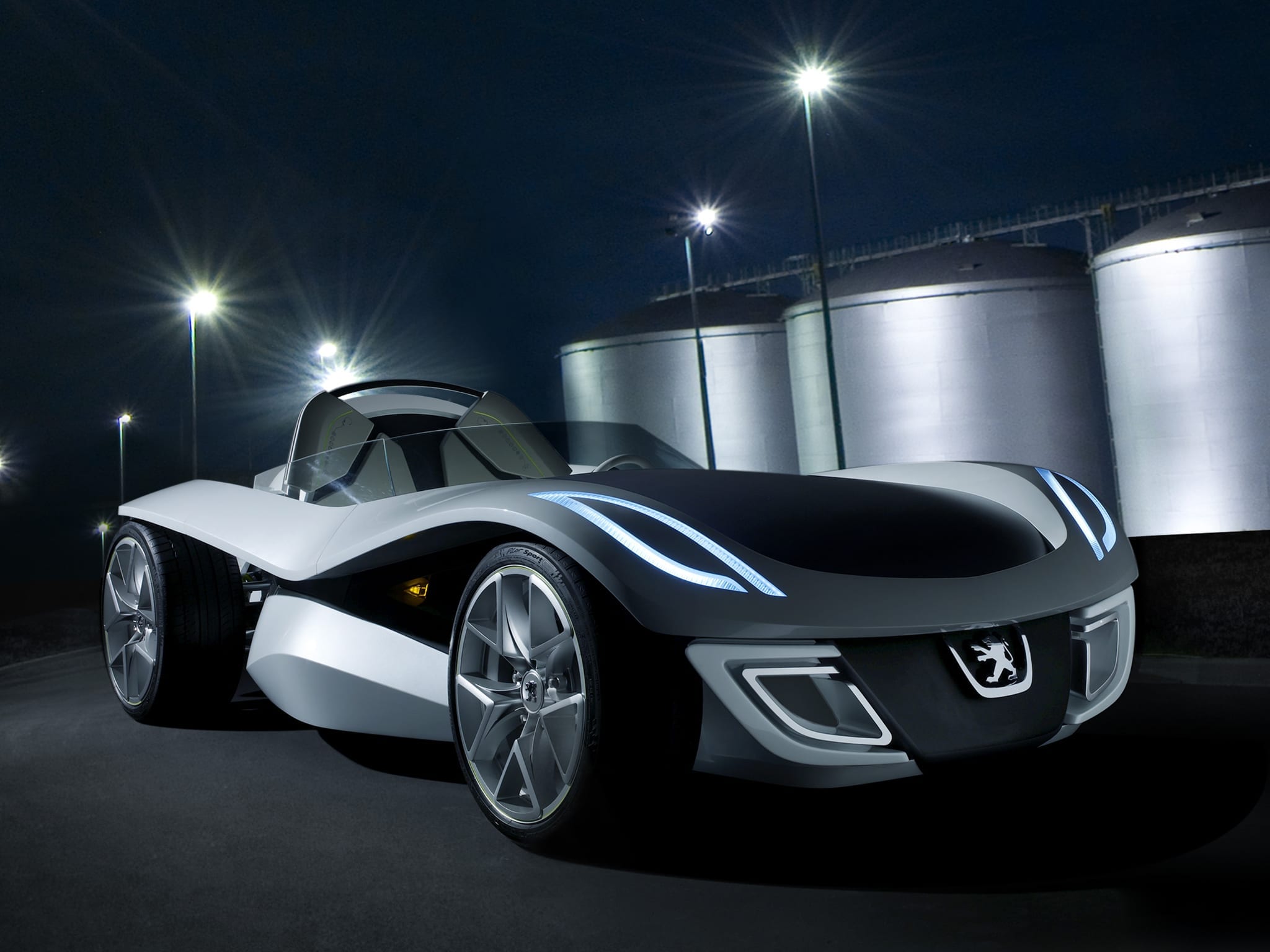 Toyota PM
Is it a car? No, the Toyota PM, shown in 2003, was a single-seat personal mobility concept designed to communicate with others to encourage meeting up and hanging out together.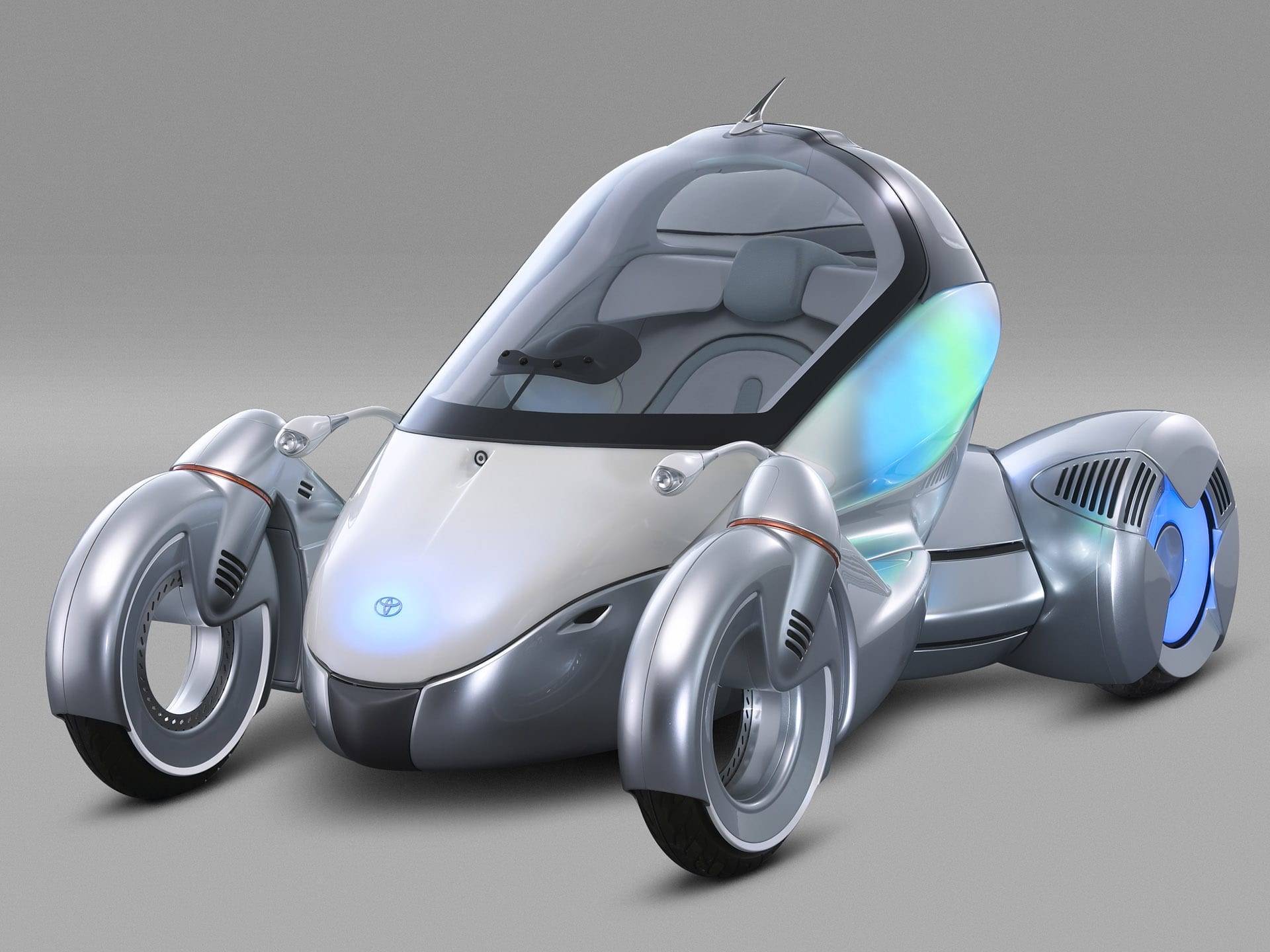 Concept vehicles or reality?
Exciting shape of things to come for future cars
The motoring world is changing fast as manufacturers rewrite the rulebook when it comes to construction, powertrains and technology for future cars.
Even prestige and performance brands, building luxury models and supercars, are driving the future and pushing the motoring boundaries with exciting concept vehicles that remain true to the ethos and heritage of their marque while breaking with the past by introducing lightweight materials, electrified power sources and a host of new thinking to improve efficiency and reduce their environmental impact.
Let's look at some of the latest cars from prestige, premium brands at the top of their motoring game as well as the new trends in concept cars which are set to influence the way we drive and live with, and in, cars in the future.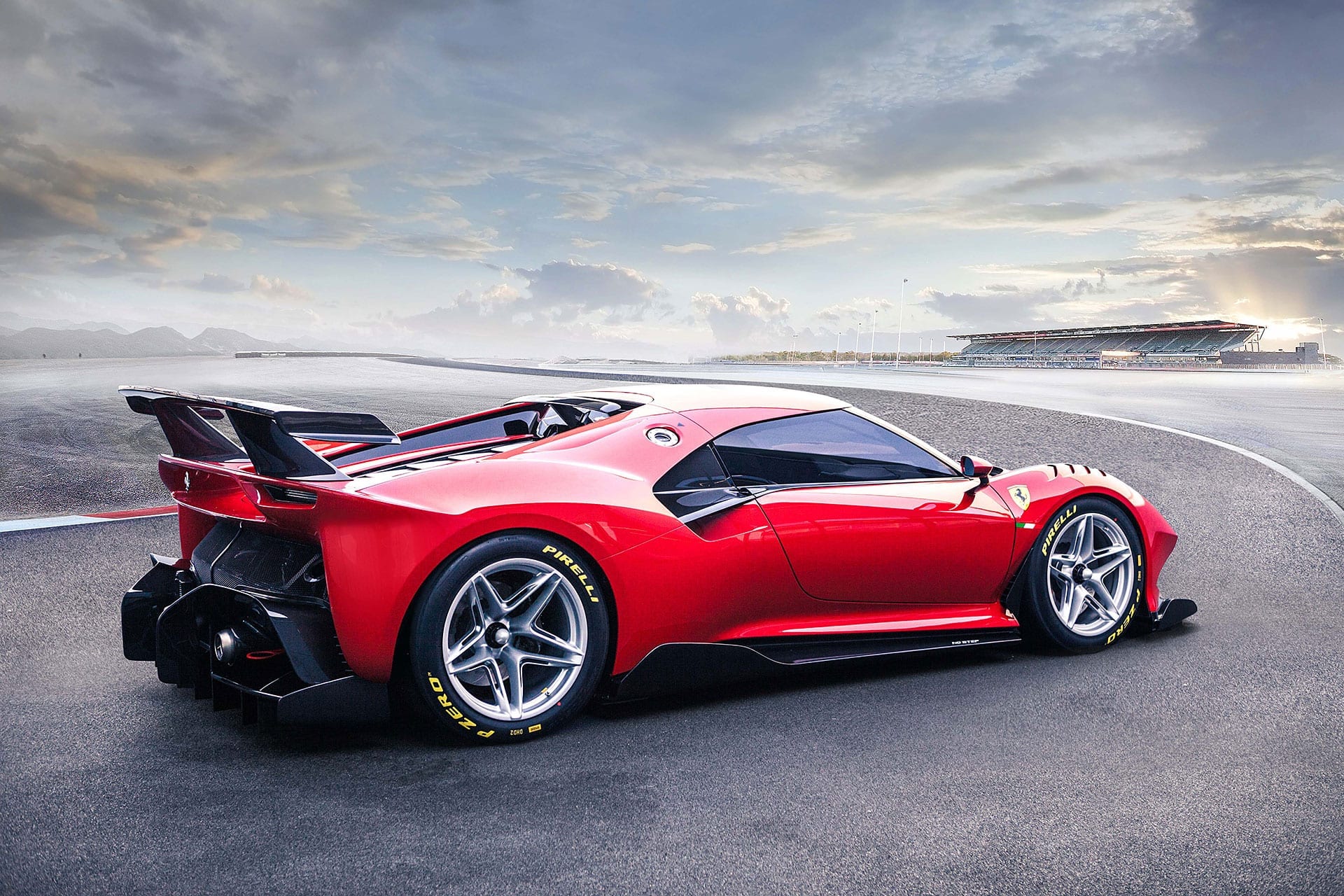 Ferrari P80/C
Creating an entirely new and modern take on the Ferrari sports prototype concept is both ambitious and complex.
The new one-off P80/C 'Hero Car', conceived with very specific input from a Prancing Horse connoisseur client, combines the highest level of Ferrari interaction and emotional involvement.
The client's basic brief was to create a modern sports prototype inspired by two iconic Ferraris – the 330 P3/P4 and 1966 Dino 206 S.
Started in 2015, and finished early 2019, the P80/C project had the longest development time of any Ferrari one-off with in-depth styling research, lengthy engineering development, meticulous analysis of performance parameters and scrupulous aerodynamic testing.
The P80/C is radically different from past one-off Ferraris – a track car with a unique design and radical changes to the donor car's running gear.
Based on the 488 GT3 chassis, the longer wheelbase also allowed more creative freedom, emphasising a cab forward-effect and lengthened rear for a more aggressive, compact character.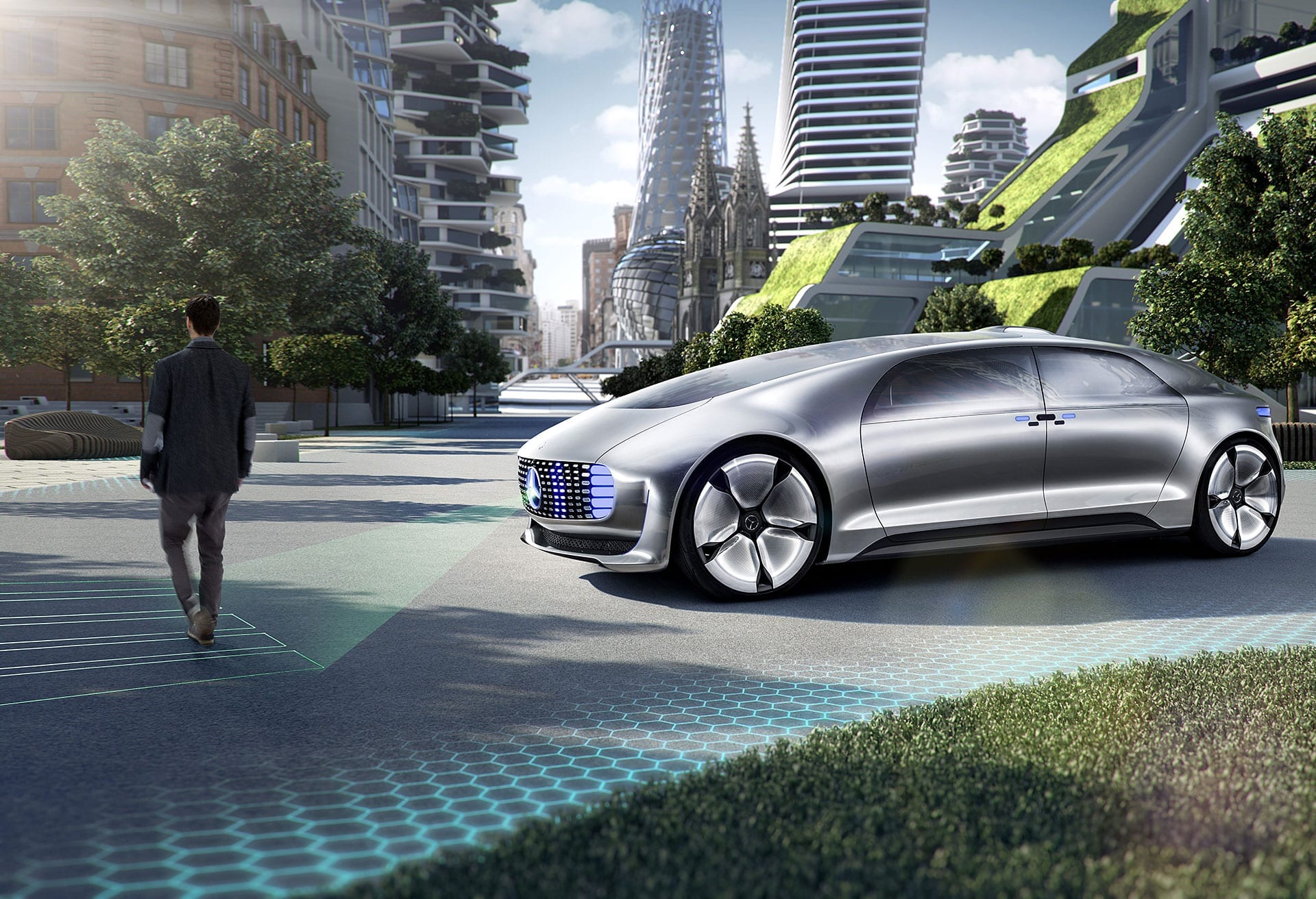 Mercedes-Benz F 015 Luxury in Motion
Mercedes-Benz unveiled the F 015 Luxury in Motion, a research vehicle and vision of the future of autonomous driving, in 2015.
Designed from the outset as an autonomous car, this 'City of the Future 2030+' vision concept car created new possibilities in vehicle design, packaging and connectivity – a mobile living space rather than a mere means of transport making it one of the standout future concept cars.
The extremely rigid, lightweight body structure weighed 40% less than similar-sized cars at that time by using carbon fibre reinforced plastic, aluminium and steel.
About the same length as the long-wheelbase S-Class at 5.22m, but wider and taller, it boasted huge interior space, thanks to an exceptionally long wheelbase, to seat four adults in tandem or, being capable of driving itself, facing each other.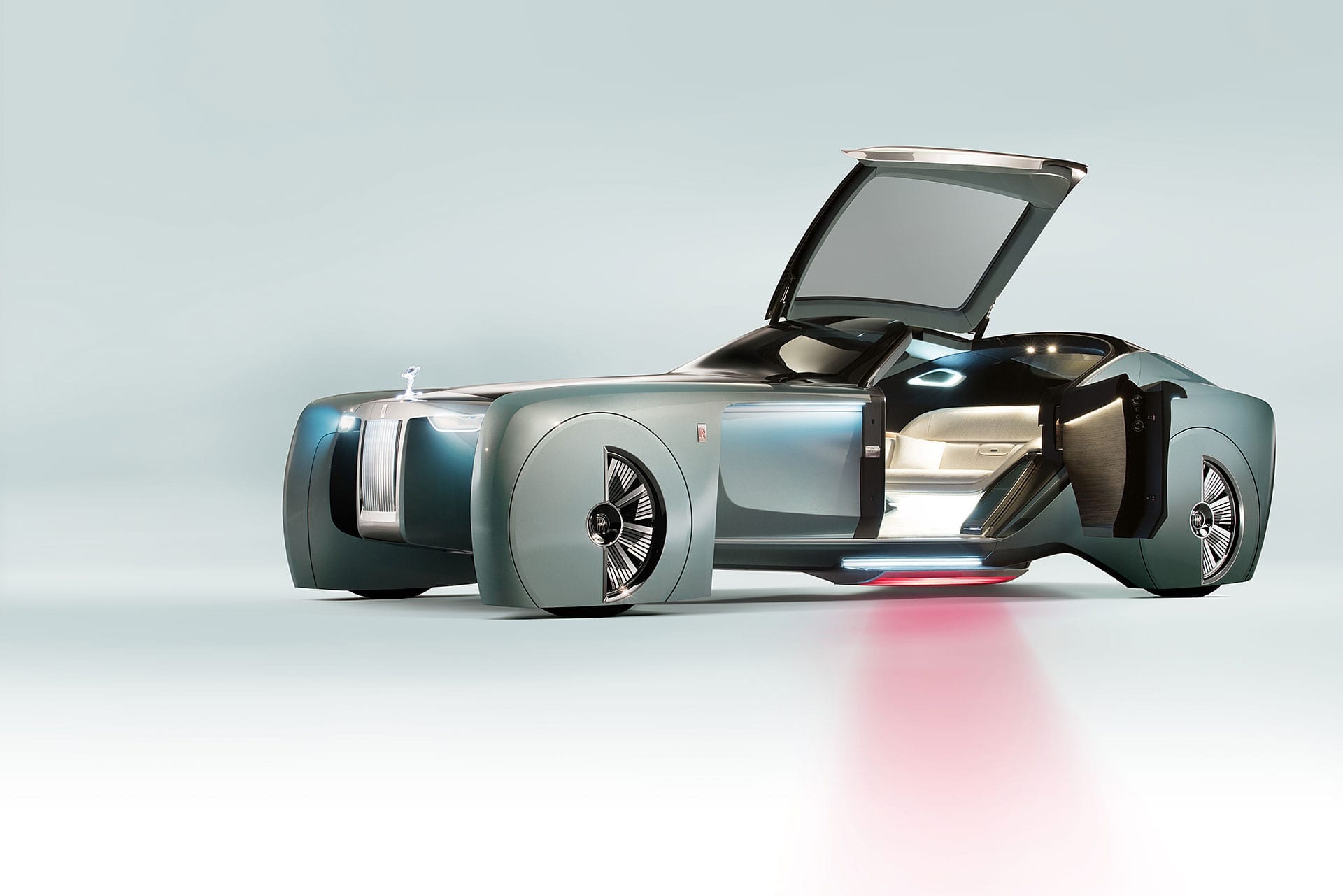 Rolls-Royce Vision Next 100
Rolls-Royce revealed how it sees the future of true luxury mobility by presenting the Rolls-Royce Vision Next 100 – codenamed 103EX – in 2016 to launch the centenary celebrations of owner BMW Group.
The marque's first ever pure 'Vision Vehicle' is a radical vision of effortless, autonomous, connected, spacious and beautiful luxury mobility, as personal as each individual customer.
All-electric and completely autonomous, the customer's Personal Vision will dictate how their Rolls-Royce will look. This is an uncompromised view of the future of luxury mobility that also embraces the luxury customer's wish for the Effortless Journey –autonomous travel in a completely-connected, fully-autonomous vehicle.
Its chassis of the future, hand-built from the most advanced materials and powered by a zero-emissions powertrain, will underpin this vision. Advanced manufacturing technologies will enable customers to involve themselves even more in the design of the shape, size and silhouette of their personal Rolls-Royce vision, which Rolls-Royce would then manufacture to the customer's specifications, making every model a unique bespoke masterpiece.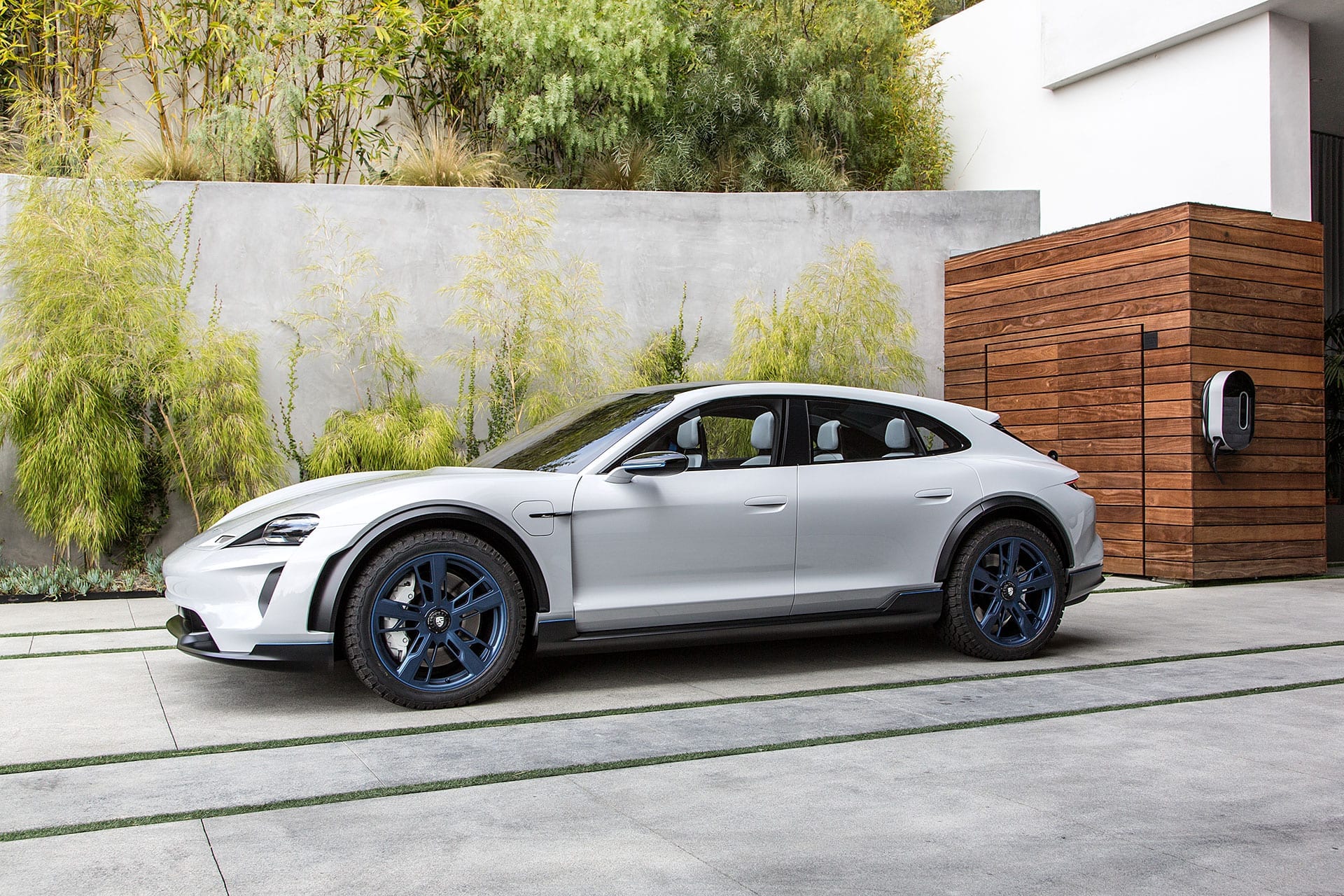 Porsche Mission E Cross Turismo
It's a Porsche but not as you know it… and it's an example of how new concept cars become reality.
Having wowed the 2018 Geneva motor show with the Mission E Cross Turismo concept study, a year later Porsche revealed it is going on sale late 2020 as the Taycan Cross Turismo.
This all-electric sports car for those with an active lifestyle has four doors, four individual seats and a Turismo rear end that provides even more space.
Compact electric motors, an underbody battery, no combustion engine, no exhaust system and no transmission tunnel meant Porsche could rethink the design to improve airflow for maximum performance.
A flat bonnet links it to the iconic Porsche 911, while distinctive rear wings and an extremely sporty fly line create a side view that is clearly Porsche despite its chunky off-roader design cues.
With the ability to do more than 500km on a single charge, and recharge to a range of 400km in just 15 minutes, it can show longer journeys a clean pair of heels too.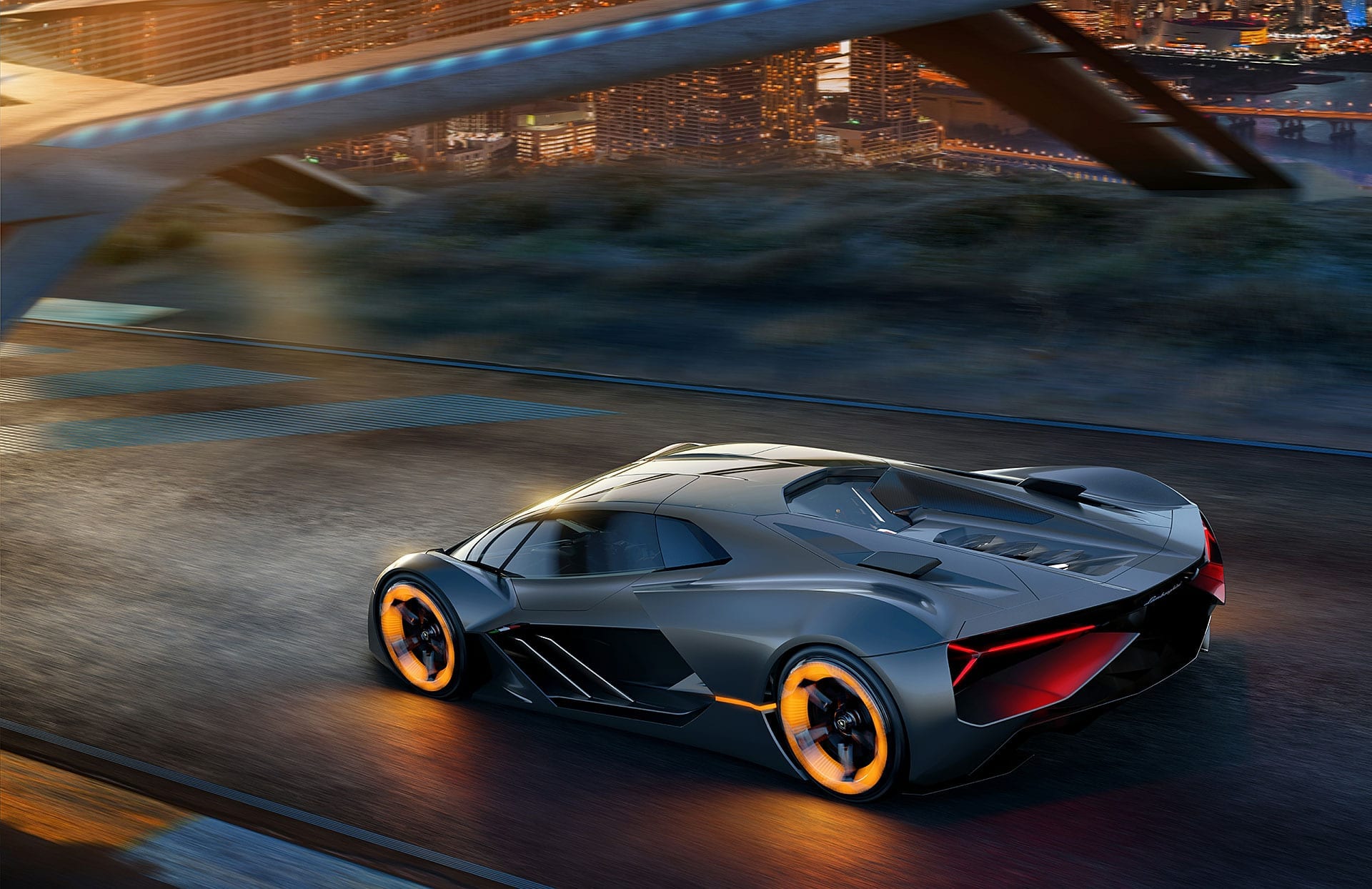 Lamborghini Terzo Millennio
The name says it all – this is the Third Millennium Lamborghini, the sports car of the future. This futuristic Terzo Millennio concept, developed with the Massachusetts Institute of Technology (MIT) and the first product of a three-year, £100,000,000 partnership, was unveiled in 2017.
Looking to rewrite the rules on super sports cars, this pure electric hypercar uses high-capacity supercapacitors, instead of batteries, due to their more rapid storage and discharge of energy. The creators are even investigating how electrical charge can be stored in the body panels, turning the car into a giant rechargeable battery, to maximise electrical energy retention.
Each wheel, with rims that glow orange, contains an electric motor. It means torque can be controlled individually so the car's stability is as good as a Formula One racer.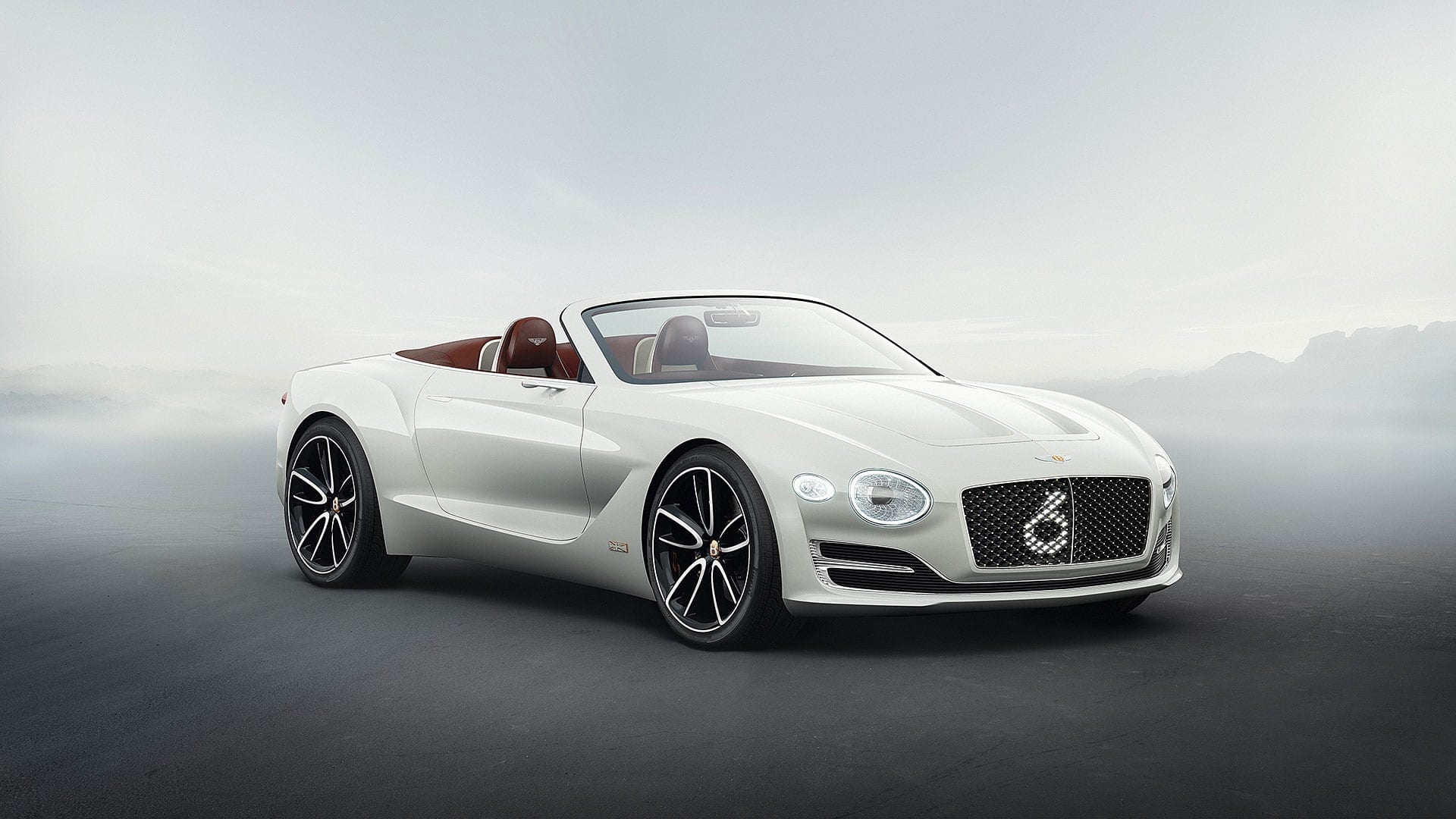 Bentley EXP12 Speed 6e
Effortless, exclusive and exhilarating, Bentley's EXP12 Speed 6e concept sees luxury customer demands met by Bentley levels of craftsmanship and refinement, combined with electric performance and grand touring capabilities.
Unveiled in 2017, Bentley's vision includes rapid inductive charging and connected on-board concierge services. The EXP 12 Speed 6e concept, which also showcases future Bentley exterior and interior design direction, was used to gauge public and customer feedback to shape Bentley's future luxury strategy.
Bentley's vision is for customers to benefit from high-speed inductive and mains charging and provide enough range to cover the long distances needed for grand touring. An electric Bentley would be able to drive between London and Paris or Milan and Monaco on a single charge and the on-board experience would be enhanced for both driver and passenger thanks to the integration of state-of-the-art technology.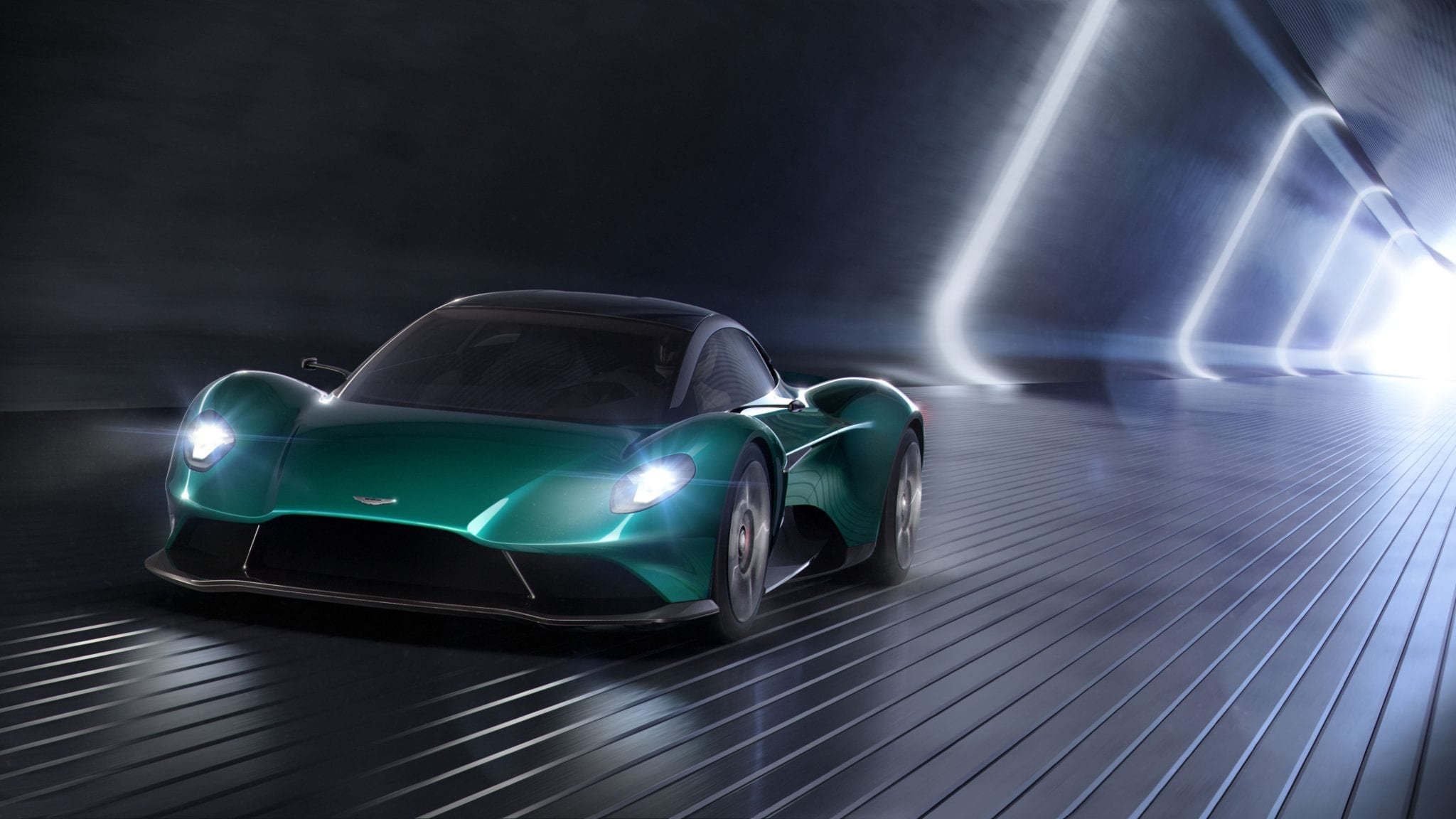 Aston Martin Vision Vanquish Concept
Aston Martin gave us the first glimpse of its debut series production mid-engined supercar, the Vanquish Vision Concept, at the 2019 Geneva motor show.
Showcasing the design language of the marque's most ambitious model, it revives an iconic name traditionally reserved for Aston Martin's flagship production model.
The advanced design study provides further evidence of the proudly British brand's intention to compete in one of the most hotly-contested market sectors in the automotive world – one traditionally defined by Italian supercar makers – with this Gaydon-built offering.
Every aspect of the design and engineering is driven by weight, packaging and aerodynamic efficiency.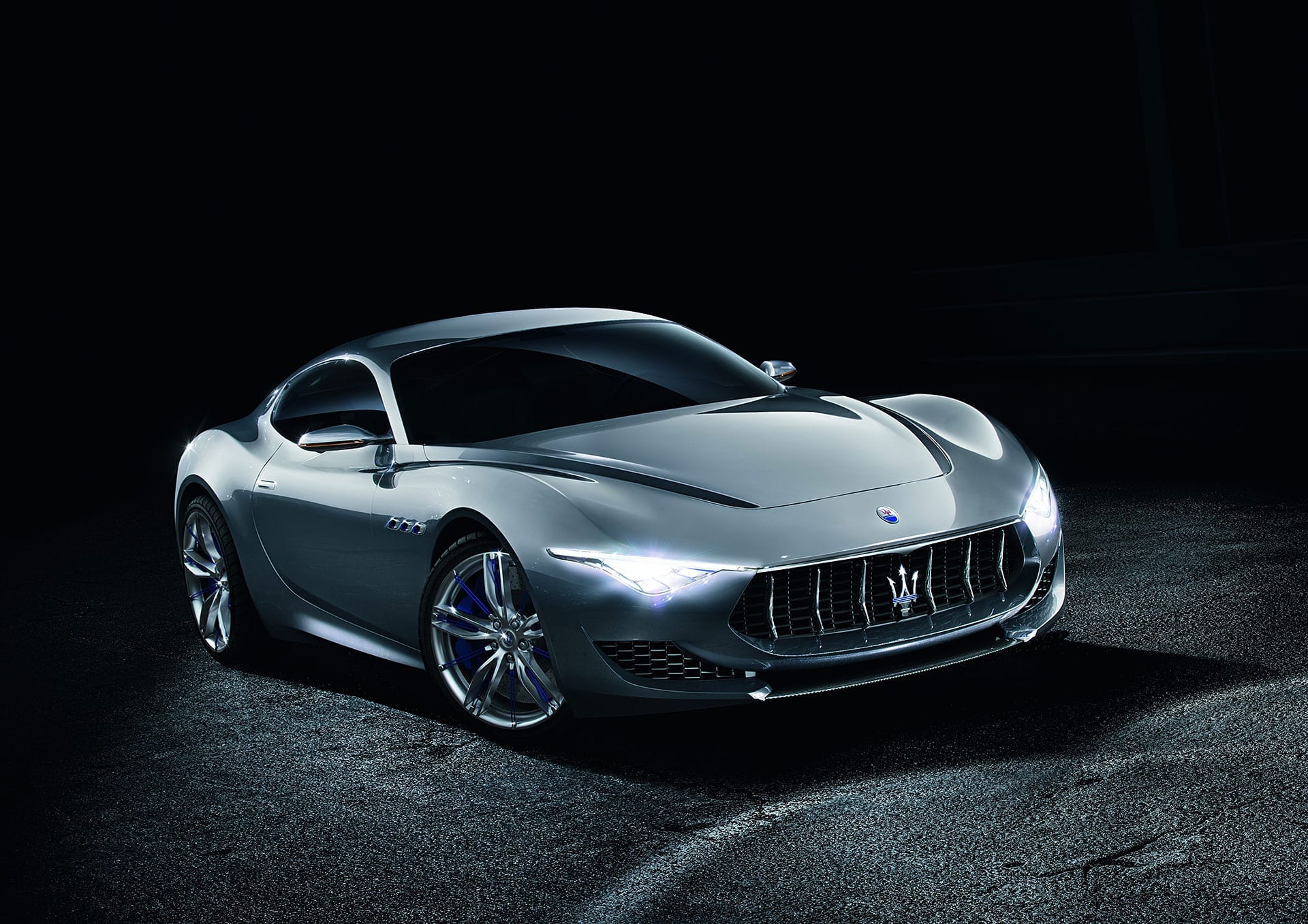 Maserati Alfieri concept
Maserati celebrated its centenary in 2014 by unveiling the Alfieri, a 2+2 concept car.
The exciting, realistic and 100% functional prototype heralded the design DNA of future Maseratis.
Named after Alfieri, the engineering genius and most prominent of the Maserati brothers, the concept car came at a time some people were thinking Maserati was starting to focus on producing sporty, premium four-door saloons. The Alfieri concept was a reminder of its racing heritage and exotic GT cars.
Representing the true essence of the Maserati brand, it is a sleek, Italian-style 2+2 like the 1957 3500 GT, 1959 5000 GT and 1969 Indy.
Backing up the performance of those looks was a 460bhp, 4.7-litre V8 engine mated to a super-quick six-speed, electro-actuated gearbox.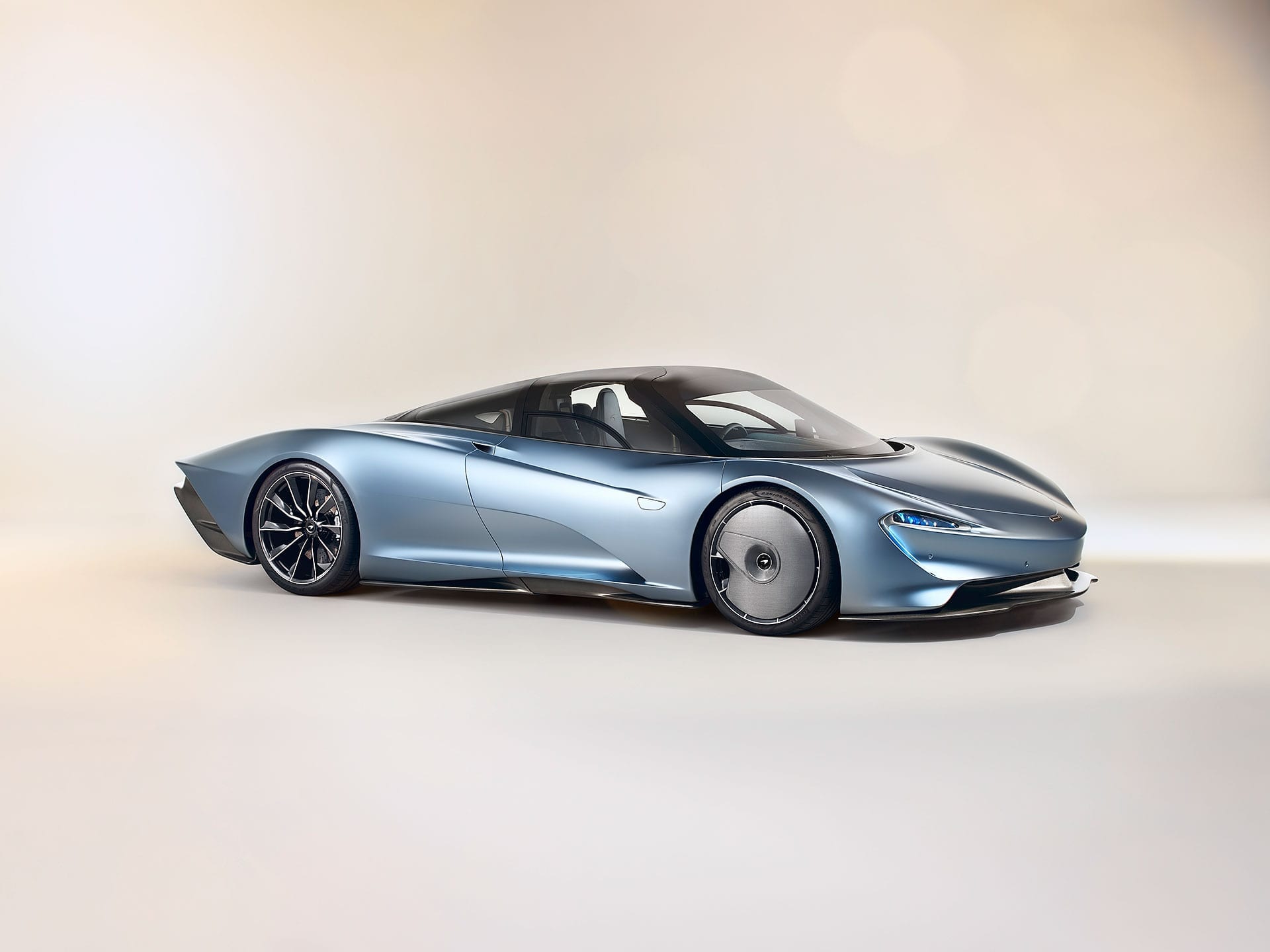 McLaren Speedtail
What started life as a concept, codenamed BP23, 2018, soon gained the name McLaren Speedtail and then prototype cars dubbed Albert after the legendary 1992 McLaren F1 supercar test mules, is due to reach its first lucky customers in early 2020.
All 106 models were sold, and sizeable deposits paid, months before the car was even unveiled.
The new petrol-electric hybrid hyper GT, the fastest ever McLaren and its Ultimate Series flagship, also has a three-seat cockpit with a central driving position like the McLaren F1.
With 1,050PS on tap, the prototype has been designed to reach 250mph
Production of the £1.75m McLaren Speedtail is due to start at the end of 2019 after a year of punishing testing in Europe, North America and Africa to achieve its destiny as the greatest McLaren road car ever.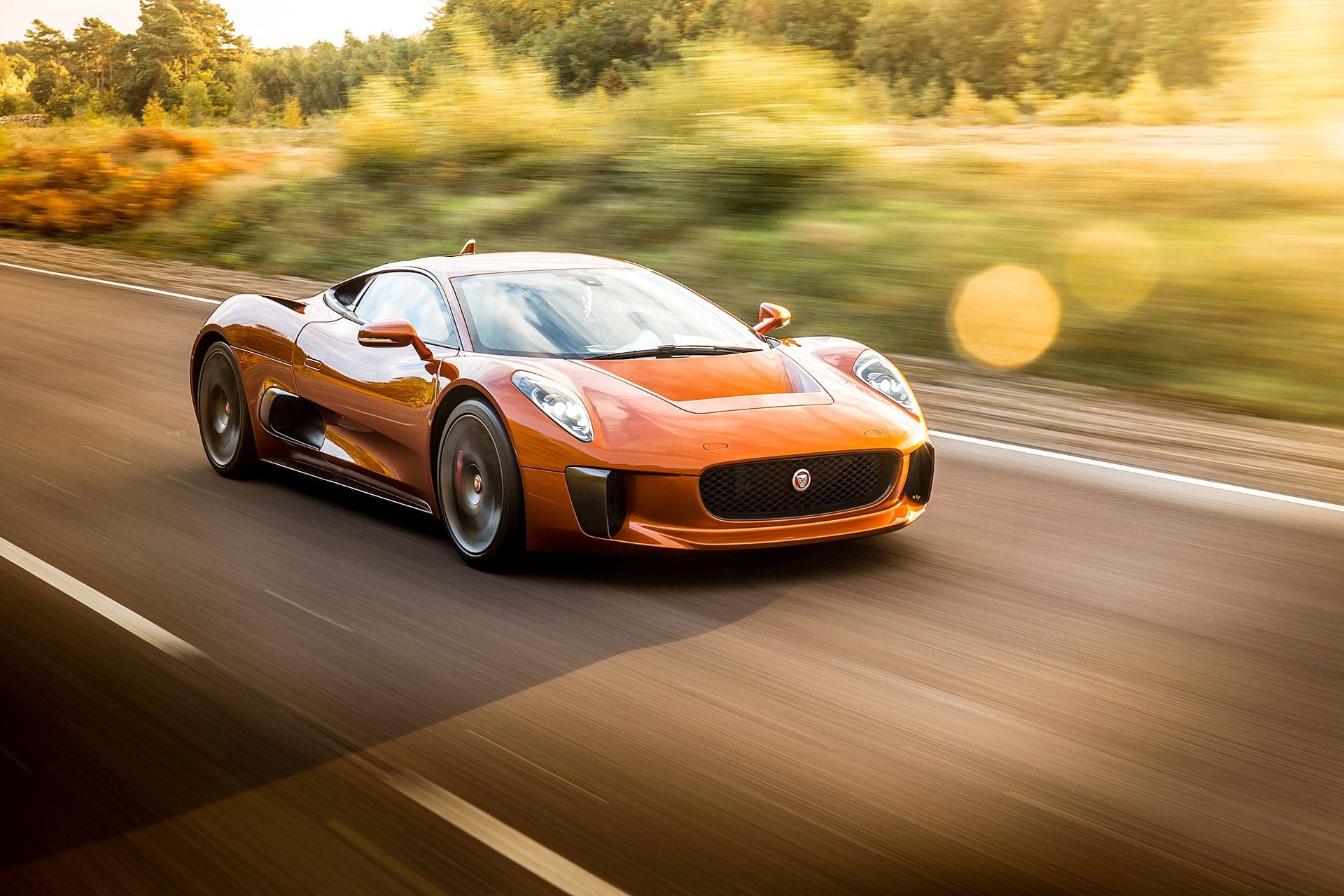 Jaguar C-X75
From concept to film star. Jaguar's stunning range-extended electric hybrid supercar concept, designed to celebrate the British brand's 75th anniversary, was revealed in 2010.
The plan was for limited production between 2013 and 15, with an estimated price of £700,000 to £900,000, but it was cancelled due to the tough global economic climate. Five prototype cars had been produced and one appeared in the 24th James Bond film, Spectre, released in 2015, in a high-speed car chase with 007's Aston Martin DB10 around the streets Rome.
Up to three of the prototype cars were sold at auction, one went to a future Jaguar museum and another was kept by Jaguar for demonstrations.
With its bonded aluminium chassis and body, the C-X75 concept was capable of 205mph flat out, 62mph from rest in 3.4 seconds and 100mph in 5.5 seconds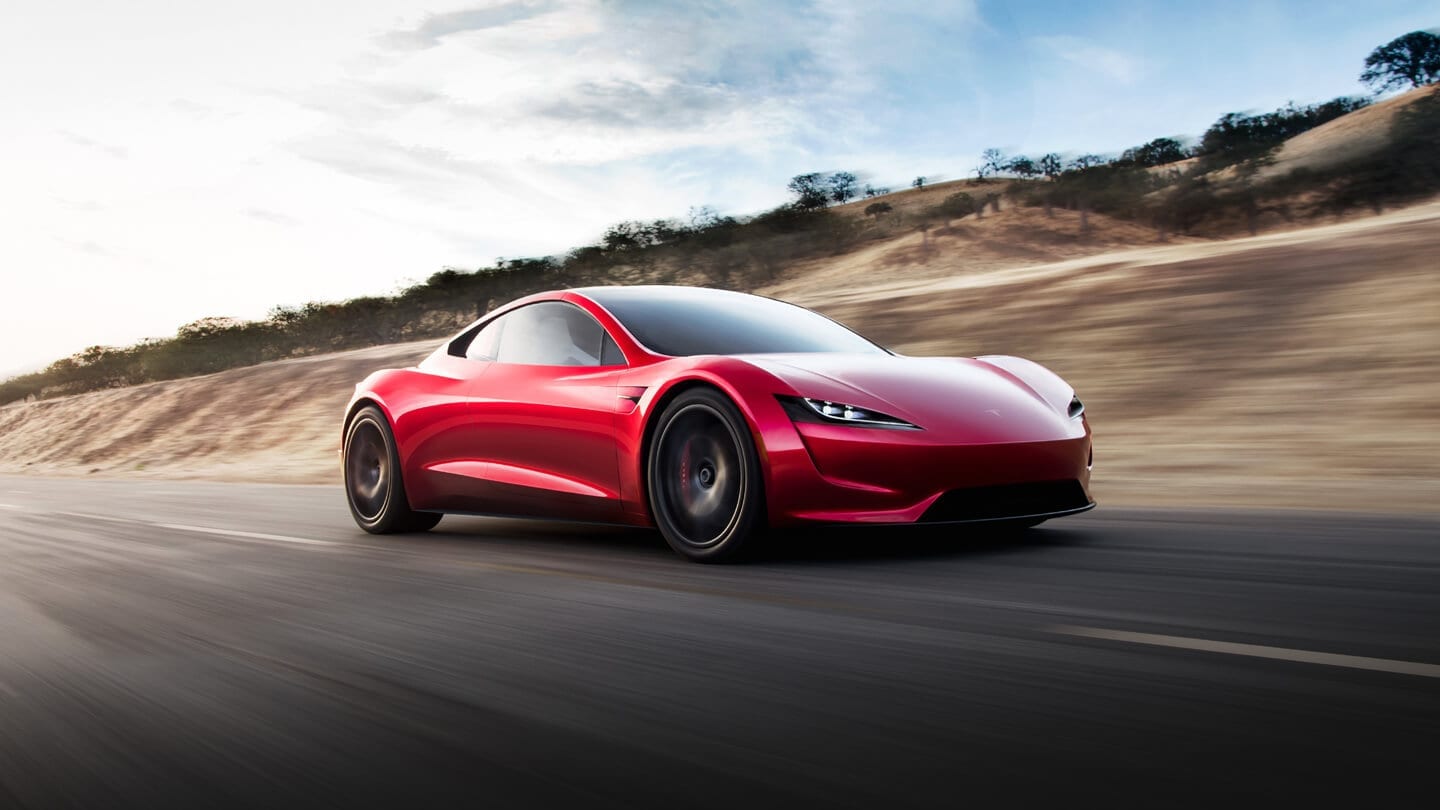 Tesla Roadster
Tesla's Roadster concept aims to be the quickest car in the world, with record-setting acceleration, range and performance.
Revealed in 2017, Tesla co-founder and CEO Elon Musk said it would be the fastest production car ever made.
The figures speak for themselves – 0-60mph in 1.9 seconds, which was quicker than any street legal production car when it was announced , 100mph in 4.2 seconds and a top speed of more than 250mph.
And this sleek, slippery, highly-aerodynamic all-electric, four-seater supercar also has a range of 620 miles.
The Tesla Roadster also features a lightweight, glass roof which can be removed and stored in the boot for that open-air, convertible driving experience.
An initial 1,000 Roadsters are available to reserve with the exciting new model due to arrive in 2020.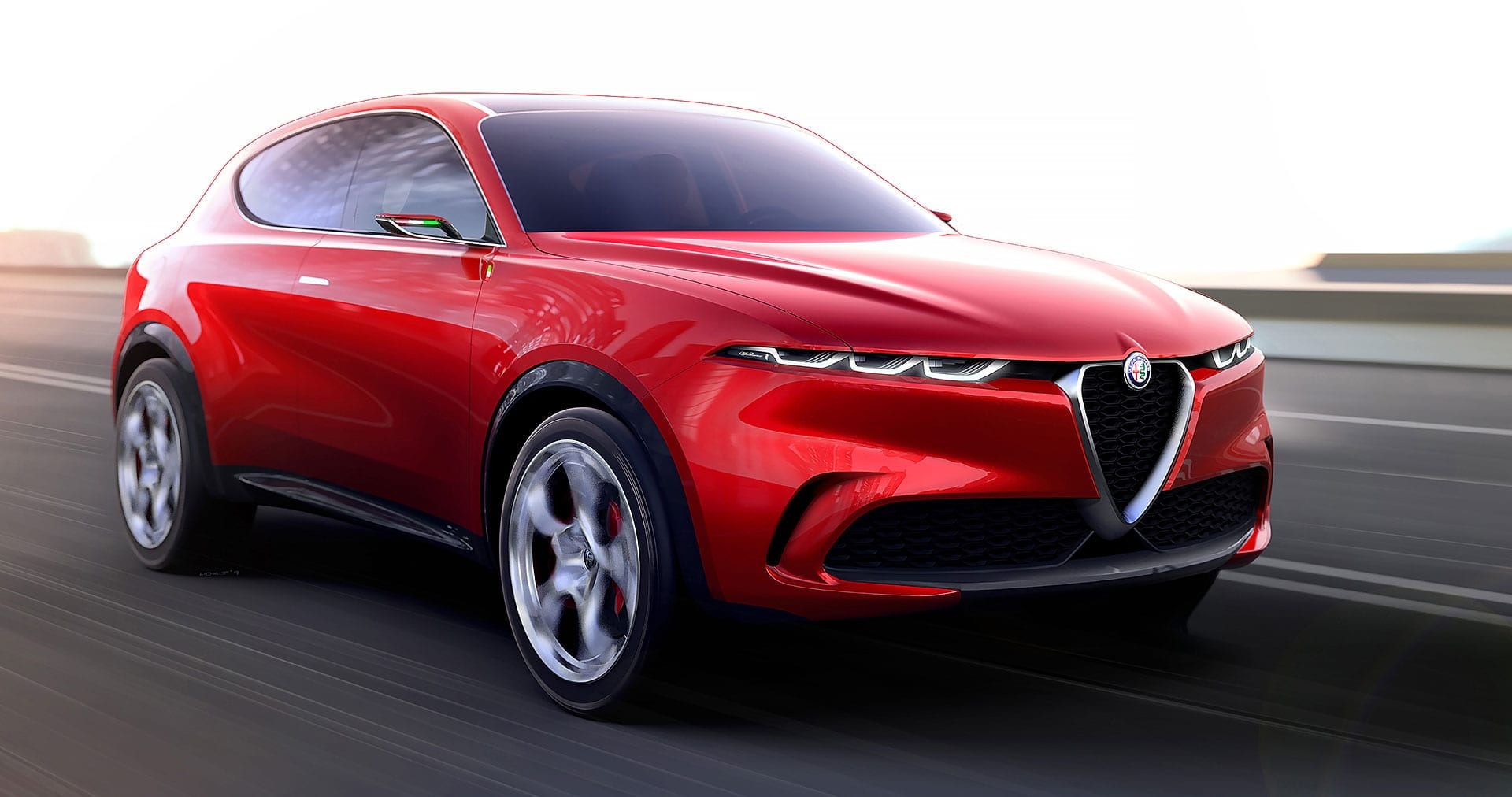 Alfa Romeo Tonale Concept
If you had to sum up the motoring world's big trends electrification and SUVs fit the bill. And so does Alfa Romeo's latest concept car, the Tonale, its first mid-size plug-in hybrid SUV.
This glimpse of future cars retains Alfa's valued heritage in its design DNA including 21in telephone dial wheels which date back to the 1960s, when worn by the iconic 33 Stradale, while the '3 plus 3' headlights evoke a proud gaze reflective of the SZ and Brera.
The four-seat Tonale's D.N.A. drive modes become 'Dual Power' for maximum output from the electric and combustion engines, while 'Natural' automatically maintains the best performance balance and 'Advance E' is full electric mode.
The name comes from the Tonale Pass, which is not far from the Stelvio Pass in the Alps after which Alfa Romeo's, larger, first SUV – with conventional turbo petrol and diesel engines – is named.
The Tonale is due to go on sale in 2021.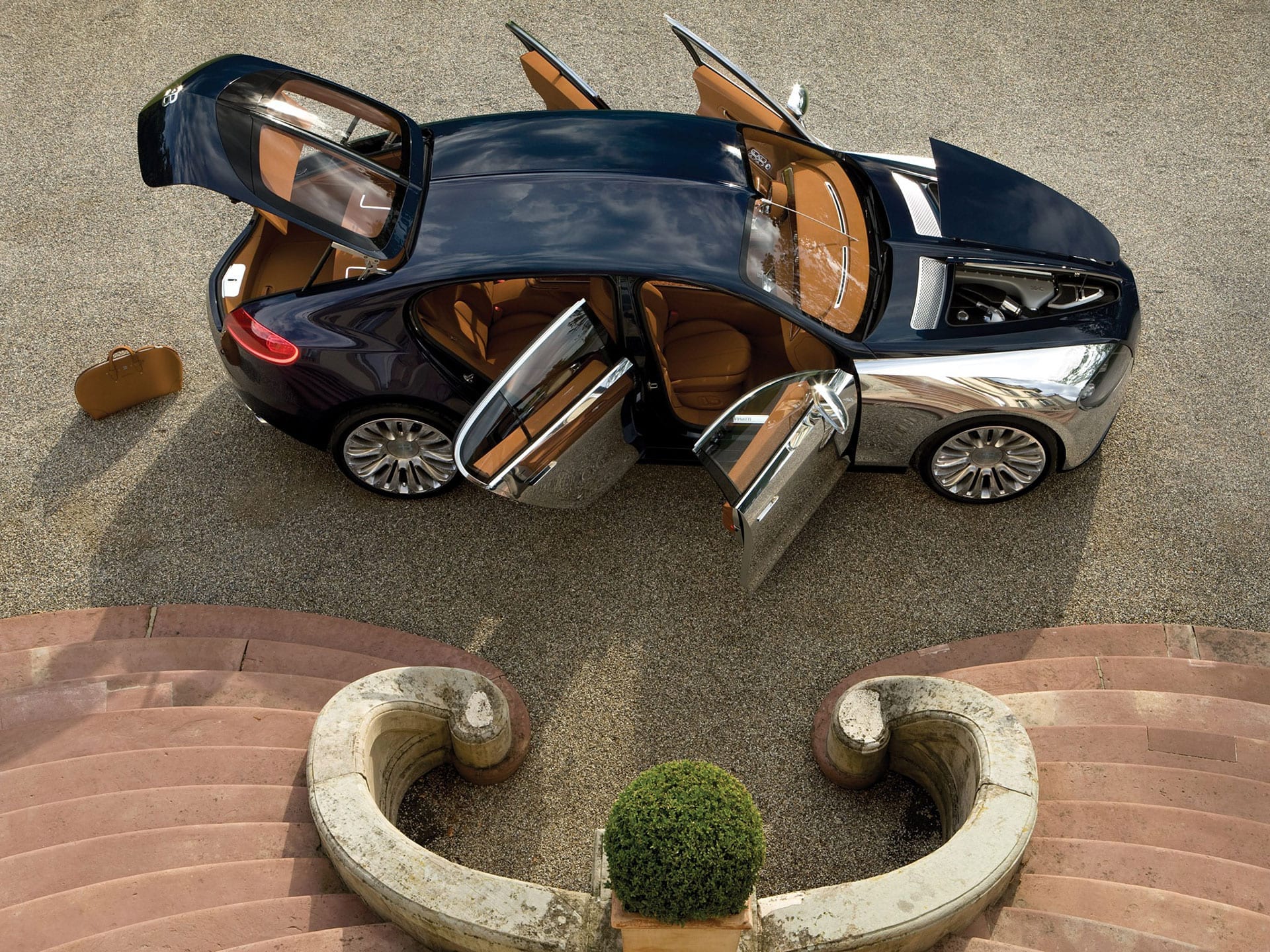 Bugatti 16C Galibier Concept
Bugatti's 16C Galibier Concept was designed and engineered to be the fastest four-door saloon.
This luxury express, unveiled in 2009, was going to be powered by an 8.0-litre twin-supercharged engine with 16 cylinders– hence 16C – delivering more than 1,000PS via permanent all-wheel drive for a top speed of more than 235mpg.
On the design front, the 16C Galibier's hood opens in two parts along a central hinge.
Galibier, a name used in Bugatti's past, refers to France's Col du Galibier mountain pass.
A £1m plus production version, called the Royale, was initially expected to go on sale in 2015 but the project was dropped in favour of the Bugatti Veyron's successor, the Chiron. But there were later suggestions the Galibier project is still not dead in the water and might become a hybrid.
Flying high?
Why the sky's the limit for concept cars as personal transport is set to take off?
Concepts and prototype cars have been part of the motoring scene,
in one form or another, for almost a century but have been going from objects of beauty to technical tours de force.
In the early days concept cars were more about extrovert styling to really stand out and features that were revolutionary at the time but we now take for granted. Now, if anything, the design of future cars are even more radical as manufacturers push the boundaries but it is often what you don't see – let alone understand – that is driving the development of automotive technology. The buzzword for the latest cars is autonomous driving, hybrid sports cars that can drive themselves and negotiate traffic and other hazards by interpreting the common road behaviour of other drivers, electronic driver aids that intervene to avoid collisions and their impact and, of course, new forms of cleaner, greener power.
Most modern-day concepts will be using electrified powertrains, with better ranges and charging times, while conventional petrol and diesel is starting to make way for fuel cells. These electrochemical cells convert chemical energy of a fuel, often stored hydrogen, and oxygen from the air into electricity. Futuristic vehicles are now often built from lighter, stronger more rigid materials to save weight and improve fuel efficiently and can feature self-healing paintwork and body panels to repair small scratches and even dents. And they're also shunning traditional interior design for living areas and versatile accommodation – why do you need to see where you're going if the car is driving itself – while mirrors are replaced with cameras and display screens.
So what does the future hold for personal transport? Well, it seems the sky could be the limit with flying cars rather than flying carpets! And these flying concepts are already more than pie in the sky and could be the coolest cars in the world… assuming they make it all the way to becoming reality.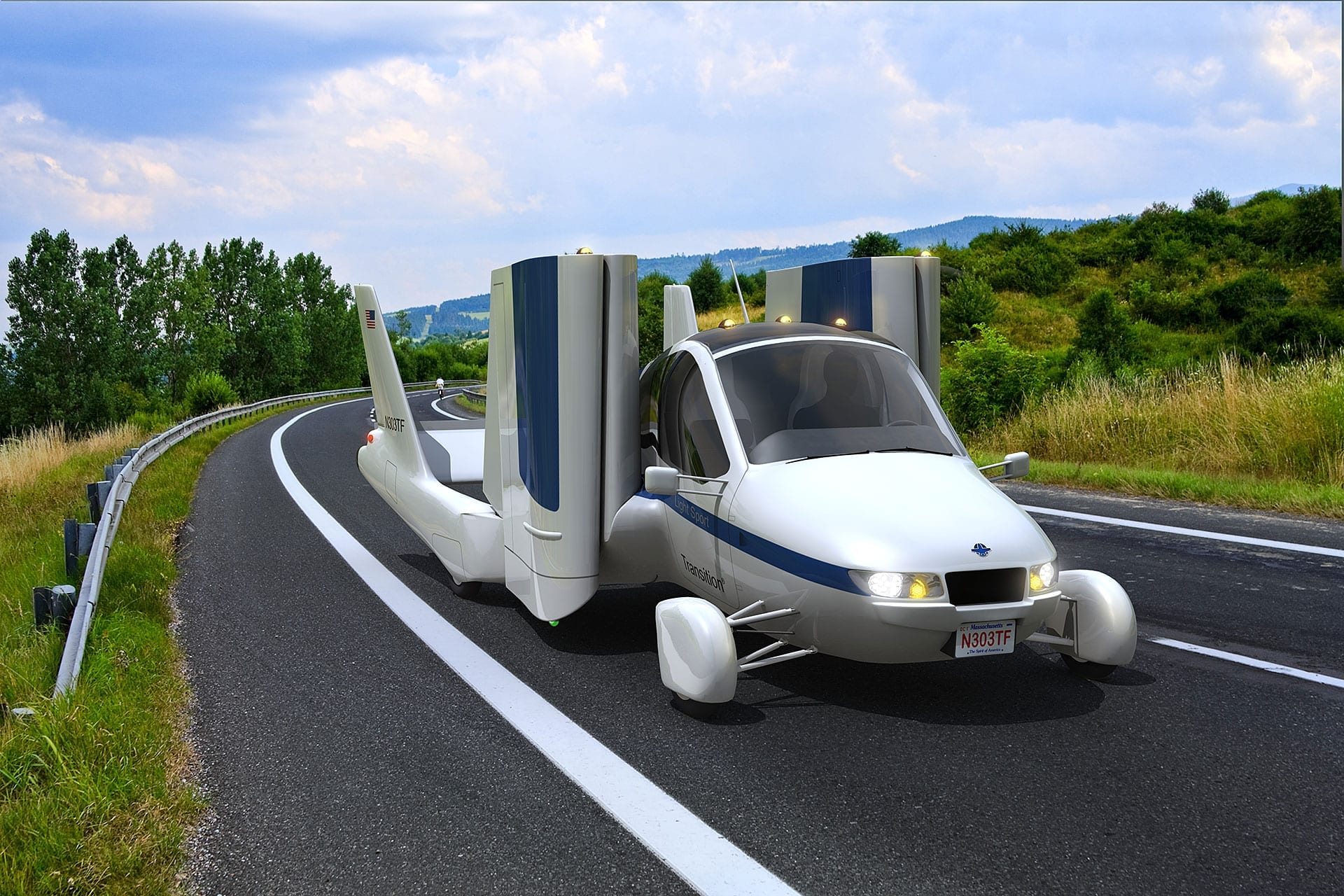 Terrafugia Transition flying car
Terrafugia built and flew its first Transition flying car in 2009 and a second version three years later. Now, with Terrafugia part of Chinese automaker Geely since 2017 along with Volvo and Lotus, production is due to get off the ground and sales start in 2019. Terrafugia was even taking pre-orders before it released the price.
The two-seater's petrol-electric hybrid powertrain has a 400-mile range, a top speed of 100mph and it can fly at 9,000 feet. It changes from car to plane in a Transformers-like transition taking less than a minute. Terrafugia (Latin for 'escape the earth') considers it a street-legal aircraft – you need a pilot's licence to fly one – rather than a car with wings.
The idea is to fly to a small airport or airfield, then drive to the final destination. And you won't be grounded when the weather is too rough for flying.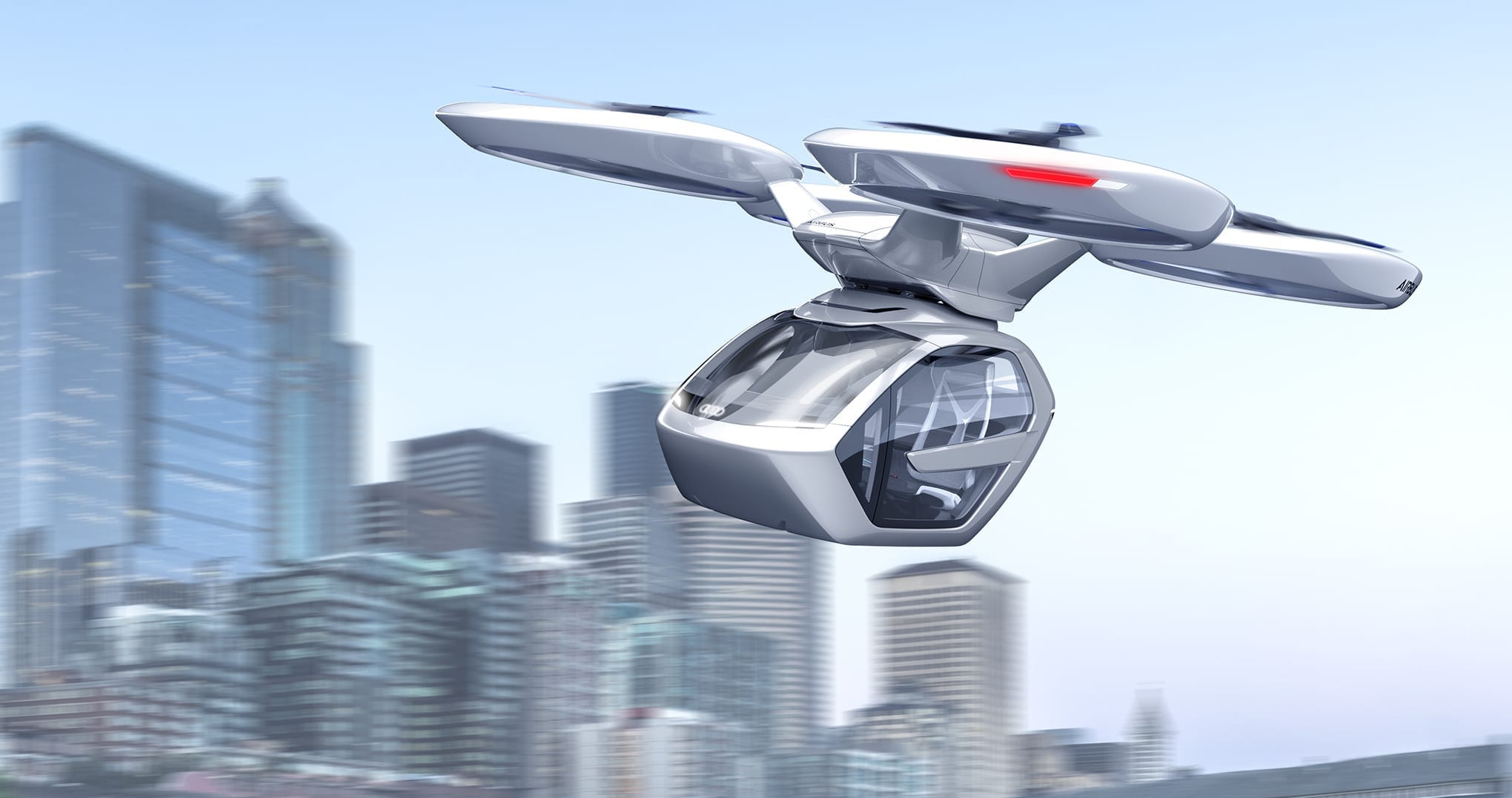 Italdesign Airbus Pop.Up
Another vehicle that can fly and drive is the Italdesign Airbus Pop.Up.
Volkswagen Group's Italdesign teamed with the aerospace company Airbus on a small two-person pod that can be fitted to either a battery-powered, completely autonomous four-wheeled chassis for road driving or a four-propeller flying module for short flights.
A refined, lighter and more aerodynamic design, Pop.Up Next, was displayed at the Geneva motor show in 2019 under VW's Audi brand although it is not production-ready.
The dominant interior feature is a 49in screen while humans interact with the machine by speech and face recognition, eye-tracking and a touch function.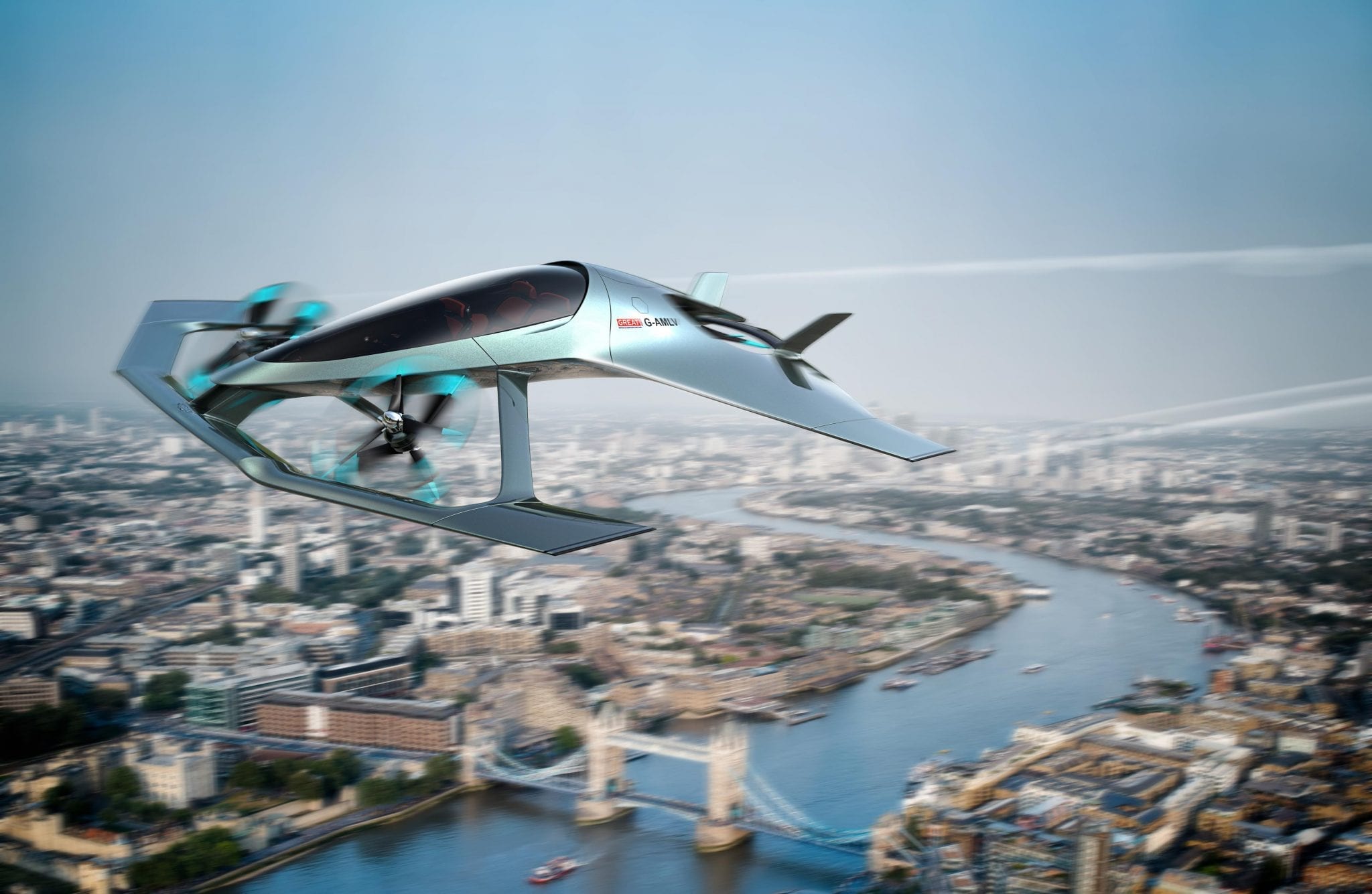 Aston Martin Volante Vision Concept
Aston Martin's Volante Vision Concept is a luxury concept aircraft capable of vertical take-off and landing.
Revealed in 2018, and produced in partnership with Cranfield University, Cranfield Aerospace Solutions and Rolls-Royce, the concept aircraft aims to bring luxury personal transportation to the sky. With room for three adults, the concept is a near future study that previews a flying autonomous hybrid-electric vehicle for urban and inter-city air travel – fast, efficient and congestion-free.
How the market has changed
Just as concept cars have changed over time, investors in classic and prestige cars has also seen many changes through the years. We asked acknowledged expert Dr Vincent van der Vinne, author of 'Investing in Cars', to share his insights into how the market has changed
Where are the growth areas in the market?
I would mention two areas of growth, one well known, the Youngtimers and another one not so well known, the pre-1914 vehicles with large engines.
Youngtimers are the cars that are now about 30 years old. Between February and April 2019, RM Sothebys have auctioned a private collection of over 140 modern classics and future collectibles, mainly from the 1980s, 1990s and 2000s, the so called 'Youngtimer Collection'.
Some of the results show the potential of growth for these vehicles – /magazine/rm-sothebys-the-youngtimers-collection/.
When we look at pre-1914 cars with large engines, an interesting picture emerges. On the face of it, these are going to be slow in growth value – in fact in the past years their value hasn't grown a lot. But if you look at the last 20 years, the growth is massive.
Do some cars always bring better returns than others?
Generally speaking, sports cars and sporty looking cars bring better returns than saloons.
Are some marques simply more iconic and therefore popular?
Yes, there are marques that are more popular due to their heritage and image, however this can change with time.  
For example, in the 1980's Aston Martin cars weren't great, so the image of the brand had to suffer from that. However, after Ford took over, the quality improved, therefore the interest in the brand increased, which led to an uplift in brand image. This, in turn, was a factor in driving up the sales and interest for their classic models as well.
An investment opportunity – maximising the gains of a prestige car as an investment opportunity
What would you say is the appeal of investing in prestige and classic cars?
Well, that's easy! In comparison to other assets, you can actually enjoy your investment – you can drive it around, you get to take care of it and show it around so others can admire it. And even if the value drops, you can still make the most of it.
By contrast, if you invest in wine for example, you can't really enjoy it – if you decide to drink it, you lose your investment!
You can also invest for instance in art, but you can only look at it. A classic Ferrari can be driven on the road, you can really enjoy the experience and go back in time to when the car was manufactured.
How does it compare to other investments?
If you look at the past 20 years, classic cars have been one of the best investments. The price value of the rare and classic cars went up far more than the stock market, gold or art market.
Even if you look at the past, let's say 3 years, you can see that the classic car market has been quite stable – some cars went up in value, others down, while some stayed more or less the same. If you look at the value of gold, from 2000 to 2018, the average price went up 4.5 times – from $279 in the 2000 to $1268 in 2018.
If you look at current stock market FTSE100, and compare December 2000 to December 2018, stocks overall value are up just by 1.08%. However if you look at sports cars, such as classic Aston Martins, Ferraris or classic Mercedes Benz, the value went up in general 8 to 10 times.
Is there a typical investor profile?
Generally speaking, men over 40 years old with an interest in cars and with money to invest tend to buy more classic, exclusive cars.
How has the investor profile changed?
That's a difficult question, because while there have been some changes, some things have remained constant. It is fair to say however, through the years, we can see new trends emerging, with collectors being interested in different models.
Buying cars is a very personal experience, so lots of collectors tend to buy the cars that they were dreaming off when they were young, which typically means cars that are 20-30 years old. This will influence the type of cars that are popular.  
When it comes to younger entrepreneurs, they usually tend to buy new or modern cars, such as the new Maseratis and Lamborghinis. If they consider buying a classic car, again you will find the same trend and they will buy the car that is about 15-20 years old – the car from the poster they had up on the bedroom wall as kids! 
When it comes to investing in prestige or classic cars, are people swayed by the marque or by the numbers?
Firstly, people are mostly interested in buying a certain marque – you will often find that brand affinity comes first and after that they will see which car from that manufacturer they can afford to buy.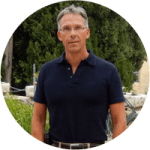 Dr. Vincent van der Vinne (1964) is a Dutch historian and writer, who completed his PhD on the rise of the motorcar. He has been studying the history of cars and car use for more than 25 years, and has published various books on the subject.
Dr Van der Vinne has worked for the "Nationaal Automobiel Museum" (nowadays known as the "Louwman Museum"), Autotron Rosmalen and Automusa.