1. Aston martin DB12 Review – A Chaotic Start
Thanks almost entirely to British Airways, I turned up a day and a half late to the Aston Martin DB12 review which, when said event was scheduled to last two days, was something of an inconvenience. Perhaps worse, and thanks to two consecutive 3.30am starts (one to catch a flight that never took off, the other for one merely delayed by several hours), I was also as exhausted as I've been before climbing into a new car. By the time I made it to the south of France, all the Aston folk could do was fill me up with Diet Coke, press a DB12 key into my hand and say, 'See you at the hotel in five hours.'
Why the pathetically self-indulgent tilt at the sympathy vote so early on? Simply this: while I'd never have chosen to arrive in such an unprepossessing condition, now that I had it did occur to me that there could be few stiffer tests for such a new sporting GT than for it to try and keep me awake, alert, entertained yet also soothed and comforted when in that state.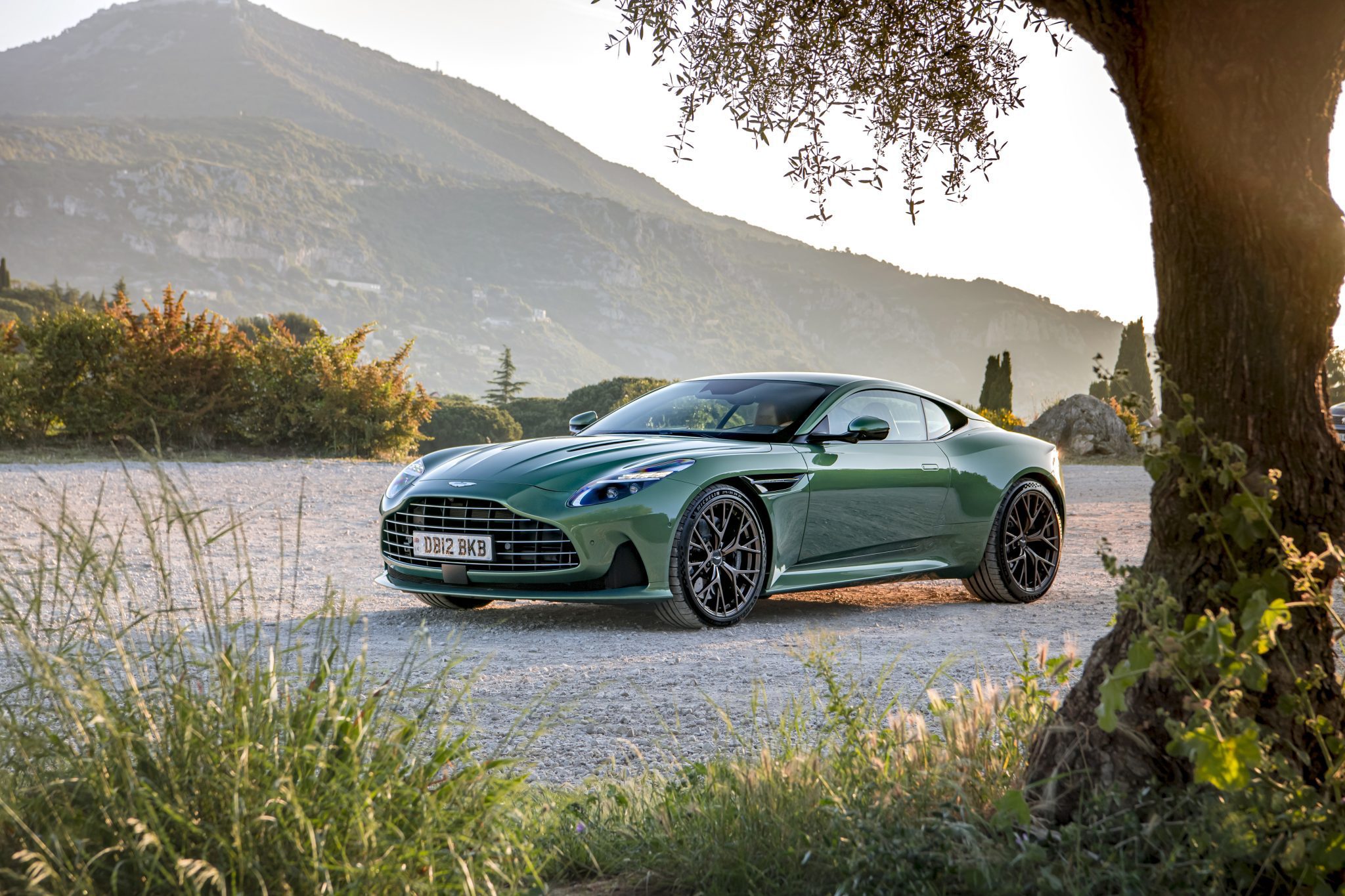 2.DB12 Interior – A Transformation Beyond the DB11

Where to start? Let's go with the interior, not a typical launchpad for a story about a 200mph Aston Martin I grant you, but surely the area of the DB11's endeavours in greatest need of addressing. Those hoping to see the retention of the clunky, three generations old Mercedes nav and infotainment system with its Benz controller will be bitterly disappointed. Everyone else, which I imagine is essentially everyone, will be delighted that Aston Martin has made a cockpit for which it need no longer spend its entire time in a condition of perpetual apology.
The interior design is characterful and of conspicuous quality, but all eyes will understandably rest on the 'waterfall' centre console with its new touchscreen and – what's this? – a few rows and columns of physical controls. Real, live buttons you can actually press rather than haptic pads at which you must stab forlornly more in hope than expectation that something might occur as a result? This could catch on.
Most notable however is that screen. It's too small and I'd far prefer it to be more square than letterbox in shape, but the resolution is good and its operation reasonably intuitive. It's even compatible with Apple CarPlay. I know.
What's most notable, however, is that this is Aston Martin's system, designed in-house. The official reason was that off the shelf systems both lacked some functionalities Aston needed, and included some it did not. My off the record understanding, though, is that it's at least as much to do with the lead times quoted by tier one suppliers, a function, I guess, of Aston being a charming but extremely small fish in a very large pond. I also understand that, as sold, the system utilises less than 50 per cent of its potential capacity, providing lots of room for adding goodies downstream.
3.Performance Upgrades – Power, Stiffness, and Suspension

Anyway, it's an enormous step forward, albeit still nothing special in terms of how it works compared to what you might find in, say, the BMW 3 Series in which I'm sitting as I write these words.
But back to more meaty matters. The structure of the DB12 is some seven per cent stiffer, while the suspension retains the DB11's basic architecture but nothing else. Everything – springs, dampers, roll bars, track width, bushes and programming are new. As is the electronically controlled limited-slip differential, which has been in the Vantage since it was new but denied to both the DB11 and DBS Superleggera.
New? Well it may not look like it but, by component count, just 15 per cent of this car is carried over from the DB11. The exterior is new, as is the interior. The bonded aluminium structure has been extensively modified and while AMG's 4-litre twin-turbo V8 is retained (and the V12 dropped, of which more in a minute), its power has leapt from 503bhp to 671bhp, besting by a distance the outputs of what Aston Martin regards as its two key rivals, the Ferrari Roma and Bentley Continental GT.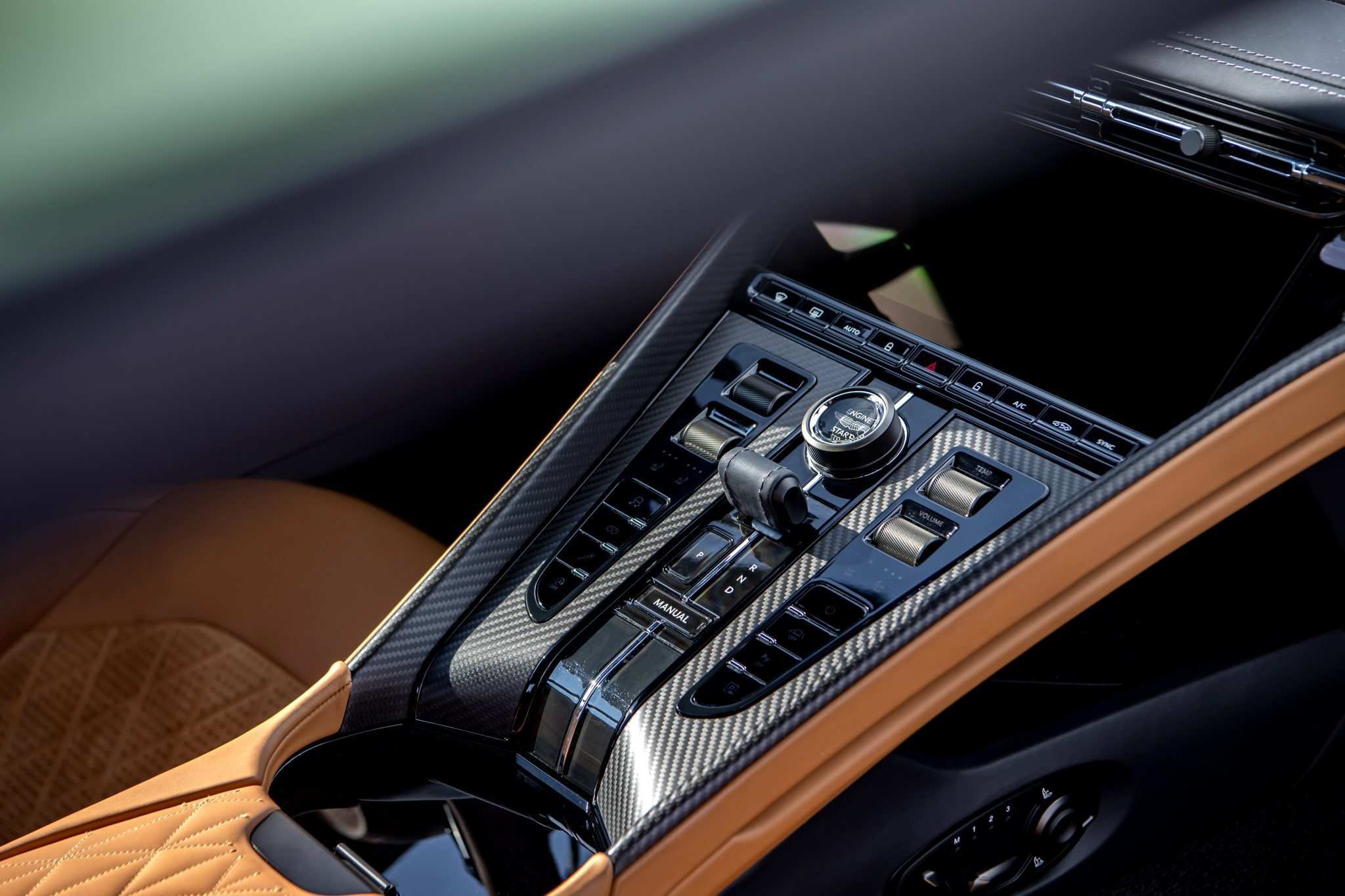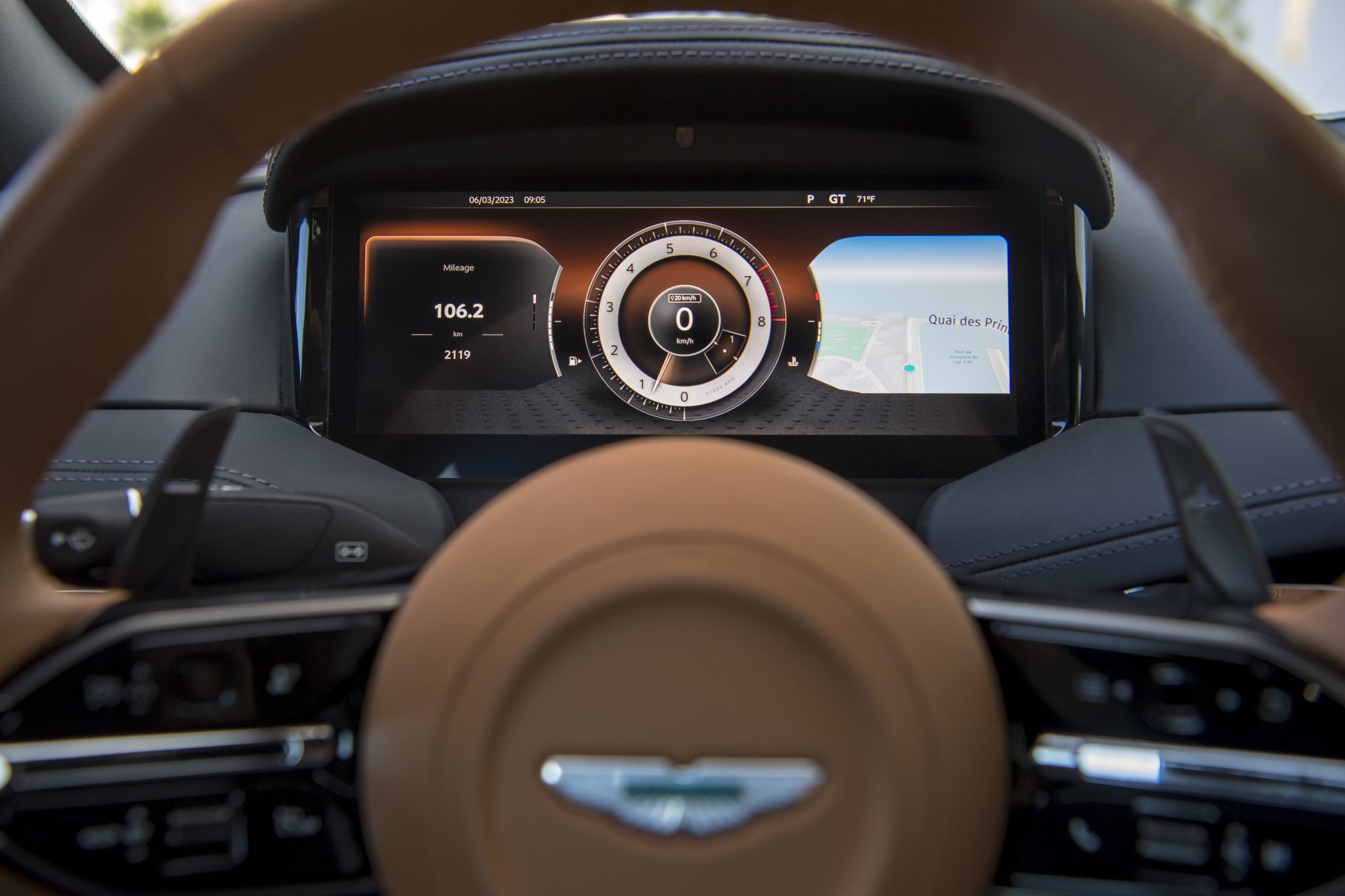 4.Impressive Power Hike and Technical Improvements
As for the engine, clearly the power hike is enormous, achieved essentially by reprofiled camshafts and a slug of additional boost. So what's not to like? Only that the compression ratio has had to be dropped from a high-for-a-turbo 10.5:1, all the way down to what sounds like quite an old school 8.6:1, the consequences of which will be arriving shortly.
Clearly the car was going to be a whole lot faster than before – Aston is quite coy about weight and does that infuriating thing of quoting the 'dry' mass of a car with no fuel, water or oil on board, in which state it can't be driven and is therefore more ornament than automobile. But I have it on good authority that its good-to-go weight is around 1815kg, a gain of around 50kg over the DB11 V8. But what I really wanted to know was whether the company was trying to reposition the car. You'll see a lot in the press about it being the world's first 'super tourer' because that's the buzz term Aston invented to help lazy hacks file their copy with the minimum of thought.
5. Vision and Positioning – A Super Tourer Concept
I don't even know what a 'super tourer' is, but I do know Aston Martin headed off in one conceptual direction with this car, the regime then changed, brakes were rapidly applied and reverse selected. In essence there was a time when the DB12 was going to have a far more sporting setup than the one it eventually acquired. Whether for good or ill, I cannot say, having no experience of what it would have been like had the original plan been retained. But it seems sensible to me to keep the car in the same conceptual space between the Roma and Continental GT. Less sporting but more comfortable than the Fandango, and vice versa relative to the Benters.
Actually I'd say it does feel a tad firmer though, without a DB11 to try alongside, it's hard to be sure. But the DB12 likes to assert itself in the way that it rides. It's taut, squabbles occasionally with imperfections in the road but is very well controlled and while quite firm, avoids harshness by a margin. Another sign of how seriously Aston is now taking this stuff is that not only does the DB12 come with spanking new Michelin Pilot Sport 5S rubber, it's a bespoke tyre designed specifically for this car. By contrast, and if you can believe it, the Cup 2 Rs used by the Valkyrie are off-the-peg items.
6.Handling, Steering, and Ride Quality
By now I was settling into the journey, kept awake by the caffeine in my veins and the V8 under my foot. There's a kind of natural gait in a car like this on a decent empty road and again the comparison to the Roma and Conti GT is instructive. In the Italian you'd be windows down, dazzled by the change up lights on the steering wheel and wondering whether it was you or Ferrari's electronics that were causing you to drive so brilliantly. In the Bentley you'd be pushing on a bit, but always mindful of the car's mass, keen not upset the equilibrium in the car. In the Aston you still want to guide – rather than lob, chuck or hurl – it into a corner, but at a rate that still gives both you and the car some work to do.
But in the DB12 it pays to push through this. Because what it has that the DB11 does not is composure that will not quit. Beyond about 8/10ths the DB11 would essentially give up and actually become quite loose and even ragged if you'd turned the systems off. The DB12 never, ever does. It doesn't turn in quite like a Roma, but I prefer the Aston's steering and the way the new diff means you never fear missing an apex through understeer on a trailing throttle, while making as much oversteer available as you could ever hope for at the exit. This, then, is a fine chassis, with a superlative ride quality, handling and steering.
7.Powertrain Predicament – The AMG V8's Performance
But I'm in two minds about the powertrain, which is curious given how far it seems to have progressed. And I'm not even talking about the eight-speed ZF gearbox between the rear wheels, which is fine for this kind of car. It's the motor that troubles me, just a touch.
Nor am I lamenting the demise (in this car at least) of the V12, which I am assured will be returning. In what Aston won't say, but all my money is on this year's DBS replacement which I'm betting will be called Vanquish.
The problem, such as it is, is the way the heavily boosted AMG V8 develops its power. When properly on song, this is a pretty relentless powerhouse. Peak power comes at 6000rpm but it's still bellowing away near 7000rpm, which is fine as far as it goes. Interestingly, Aston Martin has tuned its voice to be far more baritone than basso profundo as Mercedes has it, and I can't quite decide which one I prefer.
8.The Struggle with Low-End Torque
But at the other end of the scale, things are dramatically different. Indeed I was genuinely surprised by the car's off-boost lethargy, at least until I saw by how much the compression ratio had dropped. Not only does peak torque not arrive until near 3000rpm – it was 2000rpm in the DB11 – the torque curve at that point seems near vertical, which means if you're in a gentle powertrain setting and try to pass something without the engine kicking down, you can be quite surprised by how slowly it responds. In a tourer (even a 'super tourer') a lack of low down torque points to a misguided sense of priorities for this car. I'd gladly give up 50bhp at the top end if it meant the car would waft along on a tidal wave of effortless torque in a high gear and at low revs.
This, then, is the car's single biggest failing, at least to me. It's something any owner would soon learn their way around and in all other respects the AMG motor is magnificent, but it does go to show that there's no such thing as a free lunch: for all the benefit it brings, scoring more power from the same capacity will always come with some kind of drawback.
Yet it doesn't come close to spoiling this car.
9.The Final Verdict
It is true that the DB12 does not feel remotely like the new class of car Aston Martin would have you believe. In many ways, indeed, it is exactly what you might expect: a thorough update of a fully mature product. It's the way it's been done that impresses. Albeit at a different position in the market, the transition from DB11 to DB12 has been executed with the same kind of fluency and attention to detail as, for example, you'd have found climbing from a 991 generation of Porsche 911 to a 992. For Aston Martin that's one hell of an achievement. I also like the fact Aston Martin hasn't tried to change what the car is about, just improve it, and that it has achieved in almost all areas.
And it is now tremendously engaging to drive. Indeed I got lucky with the traffic and ended up having a pretty joyous time in the car, turning around to go back through the same sequence of bends on more than one occasion.
When I got to the hotel, the Aston staff were already there, having taken the direct route back from the lunch stop where I'd collected the DB12.
'How are you feeling?' one asked. It seemed like a strange question from someone I'd seen so recently, so I replied, 'Just fine, how are you?'
Then I remembered. When I first arrived I'd been on my knees with exhaustion and would have taken the key to a room in the local Ibis over those of a DB12 in a heartbeat. But now I wasn't tired at all; on the contrary I wished I could have kept on going. Five hours earlier I'd have simply not believed it was possible. If you really want to know what Aston Martin has achieved with this car, there is no indication I can provide better than this. Thank you British Airways.
Aston Martin db12
Specifications
Engine: 3982cc, V8, twin-turbo
Transmission: 8-speed auto, RWD
Power: 671bhp @ 6000rpm
Torque: 590lb ft @ 2750rpm
Kerbweight: 1815kg
Power-to-weight ratio: 370bhp/tonne
0-62mph: 3.6 seconds
Top speed: 202mph
Price: £185,000
Ti rating: 8/10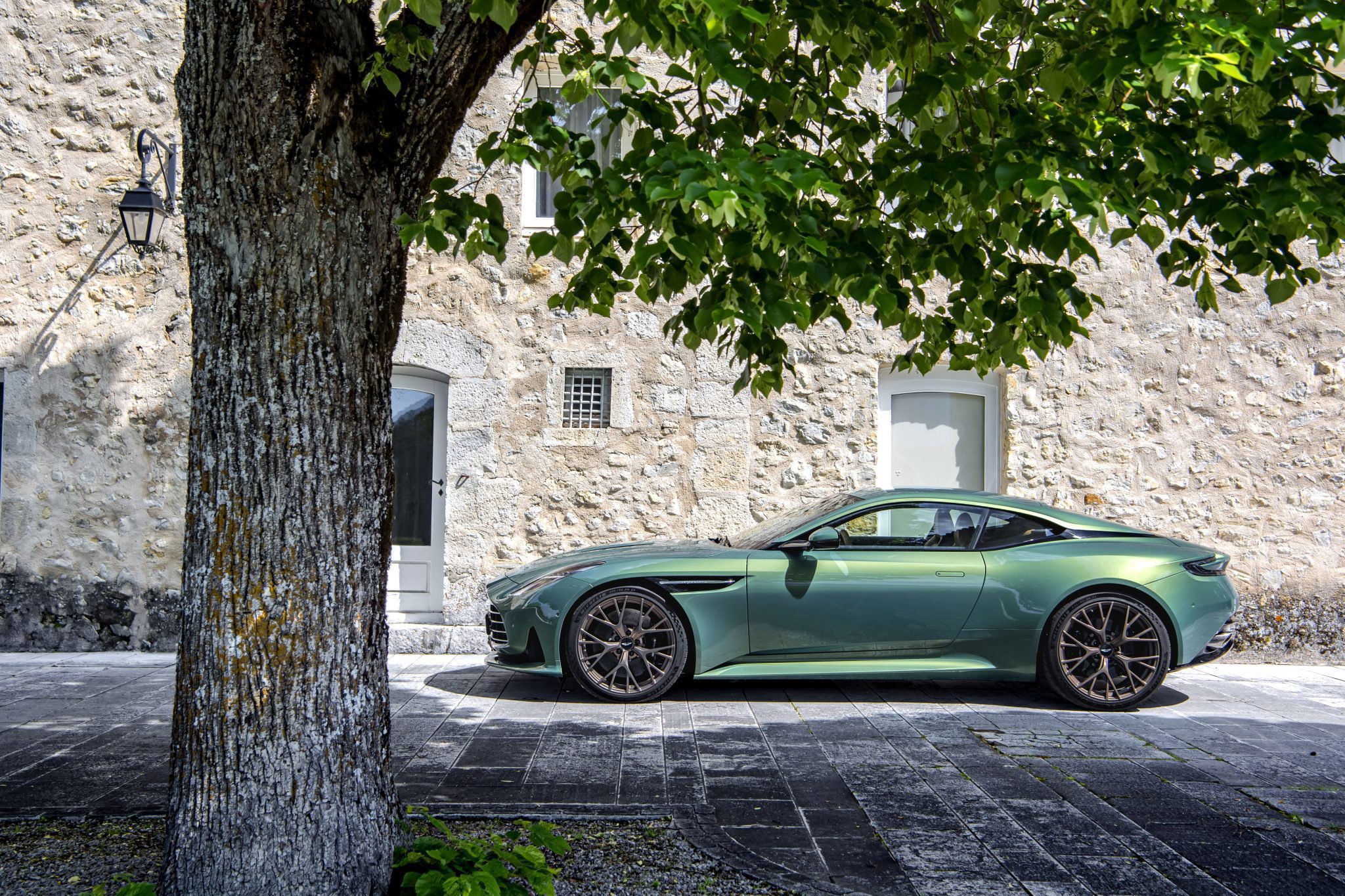 JBR Capital customers are invited to subscribe to The Intercooler, the world's only ad-free digital car magazine, for 20 per cent off. Click the link and use the coupon code JBR20 to redeem this exclusive offer.