1.Introduction to the Ferrari Purosangue
Ferrari's first four-door isn't an SUV, says Maranello. So what is it? Andrew Frankel heads to the mountains to find out.
Repeat after me: it is not an SUV. It is not an SUV. It is not an SUV. Got it? Good. Then you can continue to write the rest of this story.
2.Differentiating the Purosangue from an SUV

I have spent so many years thinking of the Ferrari Purosangue as its first SUV, that without the cautionary note to self above, I might yet find myself inadvertently diverted down this blindest of blind alleys. SUV? It is nothing of the sort. It doesn't have enormous ground clearance, its boot is small, it only sits four and its maximum permitted towing weight is zero kilogrammes. It is not an SUV. Telling you what it is instead is a tougher task by a margin, but that's fine: we have the rest of this text to address that.
The strange thing is that Ferrari never said it was an SUV. Someone in the press conference asked what kind of car it was if not an SUV and received 'it's a Purosangue' by way of response. But insofar as there really isn't anything else quite like it out there, I concede the man had a point of sorts, however smugly put.
So let's try to position it by comparing it dimensionally to both the GTC4 Lusso, the closest Ferrari in both time and positioning, and the best conventional sporting SUV of the moment, the Aston Martin DBX707. In length it is shorter than the Aston but longer than the Lusso and sits between the two in height, wheelbase and weight. It is wider than both.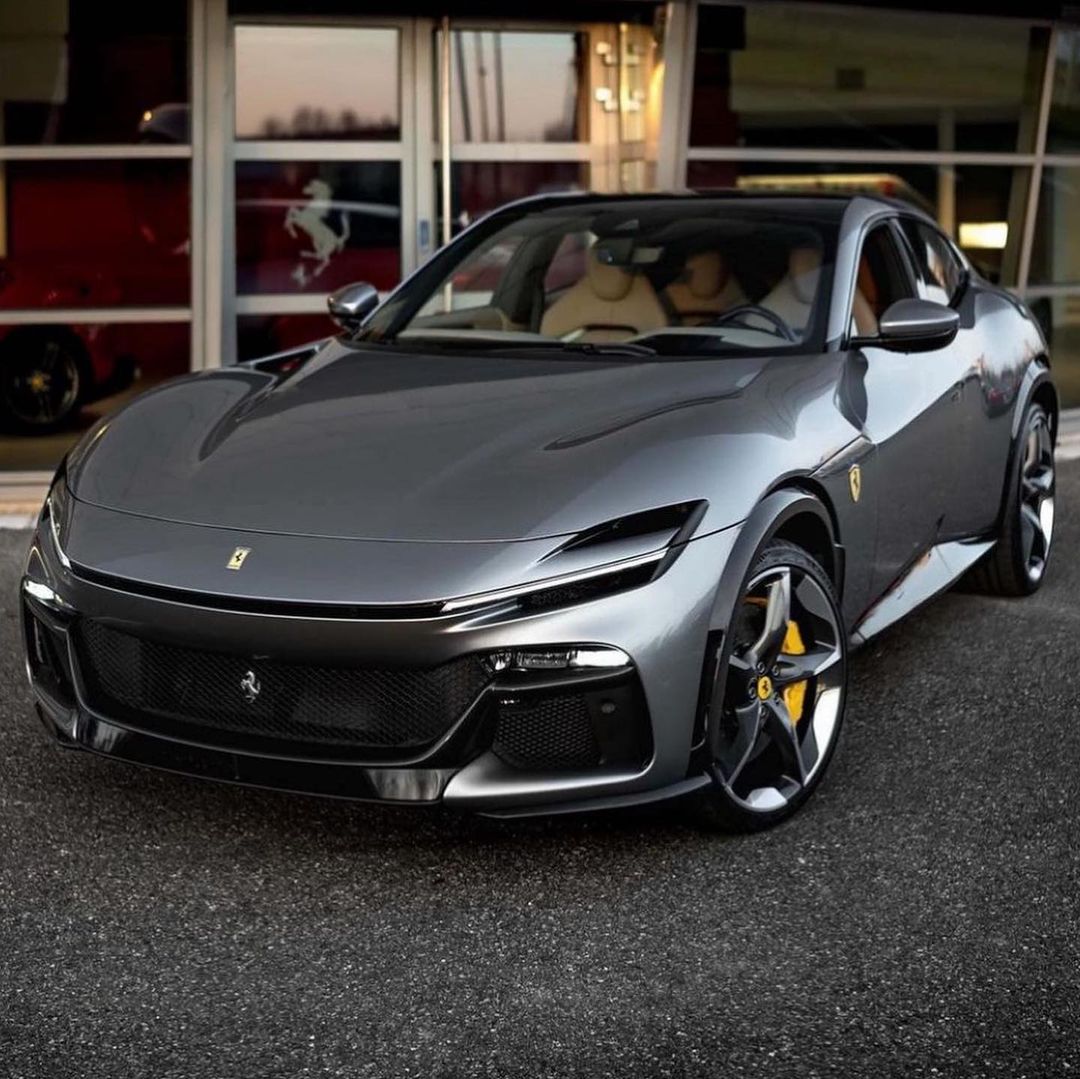 3.Comparing the dimensions and pricing

Where it is nowhere near either is in pricing: at £313,120 before options, it is over £100,000 more expensive than was the Lusso when sales stopped in 2020 and more than £120,000 ahead of the Aston. Privately, people at Ferrari reckon plenty will have transaction prices beginning with a four. Even at basic list (and good luck to anyone who tries to buy an option-free Purosangue) only the SF90 Stradale is more expensive among Ferrari's non-limited production line up.
4.Ferrari Purosangue Finance
Ferrari is quite possibly the greatest of all exotic car Marques. Anybody who loves cars will have a Ferrari purchase very close or at the top of their wish list. The Italian passion for speed and performance with cracking design flair, has led to them making them both desirable and highly capable supercars and future classics.
The marque has produced truly great cars and we at JBR have put together Ferrari payment plans for most of them. Thinking about financing a Ferrari Purosangaue? – talk to our direct sales team to receive a bespoke quote.
5.Engine options and powertrain possibilities
And you'd better want yours with a V12 motor because that's all there is. Ferrari people point blank refuse to discuss whether its extant V8 or hybrid V6 powertrains will find their way into the car, but can't quite bring themselves to flatly deny it, which means at least one of them is a racing certainty. I can't tell you when because I suspect Ferrari doesn't know but frankly my jaw would fall to the floor if the V6 was not already fully engineered and just waiting for a production green light; but for now Ferrari will make as many V12s as it can because that's the one that will garner the most headlines and command the highest price. Which seems entirely fair enough to me. As to whether it's the best suited engine for what is far and away the heaviest Ferrari ever made – a full quarter tonne more than the Lusso yet a mere 75kg less than the DBX – is another question entirely.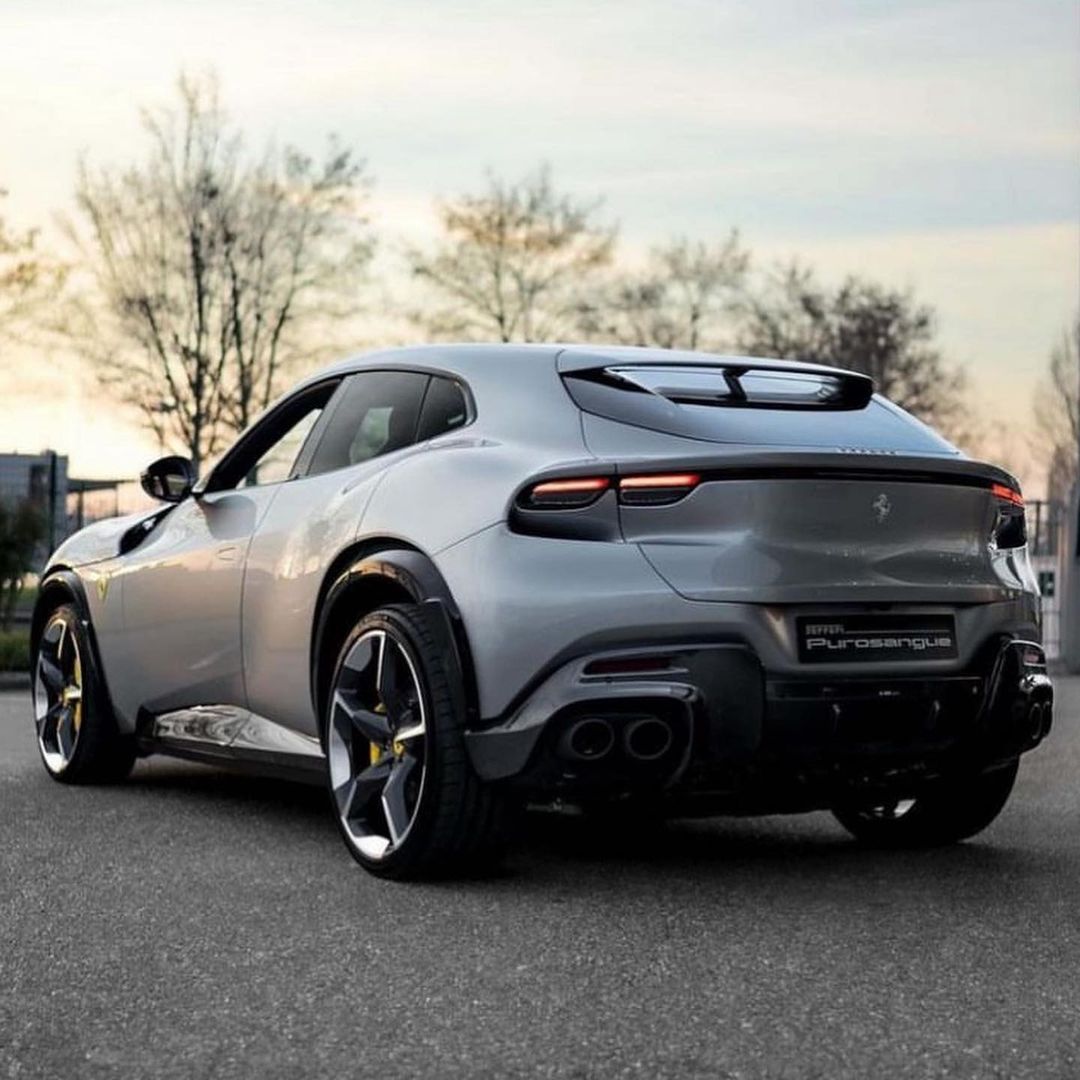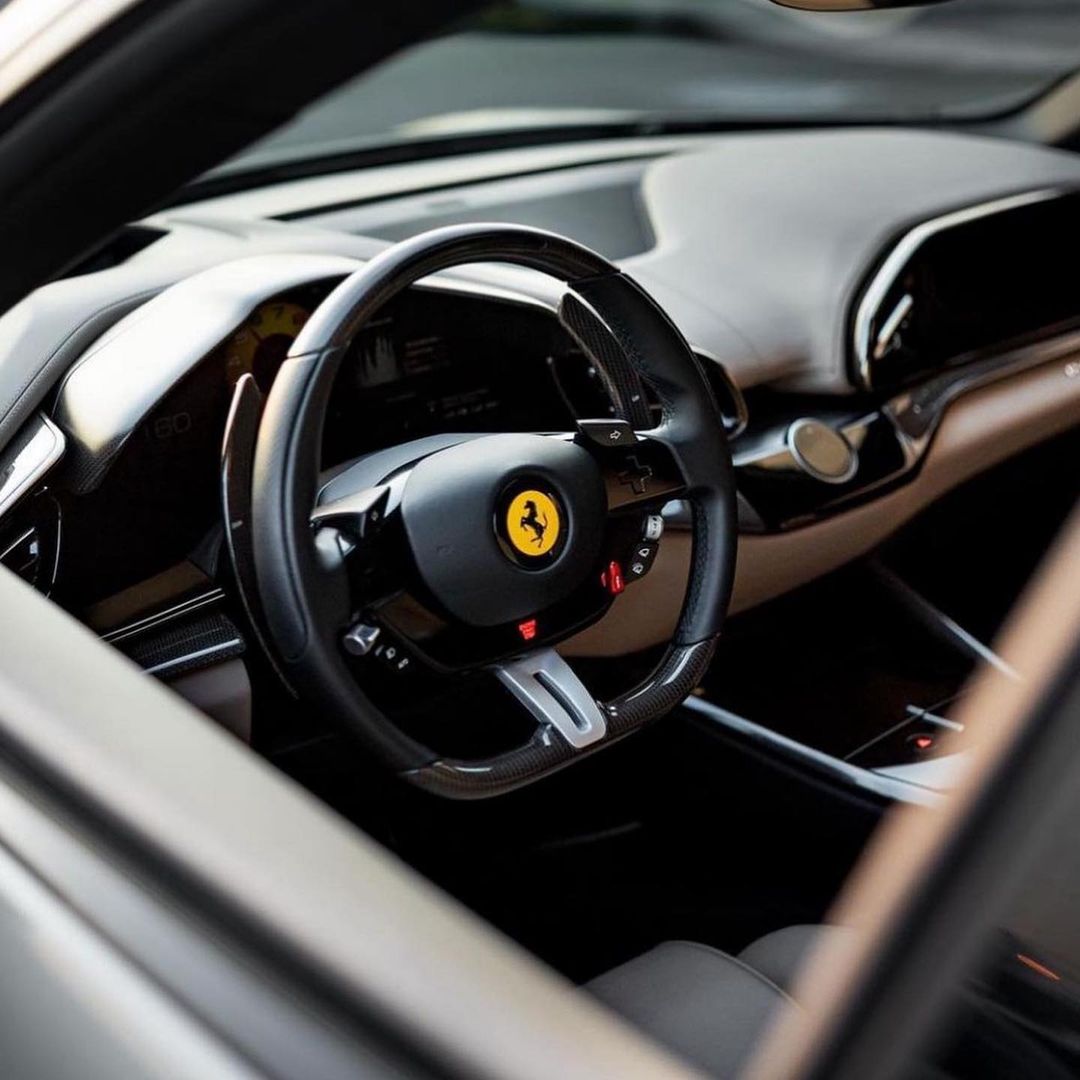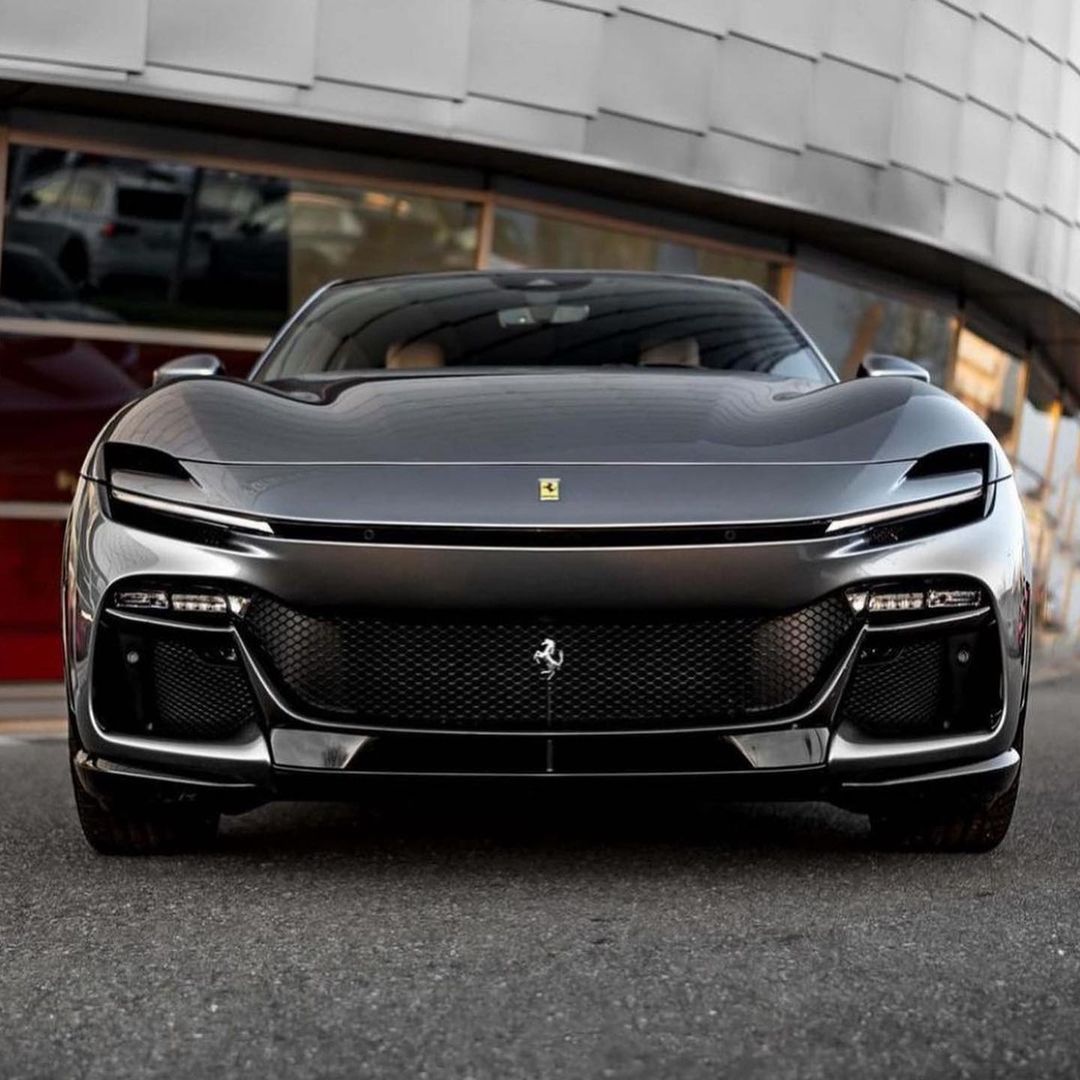 On one level it is quite a simple car: the all-new platform is still made predominantly from aluminium with steel where additional strength is required, while the naturally aspirated engine is from the same family sired by the Enzo over 20 years ago. On another, it is mind-bendingly complex, especially in its suspension which Ferrari calls 'active' but which I think is probably less elegantly but more accurately described as reactive. It can't see what's coming and prep itself in advance because it has no cameras for such purposes and simple coil springs, but it does have electronic actuators developed by the whizzes at Multimatic that, once acted upon, can control how and to what extent each individual suspension unit behaves thereafter.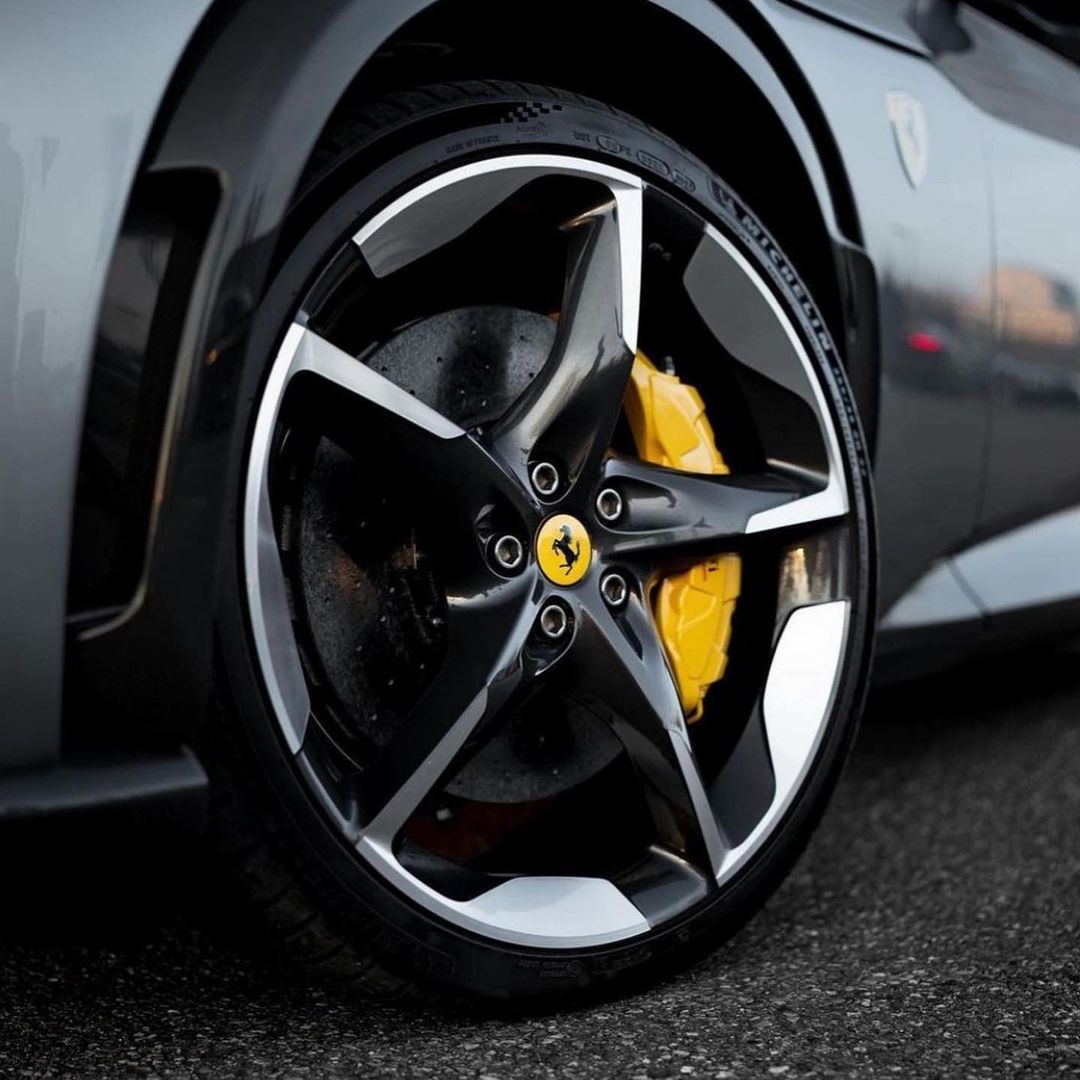 6.Complex suspension system and four-wheel steering

It's a 48-volt system and can be best thought of as a more sophisticated alternative to the 'active' anti-roll bars seen on Porsches, Bentleys and the like. What's clever is that it obviates the need for said bars, meaning each suspension unit is truly independent. And talking of independence, it has the super smart four-wheel steering system from the 812 Competizione too, which allows each rear wheel to turn independent of the other and according to need.
In a front-engined Ferrari road car tradition that dates back to the 275 GTB of 1966, the Purosangue places its gearbox between the rear wheels, achieving a fractionally rearward weight bias at the cost of a fifth seat and all ability to tow. The gearbox itself is the eight-speed double clutch unit seen in the Roma but with the shorter ratios of the 296 GTB from first to sixth, a seventh gear in which the 193mph top speed is achieved and an appropriately overdriven eighth. Why put short gears in Ferrari's most touring-oriented car to date? It's a way of mitigating the weight gain and ensuring competitive on paper acceleration.
7.Weight and performance considerations

All up it weighs 2170kg, a proper 'DIN' kerbweight, not Ferrari's usual smoke and mirrors, all lightest options 'dry' weight. Even so that's 250kg more than the V12 GTC4 Lusso, so despite its 715bhp, 6.5-litre V12 motor being 34bhp stronger than the 6.3-litre motor of its forebear, it is the older car that has the better power-to-weight ratio by 329bhp per tonne to 354bhp per tonne. Ferrari says the Purosangue is a tenth quicker to 62mph which might be down to the gearing, but by double that speed the old Lusso has clawed back the disadvantage and is a tenth ahead.
And this despite Ferrari doing what it can to maximise torque. Here a comparison to this motor's ultimate iteration, that seen in last year's limited edition SP3 Daytona, is useful. Tuned for outright power, the SP3 engine makes 829bhp at 9250rpm as opposed to the Purosangue's 712bhp at 8250rpm. But not only does the SP3 make a little less torque, (514lb ft vs 528lb ft), it does so at 7250rpm, fully 1000rpm higher up the rev range than its four-door stablemate. Ferrari also claims that 80 per cent of the motor's torque is available at 2000rpm. Nevertheless it's worth pointing out here the price paid in low down response for having that atmo V12 under the bonnet: the thunderous twin-turbo DBX707 not only has considerably more outright torque (663lb ft), you can have the lot at just 2600rpm…
8.Design and practicality features
Visually I think this new Ferrari looks good, but not great. It's fine from certain angles, its front three-quarter view probably its best, but it can look just a touch too busy from others, especially around the rear. But I appreciate Ferrari's decision to make like a Rolls-Royce Phantom (or, indeed, Mazda RX-8) and have its rear doors hinged at the back. I don't know why more don't do it, because it provides excellent access to the rear cabin which, after all, is what a door is for.
Is it spacious? Well yes, so long as you remember it's not an SUV. Each rear seat slides and reclines but its squab is both harder and higher than I would like, but I'm 6ft 3in and could sit behind a 6ft 2in driver with adequate legroom, even though headroom was marginal. Ferrari says there's more space in here than in the back of the Lusso but if so, I bet it's not much. Lussos always had the roomiest rear cabin of any two-door car on the market. But for almost all people, there'll be more than enough space in here.
The boot is the largest of any Ferrari to date, which I appreciate is not saying much, but will swallow enough tailored luggage for two or even three on a long holiday, and the rear seats fold completely flat at the touch of a button.
Which I think is enough of an introduction. Climb aboard and the seating position reminds you once more that this is not an SUV of any kind. It's not low slung in classic Ferrari style, but nor is it particularly elevated. It feels more like a normal car in this regard. The front seats look quite thin – a far cry from the massive chairs of a Bentley Bentayga – but they work well, providing good comfort over distance, excellent lateral support and, thanks to their clever design, without eating needlessly into rear legroom.
9.The challenges of the Human Machine Interface (HMI)
The latest version of Ferrari's ultra modern Human Machine Interface (HMI) is used and I wish they'd just left it as it was. The fact that it's fiendishly complex is not the main problem, because that can be learned over time. And the graphics are quite superb. But this modern fad for having haptic pressure pads instead of actual buttons for surfing around the menus works no better here than it does in an S-Class Mercedes. In fact it's probably worse. You find yourself inadvertently scrolling past where you want to be, or not scrolling at all. A large number of the areas on the steering wheel you might want to prod disappear soon after use, so you have to press another pad just to get them back again in order to start the process of finding whatever function you want to access.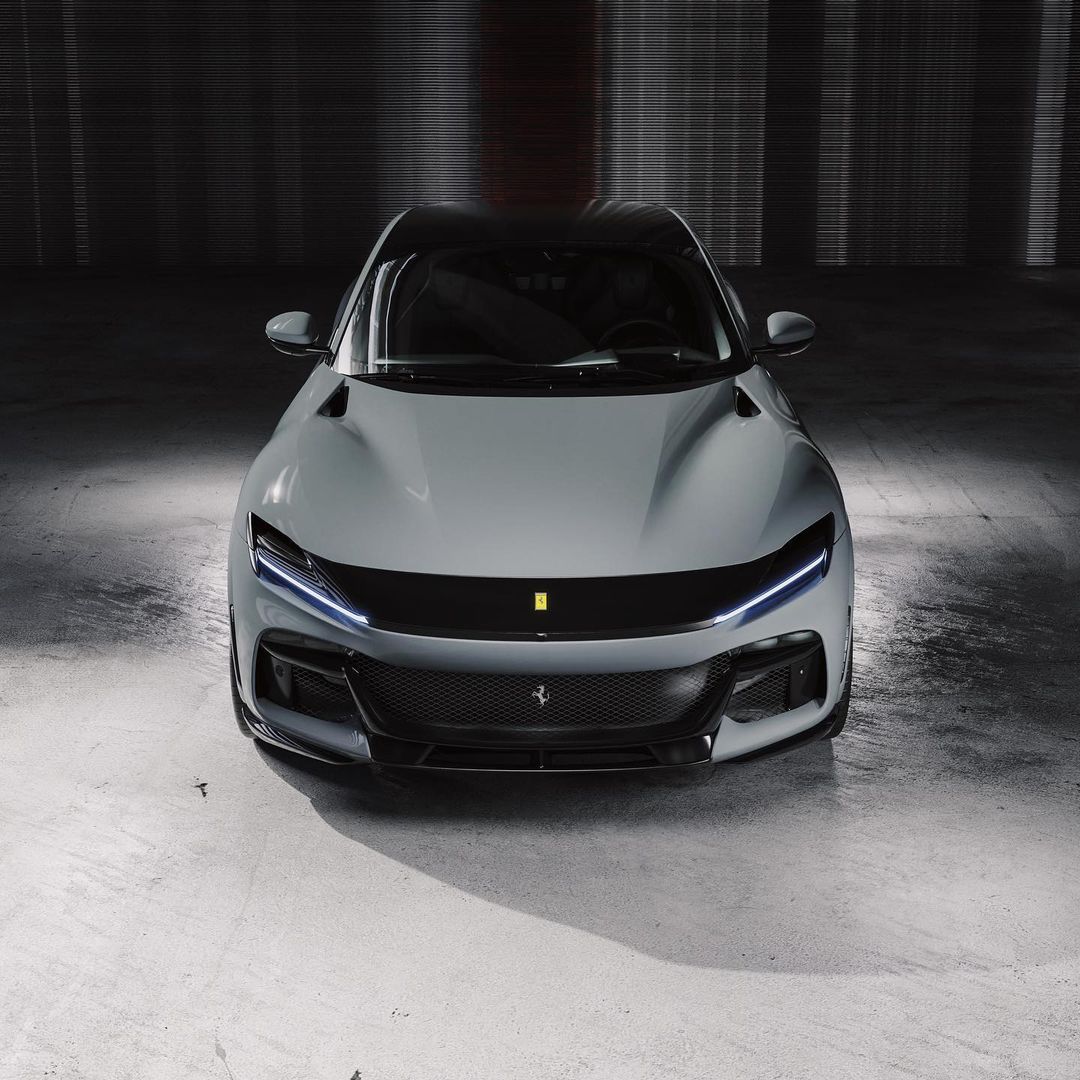 10.Navigation options and limitations
Most surprising of all, this £300,000 car does not come with sat-nav of any kind, even as an option. Ferrari has decided that despite this system being perfectly capable of hosting its own indigenous nav (as it does in all other Ferraris in which it's used) owners will be perfectly happy to use Apple CarPlay or Android Auto instead. Which I guess most will be most of the time. But if you forget your telephone, or lose it or have it stolen, if you're in a part of the world with zero data reception or if you're someone who just prefers not to have a smartphone or any mobile at all (and yes, people like that still exist, though I concede probably not as regular Ferrari customers), you'll need to buy a paper map to see where you're going. It is what Sir Humphrey Appleby would describe as a rather courageous move. Other manufacturers will be watching to see if there's any pushback.
You start the engine by pushing another sensor on the steering wheel. The V12 fires with a pleasing growl and settles down to a quiet, smooth idle. There are new functions for the manettino switch on the steering wheel. Sensibly there's no Race or Qualifying mode here, but settings for ice, wet roads, comfort and sporting driving. Better by far, you can now press the controller too and summon up soft, medium or hard suspension settings, almost regardless of mode. Unlike other aspects of the HMI and because it's an actual, physical control, it works brilliantly.
So I choose the default setting to which I always revert when given the choice, and opt for the most sporting powertrain mapping with the gentlest suspension setting, and get to work.
Thoughts flood in. Bloody hell it's wide. The ride quality is exceptional (it's still pretty good in the medium setting and only becomes restless in hard), the double-clutch gearbox could not be better suited to the car. Then, where's the rev-counter gone? It was there a minute ago when I started the car, loud and proud, big, bold and very yellow, occupying centre stage, pride of place as it absolutely should in a Ferrari; but now it's been replaced by the CarPlay nav screen. Clearly it must be possible for me to configure my way out of this if only I knew how, but it turns out you can't. Ferrari is blaming Apple, saying it's not allowed to mess with CarPlay graphics, which doesn't exactly explain why it's still able to provide other information, such as speed and fuel level. Fact is you can have nav or a rev-counter. Not both. And don't get excited when you realise it has a head-up display, because that only provides change up lights as the redline approaches.
11.Engine performance and power delivery

The next thing that happens is a straight appears, so I plant my foot flat on the floor to hear and feel the mighty V12 hurl me up the road and, there's no easy way to put this, but it just doesn't happen. It gathers pace for sure, but it's hardly wrenching the old noggin from its foundations. It's not hard to see why: at low to medium revs, even this most blue-blooded of naturally aspirated engines struggles to haul a Ferrari so much heavier than any in its history. Forget trying to keep up with the titanic DBX707 at low to medium revs, the Purosangue lacks the low down torque of even the standard DBX.
Allow the revs to rise and the power to build and, sure, this motor can do things no crossplane bent eight could imagine – rev to an 8500rpm limiter for one, sound like a choir of angels for another. And then it delivers on both the promise of its badge and acceleration figures. But you have to ask whether that's the most important priority for a car that may not be an SUV, but which is certainly the most family-oriented Ferrari in history; the only one indeed, some might argue. This probably isn't a great time to mention either that simply transplanting the 3-litre V6 powertrain from the 296 GTB would result in over 100 additional horsepower and a commensurate gain in torque. It would be a faster, more tractable car, if less tuneful. Just having a great engine doesn't mean it'll always work regardless of the kind of car in which it is installed.
12.Impressive chassis and handling capabilities

For this car, the chassis is the more impressive achievement. I am certain it would make mincemeat of any SUV you cared to fire at it, though something like a Porsche Panamera Sport Turismo Turbo S E-Hybrid that less than half the money will buy and which is claimed to be a tenth quicker to 62mph would make an interesting albeit rather academic kind of comparison. But the road does have to be right, and the narrow and twisting Alpine passes which made up the more involving components of Ferrari's chosen route were anything but.
13.Driving experience on challenging roads

You drove in perpetual fear of finding a big ski resort bus trying to negotiate a tight turn and using just a touch more than its fair share of road. More than once me and the highly experienced journalist with whom I was sharing found ourselves taking sharp intakes of breath as if this would somehow make the car a few blessed centimetres narrower. It didn't and we drove on, more in trepidation than exhilaration.
But this said as much about the choice of road as the car itself and on those few occasions the road opened up a touch, you got a glimpse of what this car can really do. And at times, given its size and mass, it was bewilderingly brilliant, so poised, so accurate and, mercifully on Michelin Pilot PS 4S rubber rather than winter rubber, so damn grippy too. Put the suspension into its medium setting and the Ferrari flows with preternatural grace from apex to apex, while that engine, at last allowed to do its thing, shrieks and howls with approval. No, there's not much steering feel, but what car of this mass ever did? And no, it's not as thrilling to drive as any of Ferrari's uniformly lighter and more sporting models, but it was still a driving experience truly to savour, as that provided by any Ferrari of any persuasion must surely have to be.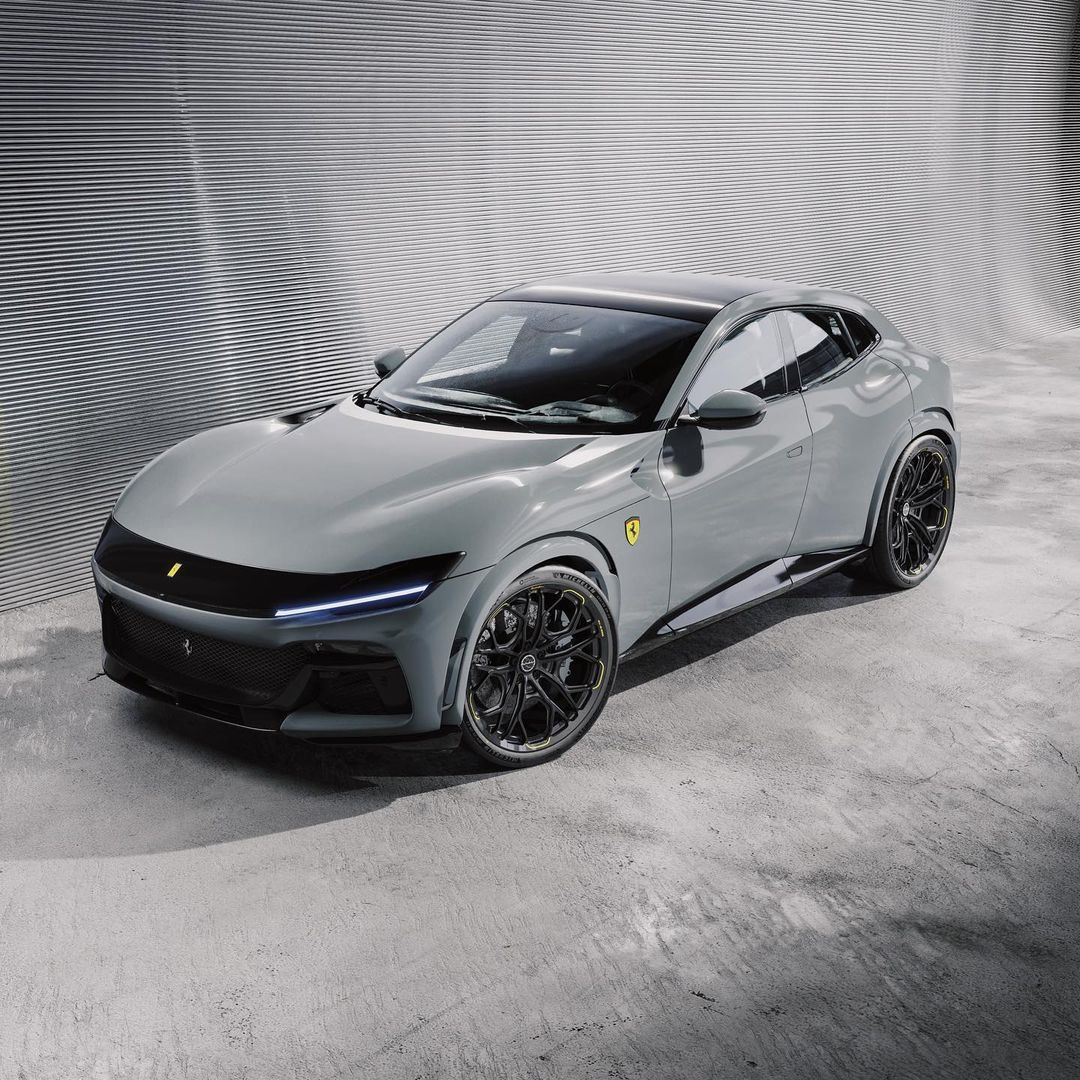 Yet it works in its more domestic role too. True, those rear seats are a touch too high and hard for me even when most reclined, but I am hardly the target occupant. And I bet that firmness, coupled with the always outstanding ride quality would prove itself over a long distance.
I left the Purosangue launch with conflicting thoughts behind my furrowed brow. Even after 20 years, even when tuned far below its ultimate potential, that engine is simply magnificent, but so too is a lion in a cage: it doesn't mean that's where it's meant to be.
To Conclude…
The modifications to an HMI I have hitherto only admired have made it awkward to operate and baffling in some of the choices made: no navigation at all without a smartphone and reception to boot? And if you do, no rev-counter with which to measure the remaining potential within each gear? Given the almost unbelievable complexity of the car, I simply don't understand such omissions. I'm sure the number of people who'll be routinely put out by such decisions will be small, but I'll bet plenty it's greater than the number who'll drive it at 193mph, and Ferrari wouldn't dream of stopping it do that.
Which leaves me in something of a quandary. I think when a manufacturer varies the script by as much as Ferrari has here, there is a temptation, perhaps particularly among those like me who've been around the block a few times, to be suspicious. To not give the benefit of the doubt. I certainly didn't when I first drove a Porsche Cayenne. But actually, what beef I have with the Purosangue is not in its design so much as its execution. Indeed I think the design has been very well conceived: the most useful Ferrari in history no less, and the fact you can use it in circumstances you'd not think of driving any other Ferrari plays powerfully in its favour: you may not enjoy driving it so much, but you will enjoy driving it more often.
But it's hard to leave it behind without thinking how much better it could be, even than it is. I know why the V12 is there and Ferrari will rightly think an order book that thick can't be wrong. But as someone not looking to make a statement but simply assess a car, I have little doubt that at least one of Ferrari's other engines would be better suited to this application. Someone taking a long hard look at some of the choices made for the HMI would be time well spent too. Then, perhaps, we will see the real potential of this often fascinating and occasionally infuriating Ferrari truly realised.
Ferrari Purosangue Specifications
Engine: 6496cc, V12, N/A
Transmission: 8-speed dual-clutch, 4WD
Power: 715bhp @ 8250rpm
Torque: 528lb ft @ 6250rpm
Kerbweight: 2170kg
Power-to-weight ratio: 329bhp/tonne
0-62mph: 3.3 seconds
Top speed: 193mph
Price: £313,120
Ti rating: 7/10