Last week, for the first time in our history, we sent a team to the Frankfurt International Motor Show. The reason? We've funded more than £500m-worth cars in just over four years – everything from luxury cars to racing cars, SUVs and hypercars – but we sensed that Frankfurt could be the moment when a fundamental and maybe existential shift in the cars we finance was going to occur.
Why? The German powerhouses made it clear during the build up that they were going to demonstrate their boldest electrification and mobility ideas for the future at the show. And, as has proven to be the case in the car industry: where the Germans lead, others follow. The automotive world, as they say, was watching. We felt we should be there.
It was show packed with almost Blade Runner-esque advertising and marketing. You couldn't move for blinding lights, spectacular concept cars, funky slogans and curiously overwrought video productions of cool kids in electric vehicles – but when it came down to presenting the next era of automotive in practical terms, it was left wanting.
"The evidence in Frankfurt suggests that we have at least another 10 years of internal combustion-engined cars in most global markets"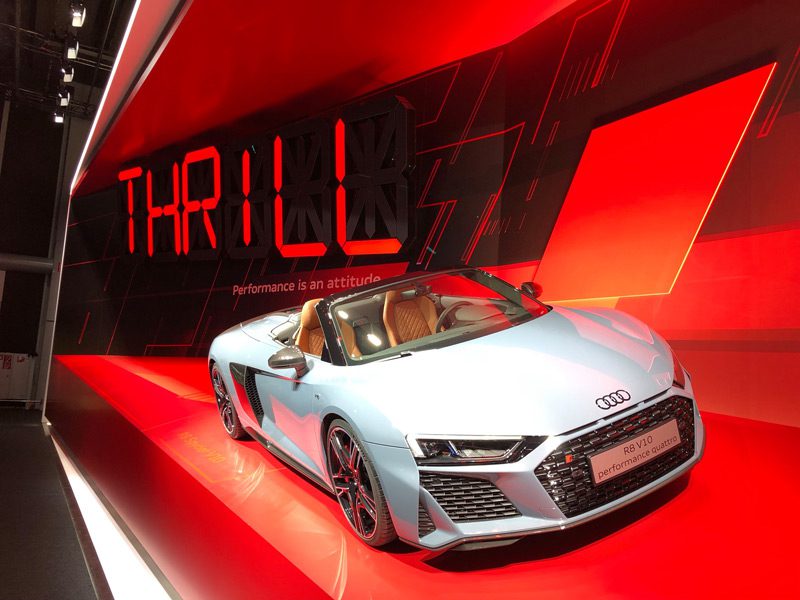 Audi R8s at the Frankfurt Motor Show
We found this rather unusual, as the majority of questions we field around electric vehicles are based on the practical stuff like residuals, government grants and subsidies, benefit-in-kind and suchlike – not 'lifestyle' stuff like 'will it display an emoji on the dash when my mate WhatsApps me'.
OK, we're edging towards facetiousness here but our customers feel that there remains a vacuum of information on the move towards electrification. Naturally, we'll happily offer our market and financial expertise, but there is a sense that car manufacturers need to do a better job of running some hygiene through the narrative.
Or maybe the obfuscation is deliberate? Maybe the push towards electrification and smart mobility isn't happening as fast as it seems. And also, maybe the internal combustion engine isn't racing towards extinction as we're led to believe?
There was evidence for this at Frankfurt: if you looked beyond the neon hashtags you could see that the German manufacturers are still very much hedging their bets. For every new electric vehicle launched at the show, the same brand was either presenting or talking about another car in its range that uses a traditional combustion engine.
Take the VW ID. It's a pure electric (i.e. non-hybrid), Golf-sized hatchback that wowed the crowds with some admittedly very cool augmented reality screens. But does it mean the end of the ubiquitous Golf? Far from it. The new Golf Mk 8 goes on sale next year, and if it lasts as long as the Mk7 it will still be on sale in 2028.
The same goes for Porsche, Audi, Mercedes and BMW – each will have model duplication in their ranges over the next decade as the electric vehicle market takes shape.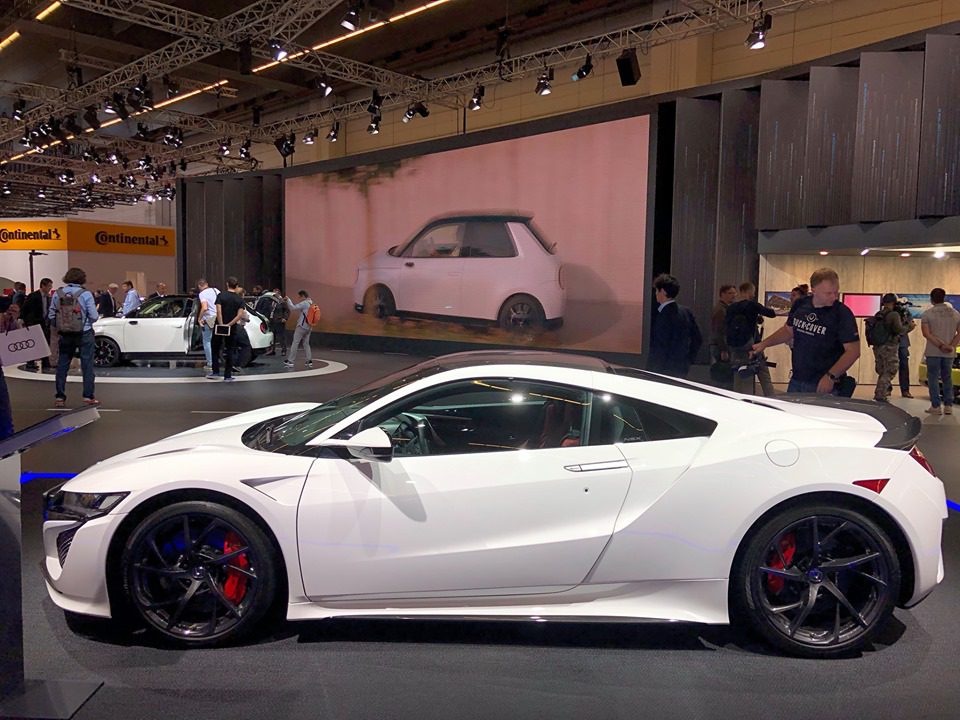 Honda NSX at the Frankfurt Motor Show
Lamborghini Sián FKP 37 at the Frankfurt Motor Show
The reason, again, is related to practical issues. Customer demand for EVs will hinge on legislative measures in multiple territories around the world, and 'boring' stuff like grants, subsidies and the impact of WLTP (Worldwide Harmonised Light Vehicle Test Procedure) on Vehicle Excise Duty (VED) will need further bedding-in before long-term strategies are inked.
Until then, the evidence in Frankfurt suggests that we have at least another 10 years of internal combustion-engined cars in most global markets, albeit with a significant increase in demand for EVs. The German brands, it would appear, have all committed to a certain degree of model duplication – which in turn means committing to extraordinarily expensive product strategy over the next decade.
Question is – does this mean the beginning of a slow but inexorable rise in the cost of new cars? And what will it mean for petrol-only performance cars as they get rarer?
For more information on car finance and to speak to one of our experts, call 020 3603 0074.
#fundyourpassion, with JBR Capital
Author: Chris Seaward, Head of Marketing