The Geneva International Motor Show has once again set tongues wagging, as a brace of debuts from the likes of Koenigsegg, Lamborghini and Ferrari set the standard for the automotive industry. As if that wasn't special enough, the show played host to concept cars (such as the Aston Martin Vanquish Vision) and a very, very special one-off car from Bugatti.
Watch the video to see our round-up of the 10 most exciting supercars from Geneva, then read on below as our COO Stephen Halstead gives his reasons for choosing these as his picks of the show.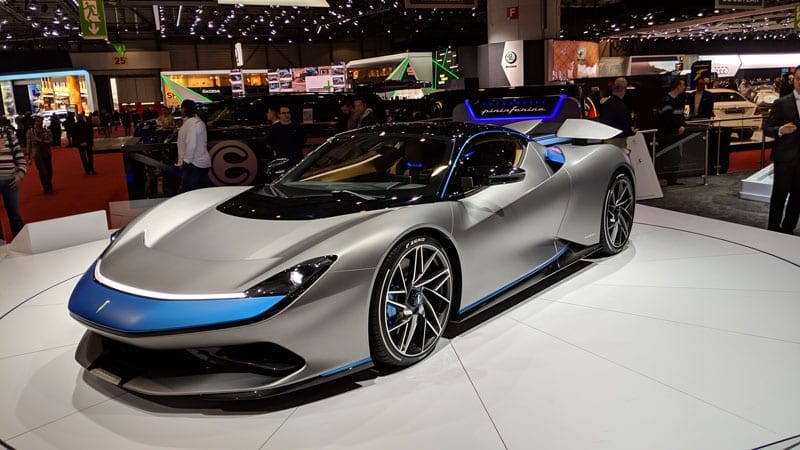 Price: £1.7 million
Stephen's view: It really says something about a motor show when the 10th car on our list is a £1.7 million hypercar from legendary styling house Pininfarina – such was the quality of cars on show this year. The Battista – so named after the company's founder, Battista 'Pinin' Farina – is an electric-powered 1900bhp beast that looks likely to achieve a 0-62mph time of less than 2 seconds. Just 150 will be built and we hope to see a strong allocation of these in Europe.
9. Aston Martin Vanquish Vision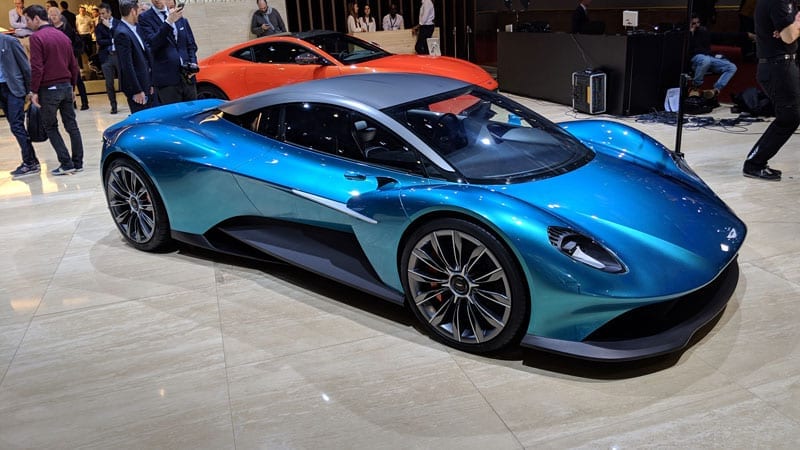 Price: £275,000
Stephen's view: The Vanquish Vision Concept will be Aston Martin's first series production mid-engined supercar and, I have to say, it's one of their most exciting designs to date. Sure, there will be changes along the road to production (I can't imagine those wing mirrors will retain their current design) but it's a tantalising glimpse of the future for a marque that had a very strong showing in Geneva this year. I'd love to see a V8 powering this particular supercar, however a V6 is on the cards – that said, it's expected to give the McLaren 720S a run for its money.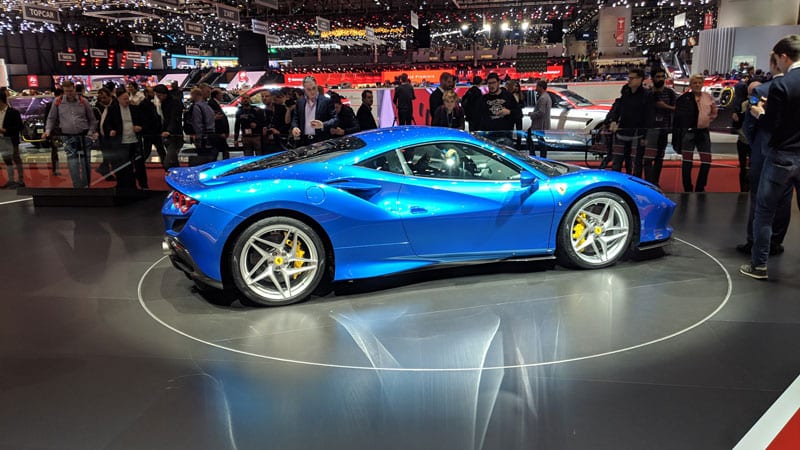 Price: £200,000
Stephen's view: The replacement for the 488 GTB is certainly evolution over revolution (and it's certainly not the hybrid model many had expected to see) but when a car looks this good, that's no bad thing. There's no doubt the 710bhp F8 Tributo will prove popular with fans of the Prancing Horse and I can't wait to hear that 3.9 litre V8 roar into life as it sees off 0-62mph in 2.9 seconds.
7. Porsche 911 C4S Cabriolet
Price: £105,000
Stephen's view: This was our second glimpse of the 992-generation 911, this time in Cabriolet form. Despite being a thoroughly modern iteration, the design remains true to the classic 911 aesthetic, so it certainly earned its place on our list. We've had a lot of interest from clients in our Porsche finance options for the car already, so expect to see plenty of these on UK roads in the summer.
6. Pagani Huayra Roadster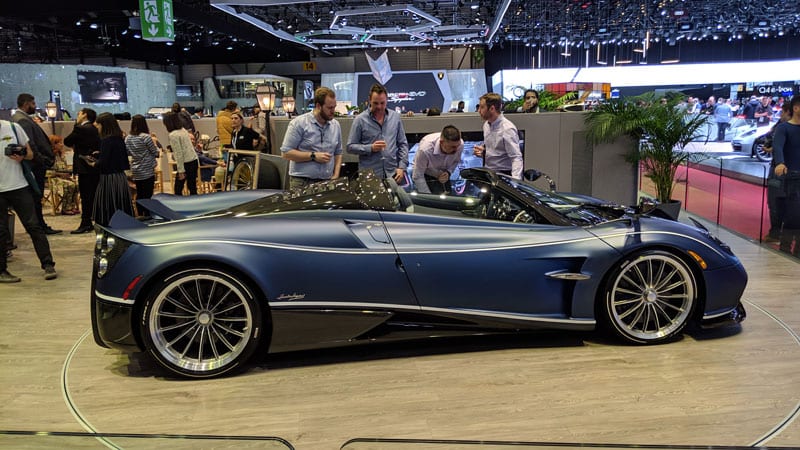 Price: £1.8 million
Stephen's view: Pagani never fail to impress at the International Motor Show and this year was rather special for two reasons. First, we saw the very first Pagani Zonda – the same car that was used for testing – rebuilt and standing in all its glory on the Italian carmaker's stand, some 20 years after its debut. Following that, we caught sight of the stunning Huayra Roadster. Sure, it's not a debut but it's such a special car I had to add it to my Top 10 list.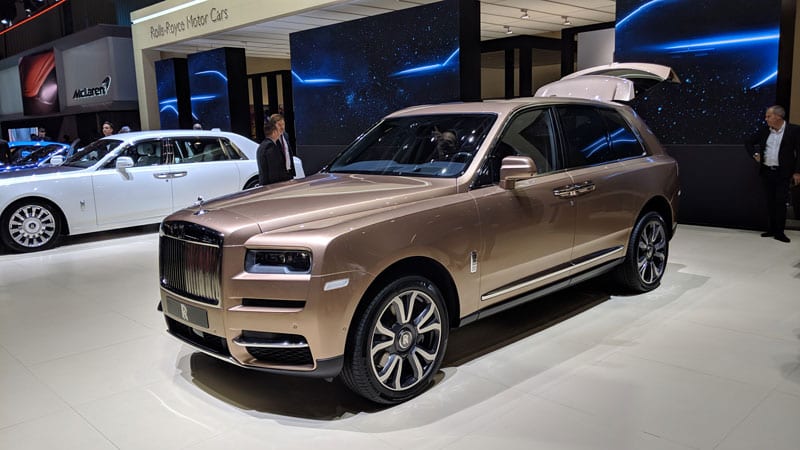 Price: £250,000
Stephen's view: The ultimate luxury car? You'd be hard-pressed to find a more elegant way to travel, especially if you're in the back seat (an experience we enjoyed very much in the Phantom!) As ever, personalisation is the order of the day and Rolls-Royce will accommodate just about any request you could think of to make the car bespoke to your tastes. As a result, very few Cullinan's are likely to leave the factory for their £250k price tag; many will be closer to £400k.
4. Lamborghini Aventador SVJ Roadster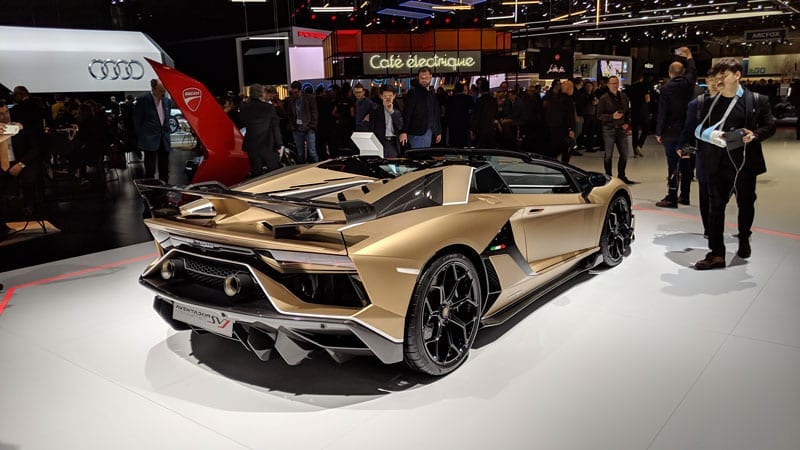 Price: £325,000
Stephen's view: One of the most popular cars of the show, the Aventador SVJ Roadster is, in my mind, everything a Lamborghini should be. It's powered by a naturally aspirated V12 that delivers 759bhp, it boasts a low profile and ride height and, of course, is unmistakably Lambo in its design. It's likely to be the penultimate Aventador (Lamborghini is yet to confirm, however rumours suggest we'll see a final iteration before a hybridized successor replaces it). Just 800 will be made and we should see these reach the UK by the summer.
3. Aston Martin AM-RB 003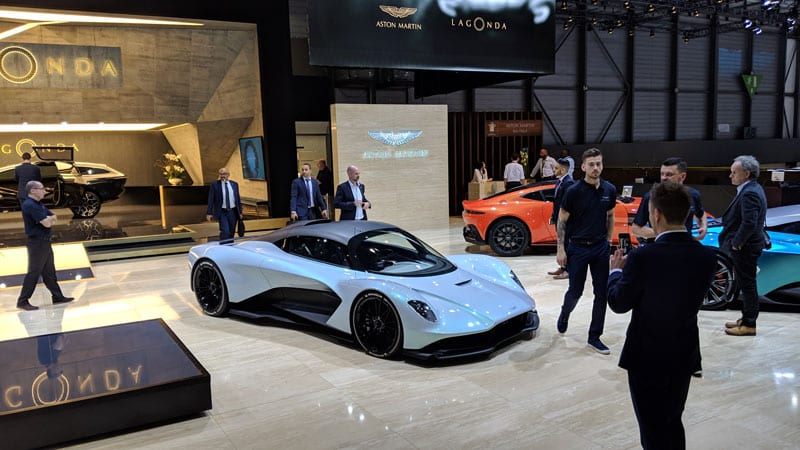 Price: £1 million
Stephen's view: So strong was Aston Martin's offering in Geneva that they actually feature in this list for a second time. With the AM-RB 003 they've once again raised the standards in terms of looks, showing that the designers in Gaydon are on a hot streak. Despite coming late to the hybrid hypercar party, it could take the crown (in performance terms, at least) from the Holy Trinity, however we'll have to wait until 2022 before we see one on the roads.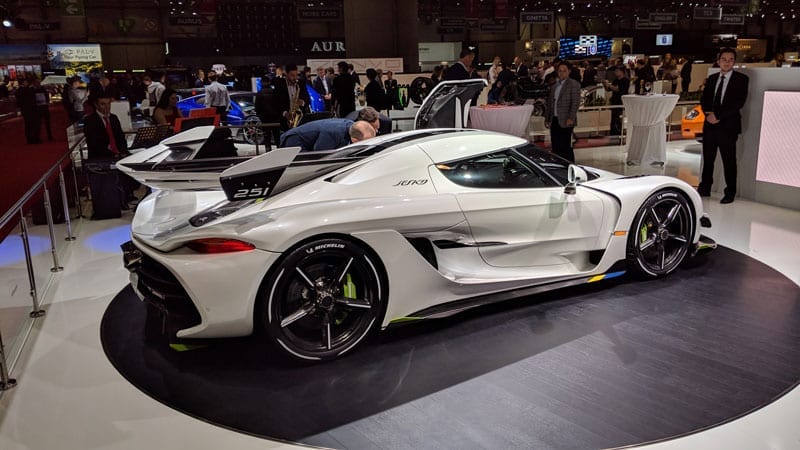 Price: £2.3 million
Stephen's view: Hypercar manufacturers' battle to break the elusive 300mph barrier might seem a bit ridiculous on the face of things – but there's something truly exciting about the prospect of achieving that feat, overcoming the enormous technical challenges to produce other-worldly speed. Koenigsegg's incredible Agera RS reached 277mph two years ago but their Geneva debutant, the Jesko, looks set to top that. With its reverse-boomerang wing, enormous front splitter and squat yet sleek stance, the Jesko is an absolute show-stopper. Limited to 125 and priced around £2.3 million, it's in McLaren Speedtail and Aston Martin Valkyrie territory… but my money would be on the Jesko every time.
1. Bugatti La Voiture Noire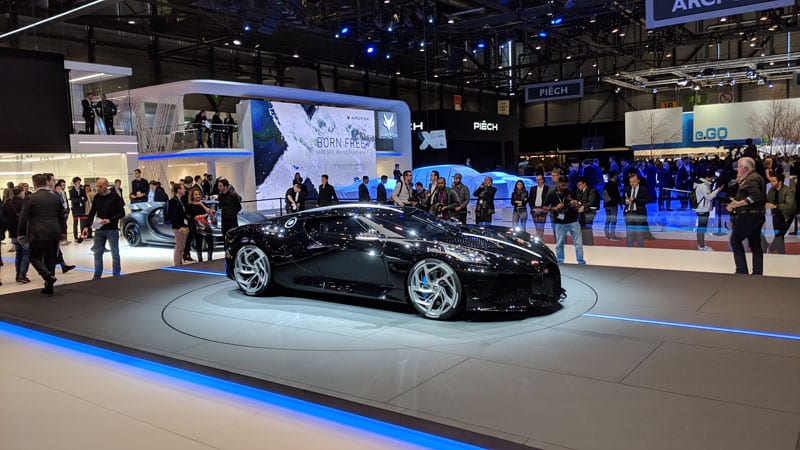 Price: £14.5 million
Stephen's view: So, here it is – our number 1 pick of the Geneva International Motor Show: the Bugatti La Voiture Noire. In fairness, the Jesko came close to stealing the top spot, but Bugatti blew all of the competition away by bringing the most expensive car ever built to the show. The Chiron underpinnings are clear to see, but the sheer artistry involved in creating such a striking car is breath-taking. Based on the Type 57 SC Atlantic, there's a fascinating story behind its production and it's one car we've no doubt will be winning plaudits at supercar events and concours in the future.
If you've been inspired to add any of these – or indeed other – cars to your collection, speak with our supercar finance experts today on 020 3355 0035. Our friendly team can create a tailored no obligation quote for you, including equity release options if you'd like to free up funds tied up in your existing cars.