Perhaps it was only right that the rain came hard. After all, it had rained back then, thirty years ago, when Ayrton Senna drove the 'Lap of the Gods' at Donington Park.
In what many believe to be the greatest drive of any Grand Prix ever, Senna showed supernatural levels of skill to scythe his McLaren-Ford MP4/8 through a torrential downpour. The Brazilian surged from fifth position to first on the opening lap of the 1993 European Grand Prix, dispatching Michael Schumacher, Karl Wendlinger, Alain Prost, and Damon Hill in a display of total mastery of the atrociously slippery conditions.
"It was a race like old times – going hard, from the heart. I had to be smart over when to press the rhythm, and when to hold back. It was a fantastic race. I am happy for all of us. Not just for me, but for the team and staff. It was a dream. God knows, and when he wants something, then nothing can stop it," Senna told Brazilian television after claiming the victory, having lapped everyone else up to second place.
So yes, perhaps it was only right that when the greatest collection of supercars and hypercars the world had ever seen lined up to commence a parade lap at the Supercar Driver Secret (SCD) Meet at Donington Park three decades later on the 11th July, the rain came hard again.
For the first time, this year SCD's annual flagship event ran over two days, not one. From the F1, Le Mans and Endurance cars charging hard around the 2.5-mile circuit, to the manufacturer stands and the concluding timed shoot-out, which was won by Ollie Webb in a Rodin FZED with a time of 1:23.936, the attractions were numerous.
But as always, the highlight was Tuesday lunchtime's phenomenal supercar and hypercar parade. And this year, the spell-binding power display was augmented by an exceptional contingent of Porsche Carrera GT's, celebrating 20 years of the technologically ground-breaking, carbon fibre-bodied, 612PS, mid-engined Le Mans-inspired sports car.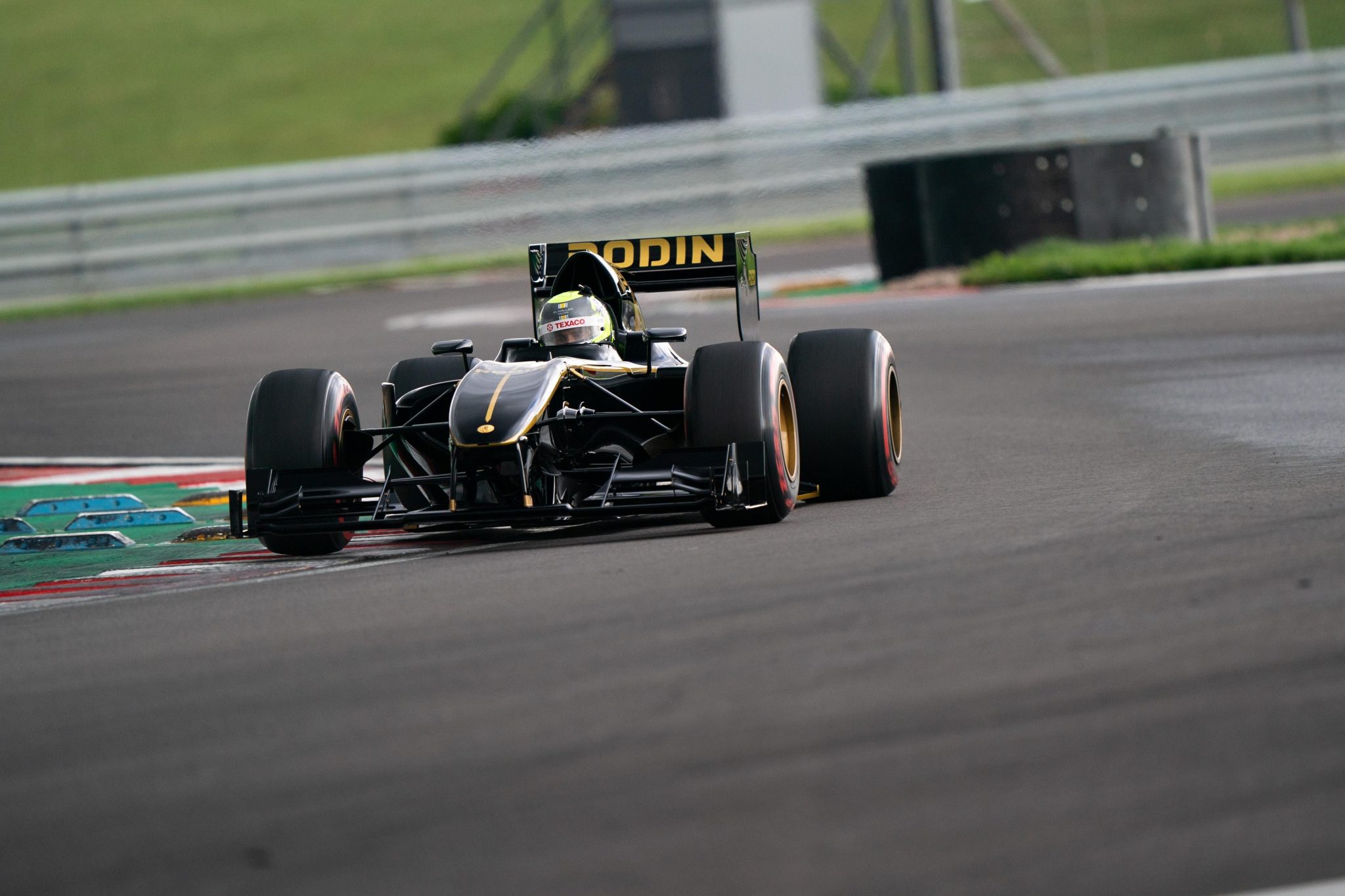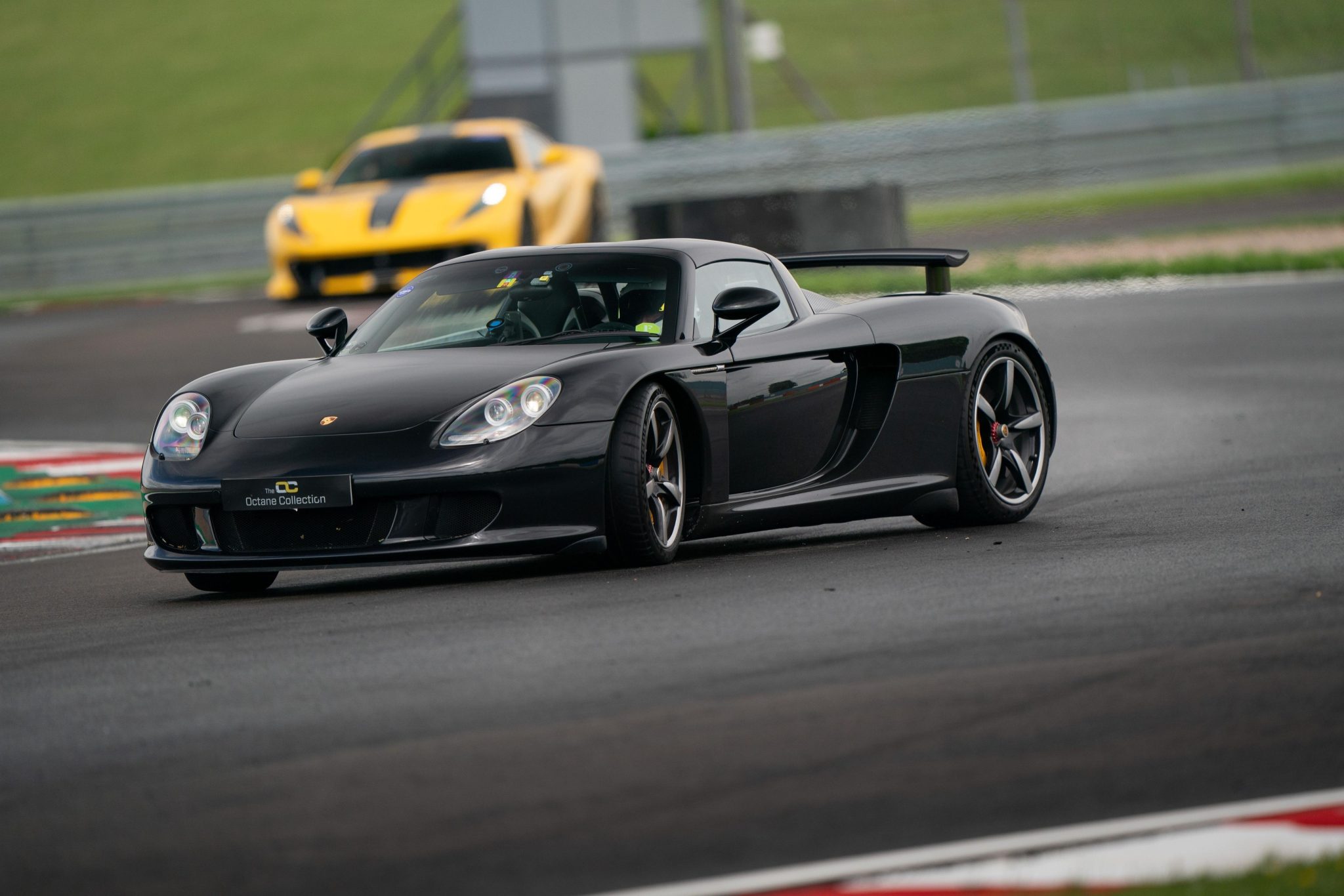 Fittingly, the parade contained not one but two McLaren Sennas. On an ordinary day, such rarefied sightings would have proven sufficient to surcharge the synapses. But this was far from an ordinary day. And truth be told, wherever you looked, your eyes were met with machinery of equal mettle to match the most intense, track-focused road hypercar McLaren has ever built.
Other examples of the Woking-based marque's portfolio included the MSO HS, the P1 and the legendary F1. Launched in 1992, that car was, of course, designed by Gordon Murray, who earlier in his career had played a pivotal role in creating the McLaren Formula 1 cars that powered Senna to his three F1 driver titles. Also gracing the Donington grid was Murray's latest project, the GMA T.50, heralded as the spiritual successor to the McLaren F1.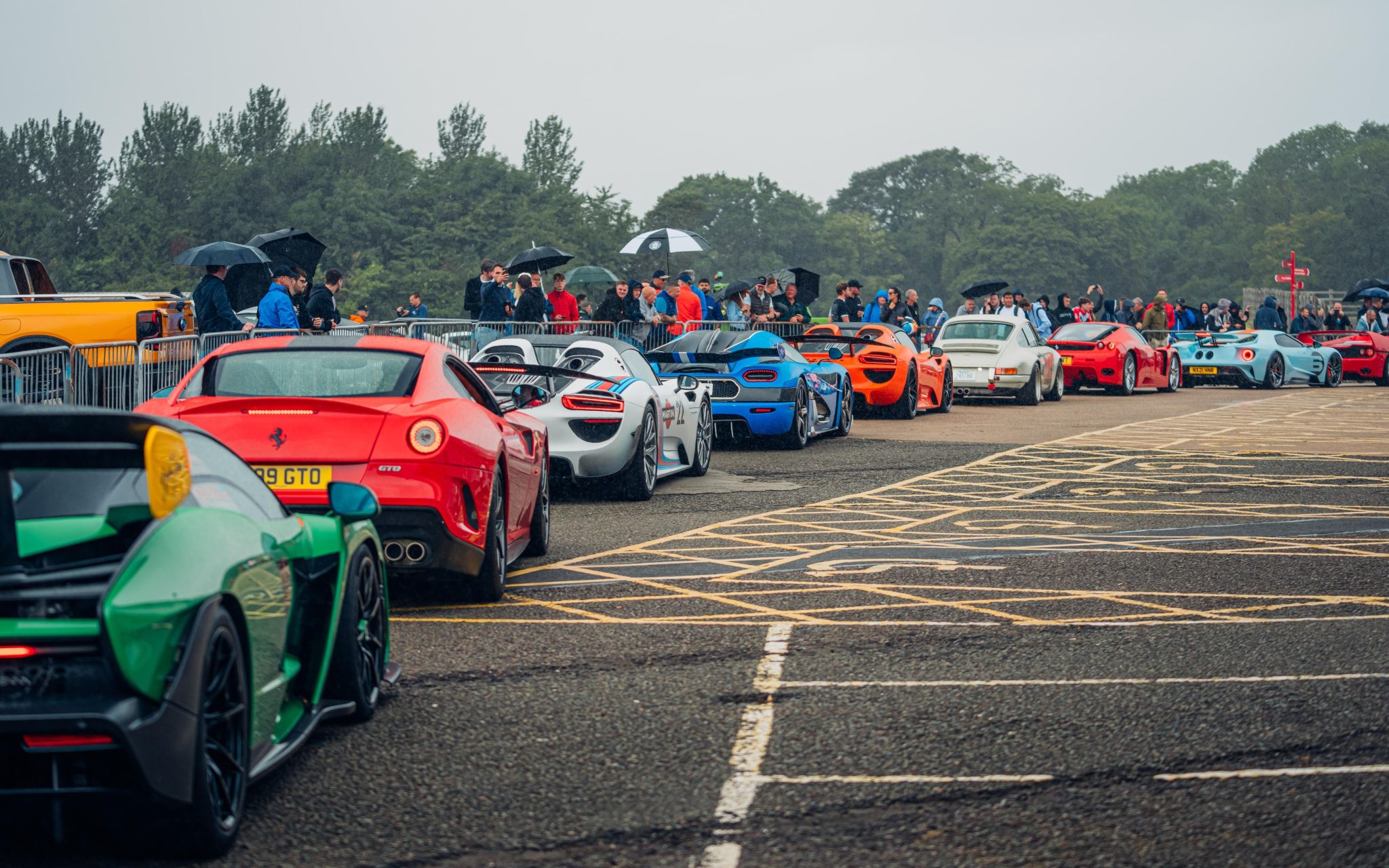 Aston Martin was equally well represented on the unicorn front with a 177, a Valkyrie, and a Vulcan. With such formidable firepower, the Gaydon-based marque may not have been outgunned by its Maranello rival, but it was, on this occasion, seriously outnumbered.
Ferrari models in action included a thunder of F40s, the F430, 250 SWB, 288 Evoluzione, 812 Competizione, Enzo, F12tdf, plus an ultra-rare 599 GTZ Nibbio Spyder, of which only six were ever built by Zagato and a raucous 1971 Daytona race car.
Two Pagani Huayras were present, as was a Praga Bohema plus a Spyker C8. Inside the Swedish supercar's wonderfully elaborate interior, the driver sat snug and dry, unlike the poor soul behind the wheel of the Mercedes-Benz CLK GTR Roadster, who could do little more than grPagani Huayrain and brave the downpour. Also lurking at the back of the pack was a white Group B rally MG Metro 6R4. A car that not even the man who designed it, Patrick Head, could have described as beautiful, it seemed an incongruous choice of vehicle to run among the world's most sublime supercars and hypercars.
Bugatti was well represented with a privately-owned Veyron Vitesse WRC, while H.R. Owen proudly displayed a Chiron Super Sport 300+, built in honour of the model's record-breaking 304.773 mph top speed run and a Divo, the luxury French brand's first modern coachbuilt project. In addition to these formidable big guns, H.R. Owen also had the smallest car at the event on display, in the form of a gorgeous Baby II, a 75% scale, fully electric reincarnation of the iconic Bugatti Type 35, developed using a full 3D scan of an original 1924 French Grand Prix car, plus a Bugatti e-scooter.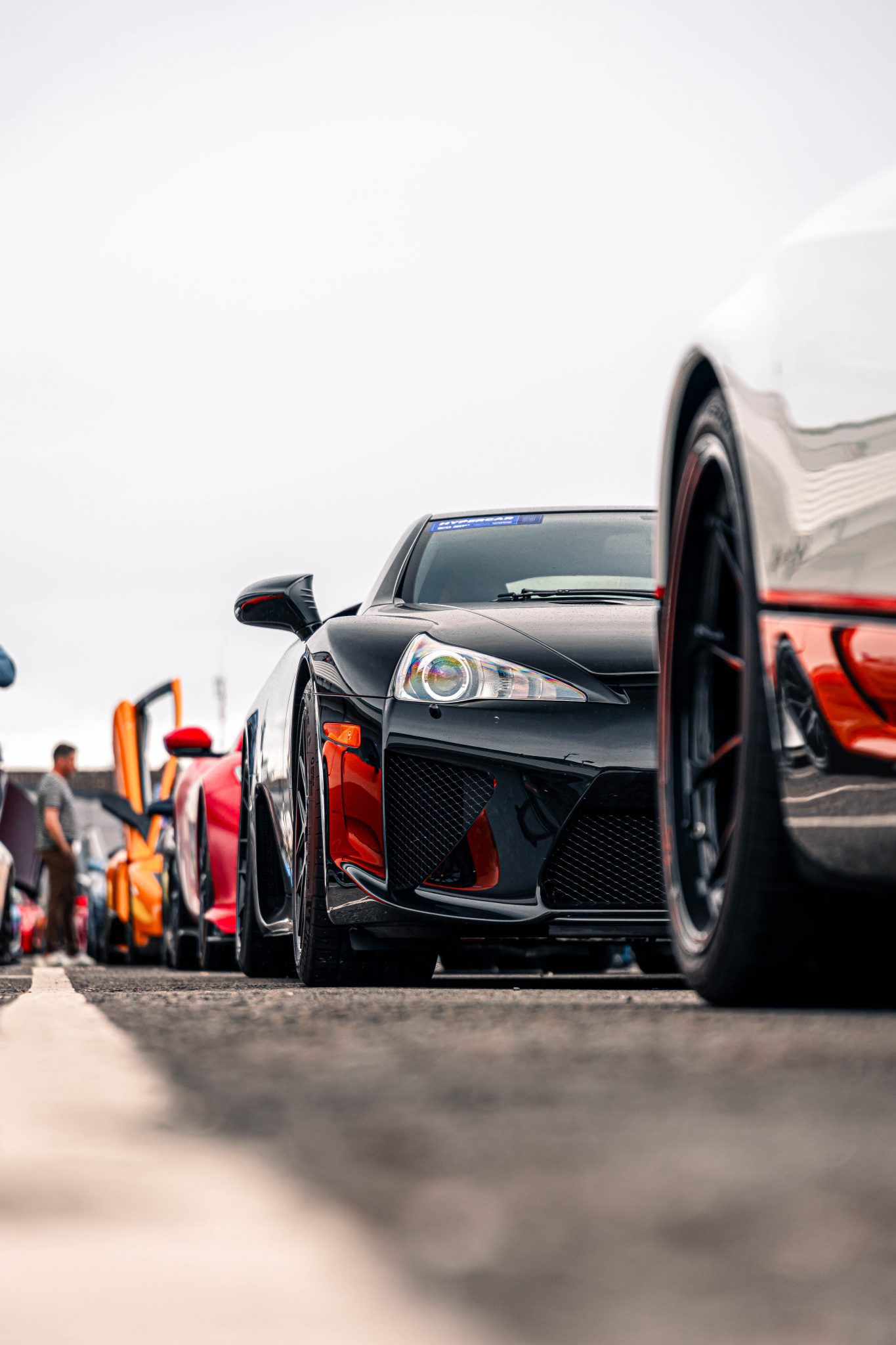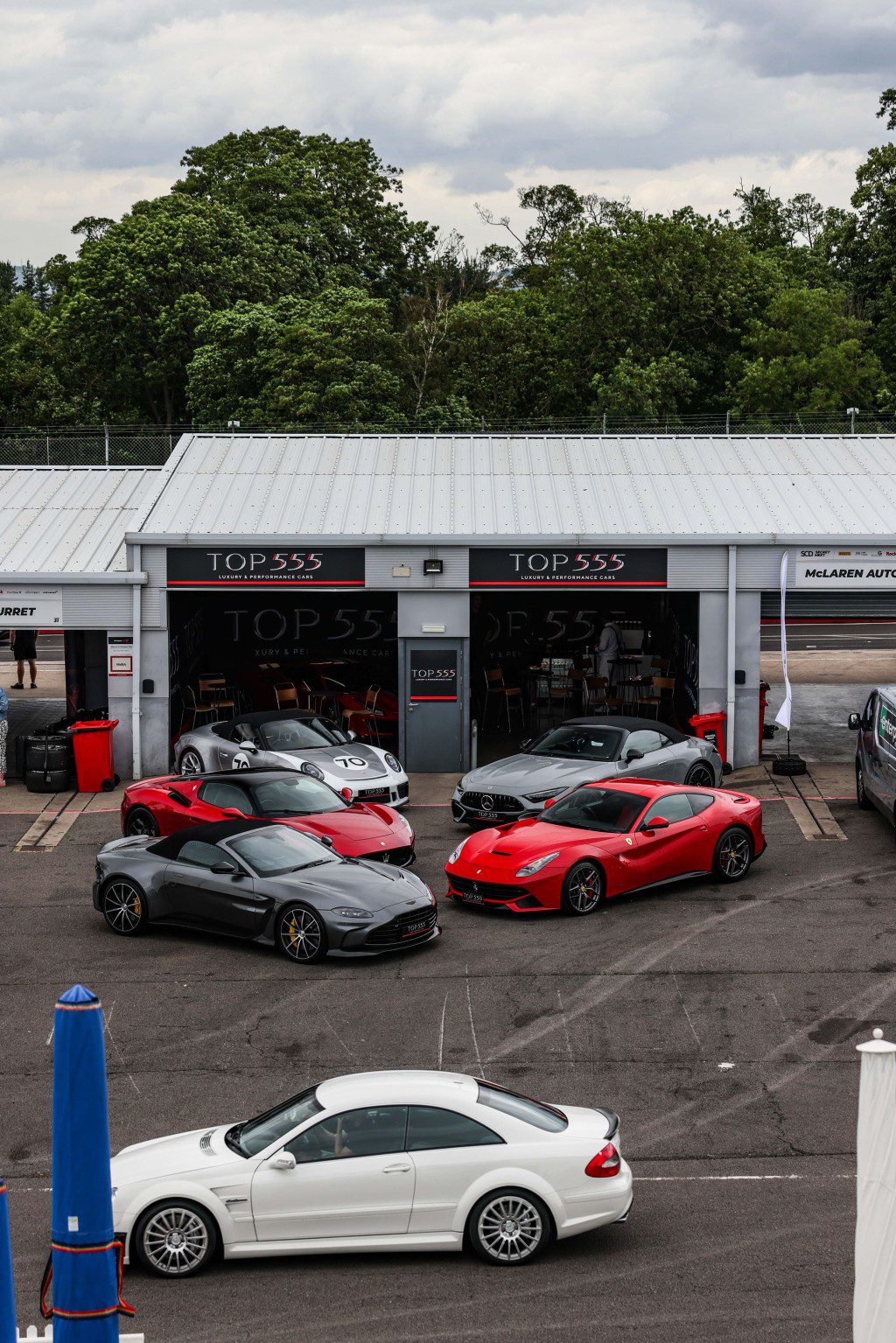 "The SCD Secret Meet really is the perfect place to display our models," commented H.R. Owen Bugatti & Rimac Brand Director Paul Stevens. "Goodwood is great, but there you tend to meet the fans, whereas here we are meeting the owners. It was actually a customer of ours who alerted us to the event a few years ago and told us we needed to get along to it. And they were right. We can't just sit in our beautiful showroom in Mayfair and wait for people to come to us. It's so important to get out there and meet people."
So, do events like the Secret Meet ever lead to actual on-the-spot sales? "It can happen, but it is very, very rare," smiles Paul. "It's all about making the first connection that can start a 12 to 18-month-long process that can lead to a customer placing an order for a £3.5 million hypercar. And you can't expect a decision of that magnitude to be rushed. Again, it just comes back to meeting people."
The team at high-end automotive finance provider and longstanding SCD partner JBR Capital certainly enjoyed their two days at the Secret Meet, catching up with old friends and putting numerous faces to numerous names of customers they had arranged funding for over email and phone. The London-based company had invited 160 direct clients and lavished the full VIP treatment on them with a members' lounge, hospitality suites, premium parking, and priority track time.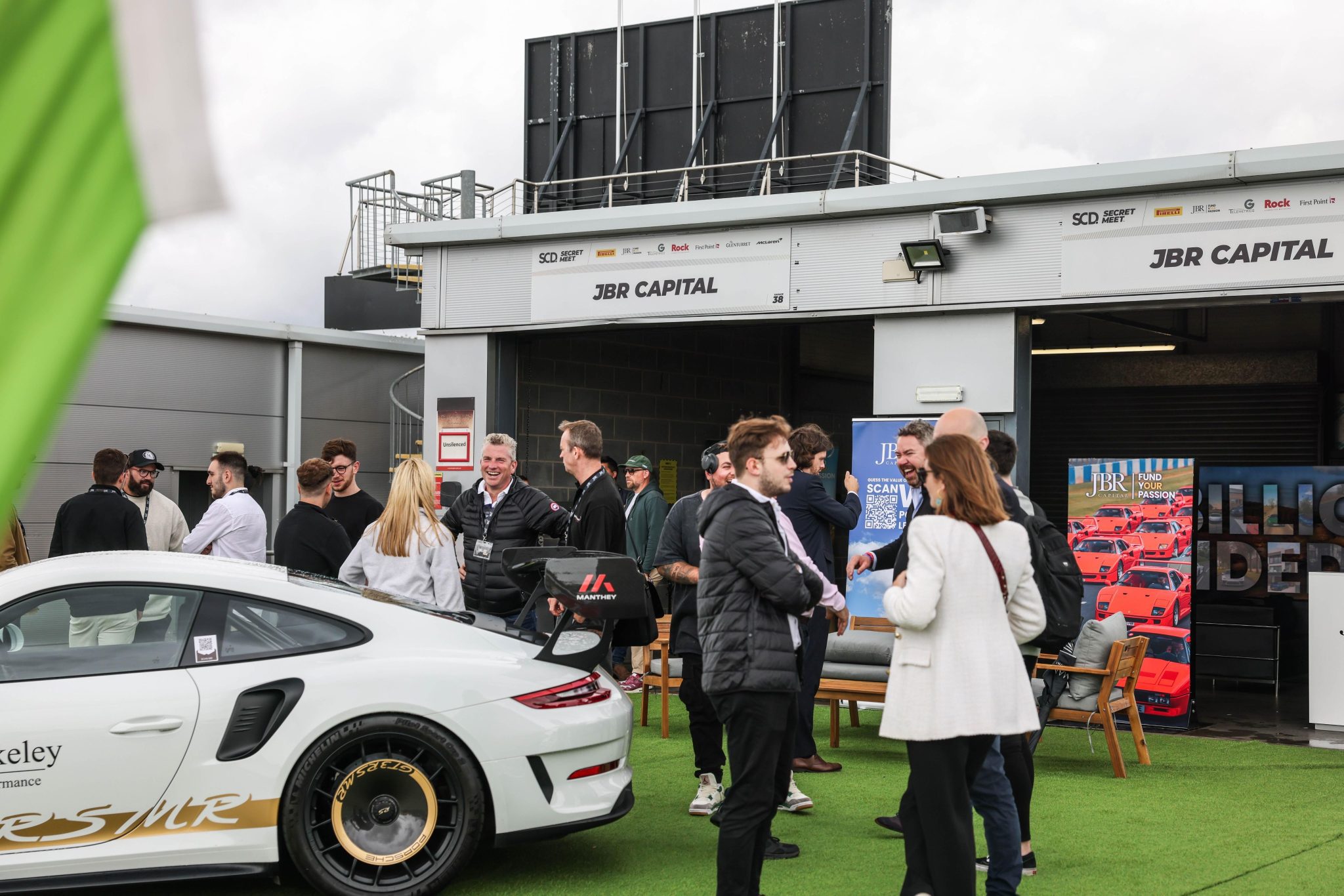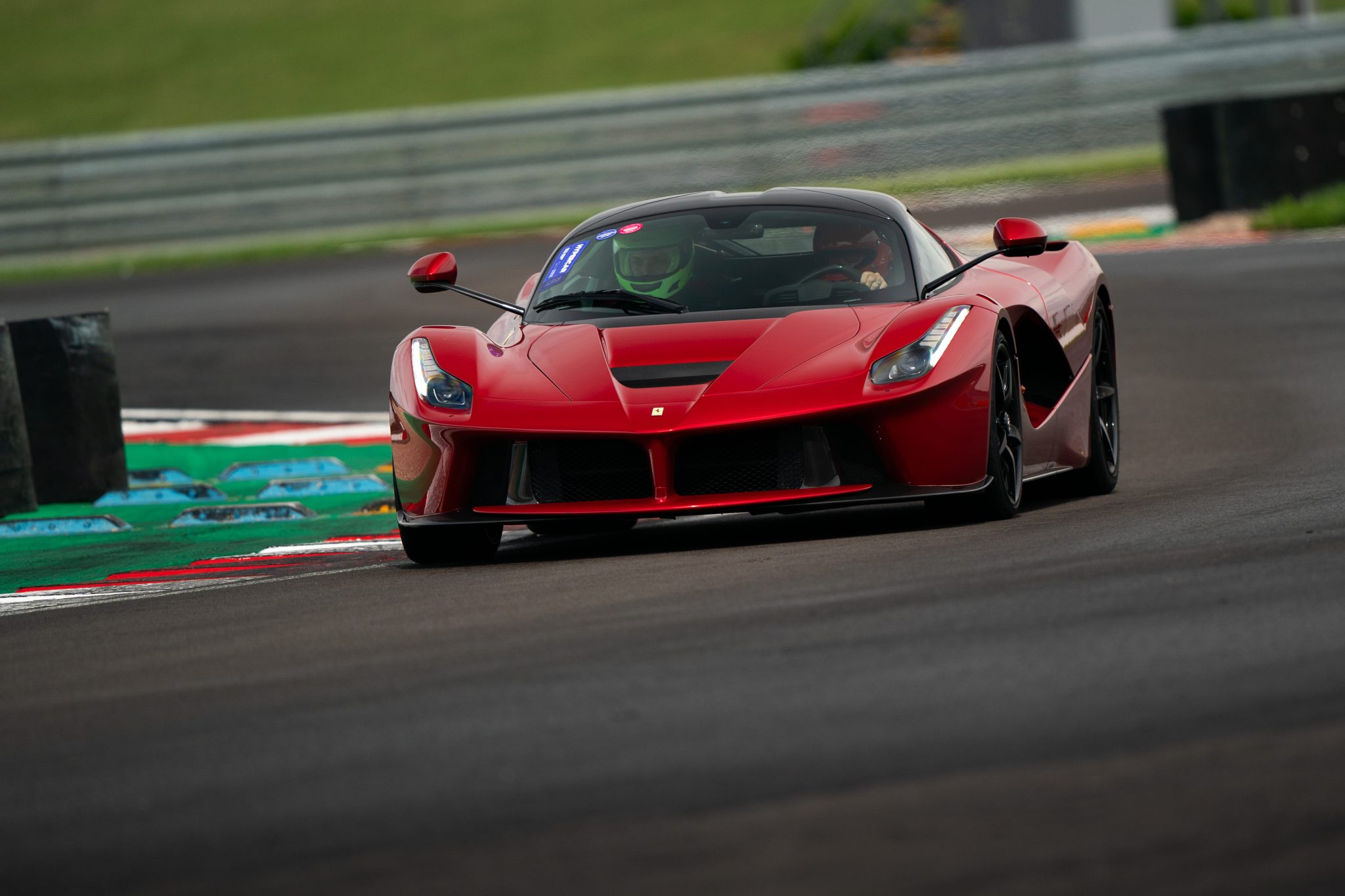 JBR Customer Kushi Bashada took full advantage of the track time, giving his Porsche 911 GT3 RS a thorough workout around the twelve corners of the Grand Prix circuit: "I was out for two sessions in the morning when the track was actually quite empty."
"I had a great time with the freedom to push a bit harder without the worry of getting tangled up with someone else's car."
JBR Capital Founder and Cheif Commercial Officer Darren Selig was in his element at the event, as always: "Choosing a favourite car is near to impossible, although the Porsche Carrera GT display was phenomenal, bearing in mind that each of those cars is worth £1.3 million, SCD did so well to get so many of them together."
For Darren, it was as much about the people as the cars: "The highlight for me is always the same thing every year – you can't really get more than two steps along without bumping into somebody who wants to stop and have a chat. I'm always happy to talk to anyone who wants to talk about cars and the market. I can bore them to death for hours!"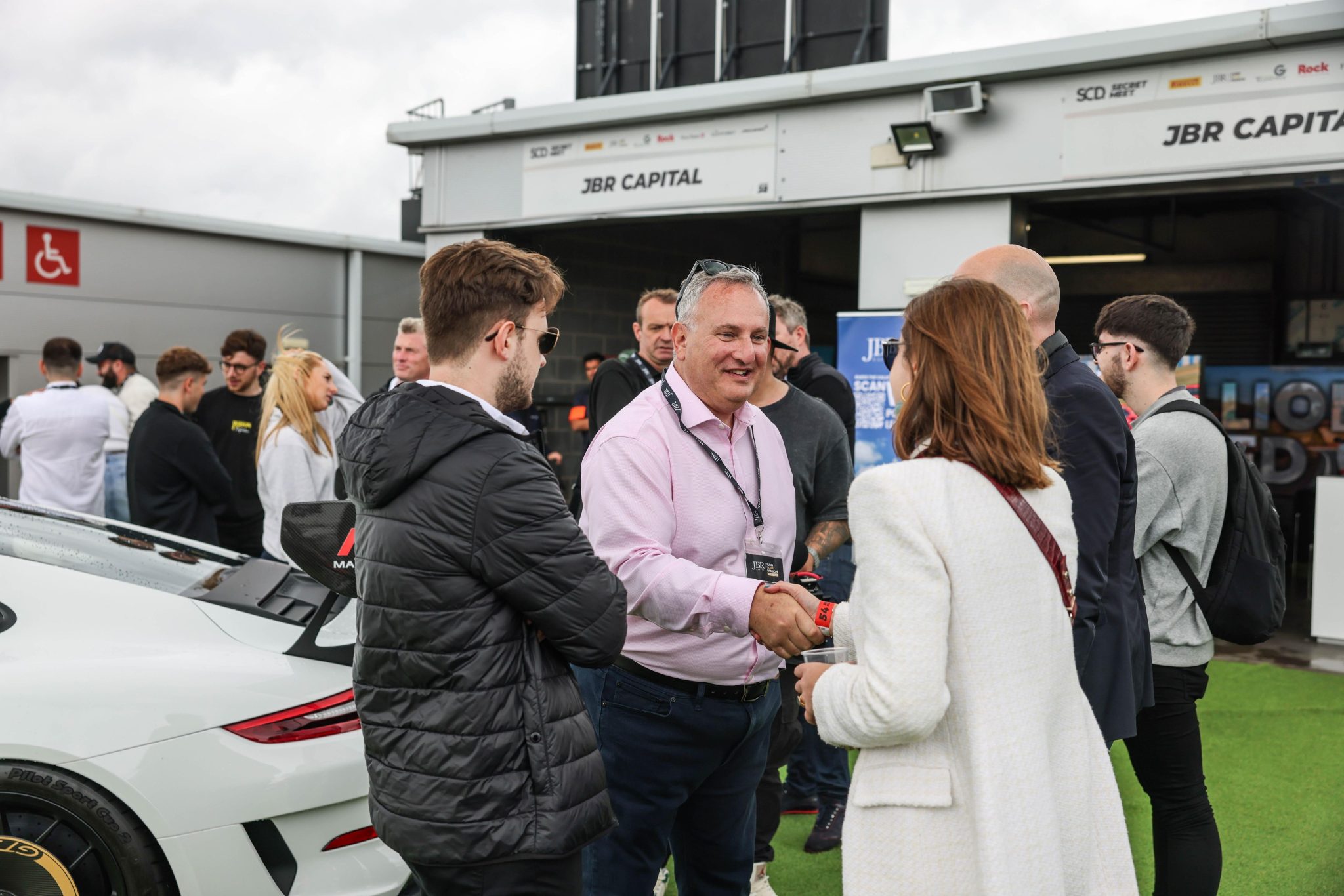 All too soon, it was time for the Ginetta race cars, and all the other toys to go back in the box, as one by one, the supercar and hypercar drivers fired up their charges and thundered for home.
One car was still sitting there, though, that white Metro 6R4, and close inspection solved the mystery and revealed why it had as much right to be out on the track as a Pagani Huyara or a Ferrari Enzo. The clue was in the red and white checkered flag 'Cars & Car Conversions' stickers the Group B rally machine was carrying on its windscreen and doors. That's the name of a sadly long-defunct magazine that the late Russell Bulgin edited for a period.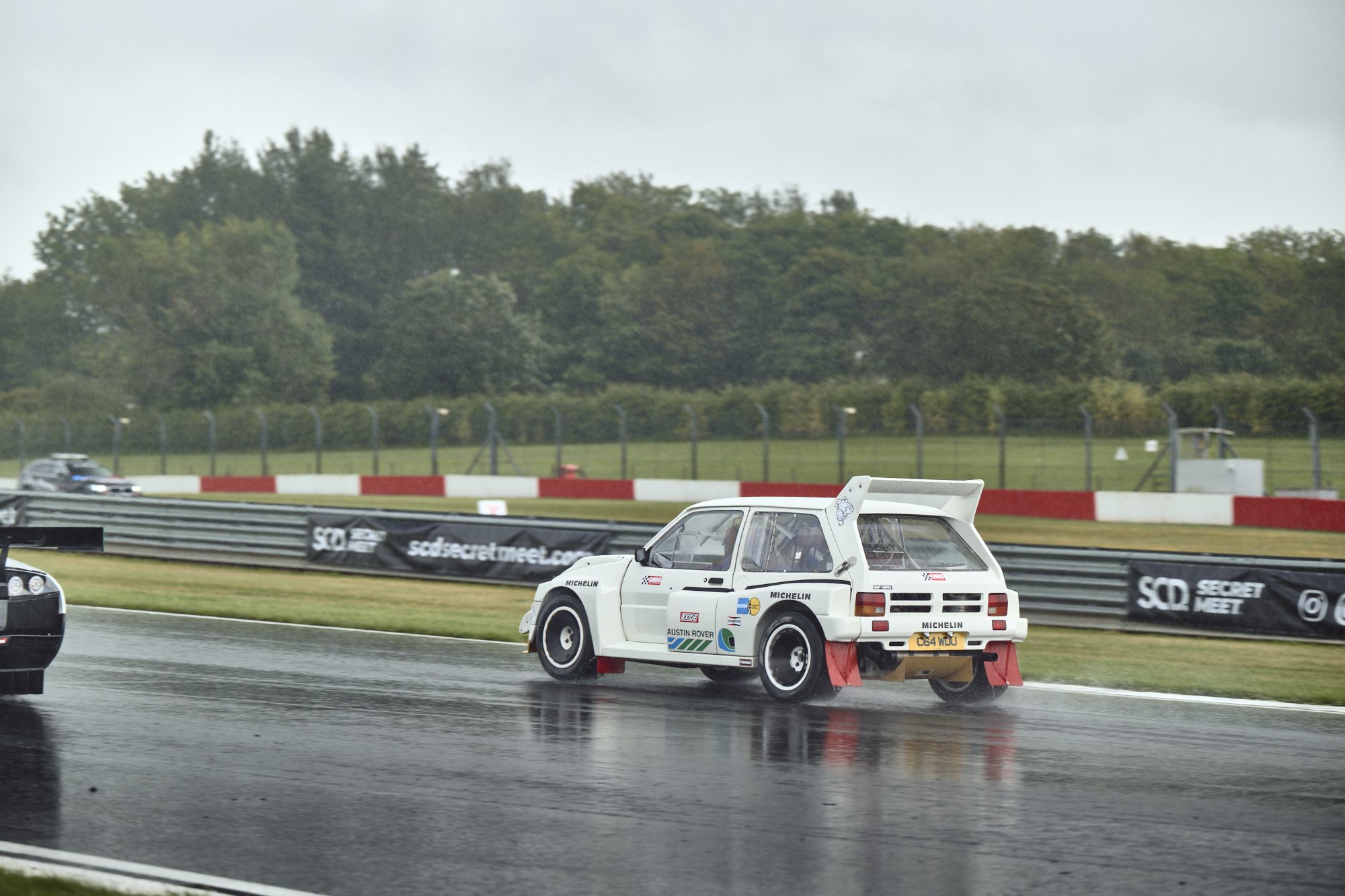 In 1986 Russell organized a test of five rally cars in a Welsh forest for a mate of his. The Metro 6R4 was one of those cars. And Russell's mate was Ayrton Senna.
Our Partnership
with Supercar Driver
The partnership between JBR Capital and Supercar Driver is a natural fit, uniting passionate and proactive owners of high performance cars with the UK's only independent lender dedicated exclusively to high end vehicle finance.