JBR Capital's Stephen Halstead recently presented his Top 10 Supercars from the Geneva International Motor Show. Unsurprisingly, all ten were well-known marques, some established a century ago or more and others in the past couple of decades. All ten of those supercars could also be considered unique in one way or another but, in terms of uniqueness, arguably one stands out – the Pininfarina Battista.
With a claimed top speed of 217mph and a circa €2 million price tag the Battista is neither the fastest nor the most expensive of the ten, but it is the only EV – it's hailed by its maker as "the world's first pure electric luxury Hyper GT" – and despite the Pininfarina name having been around for 90-odd years, the Battista is the first solely Pininfarina-badged car and the first produced by the recently founded Automobili Pininfarina.
Anyone not averse to a whiff of petrol will know that Italy has long been lauded for its outstanding car design. With few exceptions cars by Bertone, Frua, Ghia, Guigiaro, Michelotti, Touring, Vignale and Zagato have been admired the world over for their ground-breaking style, but of them all it's Pininfarina that has become the best known and most highly regarded.
The consistency of the Turin firm's outstanding creativity – helped in large part by its very close and long-standing ties with Ferrari – plus its innovative manufacturing methods and pioneering aerodynamics elevated it to kingpin status long ago.
Pininfarina's magnificent portfolio is unmatched but the road has not always been smooth, as you'll see from our unique timeline charting many, but by no means all of the firm's significant highs, along with some of the inevitable lows.
1893
Battista 'Pinin' Farina is born in Cortanze, c.40km east of Turin, 'Pinin' being his nickname, meaning smallest/youngest.
1904
Battista starts work (aged 11) at his brother Giovanni's bodyshop, known as Stabilimenti Farina from 1906.
1926
Battista's son Sergio is born in Turin.
1928
Battista leaves Stabilimenti Farina.
1930s
Having turned down Henry Ford's Chief Designer job offer, with financial assistance from his wife's family and Vicenzo Lancia, Battista founds Carrozzerria Pinin Farina of Turin in 1930.
The firm builds bodies for Alfa Romeo, Cadillac, FIAT, Hispano-Suiza, Isotta Fraschini and Rolls-Royce up until WW2.
In conjunction with Lancia, Pinin Farina pioneers the frameless 'unibody' construction method.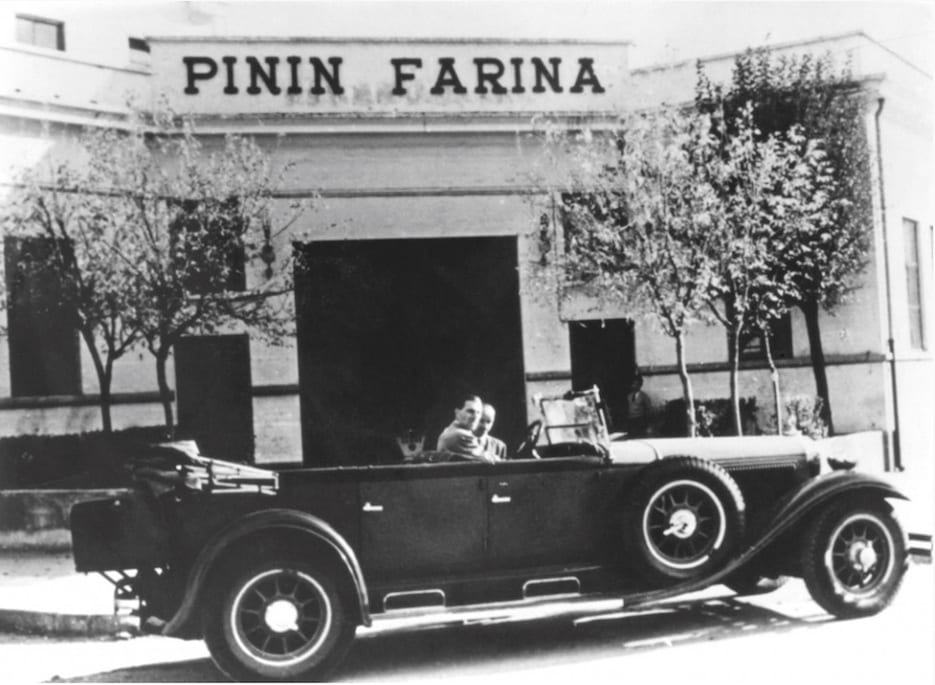 1945
With the factory having been destroyed during the war, design work starts on the Cisitalia 202 coupé, the car most credited for establishing the firm's lauded reputation.
1947
Cisitalia 202 is revealed to great acclaim at the Paris motorshow.
Lancia Aprilia Bilux production commences.
Renzo Carli marries Battista's daughter Gianna, and joins Carrozzeria Pinin Farina the following year.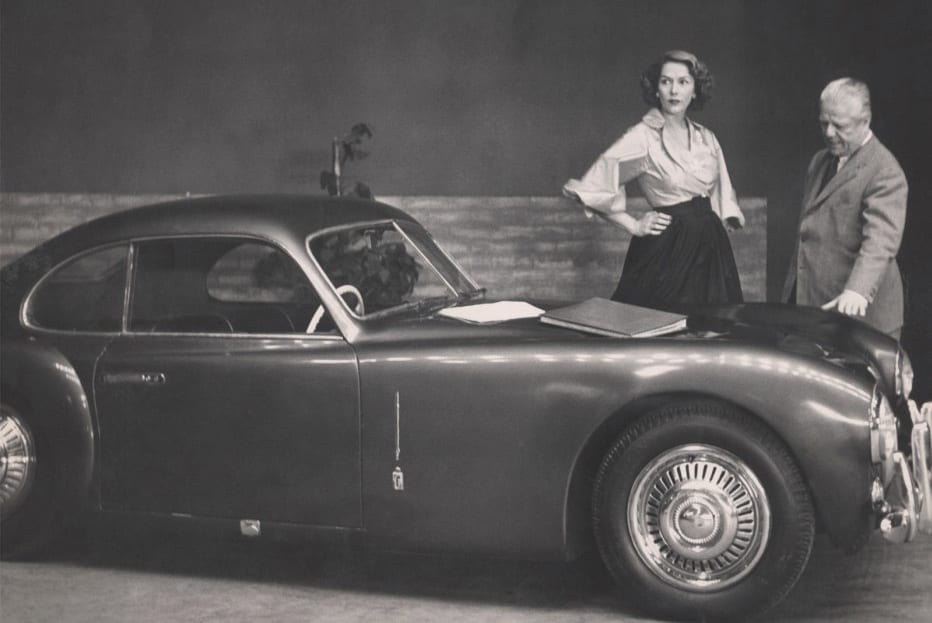 1951
Battista meets with Enzo Ferrari on neutral ground at a restaurant in Tortona, mid way between Turin and Maranello. From then on most production Ferrari road cars would be designed by Pinin Farina.
Cisitalia 202 becomes first car to be on permanent display at New York's Museum of Modern Art.
1952
Ferrari 212 Inter production commences at Corso Trapani factory, along with Alfa 1900C coupé/cabrio and US-market Nash-Healey roadster.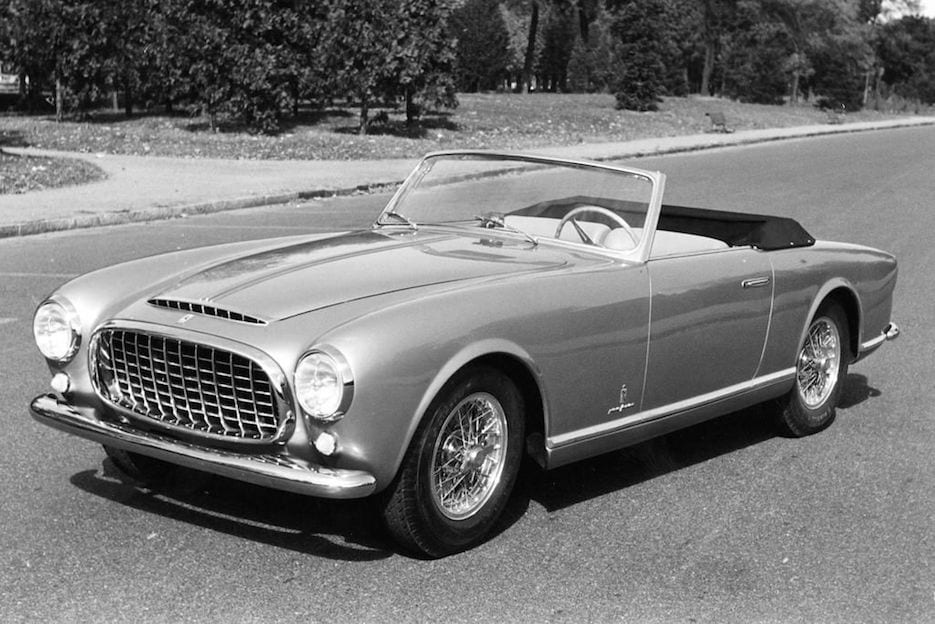 1953
Stabilimenti Farina closes having been largely absorbed by Pinin Farina.
1956
Volume production of Alfa Romeo Giulietta Spider commences.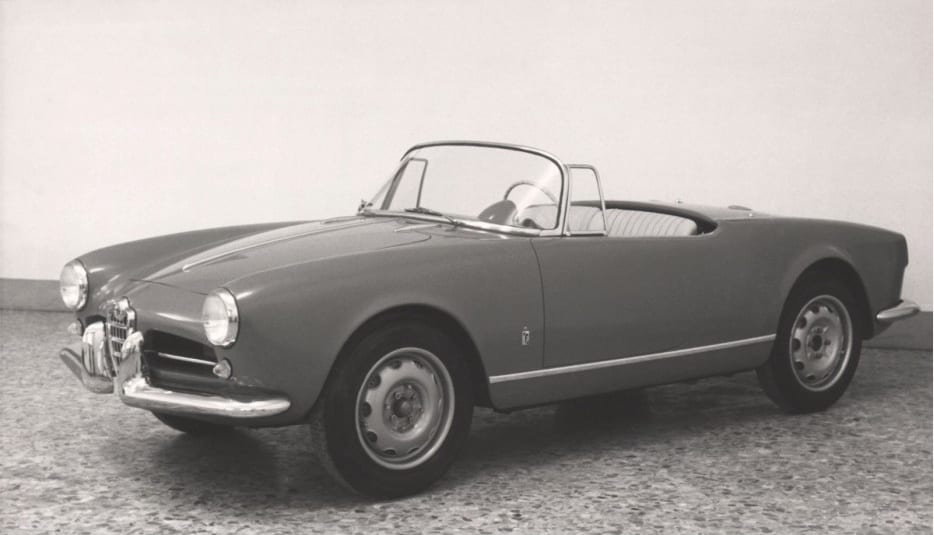 1957
Sergio Farina's son, Andrea, is born.
1958
Sergio's second son, Paolo, is born.
Ferrari 250GT production commences at new Grugliasco factory.
Battista is hired by the British Motor Corporation to design several new models including the world's first hatchback, the Austin A40 Farina.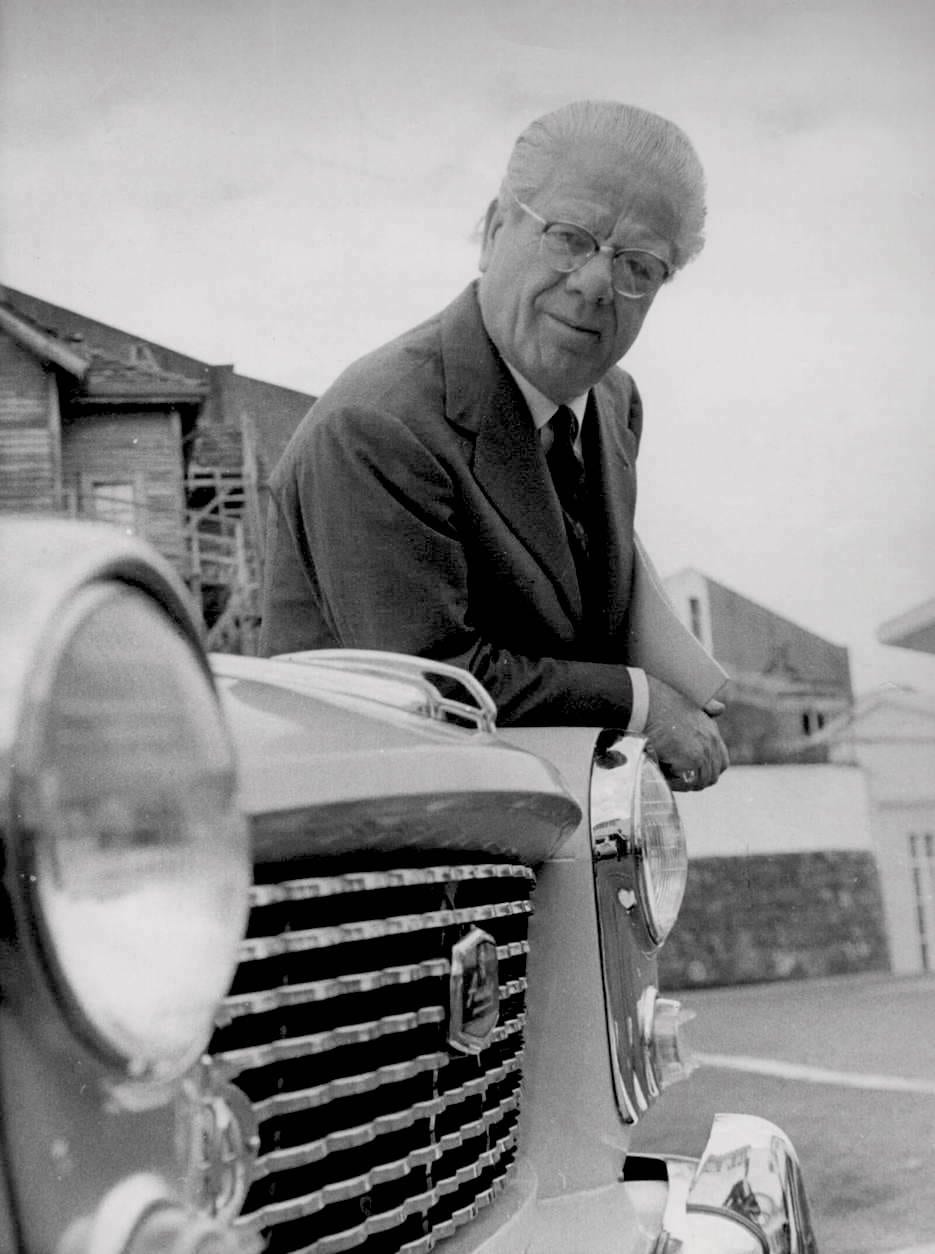 1960
Sergio joins the firm.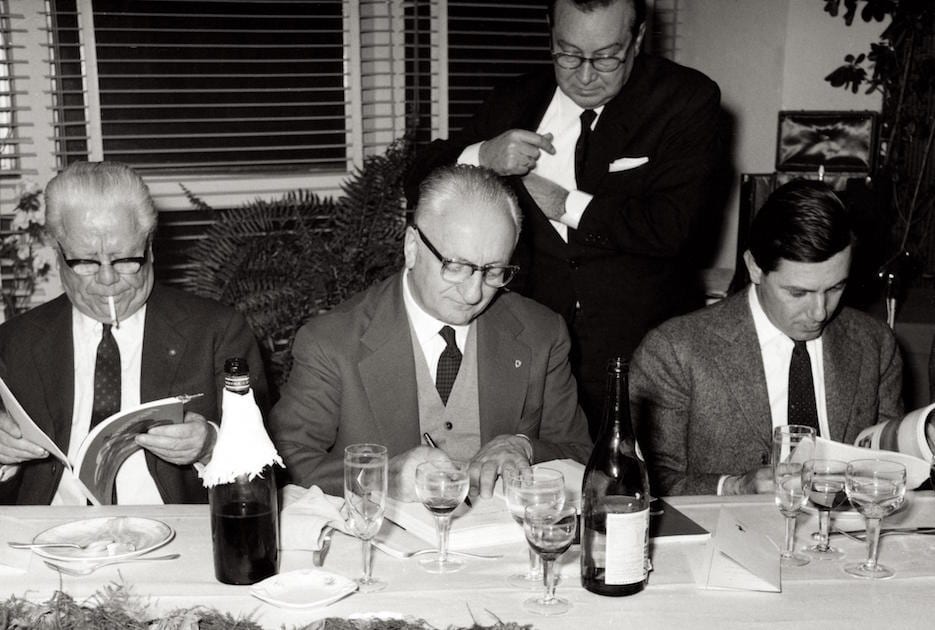 1961
Battista hands reins of company to son Sergio and son-in-law Renzo Carli.
Battista Farina is granted authorisation to change the family name to Pininfarina.
Production of Peugeot 404 Coupé and Cabrio commences.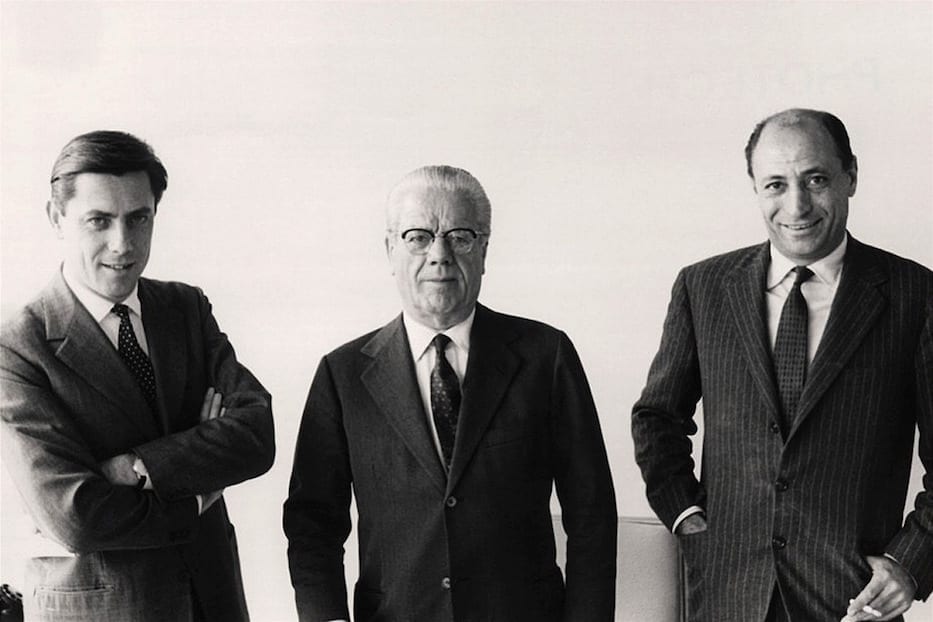 1962
Pininfarina-designed Ferrari 250GT Lusso prototype is unveiled at Paris show.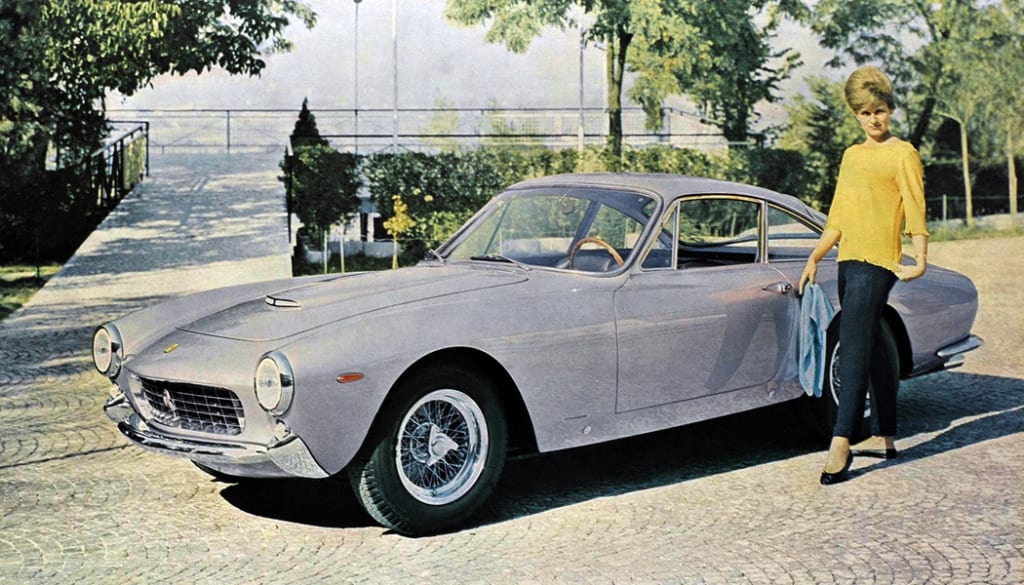 1963
Pininfarina-designed Ferrari 330 production commences.
1965
Pininfarina's mid-engined Dino Berlinetta Speciale prototype revealed at Paris motorshow.
1966
Sergio is appointed Managing Director.
Battista dies in Lausanne aged 73.
Sergio becomes Chairman.
Alfa Giulia 'Duetto' Spider (the last car designed by Battista) and Fiat 124 Sport Spider production commences.
Pininfarina-designed Ferrari 365 production commences.
Studies and Research Centre opens in Turin, with the Calculation and Design Centre opening the following year.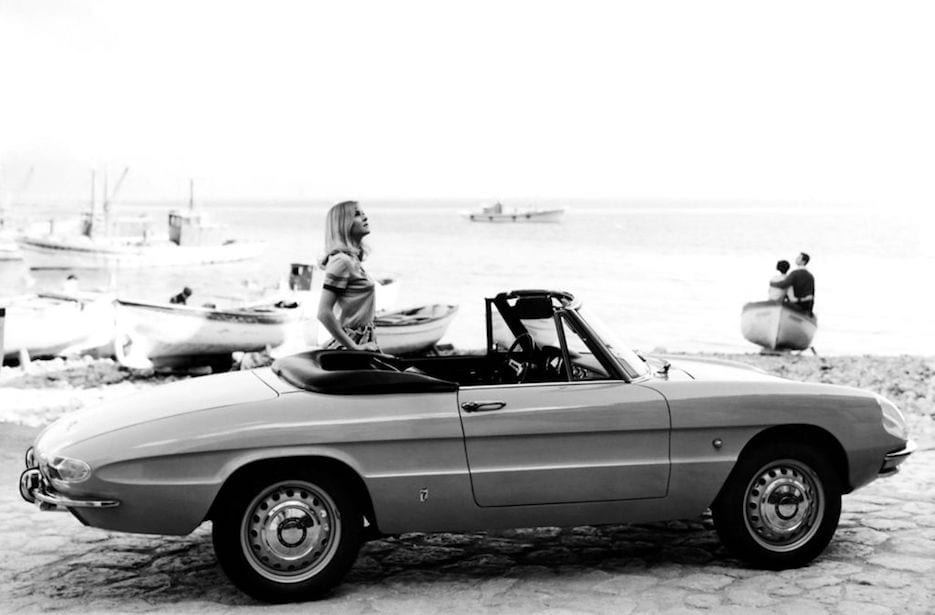 1968
Pininfarina-designed Ferrari 365 GTB/4 Daytona production commences.
1973
Pininfarina-designed Ferrari Berlinetta Boxer production commences.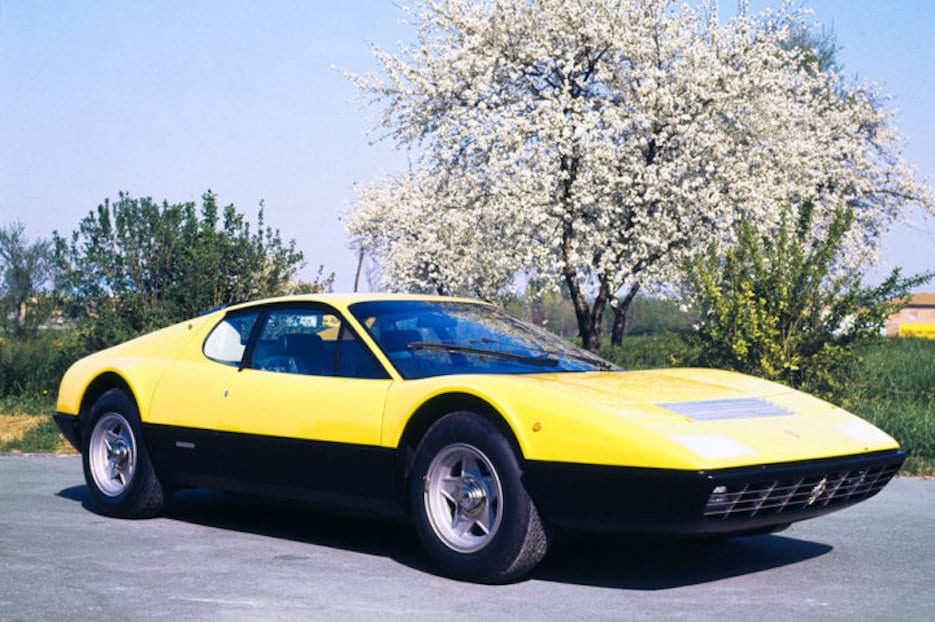 1975
Pininfarina-designed Ferrari 308 GTB/GTS production commences.
Pininfarina-designed Rolls-Royce Camargue launched.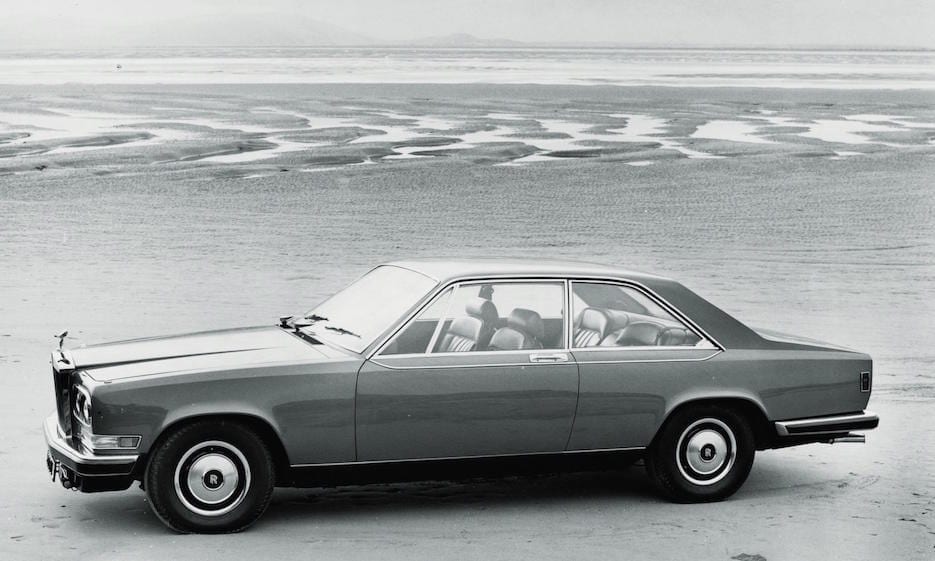 1980
Ferrari Pinin saloon concept unveiled by Sergio at Turin show in celebration of the company's 50th anniversary.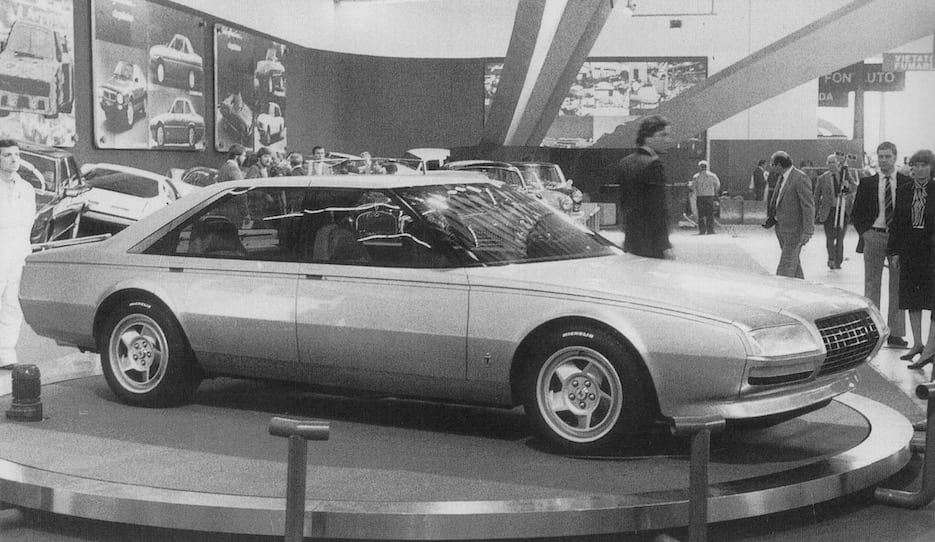 1982
Paolo Pininfarina joins the family firm.
1983
Andrea Pininfarina joins the family firm.
Pininfarina-designed Ferrari 288 GTO production commences.
Agreement reached with GM/Cadillac to design and manufacture the Allanté body at new San Giorgio plant.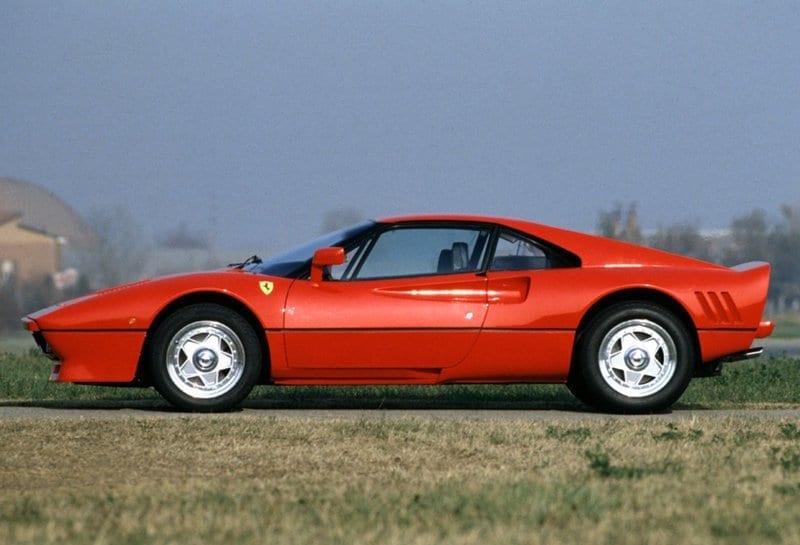 1984
Pininfarina-designed Ferrari Testarossa production commences.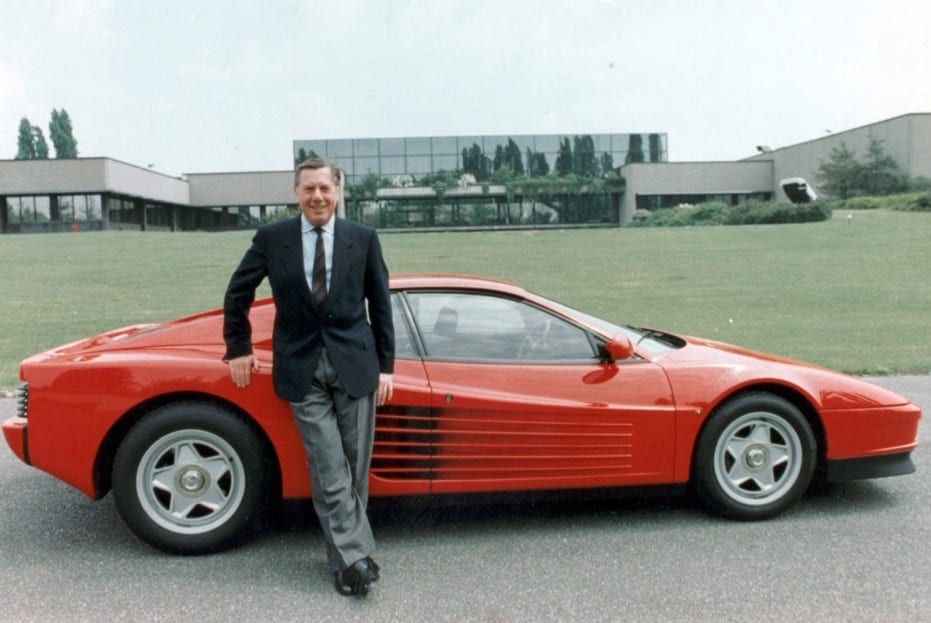 1985
Pininfarina-designed Ferrari 328 GTB/GTS production commences.
1987
Pininfarina-designed Ferrari F40 production commences.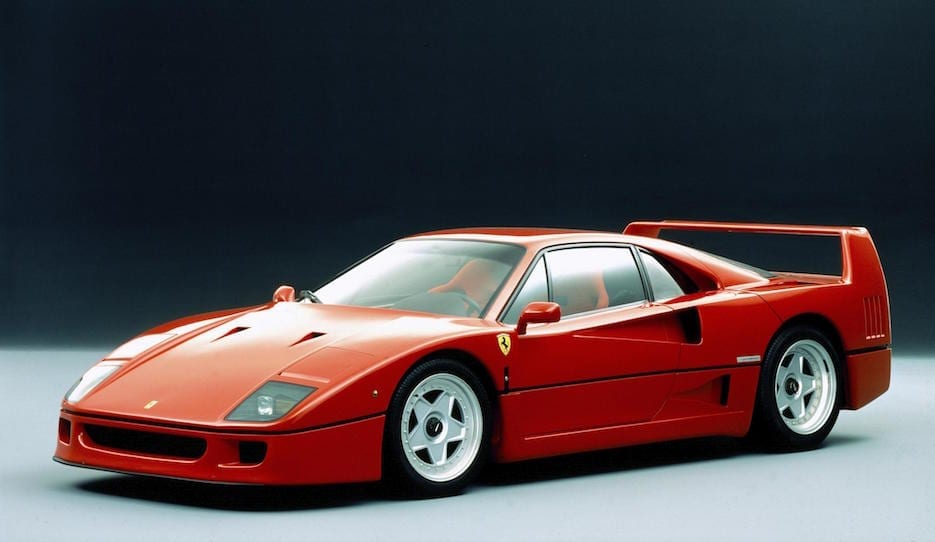 1989
Pininfarina-designed Ferrari 348 production commences.
1992
Pininfarina-designed Ferrari 456GT production commences.
1994
Andrea Pininfarina becomes CEO.
Pininfarina-designed Ferrari F355 production commences.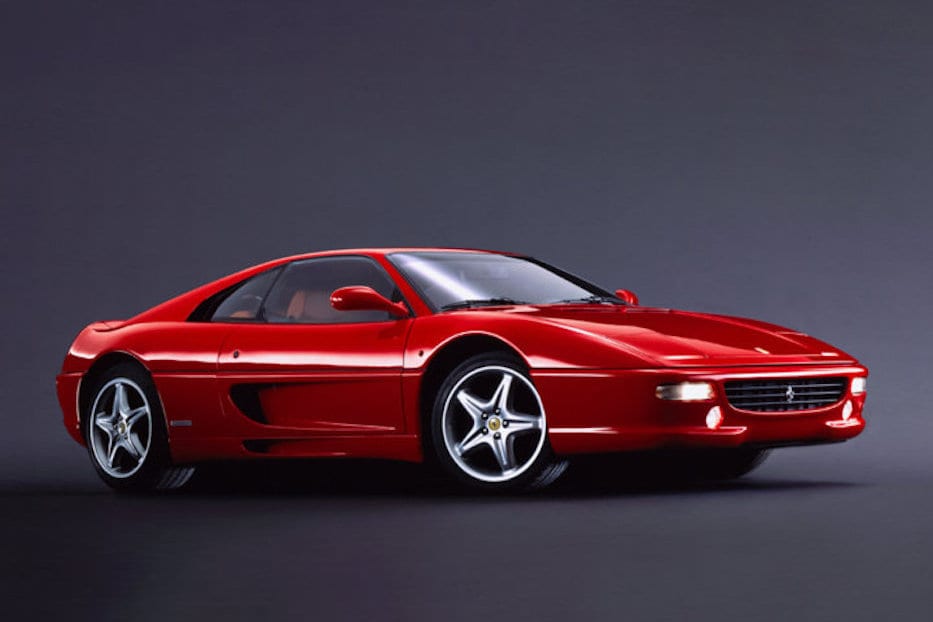 1995
Pininfarina-designed Ferrari F50 production commences.
Production of Pininfarina-designed Bentley Azure bodies commences.
1996
Pininfarina-designed Ferrari 550 Maranello production commences.
Pininfarina commences production of Pininfarina-designed Peugeot 406 Coupé.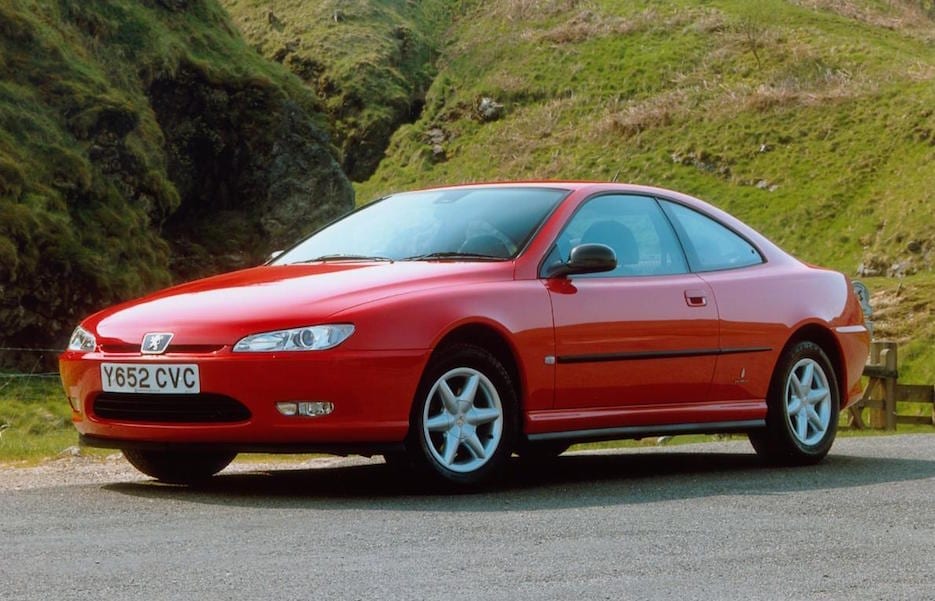 1997
Mitsubishi Pajero production commences at Bairo Canavese factory.
1999
Pininfarina-designed Ferrari 360 production commences.
2002
Pininfarina-designed Ferrari Enzo and 575M Maranello production commences.
Cambiano Engineering Centre opens.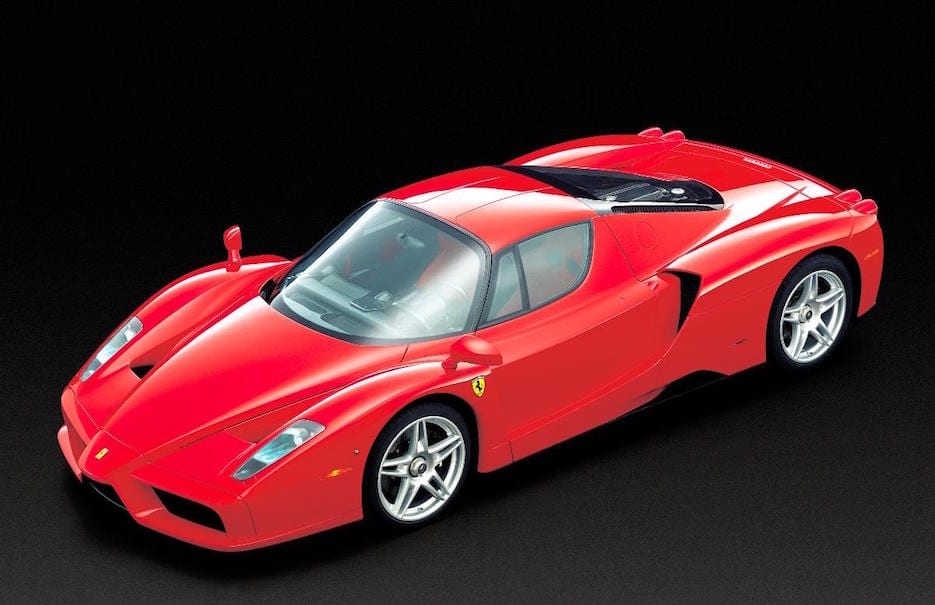 2003
Pininfarina establishes a joint venture with Volvo to manufacture C70 Convertible in Swedish Uddevalla plant.
2004
Pininfarina-designed Ferrari 430 and 612 Scaglietti production commences.
2005
Partnership with Maserati is revived after 50 years.
Fifth generation Maserati Quattroporte is designed.
Maserati Birdcage 75th concept celebrates Pininfarina's 75th anniversary.
Pininfarina starts recording substantial financial losses.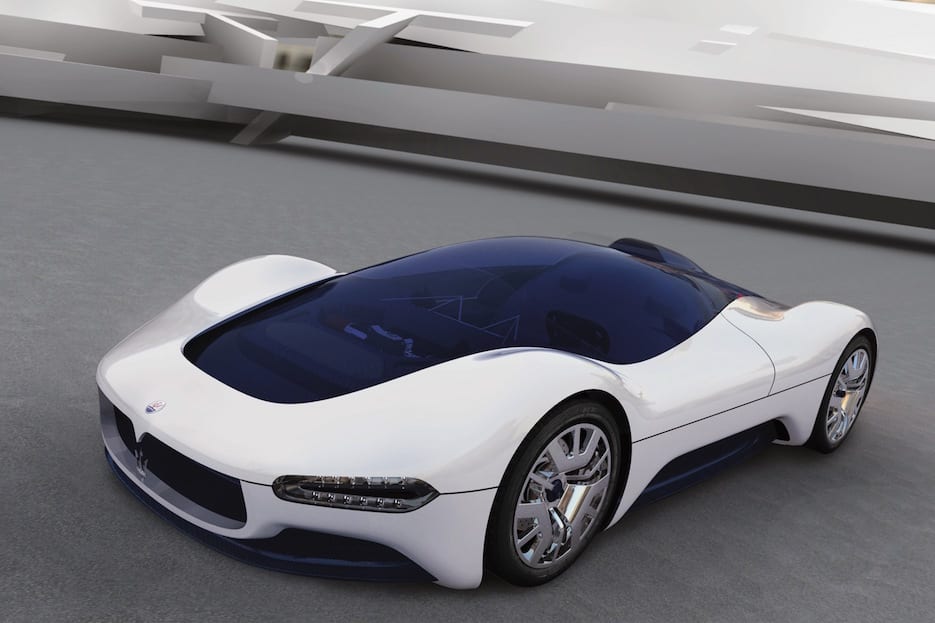 2006
Andrea Pininfarina becomes company Chairman.
Sergio Pininfarina is unanimously elected Honorary Chairman.
One-off Ferrari P4/5 by Pininfarina is revealed.
Pininfarina-designed Ferrari 599 GTB Fiorano production commences.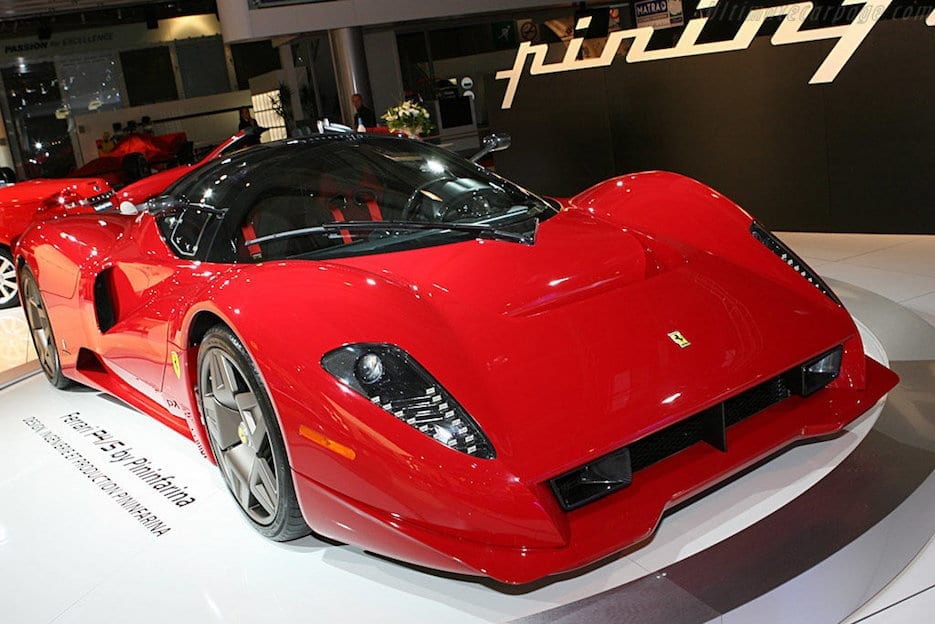 2007
Pininfarina-designed Maserati GranTurismo production commences.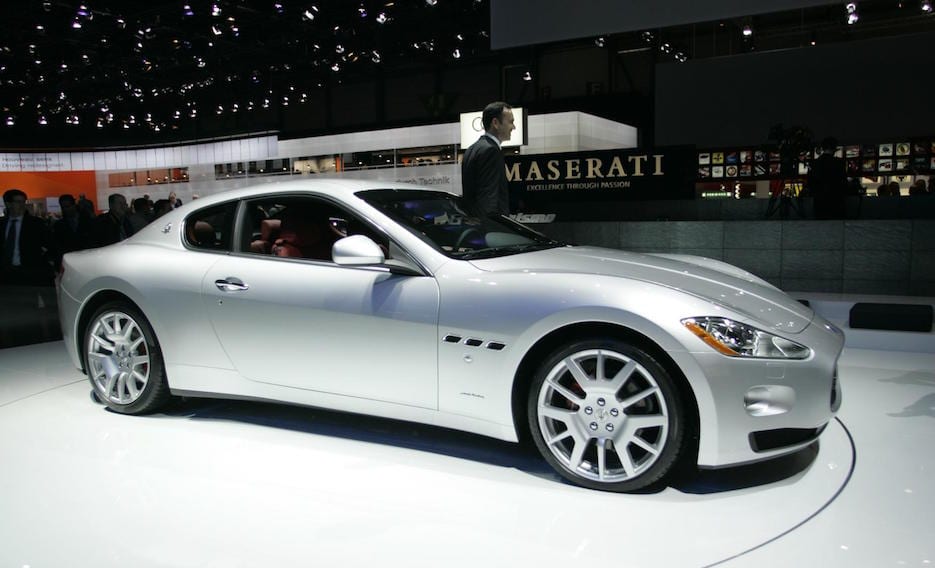 2008
Andrea Pininfarina dies in a road accident aged 51.
Brother Paolo elected Chairman.
Pininfarina Sintesi concept car unveiled at Geneva show.
Pininfarina-designed Ferrari California production commences.
One-off Pininfarina-designed Rolls-Royce Hyperion revealed.
Various outside investors acquire 70% of the company with the Pininfarina family holding the controlling interest until end of year.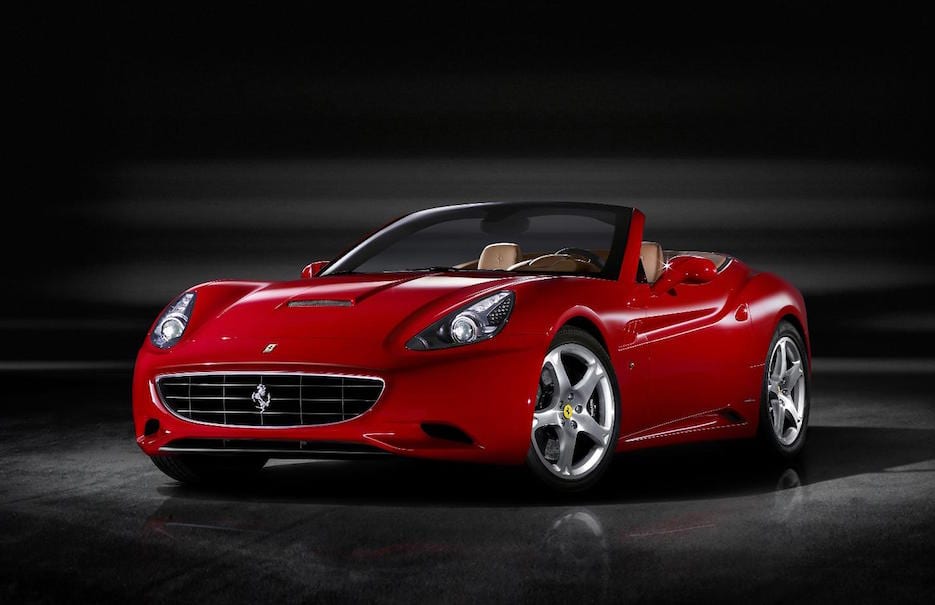 2009
Pininfarina-designed Ferrari 458 production commences.
2010
Pininfarina celebrates its 80th anniversary with Alfa Romeo 2uettotanta concept.
Ferrari marks Pininfarina's 80th with 599-based SA Aperta – 'SA' in homage to Sergio and Andrea, production limited to 80.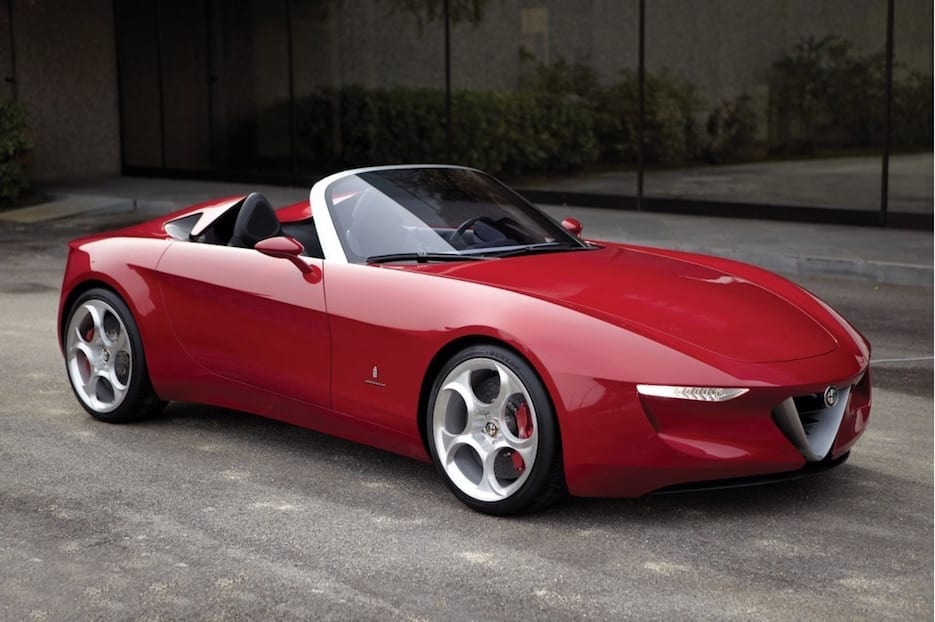 2011
Pininfarina-designed Ferrari FF production commences.
Car manufacture ceases, with Pininfarina to focus purely on design.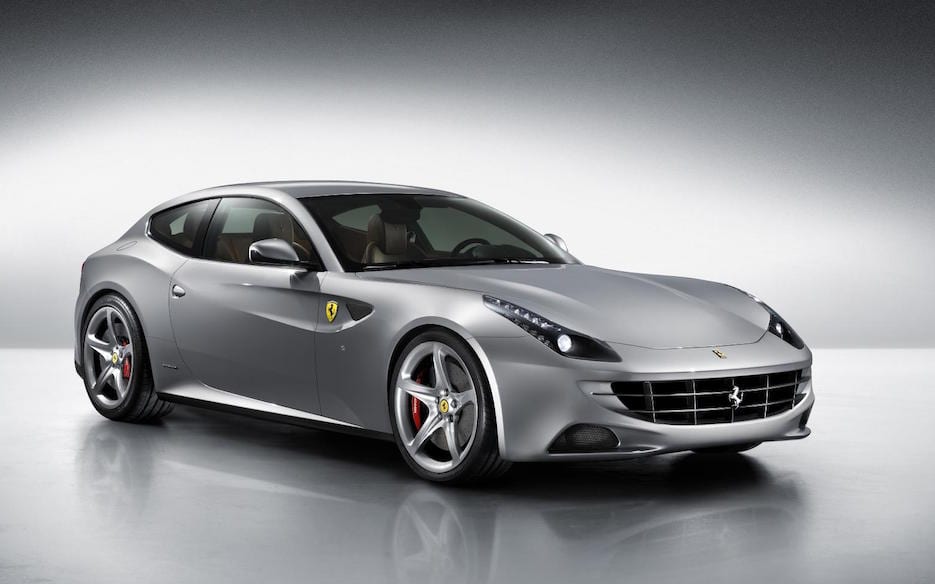 2012
With mounting debt, Pininfarina family loses control of its design studio operation.
Sergio Pininfarina dies in Turin aged 85.
Pininfarina-designed Ferrari F12 Berlinetta production commences.
2013
Ferrari 458-based Pininfarina Sergio one-off concept produced in tribute to Sergio Pininfarina.
Company returns to profitability for first time since 2004.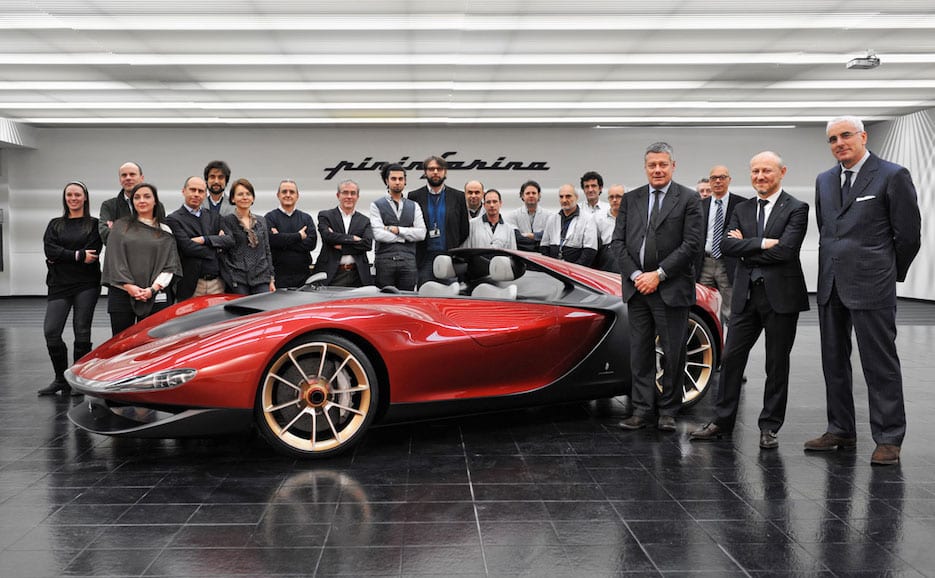 2015
Mahindra Group acquires controlling interest (76.06%) of Pininfarina SpA.
Paolo Pininfarina continues as Chairman.
Ferrari reveals limited-edition Sergio in honour of Sergio Pininfarina.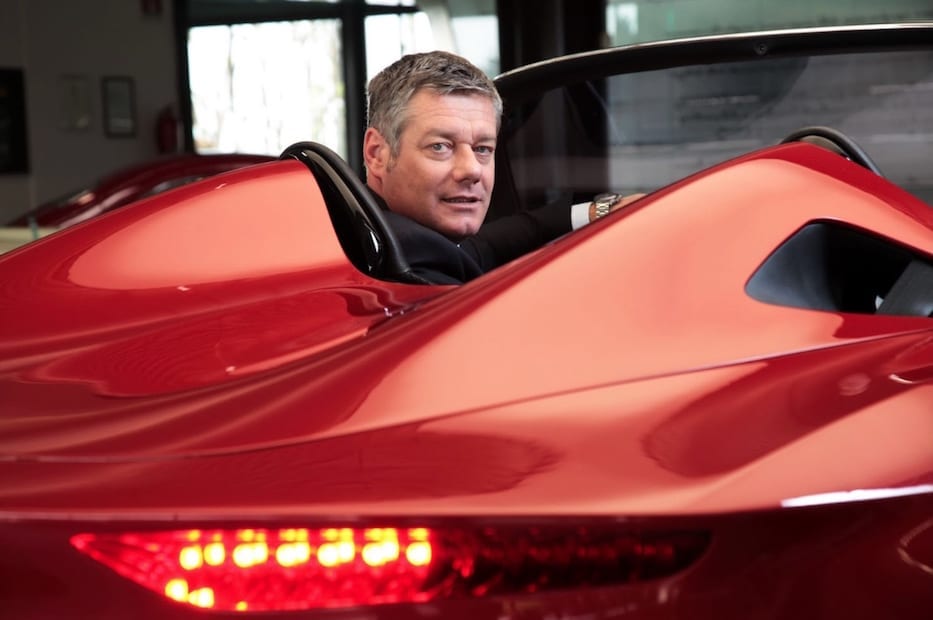 2016
Hydrogen-powered Pininfarina H2 Speed concept track car exhibited.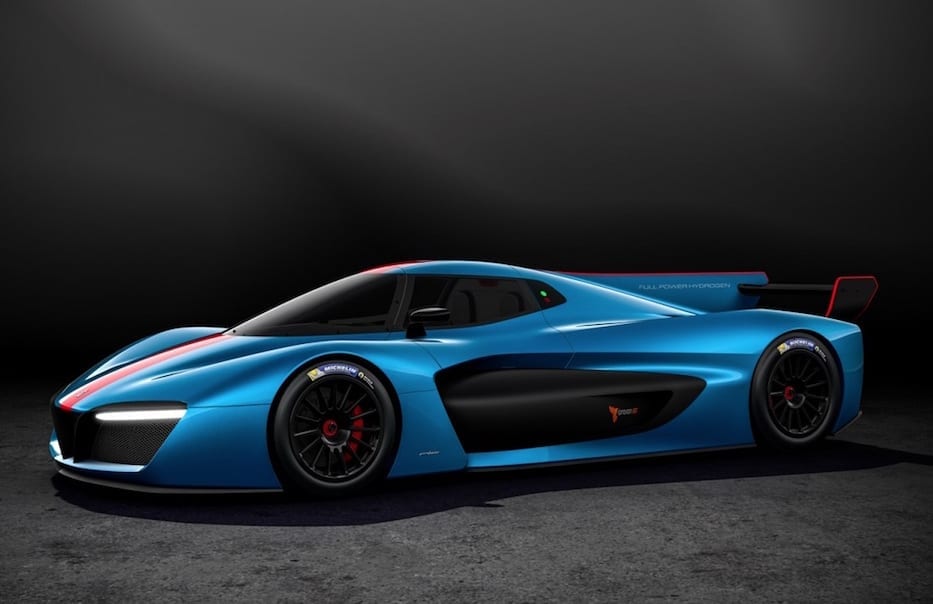 2017
Pininfarina exhibits Fittipaldi EF7 supercar, H600 luxury saloon plus K550 and K750 SUV concepts.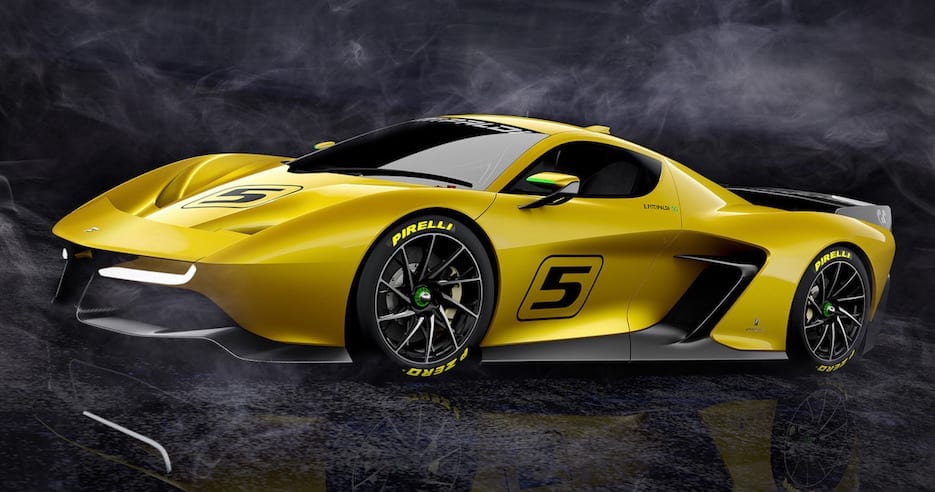 2018
Mahindra announces launch of Automobili Pininfarina – 100% owned by Mahindra and headquartered in Munich.
Pininfarina HK GT 2+2 concept exhibited.
Pininfarina PF0 Hypercar prototype is announced.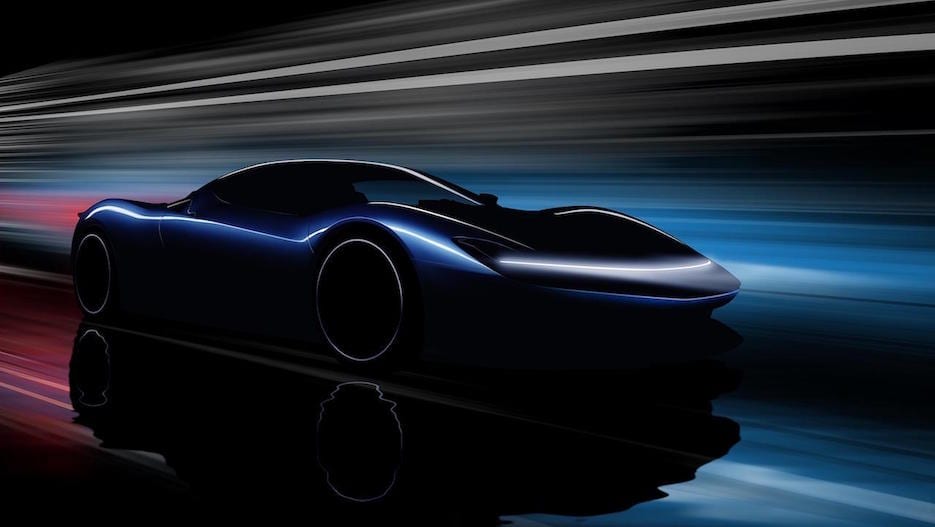 2019
Pininfarina Battista (formerly known as PF0) is revealed to the public at Geneva show with low-volume production and European deliveries due to commence in 2020. No more than 150 to be built. Price c.€2 million (est).
Here's the full spec on the Battista as released by Pininfarina at the Geneva show. "All Battista data shown are target estimations and subject to confirmation by Automobili Pininfarina."
Performance
Range: 280 miles
Acceleration: 0-62 mph Under 2.0 secs
Acceleration: 0-186 mph Under 12.0 secs
Power output: Up to 1,900 hp (1,400 kW)
Max. torque: Up to 2,300 Nm
Top speed: Over 217mph
Drive: All-wheel-drive with torque vectoring function with 5 different drive modes
Brakes
Type: Carbon-ceramic 6-piston front and rear, 390mm front and rear
Tyres
Supplier: Pirelli Tyre SpA
Type: Bespoke Pirelli P Zero tyre (mounted on a 21-inch rim in an exclusive new design for the Battista show cars)
Body
Structure: Full-carbon fibre monocoque with carbon fibre body panels Aluminium crash structure front and rear
Battery Pack
Layout: T-shaped Li-ion battery pack in centre tunnel and behind seats
Supplier: Rimac Automobili
Battery energy: 120 kWh
Charging
Charging technology: DC fast charging capability