No one wants to step up and take the opening penalty when it's three-all against Germany after extra time. No one wants to lift the karaoke microphone to get the night going when everyone in the pub is still stone-cold sober. And this morning, no one wants to be the first supercar driver up the greasy, glistening hill at Shelsley Walsh in the rain.
There's plenty of aggressive engine revving going on as the supercar pack shuffles around – a bit like penguins trying to push each other off an iceberg in case a leopard seal is lurking beneath the waves.
And then one breaks away. A blue Porsche 911 GT3 RS, complete with black bonnet, black roof and Weissach Pack, pulls up to the marshal by the starting lights. Despite the lack of grip available, the Porsche powers off the line and attacks the 1,000-yard hill, which has a 1:7 rise at its steepest part, with gusto and confidence.
"I guess that was a bit like being first on the dancefloor, but someone had to do it," laughs Molly Taylor as she climbs out of the GT3 RS she shares with her husband, Robert, after her run. "We do have the advantage of being members here at Shelsley, so we know our way around. But we are a bit envious this morning of those whose cars have got four-wheel drive"
Cathal Loughnane is another Supercar Driver club member relishing the slippery conditions despite the lack of four-wheel drive. Splattered with mud, his Mercedes-AMG GTR looks like it might have been opposite-locked through Kielder Forest rally state. "This car doesn't really like the rain. With all the power to the rear wheels, it's a bit snaky – fun though," explains Cathal. "When you stick it in Comfort mode, it's a proper GT car that can soak up London to Paris very easily. But then you put it in Race mode, and it's a completely different machine – a proper weapon."
There are all sorts of weapons on display today. The latest version of Ford's GT sits parked beside an even rarer Mosler MT 900S, while a Ferrari GTC4 Lusso ques for the start line behind an Ariel Nomad R, further emphasising the extreme diversity of cars present. And all morning, the pace gets hotter as the finest machinery to come out of venues such as Affalterbach, Cassino, Gaydon, Hethel, Ingolstadt, Kaminokawa, Ohio, Modena, Munich, Sant'Agata Bolognese, Woking and Zuffenhausen in recent years power up Shelsley Walsh.
But it's not just seeing the supercars in action that makes the day so unique; it's the venue too. Nestled in the majestic Worcestershire countryside, Shelsley Walsh is the oldest motorsport venue in the world still to run proper competition events on its original course. Having held its first event in 1905, it predates venues like Indianapolis, Le Mans and Monza.
The place is steeped in a rich history that you can see, hear and feel, especially when you bump your head against one of the beams of the car shelters that were built at a time when people weren't so tall, or sit on the simple wooden spectator benches that line the right-hand-side of the course.
Yet Shelsley Walsh's history is a living one ¬– always progressing, constantly evolving. And today, another chapter is being written, as beautifully illustrated by a blood-red Lamborghini Huracán Performante perfectly clipping the red and white kerbing set against a backdrop of vivid greenery.
But now, time appears to be reeling backwards a couple of decades. Is that the opening synthesiser beat from Jan Hammer's 'Miami Vice' theme tune? Maybe not, but you can definitely hear the howl of a blood-curdling Ferrari flat-12 engine on the wind. The old school Supercar Driver crew has rocked up in one of the wildest convoys to ride out in many a long day.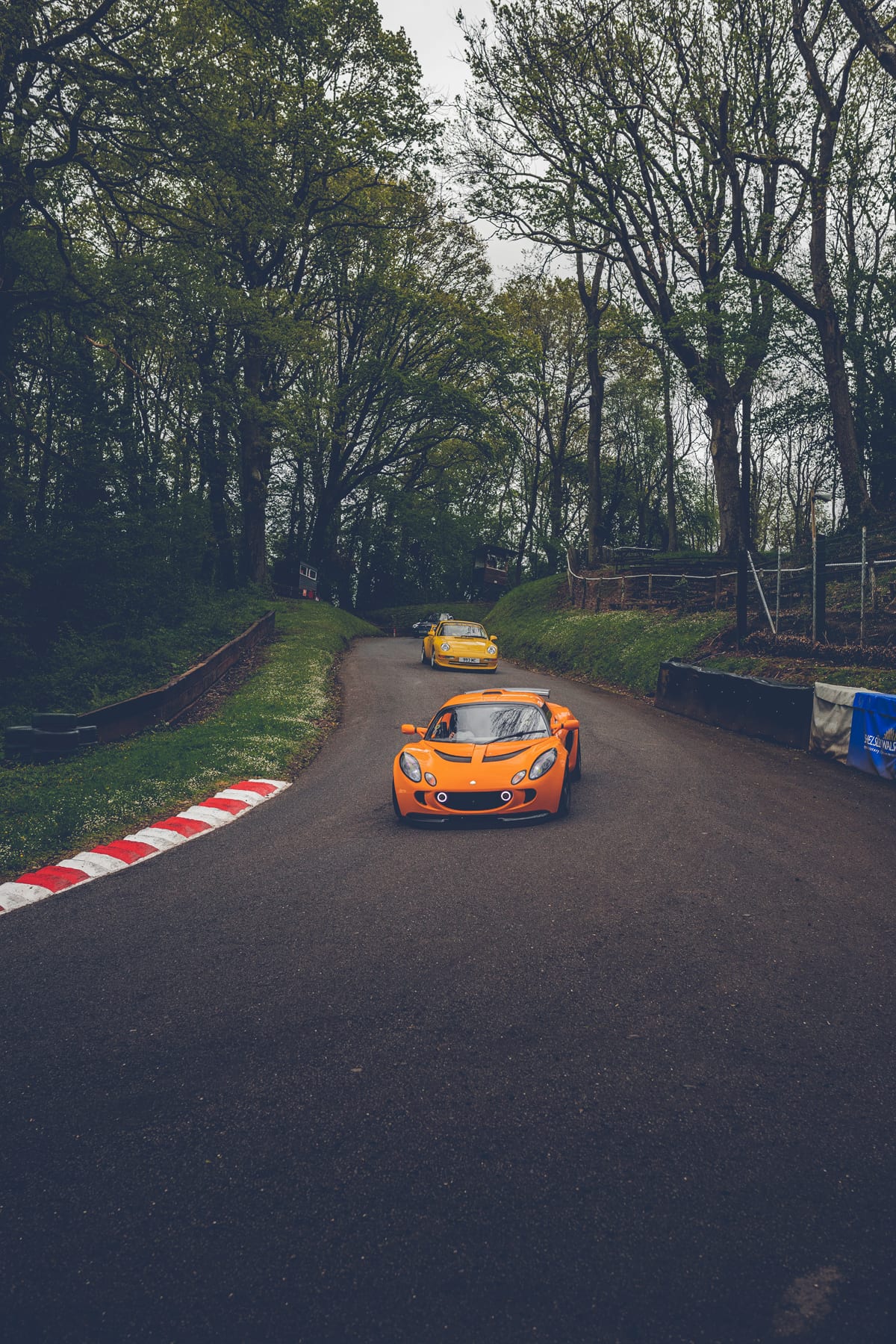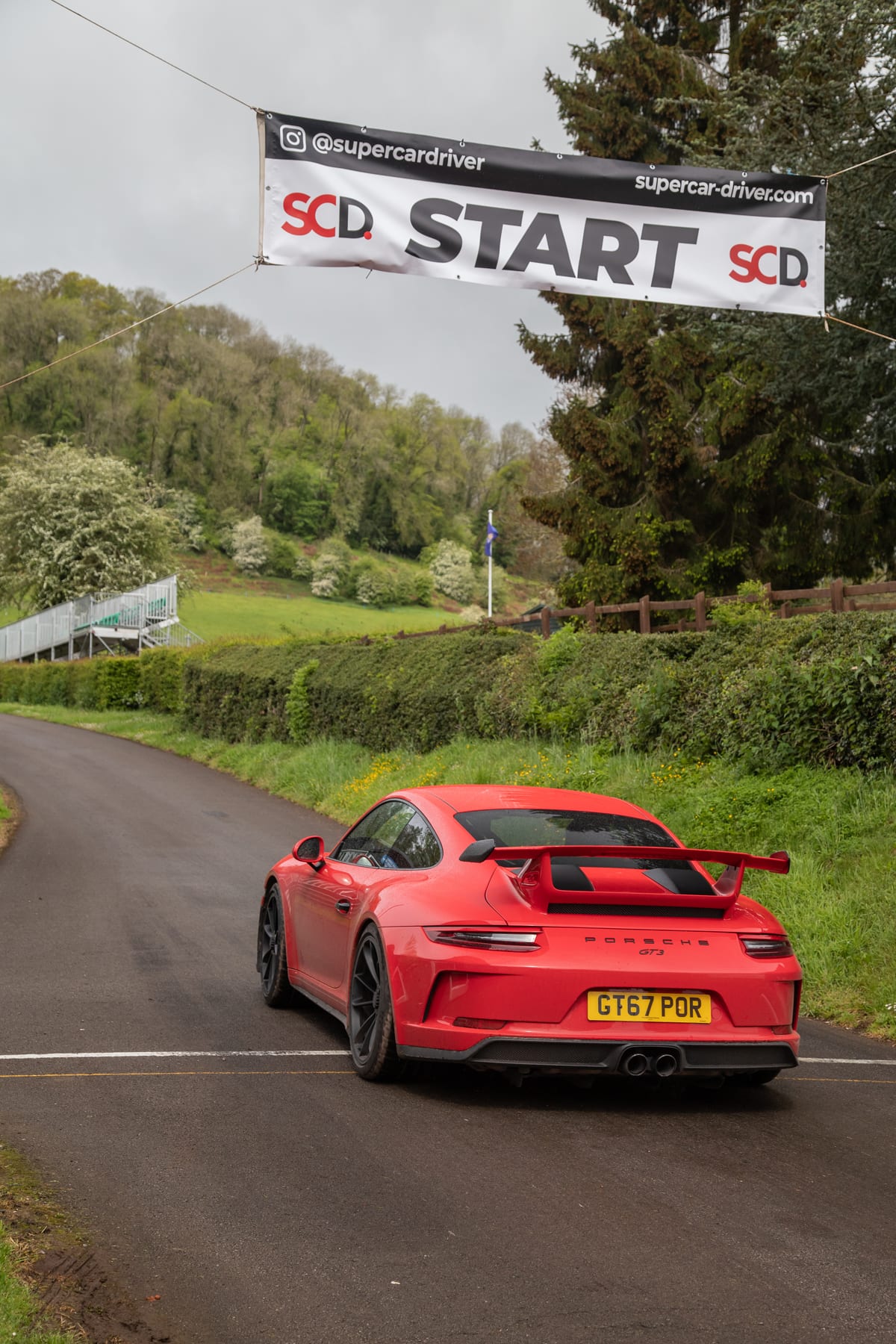 That wailing flat 12 engine note comes courtesy of not one but two Ferrari Testarossas – a yellow first-generation model and a later red 512 TR. With their pop-up headlights, long flanks slashed by side strakes and wide hips, they are the very essence of a 1980s supercar dream. Other weapons of decades gone by warming up for an assault on the hill include a Vauxhall Lotus Carton, Porsche 911 993 and 964 RS variants and an Alfa Romeo 2000 GTA.
Supercar Driver's Creative Manager Luke Earnshaw explains the rationale behind this ensemble extraordinaire: "A lot of our members have older cars and don't necessarily want to come out with the more modern machinery, so we created a little separate group for them called Pre-95. It's a good chance for them to get together with cars from an earlier era."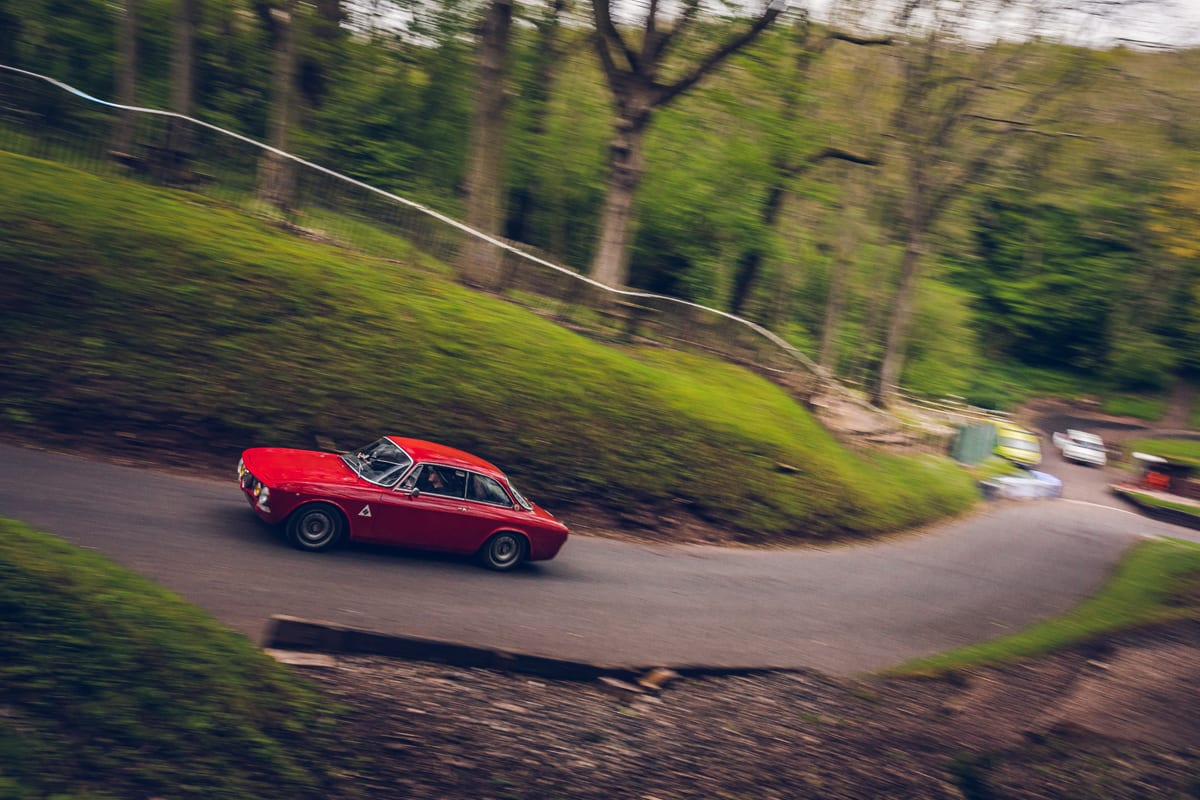 James Beaumont grins when the talk turns to the outraged tabloid headlines that greeted the 177mph Vauxhall Lotus Carlton's launch in 1990. "I call mine the Deathship because every time I take it out, it tries to kill me. It's got no driver aids, it's absolutely lethal, but it's such good fun." Happily, James and the magic Carlton make it up the hill and back down again in one piece. And all too soon, another epic Supercar Driver day is over, and it is time to head for home.
All the cars that took part in the hill climb:
3.2 carrera
570S
993 RS
Alfa 4c
Alfa GTA-R
Alfa Romeo 4C Spider
AMG GTR
Ariel Nomad
Aston Martin DB11
Aston Martin V12S
Aston Martin Vanquish S
Audi R8
BMW i8
BMW M2 Competition
ferrari 456 diablo sv lotus carlton
Ferrari 488 GTB
Ferrari 488 Pista Spider
Ferrari 512TR
Ferrari Lusso
Ferrari Testarossa
Honda NSX
Huracan Evo RWD
Jaguar F-Type SVR
Lamborghini
LAMBORGHINI HURACAN EVO
Lamborghini Huracan Evo RWD
Lamborghini Huracan Performante
Lotus Evora
Lotus Evora 400
Lotus Exige S 350
Lotus Exige S2
Mclaren 600LT
McLaren 600LT
Mclaren 600LTS
Mclaren 600LTS
Mclaren 720s
McLaren 720S
Mosler MT900s
Nissan GTR
Porche GT4
Porsche 911 GTS
Porsche 911 Turbo
Porsche 964 rs
Porsche 991.2 GT3
Porsche 993 2S
Porsche 993 2S
Porsche 997 Turbo
Porsche 997 Turbo
Porsche GT3RS
Porsche GT3RS
Porsche Turbo S
R8 V10 Plus Spyder
Toyota GR Yaris
Toyota Yaris GR
V12 Vantage
Yaris GR