By default, you insure your vehicle against the usual hazards and risks to which car ownership is exposed, and you'll invest more heavily if you decide to compete, by taking out an insurance policy, but you can mitigate the financial and emotional consequences of a claim by also investing in a 3D scan of your asset at the time of purchase . 3D scanning of classic vehicles (or any other valued possession) is also known as Digital Archiving – as the name suggests, the scanned data is stored in a digital format until such time as it is required. The process faithfully captures the full size form of the features being scanned by measuring light reflected off the surface. The most versatile method, and that practiced by KW Heritage (KWH), uses a hand held Scanner, is non-invasive and is not location dependent. The scanner is of metrology grade, meaning it captures information at a very high accuracy and resolution, both positional and feature.
Body scan of a Long Nose D-Type Jaguar for Classic Performance Engineering
But what does all this mean and how can it be of benefit ? Due to the rare nature of classic and historic vehicles, it is often the case that knowledge and specialist equipment to repair or remanufacture components will have been lost or passed on, never to be seen again. The highly skilled and manual processes involved in bodywork manufacture, for example, mean that each set of panels is unique, and possibly the support structure beneath. The same fate often befalls the tooling to cast engine, driveline and ancillary components, which even if located, can be worn out or damaged. The precaution taken when digital archiving overcomes these hurdles by providing the means to repair or remanufacture because the form of the component has been captured for future use. The scanning process can also be used as a means of inspection of manufactured goods, to make sure they have been made to the specified design. By scanning a manufactured component, either in it's entirety or locally if only considering key features, and overlaying that data with the CAD model, software compares the form of the two and displays a comparison using graphical and numeric outputs:
CAD model and scan of machined sample overlaid – colours are used to graphically show the differences between the actual component and CAD data.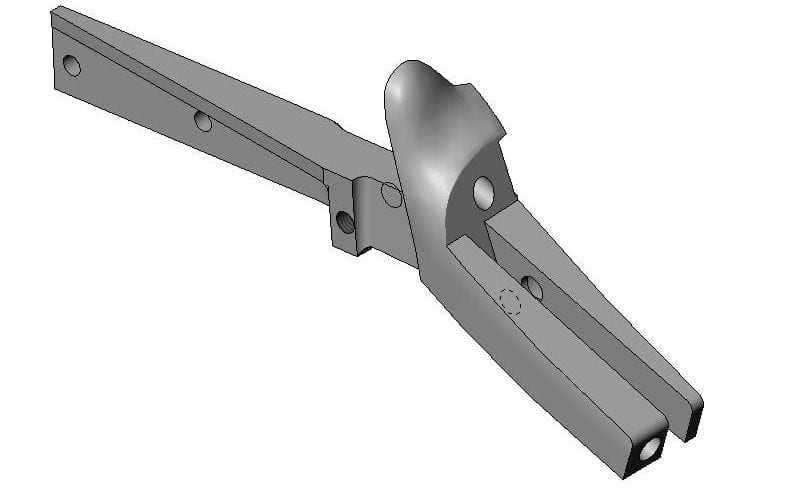 CAD model and machined sample
Further benefits of 3D scanning include:
Recording of suspension hard points if requiring a baseline when considering performance enhancements.
Using scan data as the basis for redesigning, modifying or adding to panels or other components.
The capture of images of scan data from any vantage point for import into documents, presentations or for discussion topics, for example.
Case Study
KW Heritage were tasked with scanning the complete bodywork of a Long Nose D-Type Jaguar at the premises of Classic Performance Engineering (CPE), Bicester Heritage. The car is raced by its owner who wanted to protect his investment by capturing the form of the Bodywork (Digital Archiving), which is specific to this particular car, using KWH's scanning capabilities. Scanning on site so as not to disrupt the day to day business of CPE, all panels were scanned, including rivet, fastener and decal positions so that authenticity could be maintained.
Number 9 decal and rivet positions captured.
Structures such as the positions and shapes of inner wheel arch panels, not visible externally but often damaged in an accident, were also captured. Minimal investment in return for protecting the asset resulted in whole car scan data which will be stored on KWH's server ready for future requirements, and a copy provided to the customer.
To find out more about the process and to read mre case studies, visit KW Heritage.