Darren Selig, Founder and Chief Commercial Officer of high-end automotive finance company JBR Capital, explores the pros and cons and urges caution before hitting the 'place deposit' button.
Car manufacturers and franchised and independent retailers have been thinking up ever cleverer ways to sell us cars for well over a century now. In 2018, Elon Musk (who else) took the art of car advertising to new heights, quite literally, when he launched a Tesla Roadster into orbit around the earth before dispatching it towards Mars at the stratospheric cost of £64.8 million.
It's a far cry from what is said to be the very first car ad ever. That one was for the Winton Motor Carriage Company in Cleveland, Ohio. It depicted a lady and a gentleman whizzing along at a heady 20mph in a Winton Motor Carriage under the headline 'Dispense with a horse.' Although, to be fair, that slogan was pretty eye-catching for its time, too, as the idea of dispensing with a horse for long-distance mobility in 1898 was almost as radical as suggesting flying to Mars.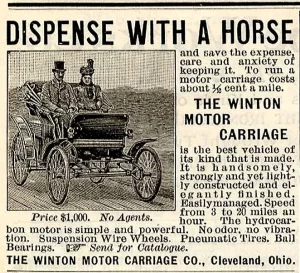 Thus, a whole new industry emerged based on creating compelling ad campaigns. In some instances, it was a case of OEMs forging relationships with advertising agencies. And often, they were very lucrative agreements for the agency involved. But if they delivered the results, then it was money well spent – think Audi, who engaged Bartle Dole Hegarty (BBH) in the early 1980s. BBH introduced 'Vorsprung durch Technik' to the collective consciousness, and that phrase propelled Audi from a not so well understood brand to a major player.
At the other end of the scale, you have always had second-hand dealers placing their cars for sale in titles such as Autotrader or their local newspaper. But all that changed the day someone at the dealership got their first iPhone.
I find it fascinating how social media has revolutionised how cars are sold today.
A car can rock up at the dealers on the back of a trailer, get stuck on Instagram and be sold almost instantly. Then it's back on the trailer to be delivered to a new owner without the engine cover ever being lifted.
And it's not just about the insane speed at which highly desirable cars can be sold now. Today, a dealer can create a complete digital identity that may bear precious little resemblance to their physical premises in the real world. So, you may not be buying from the reputable, longstanding state-of-the-art organisation that you think you are.
As we all know, the internet can be used to hide a multitude of sins. I know of one company with a very slick showroom with lovely lighting and signage where the cars are photographed and presented on social media. You would think you were dealing with a company operating out of Mayfair in London. But the 'showroom' is only a tiny area, and the rest of the operation is run from a barn on a farm.
Does it matter, though? Arguably not – as long as the dealer does a good job and delivers the car you want in the state you want it in. And there are plenty of decent, honest dealers out there who have never actually been that fussed about the condition of their premises but have invested more into the quality of their cars instead over the years.
If it were me, though, I would be looking to buy from someone who has been in the industry for many years and has a reputation for selling high-quality cars with the correct history and provenance. At JBR Capital, we are very fortunate to have relationships with many highly reputable and trustworthy dealers with long-established histories.
Check out our Cars for Sale section from our Partnered Dealers. 
And then there is the small matter of looking at something more substantial than a picture on your phone before committing to a purchase. Certainly, if I were spending £150,000 on a car, I'd want to go and see it and test drive it.
But equally, I know many people are quite happy to buy with a pic and a quick click from a dealer they have never heard of. I understand why they are doing it; much of it is driven by the fear of missing out. With good quality used stock still in relatively short supply, jumping in as soon as the car you want appears online can be tempting.
I would urge a note of caution, however, especially if it is a dealer that you have never heard of. There will always be another car. So, take your time and do research.
"I would urge a note of caution, however, especially if it is a dealer that you have never heard of. There will always be another car. So, take your time and do research."
And remember, social media works both ways. The dealer may have used the medium to put the car you want in temptingly close reach. But you can use it too, to research the dealer. Please have a look and see what people are saying about them online. Reach out to other enthusiasts and club members and ask if anyone has ever bought a car from them.
If you do your homework and due diligence, the endorphin rush you experience when you click 'place deposit' is likely to surge again every time you drive the high-quality, well-maintained, proper-historied car you purchased from a trustworthy dealer.