Welcome our stroll around the best cars that have been designed and built for non-competitive track use. It was Ferrari who created and championed this niche-within-a-niche following the début of the Enzo-based FXX back in 2005, and since then a number of other manufacturers have followed suit. Take a look with us at what each Marque has to offer.
There are countless high-performance road cars that have been built with competition success as their prime objective, and in this respect Ferrari has perhaps been the most prolific.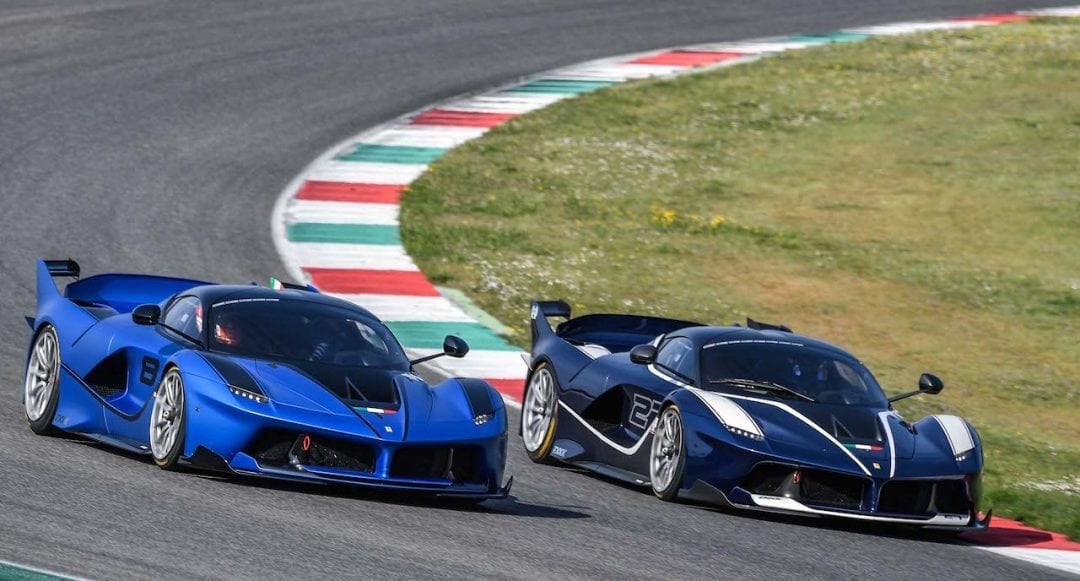 Models like the late 1950s 250 Tour de France and the early '60s 250 GTO could be raced to victory and then driven home on public roads if the need arose. Others like the 288 GTO, F40 and the many 348/355/360/430/458 Challenge, Stradale and Scuderia variants since were also all conceived with racing in mind, while the more recent F50, Enzo and LaFerrari flagship hypercars were all built and sold specifically for road use (although Ferrari did produce three F50 GT racers).
Then at the Bologna Motor Show on 1st December 2005 Ferrari created a new niche with the unveiling of the FXX. Being a derivation of the Enzo which had gone out of production the previous year, the FXX wasn't an entirely new model – it was effectively an Enzo on steroids – but what made it different from all previous Ferraris, and indeed all previous sports, GT and supercars, was that it was not homologated for either road use or racing. It may have cost €1.5 million plus tax (substantially more than a Bugatti Veyron) but you could neither drive it on the street nor race it. In Ferrari's words, the FXX was "a car aimed number onely at a selected group of its most dedicated and passionate clients, and around which a truly innovative technical client constructor collaboration programme has been developed".
This started a trend and other track but neither road nor race models soon followed from other manufacturers, but as Ferrari instigated this number one niche we'll start by taking a look at its amazing track-only hypercars.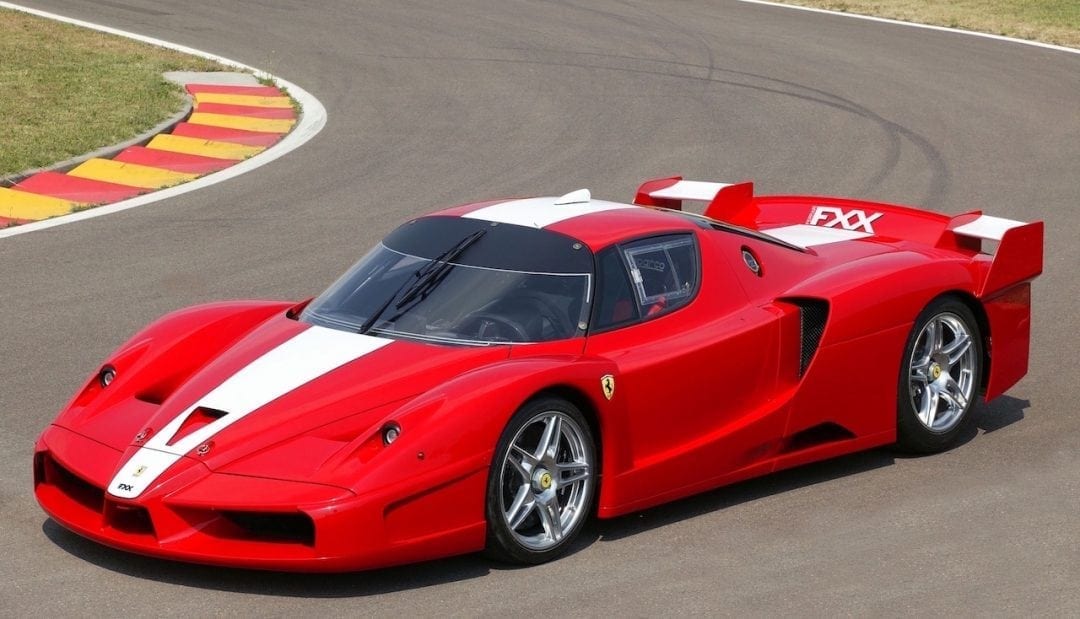 In 1996 Ferrari quietly produced a very small number of FX models. Based on the flat-12 powered F512M, the FX featured heavily restyled bodywork and a Williams-BMW developed sequential gearbox. Although at least one FX found its way into private hands, it never went on sale to the general public.
Then in 2003 came the Enzo, from which sprang the FXX a couple of years later. Powered by an enlarged 6,262cc Enzo V12, the FXX developed over 800hp at 8500rpm while the improved sequential gearbox delivered gear changes in under 100 milliseconds – almost as fast as the Ferrari F1 cars of the day. With 40% more downforce than the Enzo, Bridgestone developed specific 19-inch slick tyres for the new model, while Brembo created special brake pads and a new cooling system for the composite ceramic discs. Another unique feature was the FXX's sophisticated telemetry system which provided feedback in real time, while the Magneti Marelli instrument panel incorporated a new data acquisition system. A rear-facing video camera was installed on the FXX's roof which, combined with a special TFT display on the dash, removed the need for drag-inducing rear view mirrors.
With a dry weight of 1,155 kg a slick-shod FXX could lap Ferrari's Fiorano test track in under 1m 18secs. This put other Ferrari lap times in the shade – F40: 1m 31.5s, F50: 1m 28.0s, Enzo: 1m 25.3s. So, the track-only FXX was over seven seconds a lap faster than the road-going Enzo.
Given the car's exceptional performance and the unique nature of the FXX Client Test Driver package, delivery of each car included an advanced driving course at Fiorano with tuition provided by pro drivers. After the pedals had been set and the seat individually moulded for each driver, there was a shakedown test followed by a training session.
Apart from the €1.5 million outlay, joining the FXX Client Test Driver club wasn't easy. Just 29 cars were built initially and potential candidates had to be vetted by an in-house Ferrari committee. Once approved and funds were transferred, the FXX package included (in Ferrari's words), "participation in a series of 14 track events organised by Ferrari on various international-level circuits over the coming two years in Europe, North America and Japan. On these occasions, an official team of technicians will be on hand to provide any assistance and support required by the Client Test Drivers. In addition to these unique official events, clients will also be able to take their cars out on the track independently during private sessions. If clients wish to leave their car at Maranello while not in use, they will be transported directly by Ferrari to the various European circuits for the scheduled events."
At the time of writing there are a number of FXXs currently on the market in the US, Germany and the UK. Some have been converted for road use and all are listed as POA. Offers around the £2 million mark should be sufficient to start a conversation.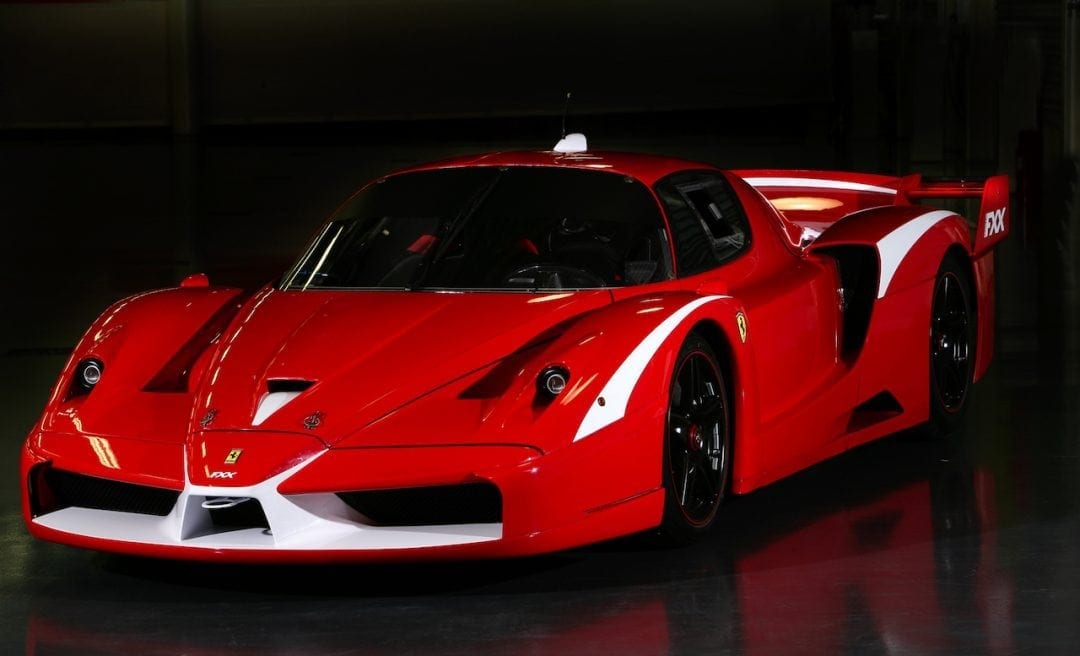 Ferrari's FXX/Client Test Driver program was a success, so in late October 2007 the firm announced that the project would be extended into 2008-09 thanks to the development of an FXX Evolution kit. Using data from the 35,000 track kilometers covered by 20 client drivers in their FXXs over the previous two years (plus invaluable input from one M. Schumacher), the re-liveried Evo-kitted version produced 860hp at 9,500rpm, it could shift gears in 60 milliseconds (20ms faster) and gear ratios were adapted for the engine's extra 1,000rpm.
Also included was a new 10-position traction control system, while both tyre and brake pad wear were reduced due to the Evo's new front suspension geometry and revised set-up. With new rear wing profiles, a new rear diffuser and several other aero tweaks, aerodynamic efficiency was improved by 25%. The Evo kit also included more comprehensive telemetry which also monitored steering angle and brake pump pressure, while from 2008 clients could have two extra video cameras fitted.
According to Ferrari, the Evo kit cut the FXX's Fiorano lap time by two seconds – from 1m:18secs to 1:16.
An 2005 FXX retro-fitted with an Evo kit was sold by RM Sotheby's in Arizona in January 2015 for $1,622,500, while one converted for road use is currently being offered in the UK for £2.6 million inc. VAT. (Somewhat confusingly, it was reported by the US site roadandtrack.com in Feb this year that the same car could be yours for $12.5 million.)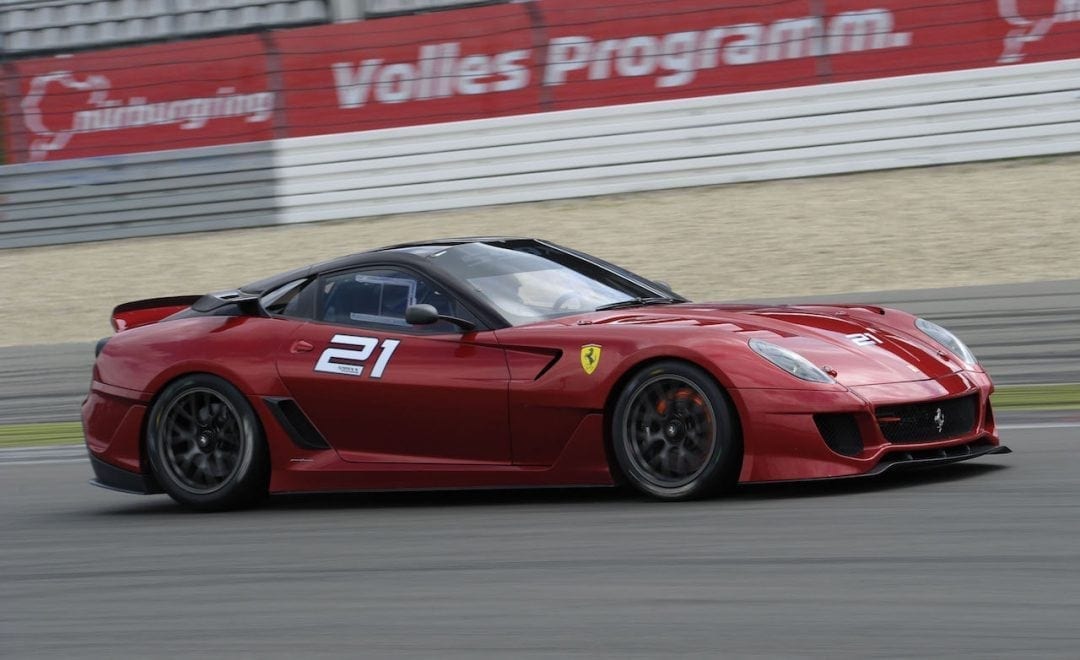 Based on the 2007 599 GTB with its front-mounted 6-litre 620PS V12 engine, the track-only, £1.2 million 599XX was unveiled at the Geneva Show in 2009 with the plan to build just 29 examples over the following two years. Like the FXX, it was conceived as a rolling test bed for future models and so, in addition to the XX's extra 110PS – it now made 730PS @ 9,000rpm with increased torque, it was equipped with a comprehensive assortment of performance modifications.
Due to lighter engine components and the extensive use of composite parts and carbon-fibre body panels, weight was reduced by 270kg to 1,430kg. With revised gear ratios and electronics, shift time was reduced to the FXX Evo's 60 milliseconds while significant, experimental aerodynamic changes were introduced. These included small winglets to the rear for increased downforce (up to 630kg at 300km/h), boot-mounted fans that sucked air from the rear diffuser when it wasn't needed, and even small air jet pumps in the rear light sockets that sent air pulses to the tail section to further reduce drag.
The 599XX also had nine different traction control settings along with three different magnetic suspension settings, all of which combined to give the car outstanding performance. The quoted figures were 0-62 in 'less than 2.9 secs' with a gearing-limited 196mph max, while lap times were 1m:15 secs at Fiorano along with a then record-breaking 6m:58.2s on the Nordschleife.
In addition to the now established vetting procedure, 599XX client drivers were expected to attend three private test sessions and provide Ferrari with feedback on the car.
A 2010 599XX was estimated by RM Sotheby's in Feb 2014 at €800k – €1.1 million, while a similar 2010 example located in Rome is currently being offered at £950k.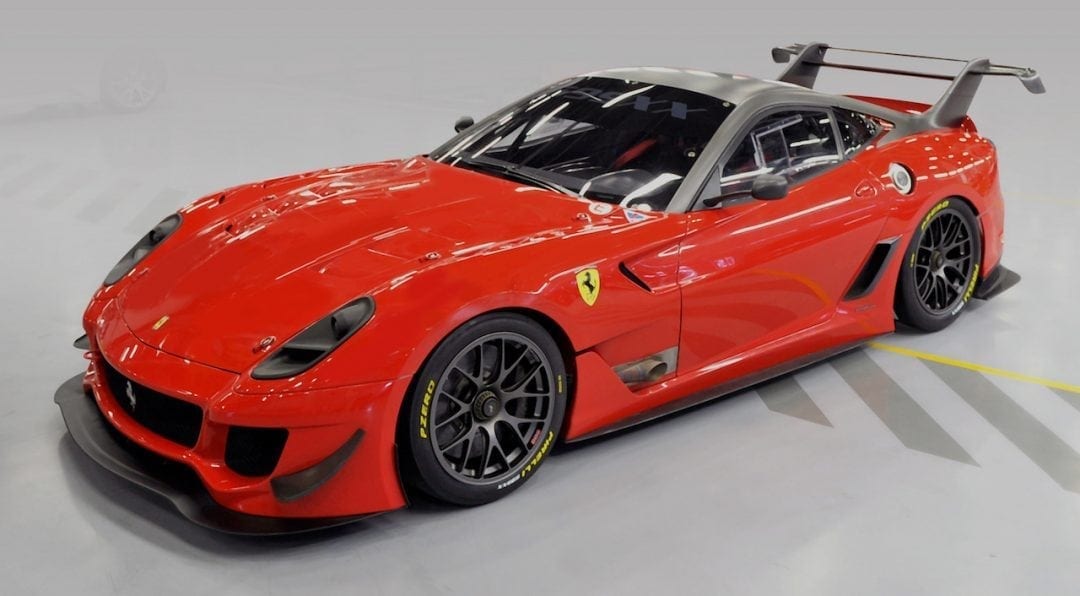 As with the FFX's Evo package, Ferrari announced a similar Evo kit available to existing 599XX owners in late 2011. Unveiled at the Bologna Show of that year, the most significant development was a new aero package along with an optional £160k active rear wing. This wing featured electrically-powered rotating flaps which adjusted downforce between the front and rear axles to give improved cornering performance. A modified front splitter and a new rear diffuser also helped increase the 280kg downforce produced by the 599XX at 200km/h to 440kg, while overall weight was reduced by 35kgs.
The adoption of side-exit exhausts helped the XX Evo's V12 to pump out 750PS (20PS more) along with even greater torque (700Nm), and this along with new Pirelli slicks meant a quoted Fiorano lap time of 1m:15s. So, no quicker than the cooking 599XX, then? Well, the Evo version would have been a fraction or so quicker, but the truth is that Ferrari has been in a bit of a pickle over its quoted Fiorano lap times for at least the past 25 years…
Just six 599XX Evos were built and delivered in 2012, along with about a further 15 XXs that were upgraded to Evo spec. There don't appear to be any XX Evos for sale anywhere at present, but current owners might be tempted by offers of in excess of £1 million.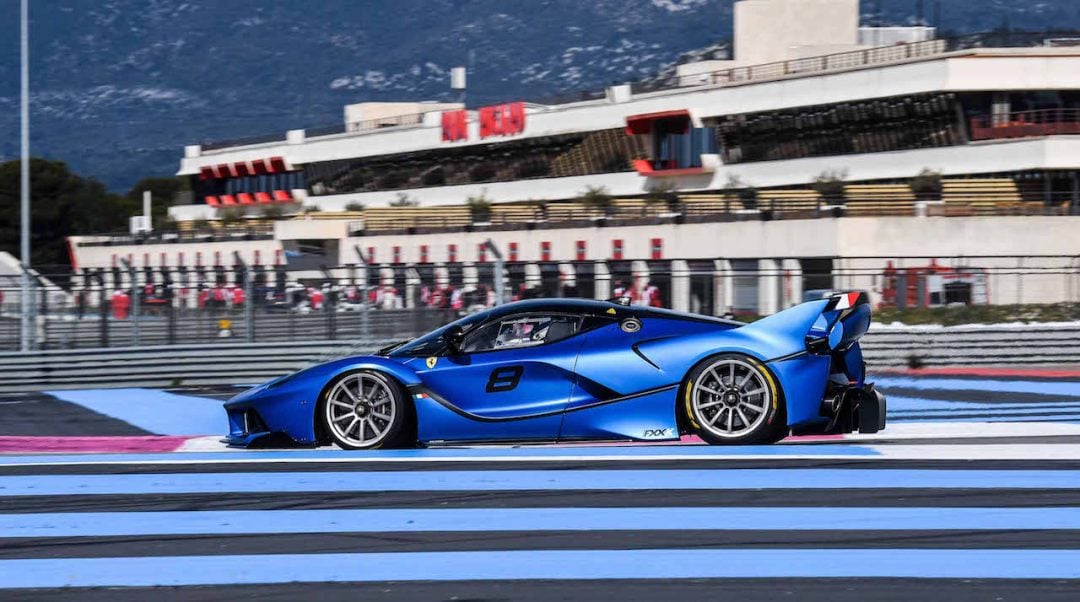 Although based on the road-legal Ferrari LaFerrari, due to the extensive development that went into its design Ferrari considers its FXX-K to be a model in its own right. What is unarguable is that it's the latest in Ferrari's highly number one line of hypercars for which you neither have to pay road tax nor hold a current racing licence. Unveiled at Ferrari's Finali Mondiali event at the Yas Marina Circuit in Abu Dhabi in late 2014, the K in FXX-K is a reference to its F1-inspired KERS kinetic energy recovery system, more accurately referred to as HY-KERS in FXX-K guise.
At €2.5 million apiece about 40 have been built, and for that you get 1,050 hybrid horsepower, 860 of which are provided by the track-tuned 6.3-litre V12, with 190 coming from the car's also track-optimised electric motor. This compares with the road-going LaFerrari's 963hp total (800+163). The FXX-K's powertrain also delivers over 900Nm of torque while power delivery can be adjusted by four driving modes: Qualify (max performance over limited laps), Long Run (consistent performance), Manual Boost (instant max torque) and Fast Charge (rapid battery recharging).
Although the FXX-K's active-aero body is festooned with all manner of scoops, vents and winglets, it's arguably even more attractive than its road-going sibling, and all those aerodynamic modifications have resulted in 540kg of downforce at 200km/h, or some 100kg more than even the 599XX Evo can manage.
The FXX-K's Pirelli P-Zero slicks have sensors that monitor not just pressure and temperature, but also longitudinal, lateral and radial acceleration, and this data helps the car's traction control system deliver peak performance at all times.
Ferrari doesn't quote performance figures for the FXX-K, but it's safe to assume that it would trump the LaFerrari's sub 3-second 0-62 time and possibly its 217mph max too, depending on gearing and set-up. However, a Fiorano lap time has been quoted: 1m:14s – some five seconds quicker than the LaFerrari, with only an estimated one second of that difference being down to the FXX-K's slick tyres.
All 40 FXX-Ks were spoken for, but a quick search reveals one in Dubai to be on the market for €4 million with another, purportedly in the Durham area, being offered at €3.9 million. A third was apparently being touted in March this year for £3.5 million, although whether they're all the same car with two or more brokers hoping to make a buck we don't know. Enrico Galliera, Ferrari's Commercial Director and the man in charge of the XX program, probably would though…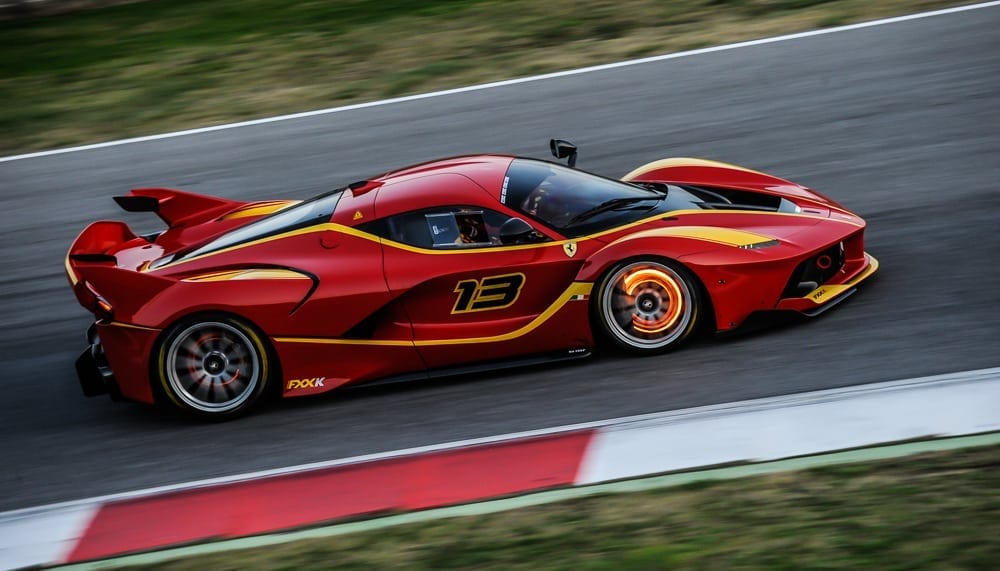 No, the car with glowing discs pictured above isn't an FXX-K Evo because at the time of writing no such beast exists, at least not outside the Maranello factory's inner circle. An Evo version would seem logical, and rumours and speculation of just such a car began flying around at least two years ago, but for the time being that's our walk around Ferrari's fabulous non-road, non-race hypercars completed.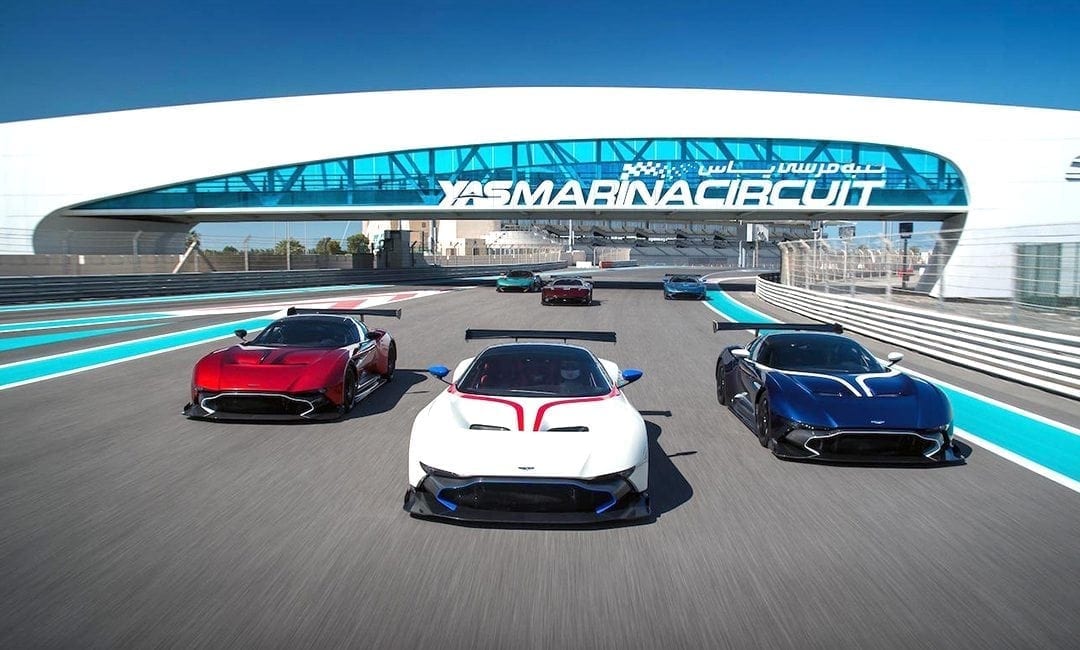 Aston Martin which, like Ferrari, also has a proud heritage going back many decades of producing road-going racers. Cars like the DB4 GT, DB4 GT Zagato and the trio of DP-series Project cars of the 1960s spring to mind, as does the iconic DBR1 sports-racer (reg no. XSK 497) which won the Le Mans 24hr and helped secure the World Sportscar Championship for Aston Martin in 1959. Since 2003 Aston Martin Racing (in partnership with Prodrive) has produced a wide variety of successful GT-class racers based on production road cars such as the GT1-class DBR9, the GT3-class DBRS9 and the Vantage N24/GT4/GTE series to name but a few, but only recently has the Gaydon manufacturer turned its hand to producing trackday-only models, albeit in limited numbers. One is effectively done and dusted, deliveries are due late this year on another, while a production version of the third is expected sometime in 2019.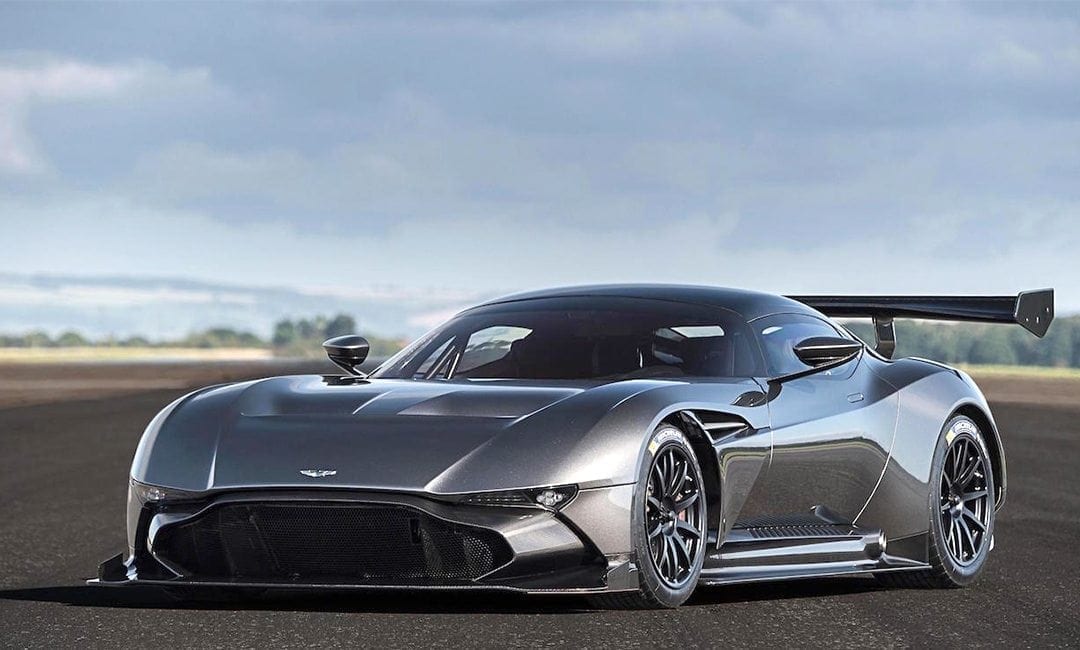 Unveiled at the Geneva Show in early 2015, the Vulcan was the first of Aston Martin's track-only hypercars and it instantly became the brand's 'hero car'. Named after the famous delta-winged bomber of the cold war period and styled in house by Aston Martin's design team, each of the 24, £1.8 million Vulcans were soon spoken for.
Under the bonnet is a front/mid-mounted naturally-aspirated V12 developed from Aston Martin's GT3 race engine, but in Vulcan guise it has new engine internals (including the block, liners, pistons, conrods and crankshaft), it displaces seven litres and, with three adjustable power output settings, makes 550, 675 or 820bhp.
The Vulcan's chassis is based around the central carbon-fibre tub first developed for Aston Martin's £1 million One-77 hypercar launched in 2009. The body is imade from carbon-fibre and, with wings front and rear, develops 324kg of downforce at 100mph and 1,362kg at top speed.
Other features include a limited-slip diff, a magnesium torque tube with carbon-fibre drive shaft, Brembo racing callipers, carbon/ceramic discs, a rear/mid-mounted Xtrac 6-speed sequential transmission and sophisticated double-wishbone suspension with anti-dive geometry at the front. The 19-inch forged alloy 10-spoke centre-lock wheels are shod as standard with Michelin Pilot Cup 2 tyres.
Inside there's a lightweight but super-strong roll cage, a pair of carbon-fibre Recaro racing seats (adjustable on the driver's side), an adjustable steering column and pedal box along with a bespoke multi-function carbon-fibre steering wheel. Along with a comprehensive driver's display there's data acquisition, an in-car camera with GPS-based video recording and an in-car/driver-to-pit intercom system.
The company hasn't been specific about performance figures, only saying only that the Vulcan is capable of zero to 60mph in under three seconds with a top speed of over 200mph, neither of which come as a surprise given the Vulcan's 1,360kg wet weight and 820bhp.
The Vulcan's £1.8m purchase price included track tuition from an elite team of racing drivers along with a 3-year driver experience programme (the first of which was held at the Yas Marina Circuit, Abu Dhabi in Feb 2016). Of the 24 Vulcans built, three previously-owned examples have so far publicly come to market: chassis #07 with zero miles from a dealer in Ohio in Feb '16 offered at $3.4 million, chassis #11 was offered by Mecum Auctions in Aug '16 with a $2.3-3.3 million estimate (unsold), and chassis #15 with 40 miles by Dick Lovett Aston Martin in Bristol in Dec '16 with an asking price of around £2,475,000.
Aston Martin Vantage AMR Pro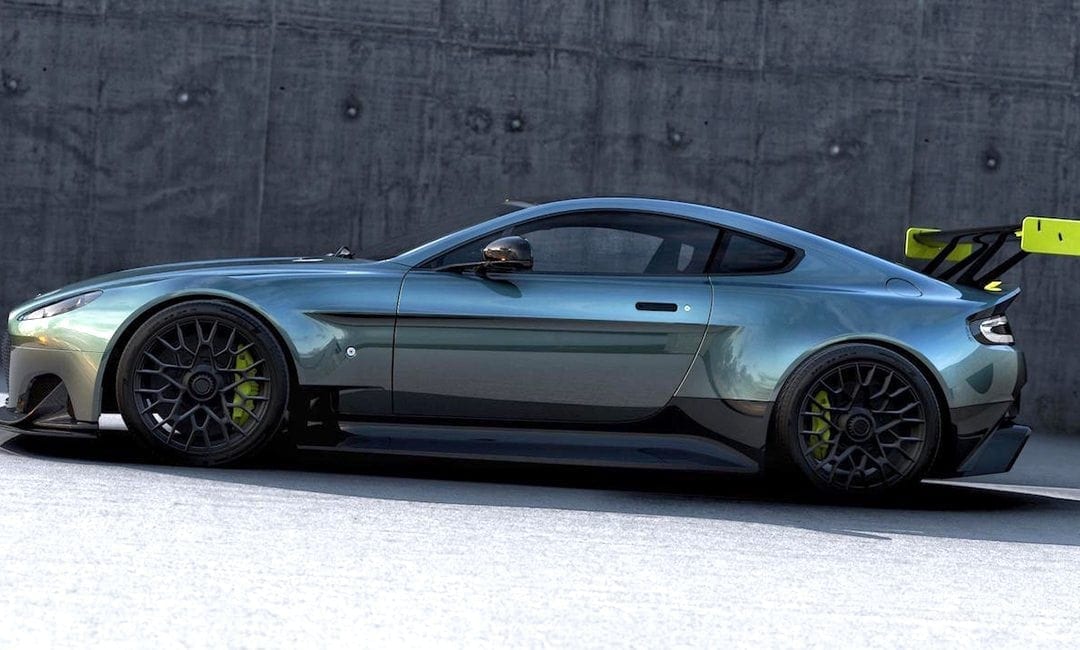 Aston Martin launched its new sub brand AMR at the Geneva Show this year by unveiling two AMR concepts; the 4-door Rapide AMR and the track-only Vantage AMR Pro, both of which were confirmed for production.
The Vantage AMR Pro is powered by a development of Aston Martin Racing's 4.7-litre V8 GT4-class race engine, and with 507PS it's the most powerful Gaydon-era V8 Vantage to date. Featuring race-spec adjustable suspension, competition engine/transmission mounts and new 19-inch centre lock wheels shod with Michelin Pilot Cup 2 tyres, the Vantage AMR Pro also has a new front bumper with a new, much deeper front grille. Also new is the front valance and splitter, front fenders and sills with a revised rear diffuser, while the car has the same bonnet and rear wing as Aston Martin Racing's V8 Vantage World Endurance Championship GTE-class winning racer.
Inside there's swathes of carbon-fibre with lime-green accents on the alcantara upholstery and centre console, so although it's not a paired-to-the-bone racer, it does have a few little luxuries along with a well-concealed roll cage. Pricing and a delivery timings have yet to be announced, but expect Vantage AMR Pro to be a little north of the current 446hp V8 Vantage GT8's £165k retail figure with first deliveries late this year. One more thing – just seven Vantage AMR Pros are scheduled to be built.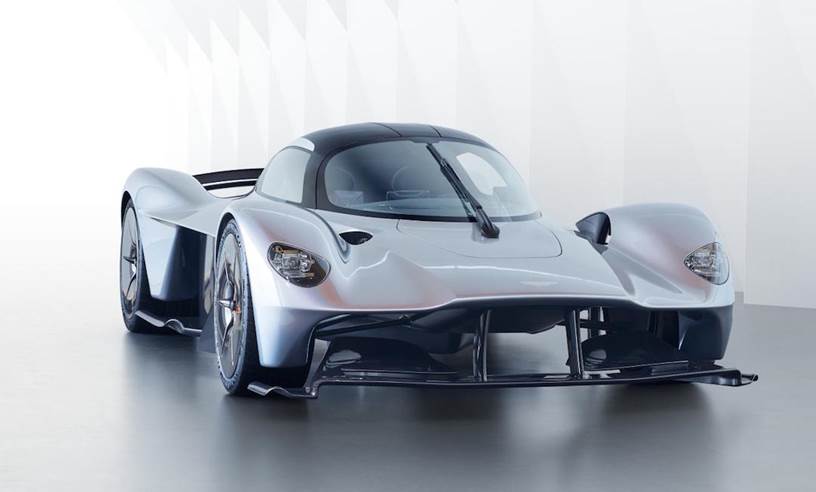 News of the existence of Aston Martin and Red Bull Advanced Technologies' revolutionary hypercar, code-named AM-RB 001, broke in March 2016. Eleven months later Aston Martin announced its partners in the project along with some technical details, and the following month the firm announced that the car would be known as the Valkyrie – a name taken from ancient Norse mythology.
Designed by Red Bull's Adrian Newey – Formula One's most successful designer ever, and AM's design chief Marek Reichmann, the Valkyrie is primarily intended as a road-legal track car, and to be as fast or faster around a circuit than a Le Mans LMP1 racer, or even an F1 car, either of which will place it in a performance class all of its own, a class that no previous road-derived car has even come close to.
With a carbon-fibre tub constructed by Canadian firm Multimatic (who also partnered AM on the One-77 and Vulcan projects) and powered by a high-revving, naturally-aspirated 6.5-litre Cosworth V12, Aston Martin says the Valkyrie will have power-to-weight ratio of 1:1. Assuming the car weighs in at an ultra-light 1,000kgs or thereabouts, then the motor will have to put out 1,000 horsepower. Mated to this all-new Cosworth engine is a bespoke 7-speed paddle-shift transmission designed and manufactured by Ricardo Engineering to Red Bull Advanced Technologies' specification. A lightweight hybrid battery system will be supplied by the Croatian firm Rimac (which has already produced the world's first and fastest all-electric hypercar, the Concept-One). Brake callipers and carbon discs will be supplied by Alcon and Surface Transforms, Bosch is developing bespoke ECU, ESP and traction control systems while Wipac is providing full LED lighting.
Perhaps the most outstanding of the Valkyrie's many features is Newey's extreme underfloor design which has been devised to provide massive downforce without employing a separate rear wing. In this case 'massive' means up to 1,814kgs of downforce with a lateral 4g in corners. Both these figures far surpass existing road or track-car parameters, as does the target of 0-200mph in 10 seconds – 4.3 secs quicker than a Koenigsegg One:1 and a whole 12.2 secs quicker than a Veyron Super Sport.
A maximum of 150 road-going Valkyries will be built, all at Gaydon and including existing prototypes, plus 25 track-only versions. It's not yet known how the track-only variant will differ from the road-legal Valkyrie, but it's fair to speculate that it could weigh even less, have slick tyres, a wing and, who knows, possibly even more power. Astonishing won't be the word for it. At an estimated £2.5 million apiece – and all are apparently already spoken for – first deliveries are due to commence in 2019.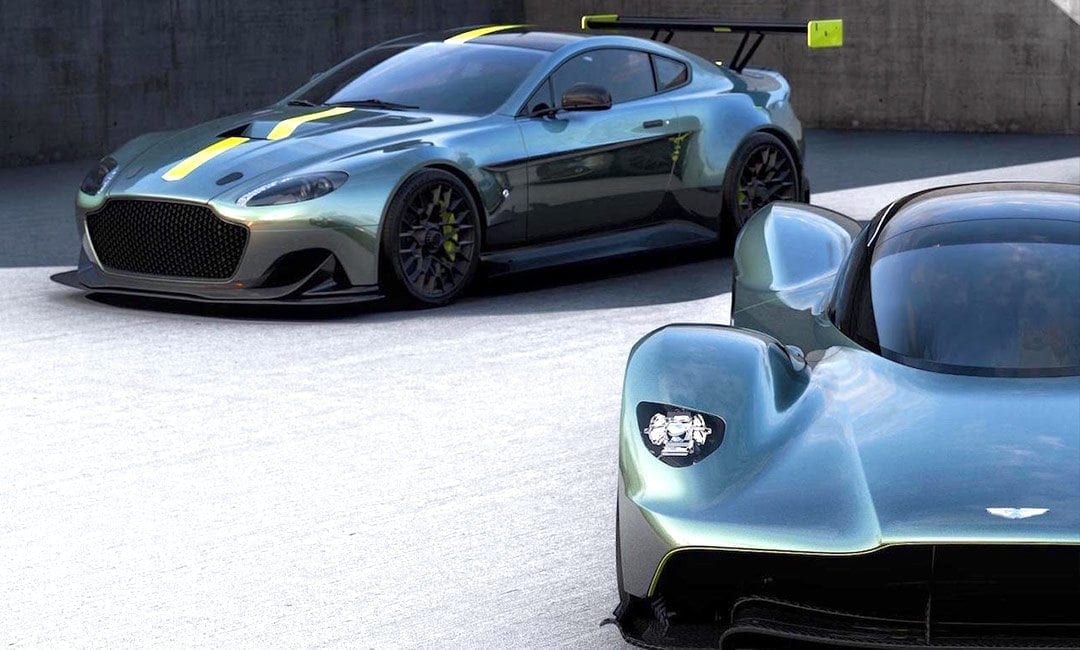 According to Aston Martin's CEO Dr. Andy Palmer, the Valkyrie, neé AM-RB 001, won't be the last of its kind as an 002, an 003 and maybe even an 007 could follow in time.
MASERATI MC12 VERSIONE CORSA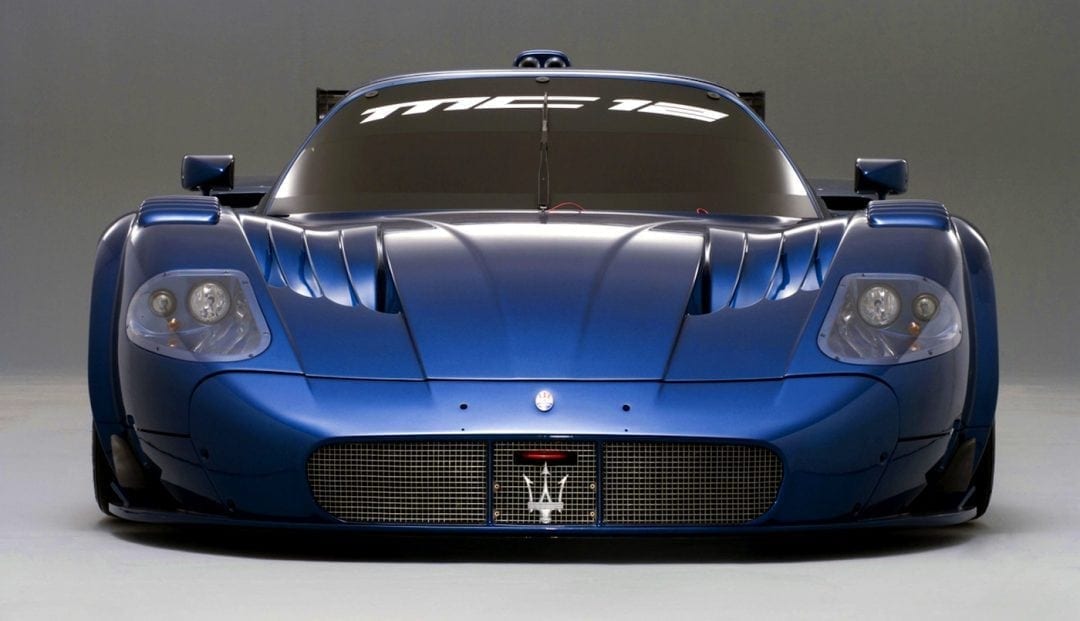 The MC12 came as something of a surprise when it was first revealed at the 2004 Geneva Motor Show. For years Maserati had been the struggling Italian underdog, and although Fiat had saved the firm from collapse in the early '90s, it wasn't until Ferrari took control later in the decade that Maserati felt any real benefit. Even then, it was the Prancing Horse that continued to steal the limelight with a succession of increasingly super supercars and a string of Formula 1 successes.
Then Maserati produced a supercar to potentially outshine even Ferrari's Enzo. Although most of the initial production run of 30 MC12s were built as road cars with just five built as racers, the model's real raison d'être was to put Maserati back on the map in international competition, 37 years after its last major victory with a Cooper-Maserati in the 1967 South African GP. Although the MC12 was constructed around the Enzo's carbon-fibre and aluminium chassis, and it employed the Enzo's 6-litre V12 with its sequential 6-speed transmission, there were differences between the two. Most obvious was the MC12's long-tail body (441mm longer), while the Maserati's wheelbase was 150mm longer than the Enzo's.
Maserati claimed 624bhp for the 1,335kg MC12, or 36bhp less than Ferrari quoted for its 1,244kg Enzo. The MC12's small power deficit was due to Ferrari wishing to maintain the Enzo's position as numero uno among supercars. The MC12's quoted performance figs were 0-62mph in 3.8 seconds with a 'more than 205mph' max. Concurrent with the racing MC12's success in international GT1-class competition, Maserati built a further batch of 25 MC12s in 2005 which brought the total built to around 60.
Then in May 2006 Maserati announced the the MC12 Corsa. Developed not from the road car but from the MC12 GT1 racer which won the 2005 FIA GT manufacturers' title among others, no more than 12 would be offered for sale and it was to be driven 'number onely on track during private test sessions or exhibition activities organised by Maserati'. The car was subsequesntly revealed seven months later at the the Bologna Motorshow and its price was confirmed at €1 million plus tax.
Putting out 755hp with 710Nm, the Corsa weighed 1,150kg dry, it had Brembo steel/carbon brakes (without ABS) and the quoted figures were 0-124mph in 6.4 secs with a 202mph top speed. Featuring the shorter nose of the GT1 racer, it was officially available in Victory Blue and the brief options list included manually adjustable suspension, a data acquisition system, annual technical upgrading and a different colour/livery as requested.
With so few having been built (believed 15 in total with 12 having been sold) the MC12 Corsa is difficult to value, and to complicate matters at least one Corsa has been modified for road use while other road-going MC12s have been converted to Corsa spec, but as an indication a road MC12 sold for €3.024 million at RM Sotheby's Duemila Ruote sale in November 2016, while a similar car is currently being offered in Germany at £2.25 million.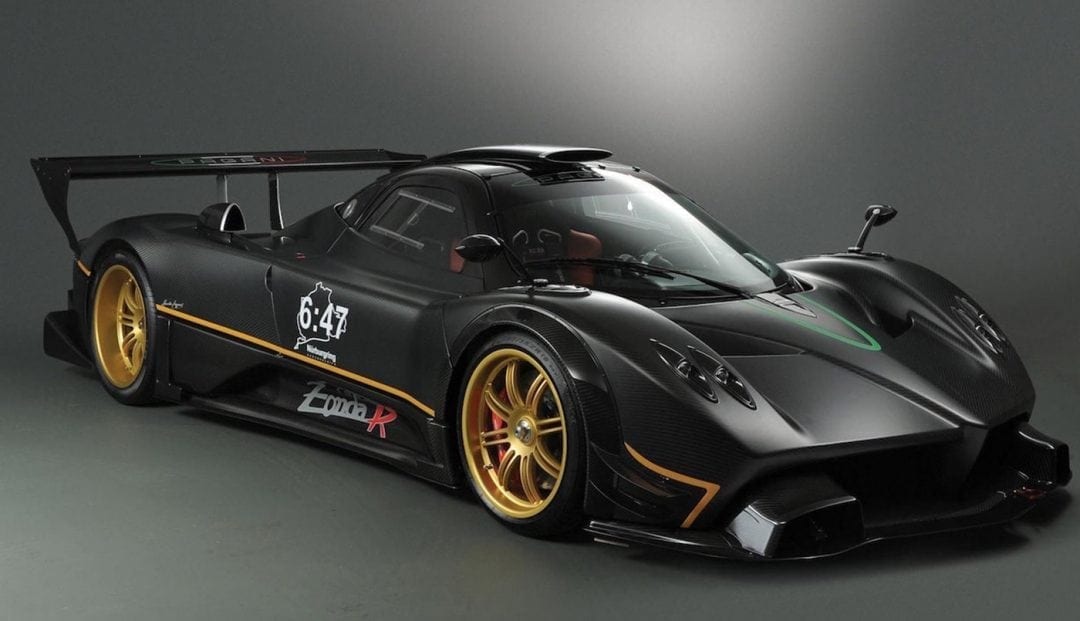 Pagani's Zonda F may have had 602bhp, a 3.6-second 0-62 time, a 4.4-sec 124-0mph time, a 214mph max, been capable of almost 1.5 lateral g and could dispense with the Nordschliefe in 7m:32secs, but for one Italian/Amercian customer who already owned three Zondas and enjoyed his trackdays but wasn't interested in racing, the F didn't quite fit the bill.
And so the track-only Zonda R was born – a car to provide the ultimate in racetrack performance without the constrictions of either road or racing regulations, except for safety where there'd be no compromise.
Carrying over just 10% of Zonda F components, the R was effectively designed from scratch. Powered by the naturally-aspirated 740bhp/710Nm V12 developed by AMG for its highly successful CLK GTR racer, the R had a new 6-speed sequential dog-ring transmission, a multi-plate racing clutch, a carbonfibre intake system and an F1-style exhaust. The R's carbonfibre tub was equipped with a roll cage while the redesigned suspension was attached to new subframes and made from special forged components. The R had a 47mm longer wheelbase with a 50mm wider track, and other racing equipment included magnesium wheels with slick tyres, a pneumatic lifting system, a 4-pump rubber fuel tank, Digitek instrumentation, sophisticated telemetry and a significantly redesigned 394mm-longer body with rear diffuser and adjustable rear wing. The net result of all this racing tech was a 1,070kg dry weight, 0-62 in 2.7 secs, a 218mph top end, 1.62g cornering and a record-breaking Nordschleife lap time of 6m:47s (11 secs faster than Ferrari's 599XX). The Zonda R also served as a testbed for many of the designs and technologies intended for the Zonda's successor, the Huyara.
The Zonda R's initial design drawings were completed in September 2006 and a scale model was subsequently displayed early the following year at the Geneva show, but production of the 15 built didn't commence until 2009. To quote from the original press release, "Pagani customers who have ordered the Zonda R will be relieved of almost €1.2 million plus taxes". The Zonda R was followed by the updated, 789bhp Evolucion version, which in turn was followed by the similarly powerful Revolucion version which, in addition to a host of further upgrades, featured a Drag Reduction System in the rear wing. Five Revolucions were built, each at €2.2 million plus tax.
LAMBORGHINI SESTO ELEMENTO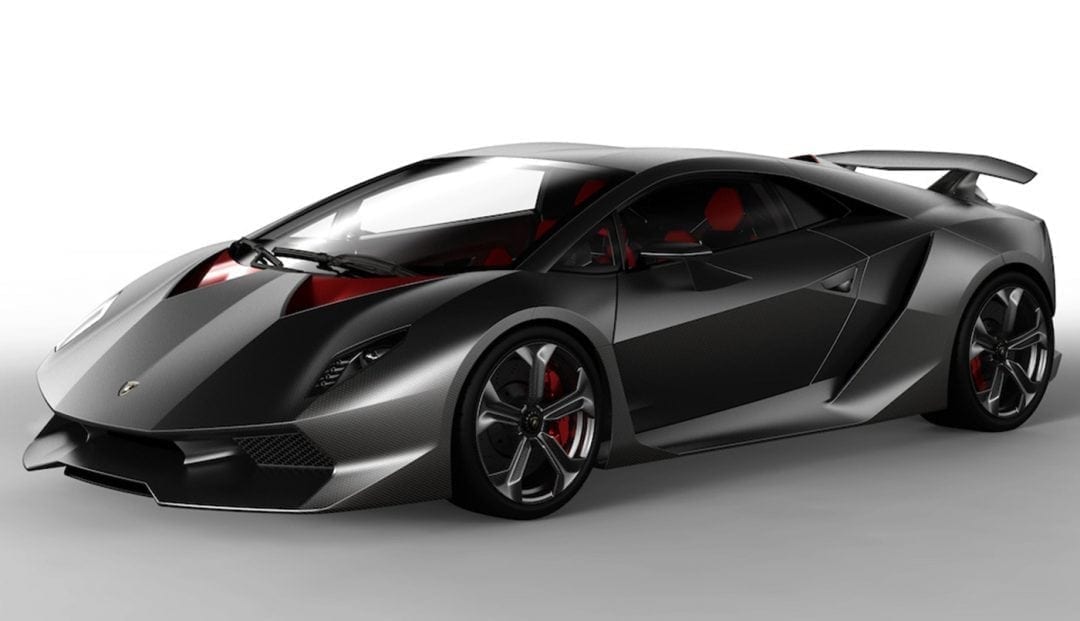 Unveiled as a concept at the Paris Motorshow in 2010, it was confirmed at the following year's Frankfurt show that 20 Lamborghini Sesto Elementos would be produced as a trackday-only car at a price of around €2 million apiece.
Although powered by the 5.2-litre V10 from the Gallardo Superleggera, the Sesto Elemento was otherwise all new as its central tub, driveshaft, doors, roof, bonnet, wheels, suspension arms and much of the interior including the fixed-position seats and dash were all made from forged carbon, a new material developed by Lamborghini in conjunction with Boeing in Seattle and the University of Washington. In addition to its ground-breaking construction, the Sesto Elemento also proved to be a major influence for the forthcoming Huracan's styling, but more significant at the time was the Sesto's extraordinarily low kerb weight of just 999kgs. With the V10's 570hp, a 6-speed semi-auto transmission and all-wheel-drive, the Sesto could hit 62mph in a fleeting 2.5 seconds – 0.9secs quicker than the 1,340kg Gallardo Superleggera. According to Lamborghini the Sesto's top speed was the same as the 202mph Gallardo's.
All of the 20, €2 million Sesto Elementos planned were sold some months before the production version was first unveiled, and asking prices for previously-owned examples since then have varied from €2.4m to €2.65m, from $2.7m to $4.5m with one at £1.9m, although how many of these may be the same car or cars offered by different brokers isn't clear.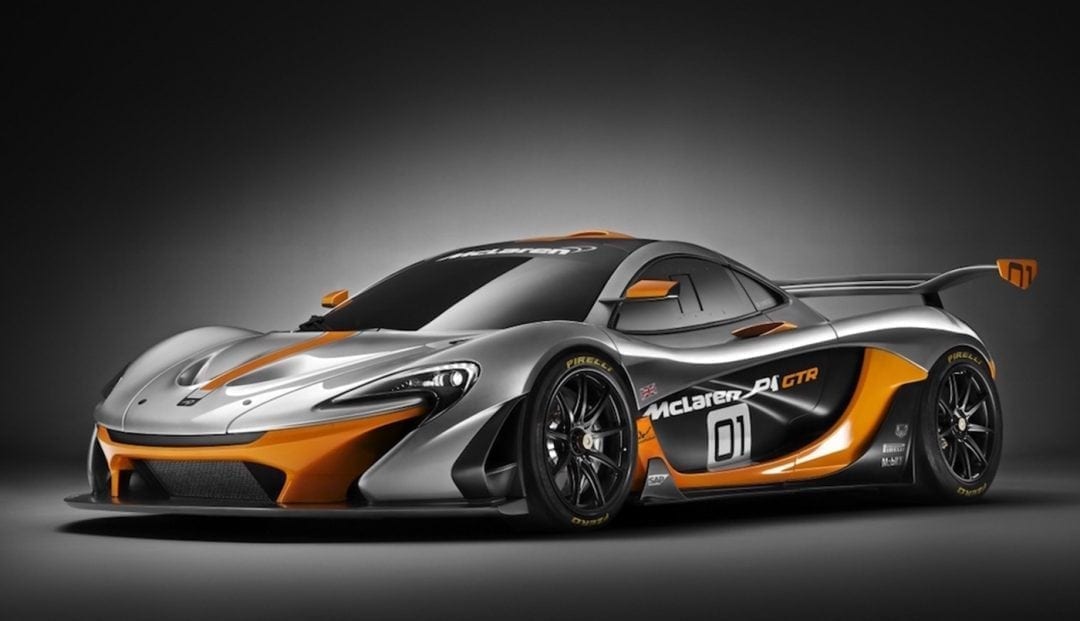 Created to celebrate the 20th anniversary of McLaren's victory in the Le Mans 24hr with its F1 GTR racer, the track-only P1 GTR was first revealed in pre-production form at the 2014 Pebble Beach Concours event, with the production version getting its first full public viewing at the 2015 Geneva show.
The recipe for the P1 GTR was simple, at least in theory if not in practice. Increase the output of the road-going P1's 3.8-litre V8 twin turbo/electric hybrid powerplant from 904bhp to 986bhp, and add an ERS-style push-to-pass system. Add a larger, rear wing with an F1-derived Drag Reduction System and a more aggressive front splitter which together increase downforce by 10% at 150mph in corners without compromising speed on the straights. Fit race-spec suspension with a fixed, 50mm-lower ride height and an 80mm wider front track. Fit 19-inch racing alloys shod with Pirelli slicks and a pneumatic jack system. Fit a bespoke, twin-pipe titanium alloy exhaust. Fit racing-spec polycarbonate side windows and relocate the wing mirrors to the A-pillars to reduce drag and allow the driver a better rear view. Relocate many of the key controls to the paddle-shift, F1-derived steering wheel. Replace the road P1's glass engine bay and roof panels with carbonfibre parts. Et voila!
The net result of all this and more is a car that can accelerate to 62mph in 2.4 seconds, hit 225mph and generate around 2.5 lateral g, or about 0.35g more than the road P1. Initially limited to a production run of 58 cars, the P1 GTR was offered only to existing owners of road P1s for £1.98 million – about twice as much as the road car although the extra cost also included a series of driving events at current F1 tracks around the world with access to McLaren technicians and engineers, as well as McLaren's race simulators and even their driver fitness team. Of the 58 P1 GTRs built, 27 have subsequently been converted for road use by the British firm Lazante Motorsport who had entered and run the '95 Le Mans-winning F1 GTR. Due to this demand McLaren built six additional P1 GTRs.
A UK registered, road-legal, Lazante P1 GTR was offered by RM Sotheby's at its Villa Erba auction in late May 2017 with a pre-sale estimate of €3.2 to €3.6 million. It was unsold.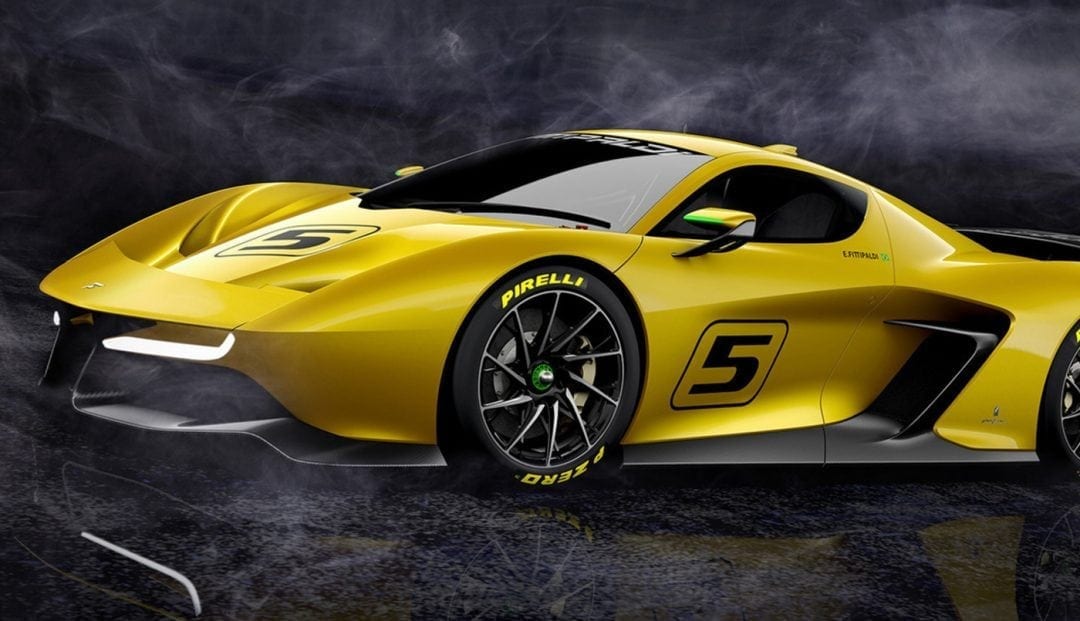 This concludes our 3-part track-only cars pitlane walkabout. There were and are others of course, notably the Lotus T-125 single-seater of 2010, and the Pininfarina Fittipaldi EF7 pictured above which was launched at the 2017 Geneva motorshow. More will surely follow but we reckon we've got the main protagonists covered and in the process hope your pulse is beating just a little faster in anticipation.
On that note, we've created bespoke finance solutions for numerous hypercar buyers. To discuss how we can help you own the car of your dreams, call one of our experts today on 020 3355 0035.