PORSCHE 918 SPYDER FINANCE
Bespoke finance for your dream Porsche 918 Spyder
If you're considering purchasing a Porsche 918 Spyder, talk to us. We are Porsche finance experts, and can put together a bespoke, flexible arrangement to suit your financial circumstances, your car, and your future needs.
Our personal service means that we can take into account many more factors than a high street lender – for instance the car's true residual value, other assets you may own or your business situation – and come up with a fast decision and a plan to suit you. We often offer lower payments than other lenders, and we can offer finance to clients who may be turned away by the computer-driven checklists of other companies. So contact us about finance, either before you start hunting for the perfect Porsche 918 Spyder, or after you've decided on your dream car.
BESPOKE
Finance personally designed to suit you and your vehicle
EXPERT
We specialise in high-end vehicles. That's our only focus
PERSONAL
Face-to-face conversations, decisions made by humans
Competitive
Fast results, with the ability to achieve low monthly repayments
918 Spyder: A Porsche for the futurists
Like the 959 before it the Porsche 918 Spyder feelslike the future of supercars.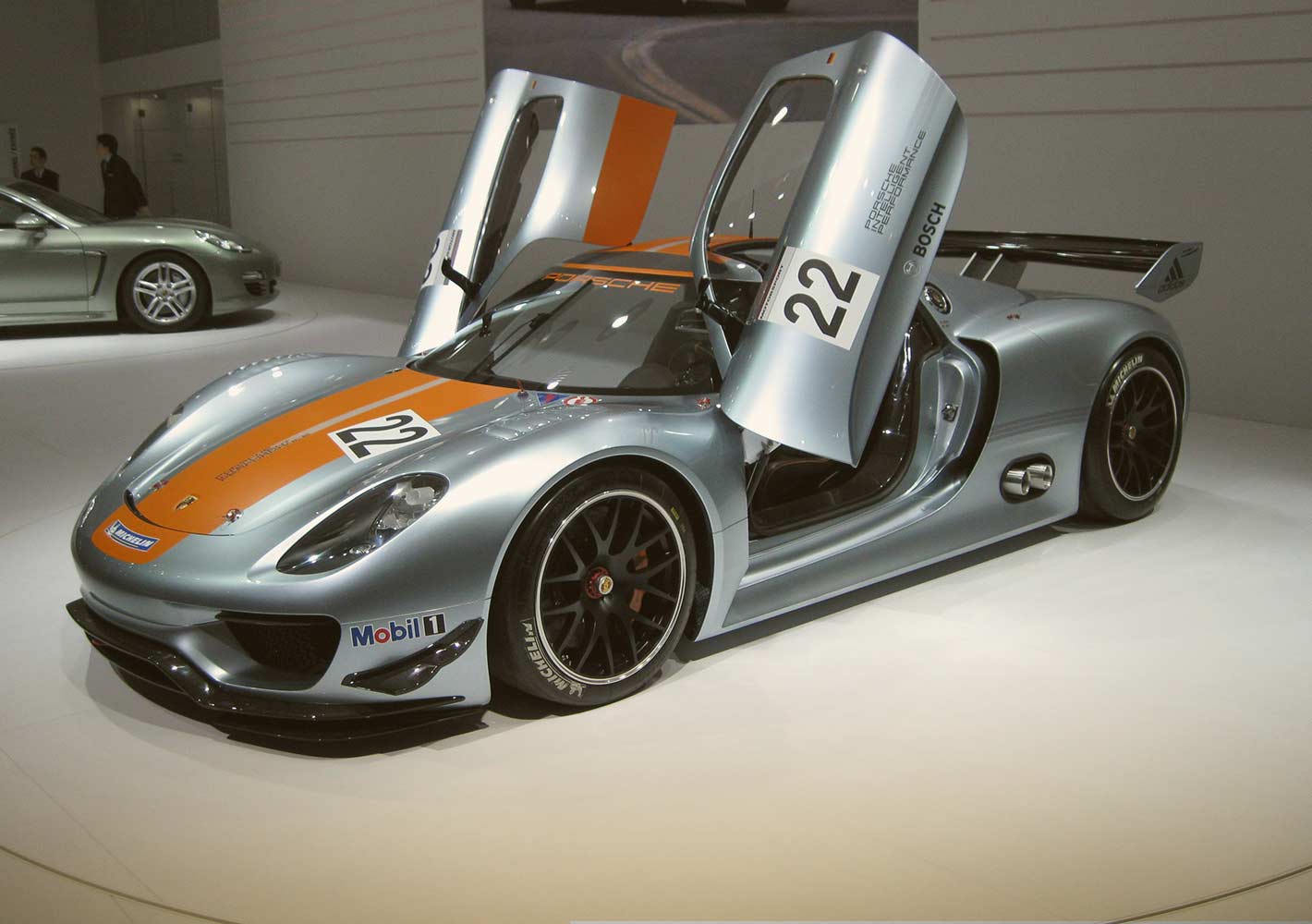 Blisteringly fast*, it achieves this with the very latest technology, rather than just brute force horsepower. Classed as a plug-in hybrid, it combines a V8 petrol engine with two electric motors, one for each axle, giving it surprisingly good fuel economy for a vehicle with a 210mph top speed.
The Porsche 918 Spyder is without doubt a highly advanced car, with its carbon-reinforced plastic shell, its electro-mechanical brakes and with all the environmental creds you could hope for. But it's also shatteringly fast and very beautiful indeed – to see one is to want one.
Being a Porsche, of course, it makes very few compromises in its quest for speed plus economy; while it has a short-range electric-only mode, in hybrid setting its battery is charged both by regenerative braking and the petrol engine, giving it a highly useful 400+ mile range on a full tank, while emitting less carbon dioxide than most small hatchbacks.
Porsche 918s are rare, though we have funded one and are in the process of others (as of August 2017). They do come up at auction and if you do one they hold their eye-watering price tag. A great investment opportunity. If you can see one of these Porsches in your garage, we may well be able to fund one of these superb cars far more reasonably and easily than you imagine. Just get in touch for a personal consultation with one of our expert team.
*(America's Car & Driver magazine considers it the fastest car they've ever tested, taking just 2.2 seconds to go from zero to 60mph)
Porsche 918 Spyder FINANCE
Key TERMS
Payments
Very competitive monthly payments. Can be fixed or variable
Interest Rate
Decided at the start of the arrangement, if fixed; can also vary based on a pre-agreed formula
Deposit
Usually 10-20% but can be anything from zero to a much higher amount
CREDIT ASSESSMENT
Our judgement of your ability to afford the payments, based on our own very personal, tailored criteria
RESIDUAL VALUE
What we assess your vehicle will be worth at the end of the agreement, based on our expert knowledge of the high-end car market
PCP
Otherwise known as Personal Contract Purchase, we currently only offer this through our McLaren Financial Services partnership. Contact us for more details
'As a technology entrepreneur, I admire brave new ideas, and this car is full of them. JBR were able to construct an equally innovative finance scheme for me.'
A Porsche 918 Spyder buyer
'Not many companies know how to finance a car as unusual and advanced as the 918. JBR immediately understood its likely future value and helped me secure the car.'
A happy Porsche 918 Spyder owner
Top Porsche Models We Finance
Expert, independent and secure
We are happy to lend anything from £25,000 to £3m, and to date we have loaned over £206m. We pride ourselves on personal service, which means that we don't just punch numbers into a computer and wait for an answer – we talk to you, use our expert knowledge to assess you and your vehicle, and arrange a finance package to suit your needs.
As a result, we have received numerous awards and nominations, including the Auto Finance Awards, Motor Finance Awards and Car Finance Awards.
Backed by Cabot Square Capital, our management team has decades of combined experience in the worlds of automotive finance and financial services. We are full members of the Finance & Leasing Association and abide by its FLA Lending Code on trading fairly and responsibly. We are also authorised and regulated by the Financial Conduct Authority.
Get in touch for fast, flexible Porsche 918 Spyder finance tailored to your needs