PORSCHE GT3 RS FINANCE
Bespoke finance for your dream Porsche GT3 RS
If you're considering purchasing a Porsche GT3 RS, talk to us. We are Porsche finance experts, and can put together a bespoke, flexible arrangement to suit your financial circumstances, your car, and your future needs.
Our personal service means that we can take into account many more factors than a high street lender – for instance the car's true residual value, other assets you may own or your business situation – and come up with a fast decision and a plan to suit you. We often offer lower payments than other lenders, and we can offer finance to clients who may be turned away by the computer-driven checklists of other companies. So contact us about finance, either before you start hunting for the perfect Porsche GT3 RS, or after you've decided on your dream car.
BESPOKE
Finance personally designed to suit you and your vehicle
EXPERT
We specialise in high-end vehicles. That's our only focus
PERSONAL
Face-to-face conversations, decisions made by humans
Competitive
Fast results, with the ability to achieve low monthly repayments
GT3 RS – the race-bred Porsche
You will already know, of course, that the Porsche 911 GT3 series is built for one purpose and one purpose on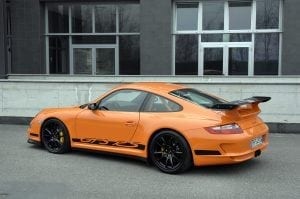 ly – racing homologation. All of the cars in this series, which began in 1999, have been basically road-going racers, with all that implies. In other words: Maximum performance, minimum comfort. If you're after a nice little car for the occasional trip to the seaside, you might want to think again. These are fire-breathing, noisy, stiff beasts with zero compromises to luxury. The spec included things like a magnesium roof, carbon-fibre interior panels, bucket seats, a fire extinguisher and a roll cage. You'll notice the lack of words like 'air conditioning' or 'audio system'. The 911 GT3 RS almost looks wrong without numbers on the doors.
On the other hand, if you're a performance enthusiast, there's nothing better. If you take it to a track, this will enable you to get as close to a full factory race experience as you can get. Very little else will out-handle or out-brake this car. And better still you can drive there and home again (if you haven't entirely ruined your tyres). The paddle-only gearbox takes a little getting used to, and the pit lane speed limiter button may not be that much use on the A3, but if owning one of the most single-minded and exciting sports cars ever built is one of your ambitions, the 911 GT3 RS is just the thing.
If you foresee one of these quick Porsches in your future, we may well be able to get one of these cars into your life more reasonably and easily than you imagine. Just get in touch for a personal consultation with one of our expert team.
Financing Your Porsche GT3 RS
Key Points
Payments
Very competitive monthly payments. Can be fixed or variable
Deposit
Usually 10-20% but can be anything from zero to a much higher amount
PCP
Otherwise known as Personal Contract Purchase, we currently only offer this through our McLaren Financial Services partnership. Contact us for more details
CREDIT ASSESSMENT
Our judgement of your ability to afford the payments, based on our own very personal, tailored criteria
Interest Rate
Decided at the start of the arrangement, if fixed; can also vary based on a pre-agreed formula
RESIDUAL VALUE
What we assess your vehicle will be worth at the end of the agreement, based on our expert knowledge of the high-end car market
'If you want a real racing car for the road, there's nothing like it. I'd been looking for one for ages, and JBR Capital were able to help me put one in my garage '
'I do track days in summer, but my bonus isn't due until halfway through the season. JBR Capital were able to structure my payments so I could get on track in good time.'
Modern Day Porsche Models We Finance
Expert, independent and secure
We are happy to lend anything from £25,000 to £10m+, and to date we have loaned over £500M. We pride ourselves on personal service, which means that we don't just punch numbers into a computer and wait for an answer – we talk to you, use our expert knowledge to assess you and your vehicle, and arrange a finance package to suit your needs.
As a result, we have received numerous awards and nominations, including the Auto Finance Awards, Motor Finance Awards and Car Finance Awards.
Our management team has decades of combined experience in the worlds of automotive finance and financial services. We are full members of the Finance & Leasing Association and abide by its FLA Lending Code on trading fairly and responsibly. We are also authorised and regulated by the Financial Conduct Authority.