Range Rover Finance
Bespoke finance for your dream Range Rover
If you're considering purchasing a Range Rover, talk to us. We are high-end car finance experts, and can put together a bespoke, flexible arrangement to suit your financial circumstances, your car, and your future needs. Range Rover finance makes for a large proportion of our luxury car finance customers - Range Rover Evoque finance, Leasing Range Rover Vogues, Range Rover Vogue finance, and Range Rover Sport finance makes for the lion's share of RangeRover finance deals (and also Land Rover finance too).
BESPOKE FINANCE
We specialise in finance personally designed to suit you and your vehicle. So whether you have already chosen your perfect Range Rover, or you are still hunting, we can provide the finance service you need.
EXPERT KNOWLEDGE
Range Rovers are one of our most financed vehicles. We will create Range Rover finance solution tailored to you, your vehicle and future needs. Talk to us, for example, about how to lease your Range Rover Sport, or Range Rover lease in general.
FAST DECISIONS
From you're very first point of contact, to the underwriting process and to signing the documents, every touch point is humanized. Our team can make quick, effective and accurate decisions, so your Range Rover finance process is as smooth as possible.
Competitive rates
We pride ourselves on our ability to provide lower monthly repayments and rates than most lenders and we can offer finance to clients who may be turned away.
How much is a Range Rover on finance?
We offer great Range Rover deals, however, if you're looking for more information on how much financing a Range Rover costs, please take a look at our Range Rover loan calculator.
How to finance a range rover?
Range Rover finance has never been made so easy, we provide competitive Range Rover finance offers for a number of finance options. From Range Rover lease purchase to Hire purchase, our bespoke finance packages affordable.
Can I settle the agreement early?
Yes, but charges will usually apply – these are explained in the terms and conditions of your agreement. Please call us for further information.
How much is a monthly payment for a Range Rover?
Your monthly payments will depend on the Range Rover model you choose, how much down payment you are able to provide, and what finance agreement you go for. If you would like to know more have a look at our Range Rover finance examples or contact us on 020 3355 0035 for a bespoke finance quote.
Top Range Rover Models We Finance
Range Rover Car Finance Examples:*
*The figures shown below are purely for illustrative purposes. For your personalised rate please give our team a call on 020 3355 0035 – you may discover savings beyond those shown by the examples below.
Year
2019
Value
£50,000
OUR FINANCE EXAMPLE
Deposit
£5,000
Total amount of credit
£45,000
Total charge for credit
£11,214
48 monthly payments of
£671
Final balloon payment
£22,500
Total amount payable
£61,214
Fixed rate of interest per annum
7.48%
Duration of agreement
49 months
Representative APR
7.9%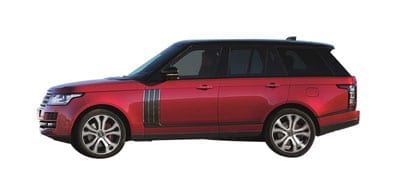 Range Rover Autobiography

Year
2019
Value
£103,000
OUR FINANCE EXAMPLE
Deposit
£10,300
Total amount of credit
£92,700
Total charge for credit
£23,134
48 monthly payments of
£1,401
Final balloon payment
£46,350
Total amount payable
£126,134
Fixed rate of interest per annum
7.48%
Duration of agreement
49 months
Representative APR
7.9%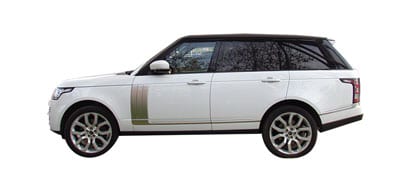 Range Rover Vogue

Year
2019
Value
£84,000
OUR FINANCE EXAMPLE
Deposit
£8,400
Total amount of credit
£75,600
Total charge for credit
£18,846
48 monthly payments of
£1,139
Final balloon payment
£37,800
Total amount payable
£102,846
Fixed rate of interest per annum
7.48%
Duration of agreement
49 months
Representative APR
7.9%
WE KNOW THAT EVERY Range Rover AND EVERY OWNER IS DIFFERENT.
Car Finance Process With JBR Capital
1. Get In Touch
Call or email us today to receive a quote from our car finance experts
2. Submit Application
Once agreed, the finance proposal will be submitted to our underwriters
3. Pay Deposit
Once approved, you simply pay the deposit, sign the finance agreement
4. Drive your dream car
We pay the balance and you drive away in your dream car!
RANGE ROVER: ROUGH YET SMOOTH
Since its beginnings all the way back in 1970, springing from the brain of genius engineer Spen King, the Range Rover story has become a byword for refined luxury yet enormously capable on- and off-road performance. It wouldn't be stretching a point too far to suggest that the Range Rover singlehandedly invented the upmarket SUV (sport utility vehicle) category. The first model, while surprisingly basic compared to today's standards, became very popular among owners who wanted something less stark and with better road manners than the classic Land Rover. The distinctive, smart yet modern design also helped it stand out against the competition. As time went on, however, later versions of the Range Rover became more and more like luxury cars with extra capability; leather, wood, satellite navigation systems, and clever electronic control of the car's systems have been added to the basic recipe. The 2018 Range Rovers are a world away from these beginnings, with a price tag to match. And there have been many versions springing from the basic model, too: The Range Rover Vogue is extremely upmarket while the Evoque and Sport variants (Including our most financed rover; the 2016 Range Rover Sport HST and 2016 Range Rover Sport Diesel) offer a very different experience. Other tuners have also experimented with the Range Rover formula; Overfinch are the best-known, but there is a thriving industry customising Range Rovers for the needs of a wealthy and varied international clientele – bullet- and bomb-proofing is not unusual, while luxurious roofless versions allow their Middle Eastern owners to fly hunt hawks. You can pretty much create your Range Rover – see our blog post on Range Rover customisations. Range Rovers have become something of an enigma, breaking categories – even who makes Range Rover and who owns Range Rover seems to be a contested question – should it be "Land Rover Range Rover" or perhaps Jaguar India? If you feel the need for a new or used Range Rover, whether your habitat is South Kensington or the Sahara Desert, do please contact us to discuss how we can help you finance one of these amazing cars.