JBR Capital is the UK's only independent finance provider dedicated solely to high end vehicle finance. We offer bespoke specialist finance for modern day cars, supercars, classic cars and historic cars to private individuals and businesses. Due to rapid growth, we are always interested in hearing from ambitious individuals with relevant experience.
Please email enquiries@jbrcapital.com with a copy of your CV and a covering letter.
Things that matter to us:
Wellness & mental health programme
Automotive Underwriter/ Credit Manager
This is an outstanding opportunity for an ambitious Underwriter looking to play a key role in a leading luxury automobile lending business based in north London.
We are looking for an individual with a minimum 3 years' experience underwriting in a motor finance/ analyst role. The individual will be an excellent communicator and will bring enthusiasm and a strong work ethic to this small and dynamic team.
You will have a knowledge of Consumer Credit and get excited by the thought of working in a fast-paced and customer focused, engaging environment. You will have the confidence to work and communicate under pressure and against deadlines whilst being a collegial team player.
Competitive salary based on experience. Company benefits include discretionary bonus, health insurance & private pension.
Your key day to day responsibilities will include:
Underwriting loan applications in line with company credit policy framework
Analysing and assessing clients credit worthiness and vehicle valuations leading to making a responsible lending decision.
Preparing ad hoc credit reports to the Head of Credit and wider stakeholder environment and presentation of portfolio analytics and initiatives at Committee levels.
Liaising with the Sales, Sales Support and Introducers to optimise the client experience
Qualifications and skills:
At least 3 years' underwriting experience in motor finance/ asset finance role.
Experience of working with high net worth individuals preferable.
Strong numeracy, reporting and Excel skills.
Excellent interpersonal and communication skills.
Highly organised and superb attention to detail.
Ability to work under pressure and to tight deadlines.
Previous project management experience with an ability to deliver to clear and defined expected outcomes
Personality and approach:
Commercially driven with plenty of common sense.
Nimble and out of the box thinker.
Confident, articulate and a great communicator.
A self-starter who is motivated, enthusiastic, and proactive.
A collaborative team player.
Strong work ethic and flexible attitude.
An interest in luxury cars a bonus.
Always wanting to improve the customer experience.
Open to taking on more responsibility.
Graduate programme
This is a fantastic opportunity for an ambitious individual to build a career in the financial services industry. We have positions across finance, credit, compliance and sales roles, you will be matched to the teams which can leverage your strengths and interests
These could be numerical skills, strong communication, attention to detail, thorough research and report writing or building excellent client relationships. As a new graduate you will be provided with all the relevant training when joining your team. You will drive your own learning and development with guidance and coaching from your manager and colleagues.
Please apply with a copy of your CV and a covering letter. Placements will commence in July, with a starting salary ranging from £22,000 – £27,000.
Basic Qualifications:
In final year of study for Bachelors or Masters degree, or graduated in the last six months Studies within Business, Computer Science, Finance, accounting or similar field ·
Fluent written and verbal communication in English ·
Knowledge in MS Office programs as Outlook, Excel and PowerPoint ·
Analytical skills
Planning, prioritization and time-management skills ·
Ability to communicate efficiently ·
Strong attention to detail ·
Experience in financial analysis is a plus
Experience using analytical tools is a plus
Luxury, Classic & Supercars we finance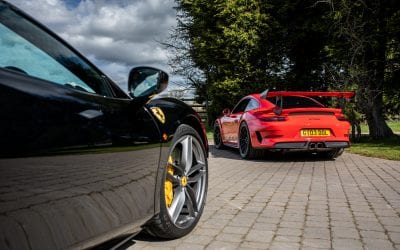 Founder and Chief Commercial OfficerFCA ban on discretionary commission models in the motor finance market and clarification on finance commission disclosure aims to see customers' financing costs reduce, give buyers peace of mind and bring greater transparency to the...
read more