Land Rover Finance
Bespoke finance for Land Rover and Range Rover vehicles
Applying for LAND ROVER Finance
The process of applying for classic car finance couldn't be simpler.
1. Get In Touch - Get in touch with one of one of our specialists to discuss your requirements. We are available 24/7 via email, website, Livechat and even WhatsApp. Our team will be able to give you a quote that matches your financial circumstances. 
2. Submit Application - All you need in advance is proof of address and proof of income, along with your driving license and passport. Should you wish proceed, your application will go through the credit check process with our underwriters.
3. Pay Deposit - Once the loan gets approved you need to pay the deposit and sign your finance agreement. We then pay the balance and away you go.
4. Drive your dream car - Now the only thing you have to do is enjoy your new car. Too good to be true? Call us and find out.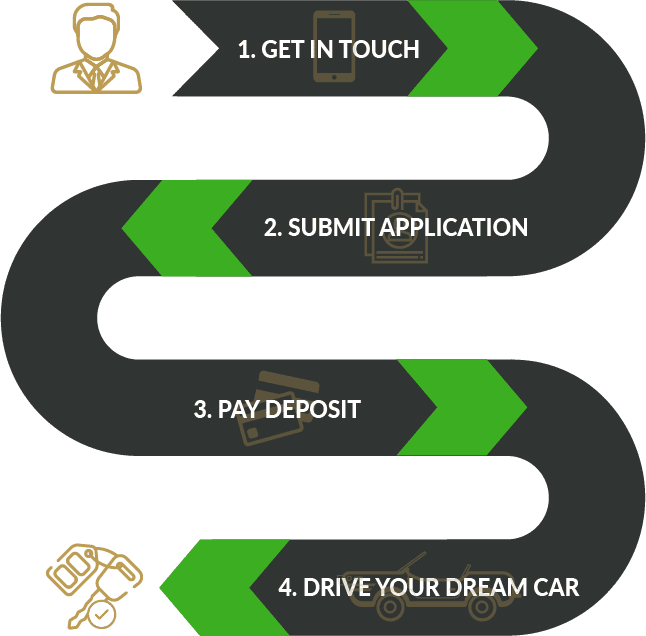 BESPOKE FINANCE
We specialise in offering finance plans designed to suit your financial circumstances. So whether you have already chosen your perfect Range Rover, or you are still hunting, we can provide a quote tailored to your needs.
EXPERT KNOWLEDGE
Range Rovers are one of our most financed vehicles, so we have the right expertise and contacts to advice you on best buys and market trends.
Fast decision
From you're very first point of contact, to the underwriting process and to signing the documents, every touch point is humanised. Our team can make quick, effective and accurate decisions making the process as smooth as possible.
Competitive rates
We have a flexible approach to lending, which enables us to offer competitive rates, low monthly repayments and take in consideration credit profiles than major lenders might turn away.
Is Land Rover and Range Rover the same company?
In a word, yes. Land Rover began in 1949 and the first Range Rover appeared as a luxury subsidiary brand some twenty years later. Today, they co-exist under parent company Jaguar Land Rover.
Which Range Rover is the most expensive?
The priciest car in the Land Rover stable today is the flagship Range Rover, which starts from £83,655. However, get frisky with the options list on a long wheelbase P565 and you can comfortably pass £200,000.
How can I finance a Land Rover or Range Rover car?
You might find it surprisingly easy to finance either a Land Rover or Range Rover with JBR. We are specialist lenders for the prestige and performance car market and can tailor a variety of finance agreements to suit you. Speak to one of our team members to discover more.
How long can I finance a Range Rover for and what will my monthly repayments be?
We offer finance packages of up to five years, but the length of your agreement, and the initial price of the car will all determine how much your monthly repayments amount to. For a better idea of what you might expect to pay, you can use our online finance calculator or get in touch with someone from our team for a tailored quote.
Which is the cheapest Range Rover?
The least expensive Range Rover currently on sale is the recently launched Evoque 2, with a list price of £32,295.
Where are Range Rovers manufactured?
Jaguar Land Rover has factories across the UK and in various international markets. The Range Rover and its Sport offshoot are made in Solihull, while the likes of the Evoque and Discovery Sport are built at the Halewood plant in Liverpool.
Is Range Rover a luxury car?
Such things are subjective, but we'd say yes, absolutely. The Range Rover offers a level of refinement and comfort unrivalled this side of Rolls Royce or Bentley, but throws off-road ability into the mix.
Is Range Rover going electric?
Land Rover already sells a plug-in hybrid or PHEV Range Rover and has no plans as yet to fully electrify its flagship model for the next generation due in 2021. But it is understood that a new standalone all-electric model is in development, sharing more with Jaguar's I-Pace in terms of physical architecture and road-oriented driving ability.
LAND Rover Finance Examples*
*The figures shown below are purely for illustrative purposes. For your personalised rate please give our team a call on 020 3355 0035 – you may discover savings beyond those shown by the examples below.
Year
2019
Value
£50,000
OUR FINANCE EXAMPLE
Deposit
£5,000
Total amount of credit
£45,000
Total charge for credit
£11,214
48 monthly payments of
£671
Final balloon payment
£22,500
Total amount payable
£61,214
Fixed rate of interest per annum
7.48%
Duration of agreement
49 months
Representative APR
7.9%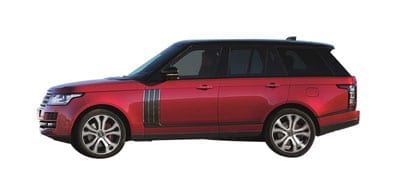 Range Rover Autobiography

Year
2019
Value
£103,000
OUR FINANCE EXAMPLE
Deposit
£10,300
Total amount of credit
£92,700
Total charge for credit
£23,134
48 monthly payments of
£1,401
Final balloon payment
£46,350
Total amount payable
£126,134
Fixed rate of interest per annum
7.48%
Duration of agreement
49 months
Representative APR
7.9%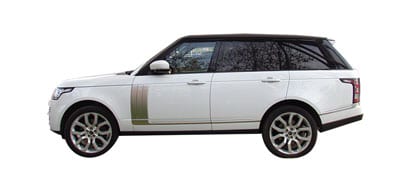 Range Rover Vogue

Year
2019
Value
£84,000
OUR FINANCE EXAMPLE
Deposit
£8,400
Total amount of credit
£75,600
Total charge for credit
£18,846
48 monthly payments of
£1,139
Final balloon payment
£37,800
Total amount payable
£102,846
Fixed rate of interest per annum
7.48%
Duration of agreement
49 months
Representative APR
7.9%

Use our Range Rover Finance Calculator
Top Land Rover Models We Finance
LAND ROVER History - ROUGH YET SMOOTH
The Land Rover made its debut in 1948, a utilitarian off-road vehicle with rudimentary ladder frame chassis and permanent all-wheel drive. Beloved by generations of British farmers and soldiers alike, the ingenious initial concept would evolve, almost imperceptibly in many respects, until 2016.
Two decades on from the birth of its original product, parent company Rover capitulated to the demands of customers crying out for a modicum more comfort with their off-road ability. In 1970, the Range Rover was born, an imposing, angular two-door, five-seater which straddled the polarised worlds of no-nonsense workhorse and family transport like nothing that had gone before.
For several decades these two cars fulfilled the basic brief on their own, before market forces persuaded Land Rover to introduced first the Discovery in 1989 and the Freelander in 1997. Both new models were runaway success stories, paving the way for an increasingly diverse portfolio that now includes the Discovery and Range Rover Sport, Velar and Evoque alongside the latest evolutions of both Range Rover and Discovery.
Today the full-size SUV is under the ethical spotlight and future Land Rover products are expected to embrace the BEV revolution, but the immediate message is business as usual with JLR's wide range of diesel and petrol powertrains. Garnering far more attention in the meantime will be the new Defender, recently unveiled to near universal acclaim at the 2019 Frankfurt Motor Show. The first genuine rethink of the original Land Rover in 70 years, this car will be one of the most popular and desirable SUVs of 2020, and for several years to come.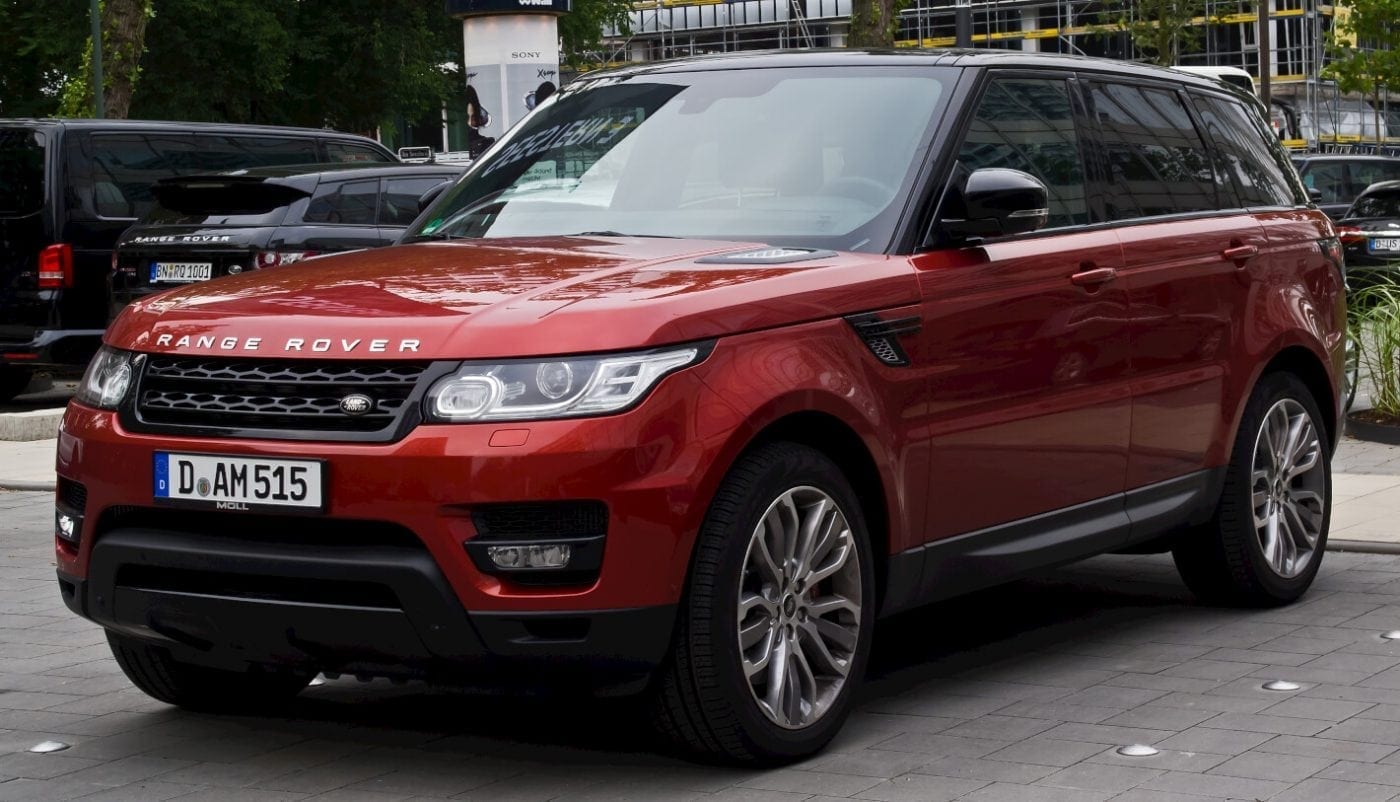 Land Rover Guides and Resources