An icon amongst icons, Ferrari's 'Colombo' V12 had it all – cutting edge technology, race wins, plus a home in the most glamorous and sought after road cars Ferrari ever built.
Throughout this guide we track its star-studded life.
Here at JBR Capital we love Ferraris, and we enjoy sharing this love with you. So we thought we'd put together another definitive guide, this time to the legendary V12 engine. There's an awful lot to talk about, so we've tried to cover it from all angles – factual, historical, mechanical and cultural. We very much hope you enjoy it, and if so don't forget to share it with your fellow enthusiasts.
And if you'd like your own copy of this guide just send us your email address on the form at the bottom of this page and we'll send you a downloadable and printable PDF version. We're nice like that.
Darren Selig
CEO

Russ Smith
Writer

Practically.io
Design & Build

Richard Gunn
Writer
The History of V12
In their formative decades Ferrari actually used two very different V12 engines, often alongside one other. The physically larger one was designed by Aurelio Lampredi, but the V12 we're focussing on here – the one that most fuelled Ferrari V12 legend – was the brainchild of Gioacchino Colombo. This was not only Ferrari's original road car engine but it went on to power classic icons like the 250 Testa Rossa, 250 GTO and Daytona. Surely no other engine in history can match this V12's pedigree.
Colombo came to Enzo Ferrari's attention when he designed a supercharged straight-eight engine for the 1938 Alfetta 158 Grand Prix car. After WW2 Enzo took Colombo on to design him a V12 . Ferrari had long admired that layout and wanted his own cars to be V12s.
What Colombo came up with was a lightweight silicon-aluminium 60-degree V12 engine of just 1.5 litres, using a 55mm bore and 52.5mm stroke. It would safely rev to a then-amazing 7000rpm in high compression 118bhp form. The block was short, only coming down to crankshaft centre line, and each cylinder head had a single chain-driven camshaft.
At first, cylinder heads were sealed by copper rings, not gaskets, and another quirk was the use of 'hairpin' rather than coil springs for the valves. Both ideas would later revert to traditional methods. Press-fit cast iron liners were used for the cylinders, and these had their bore centres set 90mm apart, which with such relatively narrow bores shows that Colombo had planned capacity growth from the start. In fact that original 55mm bore would later grow to 77mm before the engine block had to be modified.
This is a good point to explain how Ferrari's model numbering system relates directly to their engines. It's a system they employed from the very first car, rarely deviated from and only recently dropped. Grab your calculator and divide that first engine's 1496cc capacity by the number of cylinders. Round it up to the nearest whole number and you have the Ferrari 125, the marque's first production car, launched in 1947.
The following year the engine was adapted for what Enzo Ferrari was really interested in: racing. In supercharged 1.5-litre form it produced 230bhp at first, then up to 315bhp when twin camshafts were adopted. Alas, it was not enough to bring success. So Enzo Ferrari turned to Lampredi for a normally aspirated 3.3-litre V12 in 1950, at which point Colombo fell out with Ferrari and returned to his old job at Alfa Romeo. He was replaced by his old mentor from Alfa, Vittorio Jano, who continued to develop Colombo's design until his death in 1965 at 74 years of age.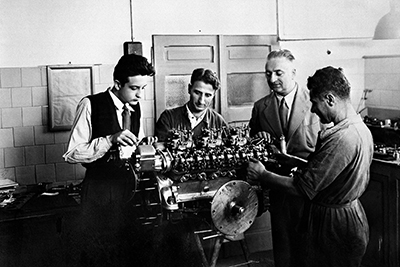 Source: Super Street, www.superstreetonline.com/features/news/ferrari-celebrates-70th-birthday-with-laferrari-aperta-wvideo/#photo-04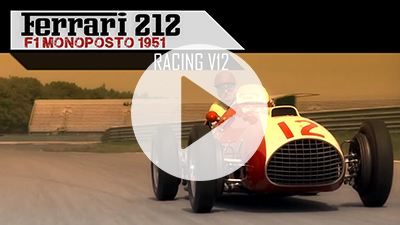 Source: SUPERCARCLASSICS, https://www.youtube.com/watch?v=LZZPNEeQuUM
DERIVATIVES & DEVELOPMENTS
Before he left, Colombo was responsible for the V12's first capacity increases, swiftly taking it to 1995cc for the Ferrari 166 using a 60mm bore and the 58.8mm stroke measurement that would remain in used until 1967 – until then the engine continued to grow all the way to 3.3 litres on just bore increases. Colombo's final input was to stretch the bore to 65mm for the 1950 Ferrari 195S, displacing 2431cc and now developing 160bhp at 7000rpm.
Further development in Colombo's absence first saw a short-lived 2562cc using 68mm bores, then the capacity that stuck for a long time, the 2953cc that fell nicely into the sub-three-litre category used in sports car racing. That used a 73mm bore and was perhaps the engine's greatest incarnation, appearing not only in the Testa Rossa, in which it almost became the first normally aspirated road engine to develop the almost mystical 100bhp per litre, but also the 250 GTO, where in competition form it was putting out as much as 300bhp. All this necessitated a little strengthening, so main bearings were enlarged from 55m to 60mm, extra cylinder head bolts were added and the con-rods were redesigned.
The original block's biggest stretch was in 1960 for the 400 Superamerica. That went all the way to 3967cc with a 77mm bore and 71mm stroke. If you whip the calculator out again and divide that capacity by 12 you'll also see that this should really have been the 330, not 400, but in this case they were persuaded that the latter, based on the four litres, was more marketable in America. It was a rare occurrence.
The same 77mm bore was then combined with the old 58.8mm stroke for the 275 range of cars, the 275GTB/4 becoming the first Ferrari road car to have twin-camshaft cylinder heads. These aided breathing and gave the engine much greater torque and flexibility. With an eye to the future and larger capacities the block was lengthened by four inches in 1964 to allow bore centres to be moved from 90mm to 94mm apart.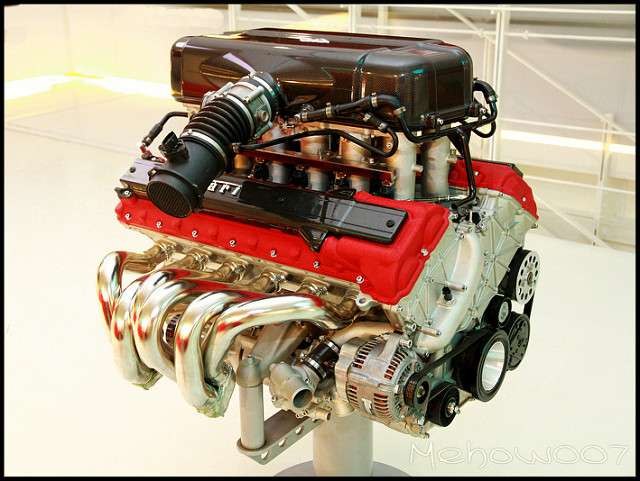 The first of these engines used the 77x71mm bore/stroke measurement from the 400, but in the now (for Ferrari tradition) correctly named 330 GT series. In Ferrari circles these are referred to as 'long block' engines and the previous ones 'short block', naturally. Three years later they took proper advantage of the 'stretch' and created a 4.4-litre engine with an 81mm bore for the 365 series of cars. The king of these, helped by the reappearance of the twin-cam heads, was the 365 GTB/4 'Daytona', a proper 175mph supercar.
Increasing the stroke to 78mm gave useful extra torque for the heavyweight 400 GT, which was upgraded from carburettors to fuel injection to become the 400i in 1979. The final roll of the dice for the Colombo engine was an extra 1mm of bore to turn the 400 into the 4942cc 412 in 1985. The Colombo V12 finally ceased production in 1989.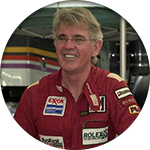 Use of a V12 set Ferrari apart from any other post-war sports car manufacturer and defined Ferrari as the high-tech leader for decades. The 166 engines put their name on the map, the 250 engines built a reputation Ferrari still enjoys today. Countless Ferrari enthusiasts were hooked the first time they heard the V12. Even now I can still tell you, in detail, of the first Ferrari I first heard and saw, the colour and model of the car; Hell, I can even tell you what the driver was wearing!
CELEBRITIES WITH V12 FERRARIS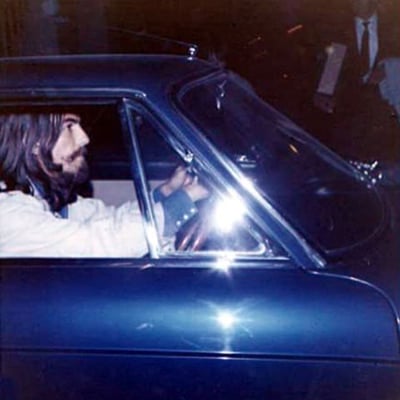 George Harrison
Another Beatle, another Ferrari – the Quiet One bought his 365 GTC new in 1969, keeping it until the mid-1970s. It inspired friend Eric Clapton to buy his first example.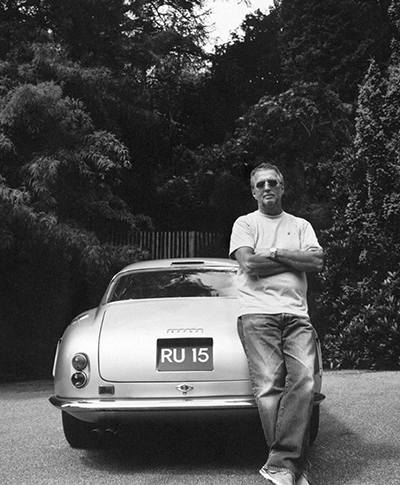 Where do we start with Eric and his Ferraris? He's owned so many that even he's admitted to losing count. But his 250 GT SWB does look particularly wonderful tonight…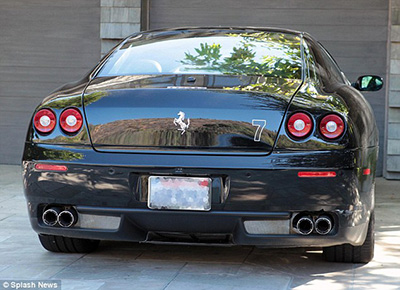 David Beckham
Footballer David's black 612 might otherwise have been anonymous, were it not for its number seven logo – a reference to his Manchester United shirt and (then) newborn daughter Harper Seven.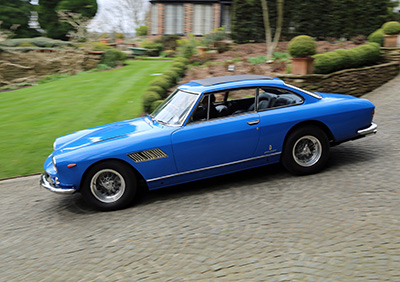 John Lennon
After John passed his driving test, the Beatle used his ticket to drive to acquire a £6500 Azure Blue Ferrari 330 GT. He covered 20,000 miles in it until its 1967 sale.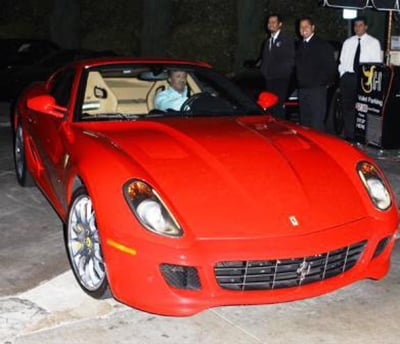 Sylvester Stallone
Sly has owned quite a collection of high end cars, including a 612 Scaglietti,and a bright red 599 GTB that was mildly customised to his own taste.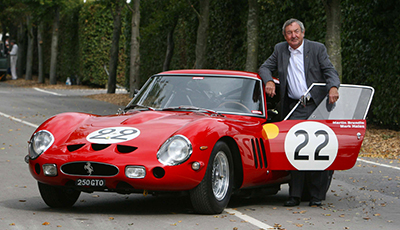 Nick Mason
Pink Floyd's drummer felt 'naggingly stupid' for spending £35,000 purchasing a 250 GTO in 1977. But it's now worth in excess of £30 million. If he ever needs the money…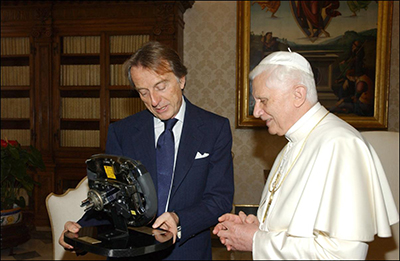 The Pope
Yes, really. Pope John Paul II had an Enzo. Gospel truth! Ferrari gifted him the final one in 2005, but it was auctioned for charity soon afterwards. Ferrari then gave his successor, Benedict XVI, an F1 steering wheel instead.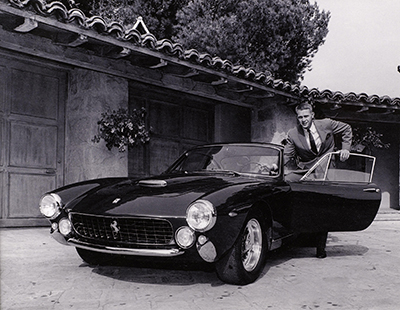 STEVE McQUEEN
Finished in Marrone brown with beige interior, Steve's Ferrari 250 Lusso was a 34th birthday gift from wife Neile, costing $14,000. It was a favourite, until sold in 1967.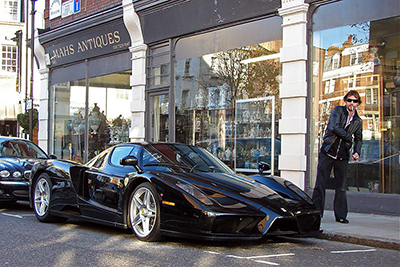 Jay Kay
The Jamiroquai frontman's Enzo made the headlines for the wrong reasons when it was vandalised in 2009 by an upset chef. Fortunately, Jay had three other Ferraris to use instead.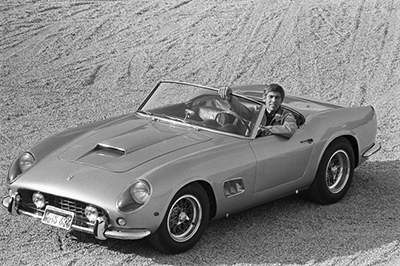 James Coburn
Coburn was cool. Coburn in 250 GT was arguably the Mount Everest of cool. The actor owned it for 25 years, during which it was Nero Black, then blue, silver and finally burgundy.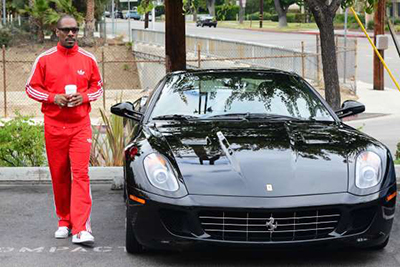 Eddie Murphy
Given that a few of Eddie Murphy's films have paired him with Ferraris, it's no real surprise that one of his personal stable of sports cars is a 599 GTB.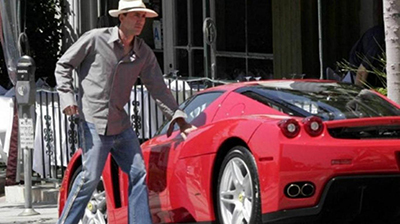 Nicolas Cage
For actor Nick, it sadly was a case of gone in 60 seconds – or a little bit longer – after financial issues caused him to sell his $670,000 Enzo Ferrari in 2012.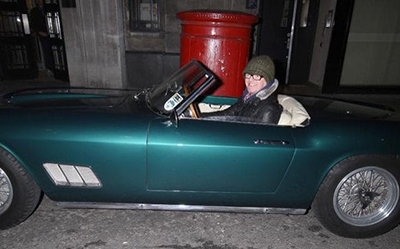 Chris Evans
The BBC's Chris Evans bought James Coburn's 250 GT in 2008 for over £5 million. It shares (very secure) garage space with several other V12 models including a 1959 250 GT California.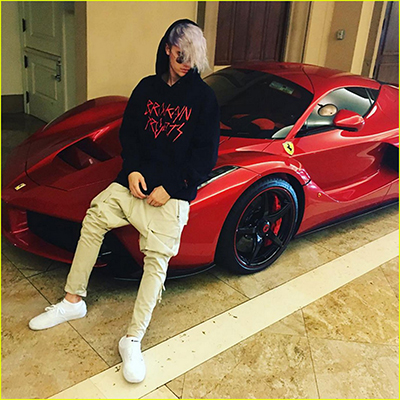 Justin Bieber
Justin Bieber is just 23. Yet he's owned several Ferraris, including an Enzo, and recently 'lost' another Ferrari for three weeks when he forgot where he parked it.  Ah, bless him…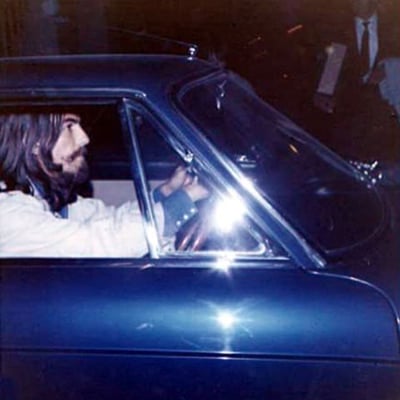 George Harrison
Another Beatle, another Ferrari – the Quiet One bought his 365 GTC new in 1969, keeping it until the mid-1970s. It inspired friend Eric Clapton to buy his first example.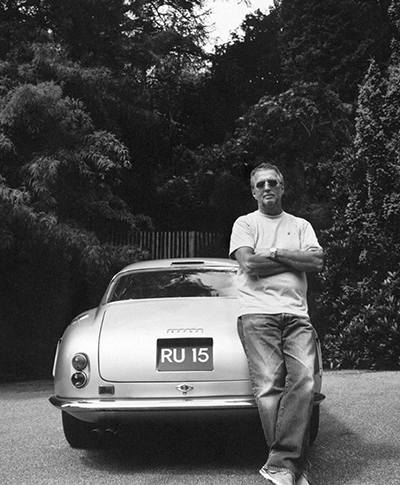 Where do we start with Eric and his Ferraris? He's owned so many that even he's admitted to losing count. But his 250 GT SWB does look particularly wonderful tonight…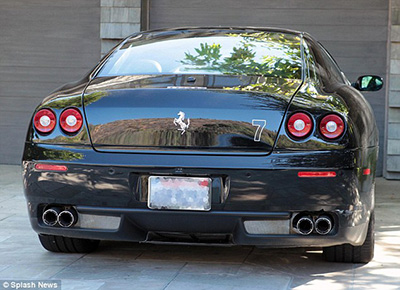 David Beckham
Footballer David's black 612 might otherwise have been anonymous, were it not for its number seven logo – a reference to his Manchester United shirt and (then) newborn daughter Harper Seven.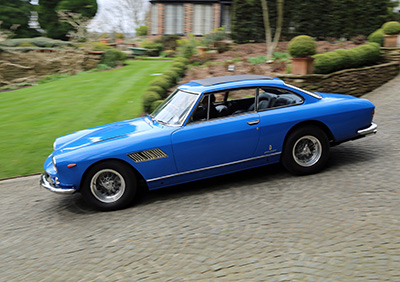 John Lennon
After John passed his driving test, the Beatle used his ticket to drive to acquire a £6500 Azure Blue Ferrari 330 GT. He covered 20,000 miles in it until its 1967 sale.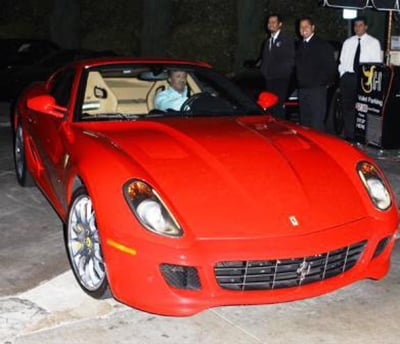 Sylvester Stallone
Sly has owned quite a collection of high end cars, including a 612 Scaglietti,and a bright red 599 GTB that was mildly customised to his own taste.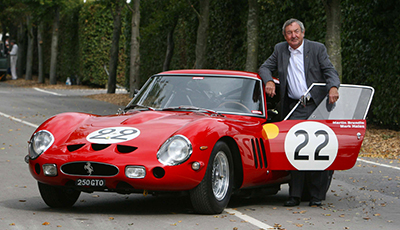 Nick Mason
Pink Floyd's drummer felt 'naggingly stupid' for spending £35,000 purchasing a 250 GTO in 1977. But it's now worth in excess of £30 million. If he ever needs the money…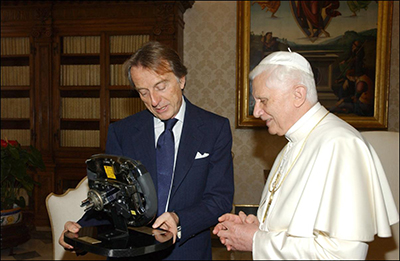 The Pope
Yes, really. Pope John Paul II had an Enzo. Gospel truth! Ferrari gifted him the final one in 2005, but it was auctioned for charity soon afterwards. Ferrari then gave his successor, Benedict XVI, an F1 steering wheel instead.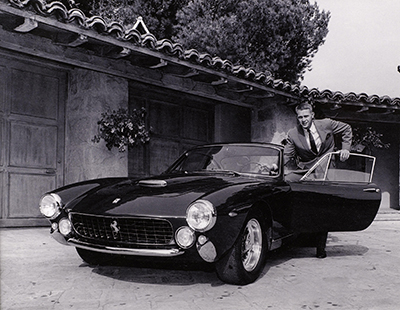 STEVE McQUEEN
Finished in Marrone brown with beige interior, Steve's Ferrari 250 Lusso was a 34th birthday gift from wife Neile, costing $14,000. It was a favourite, until sold in 1967.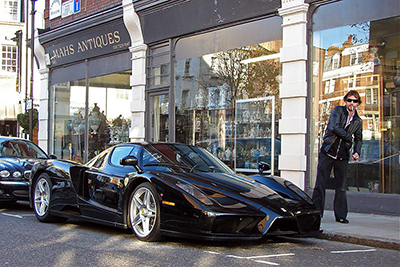 Jay Kay
The Jamiroquai frontman's Enzo made the headlines for the wrong reasons when it was vandalised in 2009 by an upset chef. Fortunately, Jay had three other Ferraris to use instead.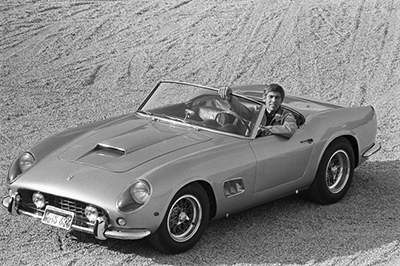 James Coburn
Coburn was cool. Coburn in 250 GT was arguably the Mount Everest of cool. The actor owned it for 25 years, during which it was Nero Black, then blue, silver and finally burgundy.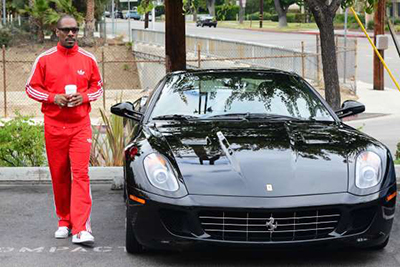 Eddie Murphy
Given that a few of Eddie Murphy's films have paired him with Ferraris, it's no real surprise that one of his personal stable of sports cars is a 599 GTB.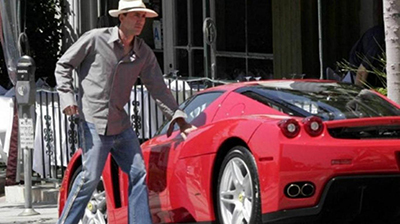 Nicolas Cage
For actor Nick, it sadly was a case of gone in 60 seconds – or a little bit longer – after financial issues caused him to sell his $670,000 Enzo Ferrari in 2012.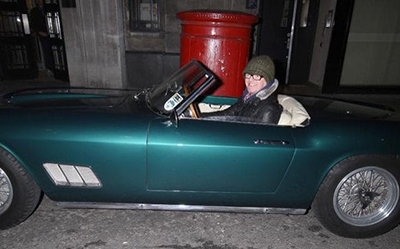 Chris Evans
The BBC's Chris Evans bought James Coburn's 250 GT in 2008 for over £5 million. It shares (very secure) garage space with several other V12 models including a 1959 250 GT California.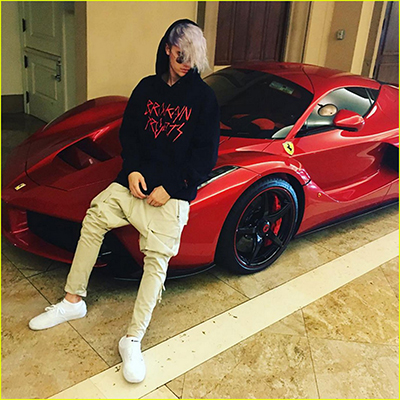 Justin Bieber
Justin Bieber is just 23. Yet he's owned several Ferraris, including an Enzo, and recently 'lost' another Ferrari for three weeks when he forgot where he parked it.  Ah, bless him…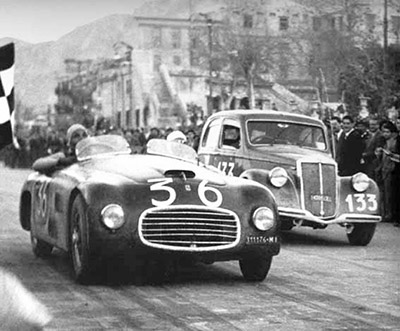 166 Inter & MM
Eighteen months after completing their first racer cam Ferrari's first official road car, the 166 Inter, launched in November 1948 at the Turin motor show. That makes them serious collectors pieces, especially as only 38 were built, and they rarely change hands. Most were coupés with bodies by Touring, though other coachbuilders like Vignale supplied bodies and Farina did four drop-top cabriolets. They were built alongside the 166 MM – the initials being for Mille Miglia to celebrate a Ferrari's victory in the 1948 race. That's the clue that this was a serious racing model, mostly open cars with scant Perspex windscreens, though many were later adapted for road use when they were no longer competitive on track. Their two-litre engines were tweaked to offer 25bhp more than the same unit in the Inter, whose figures are quoted below. A total of 46 MMs were built over a five-year run and they command values five or six times higher than Inters.
Engine 1995cc 105-115bhp Top speed 112mph 0-60mph
195 Inter
The one-year-only 195 Inter first appeared in late 1950 of early 1951, depending on which source you believe. It isn't even clear exactly how many were built, though the best estimate is around 25. All were coupés, mostly with sleeker styling than the 166 Inter, from the hands of coachbuilders Vignale and Ghia, though Touring also produced a trio with similar bodywork to the earlier car. The big change was under the bonnet, where the V12 had been bored out to 2.3 litres, bringing a chunk more power. That output quoted below was for the standard model with a single twin-choke Weber 36 DCF carburettor, though a triple-carb option was also offered for a more sporting output. The rest of the drivetrain remained the same. There was also a 195 S racing version, though details on that are even more sketchy and several marque experts believe that only one was built.
 Engine 2341cc 135bhp Top speed 112mph 0-60mph
212 Inter
The 195 Inter was short-lived because Ferrari were quick to increase the V12's capacity, this time to 2.6 litres, creating the 212 Inter, launched amid the glamour of the 1951 Paris Motor Show. As before there was also a competition version, this time named 'Export'. Around 26 of those were made, along with 84 Inters in just over a year, so Ferrari was at last getting production numbers for their rolling chassis up to match the growing demand brought by the marque's competition successes. An even larger number of coachbuilders 'carrozzeria' weighed in this time – five of them, with a variety of bodies too numerous to cover here. Most were coupés though, with just 14 open cars included in the above figure.
The larger engine brought a 15 per cent increase in power, which in turn gave Ferrari some serious figures to shout about. The 212's top speed really was eye-catching in an era when people still saw 100mph as a magic number. In a few short years since its launch, Ferrari had made its name and was ready for big things.
 Engine 2563cc 155-170bhp Top speed 120mph 0-60mph 10.5secs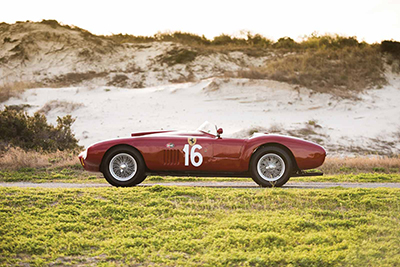 340 America
Launched around the same time as the 212 Inter, the 340 took Ferrari up to another level with its 4.1-litre engine. It was the first time this particular V12 was used in a road car. Completely unrelated to previous Ferrari engines, it was a downsized version of Aurelio Lampredi's new 4.5-litre Grand Prix car unit, the '340' – as had become the Ferrari tradition – being the individual cubic capacity in ccs of each of the engine's 12 cylinders.
Source of the car's 'America' tag has been lost in the mists of time, like so much from this period of Ferrari history, but is widely believed to point to where the company wanted and expected to sell its big-capacity cars.
Also unconfirmed is the exact number of 340s built, but is was somewhere around 25, with a rough half-and-half split between open and closed bodies. One of the latter was driven to victory in the 1951 Mille Miglia by Gigi Villoresi. The car was described as a real monster in the wet, adding further to the Prancing Horse legend.
 Engine 4101cc 220bhp Top speed 136mph 0-60mph n/a
250 Europa/GT Europa
Also sometimes referred to as SI and SII Europas, these were in fact two quite different cars, joined together by their name and similar appearance. Even their engines – though both nominally of the three-litre capacity that would serve most Ferrari road cars for the next decade – were completely different. The first Europa, launched in 1953, used a small-bore version of the 340's Lampredi V12. It also had a much stronger chassis than previous cars, and a longer wheelbase too: 2800mm. Eighteen were built, all but two bodied by Pinin Farina, now establishing themselves as Ferrari's coachbuilder of choice.
A year later at the Paris Motor Show Ferrari presented what looked like a small update to go with the addition of 'GT' to the car's name. Under the skin, however, was an all-new chassis with a shorter (2600mm) wheelbase, at last with coil springs for the front suspension in place of the previous transverse leaf arrangement, vastly improving the car's handling. The engine was a big-bore version of the Columbo-designed V12 used in the Inter models – smaller, lighter and freer-revving than the Lampredi unit. This time 36 were built, all coupés and all but one by Pinin Farina.
Engine 2963/2953cc 200/220bhp Top speed 135-143mph 
0-60mph 5.9secs
410 Superamerica
As well as serving the desires of their super-rich clients, who required something more number one than your everyday playboy drove, Ferrari had learned the headline-grabbing and show stand-filling potential of building cars most could only gasp at. Bring on the 410 Superamerica, which made its debut at the 1956 Brussels Motor Show. For this they bored out the larger Lampredi V12 to five litres and provided either 2800mm or 2600mm chassis. Over the next three years just 37 Superamericas were built, and it's unlikely that any two are identical as the wants of individual buyers were incorporated in the build. At the very top of the pile sit a handful of Superfast models with space-age befinned or 'Aerodinamica' styling. For one of those you needed the term 'magnate' on your LinkedIn profile.
The 410 Superamerica remains the preserve of the super-rich today – owning one makes the statement that you could afford five 250 GTs from the same era, but probably already have one of those in your collection too.
 Engine 4963cc 340bhp Top speed 165mph 0-60mph 6.6secs
250 GT SWB
Following on from the TdF in the dual-purpose road car and weekend racer role, the SWB – as those initials suggest – was built on a 200mm 'shorter wheelbase' chassis. The bodies were in a stunning and era-defining design by Pininfarina, offered with either steel or aluminium panels – one of the latter being worth around a million pounds more than a steel car in the current market, and even those 'lesser' SWBs are valued in the £5.25m-£6.75m range. You can add even more for one of the out-and-out Competition versions, which got an extra 40bhp from their 3.0-litre engines, especially those piloted in period by notable race-drivers like Sir Stirling Moss.
So there's quite a bit to sort out if a 250 GT SWB catches your interest, but they are breathtaking to drive in any form and at least they were made in larger numbers than previous Ferraris – the figure is generally believed to be 153 built from 1959-62. One of the gold-standard cars among Ferrari collectors, and there's always another buyer waiting in the wings.
Engine 2953cc 240-280bhp Top speed 155mph 0-60mph 6.4secs
250 GT Cabriolet SII
This is perhaps the model for those who dream of a California Spider but can't afford the ticket. Built at the same time as the SWB Spider, at a glance the two cars look handily similar, but the Devil is of course in the detail of Pininfarina's styling. The Cabriolet was built on the longer-wheelbase chassis, with the less fruity engine, and was intended as more of a relaxed GT alongside the full-on sportscar Spider. So look closer and you'll see the Cabriolet has a more upright windscreen, with slim quarterlights in the doors. It also has a longer bonnet and bootlid, the latter making it easier to stow luggage for that weekend away in St Tropez or San Francisco. It also provides another instant recognition point: on the Spider the number plate sits on the panel below the bootlid; on the Cabriolet it has to be placed on the bootlid itself.
As well as lower prices – SII Cabriolet's trade for around a tenth the price of a SWB Spider – you'll have more choice as Ferrari built around 200 of these.
Engine 2953cc 240bhp Top speed 160mph 0-60mph 7.1secs
400 Superamerica
It is often wrongly assumed that this was a continuation from the 410 Superamerica mentioned above; after all, they have very similar names. But though the 400 was aimed at the same super-rich clientele, this was a completely new car. It also marked a departure from the Ferrari tradition of creating model numbers from the cubic capacity in ccs of a single cylinder. That would have made this the 330 Superamerica, but 400 was chosen to represent the 4.0-litre overall capacity of this fresh development of the 'Colombo' V12, and because, well, it just sounds like more and this properly set the car apart from the lesser 250 GTs.
Around 47 were built from 1960 to '64, most of them with striking 'Aerodinamica' coupé styling by Pininfarina, though that number also includes 11 or 12 cabriolets which are unsurprisingly very highly sought after and generally make at least 50 per cent more than coupés – on the rare occasions that they are sold.
Engine 3967cc 340bhp Top speed 162mph 0-60mph 7.8secs
250 GT Boano/Ellena
By 1956 Pinin Farina had struck a deal to design and build the bodies for all Ferrari's road cars, and they produced this fresh design for the 250 GT chassis – largely the same as that under the 250 GT Europa and with the same three-litre engine. However, Pinin Farina's new production plant on the outskirts of Turin was still under construction and the old one was working to capacity, so construction of the bodies was handed over to Mario Boano, a former Farina employee who had set up on his own. He slightly revised the design and built 80 bodies by spring 1957 before passing the coachbuilding business and contract on to his son-in-law Ezio Ellena, explaining these model's unusual names. Ellena built a further 50 cars, slightly redesigned with slightly raised roof and deeper front and rear screens to improve visibility. Some enthusiasts simple refer to them as low-roof and high-roof 250 GTs. The later cars also gained a ZF steering box and an extra 20bhp for the engine; brakes were slightly uprated but still drums all round.
 Engine 2953cc 220-240bhp Top speed 140mph 0-60mph 7.1secs
250 GT Berlinetta TdF
The initials at the end stand for Tour de France, added to celebrate Alfonso de Portago's win in the 1956 event of that name, though in fact never officially by Ferrari. The TdF was one of that dying breed of racecars you could drive on the road, and most of the 67 built from 1957-59 took part in some form of competition – with a great deal of successes. However, that does mean many were also damaged bodily or mechanically. Complete and unblemished paper trails histories are rare with these cars, which affects their values – they have to taken on a case-by-case basis and it would be dangerous to buy one without expert advice from someone steeped in the world of Ferraris. Particularly as those wide-ranging values are in the £4m-£6m zone.
Engine 2953cc 260bhp Top speed 143mph 0-60mph 6.8secs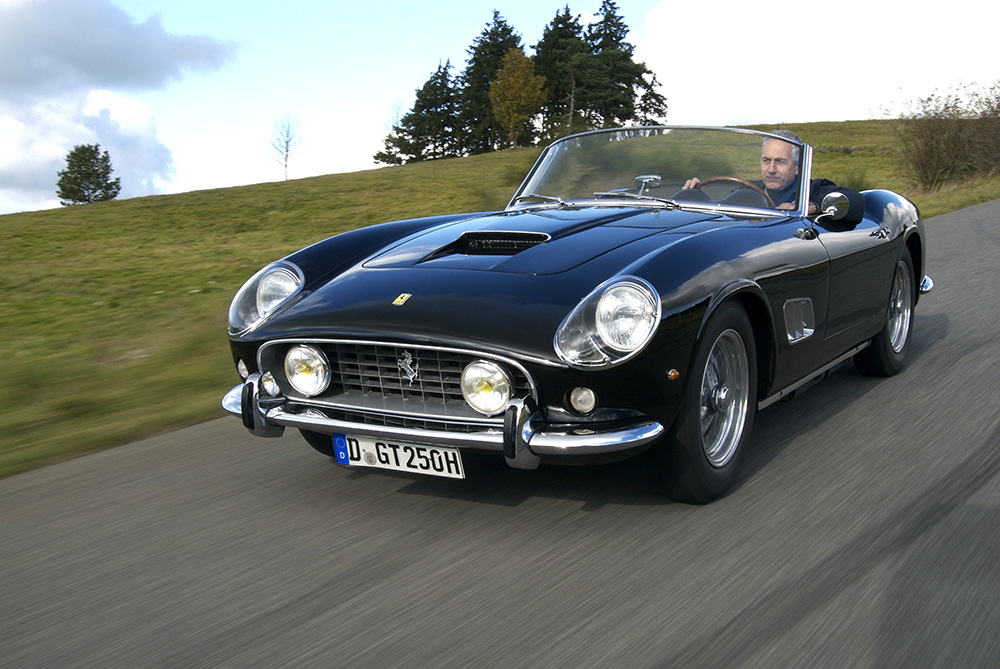 250 GT California Spider
Never mind Ferraris – the 'Cal Spider' is considered to be one of the best looking cars of all time. In this case the V12 almost comes as a bonus. With bodies styled by Pininfarina – of course – and built by Scaglietti, the first 46 Spiders were long-wheelbase (LWB) models and as the name suggests, the cars were largely aimed at the American market. Those LWB Spiders got the 240bhp version of the V12 and were built in a 14-month period from 1958-59, the '59 cars also gaining the welcome benefit of front disc brakes. Then came the crowning glory: the short-wheelbase (SWB) Spiders. Built on the 200mm-shorter chassis of the SWB coupés, they were also fitted with the higher output engine – larger Weber carburettors and a higher compression helping raise matters to 280bhp. But they remained an number one car with just another 50 built over the next two years.
By reading the above you'll know that the SWB is the most valuable of the two versions, though all Cal Spiders are the preserve of the hyper-collectors. While values of LWB cars are in the £5m-£6.5m range at 2017 prices, you are looking at more like £9m-£11m for a SWB Spider.
Engine 2953cc 240-280bhp Top speed 155mph 0-60mph 7.0secs
250 GT Pininfarina Coupé
In Ferrari terms this was almost a mass-produced car  –  they'd previously struggled to make 100 cars a year in total – with 335 built from 1958-60, and it was designed from the outset to be easier to build that previous creations. The Pininfarina tag is a non-official one, a name extension added later to distinguish these from the Boana/Ellena coupés that preceded them. Always intended as a touring road car with no competition pretensions, the PF wore an elegant, classy, perhaps even sober suit penned by Pininfarina. So while they might not pump adrenaline either visually or from behind the wheel in the same way as other Ferraris with the 250 GT prefix, they are a whole lot cheaper – a fact that has sadly resulted in more than one being rebodied as a California Spider evocation.
Engine 2953cc 240bhp Top speed 145mph 0-60mph 8.0secs
250 GTE 2+2
The company's first production four-seater, this marked a major change in company philosophy and proved an instant success. In all 955 were sold between 1960 and '63, making this the most successful Ferrari to date. A further departure from tradition was that most were finished in classy metallic rather than the usual Rosso Corsa. Which all adds up to three reasons why Ferrari purists have always sneered at the GTE as being some kind of lesser beast – too many seats, too many built, and just not red enough. Despite that they have found a place in the collector market, with values trebling between 2009 and 2017. That has helped – once used as donor cars to restore or create more valuable Ferraris, 250 GTEs are now being restored in their own right.
They are understandably less sporty to drive. To help create cabin space without making the car too big, the engine was moved forward eight inches (200mm) in the chassis, and they weigh about 200kg more than two-seater Ferraris from the same era. But there's still that 240bhp V12 heart beating under the bonnet.
At the end of 1963 another 50 250 GTE bodies were fitted with 300bhp 4.0-litre V12s and sold (mostly in the US) as the Ferrari 330 GT America.
Engine 2953cc 240bhp Top speed 136mph 0-60mph 8.0secs
250 GTO
Appropriately launched on the world in 1962 – the same year as the Fab Four – the GTO provided Ferrari with their 'Beatles moment', a legend that would echo through the ages and still be regarded as an all-time great over fifty years later. It remains perhaps the ultimate collectors' car, with prices known to have touched £40m and rumoured to have topped £50m. We may never now as most deals are brokered quietly behind closed doors.
This was a car that had everything: looks to shame a Hollywood screen goddess, crafted in lightweight aluminium, a racecar engine, star drivers and a string of competition successes that included wins in the Sebring 12 Hours, twice in the Tour de France, and two Goodwood Tourist Trophy victories, the latter in 1963 with Graham Hill at the wheel. Oh, and the World GT Championship three years running. Just 39 GTOs were built between 1962 and '64, the tiny number also helping to fuel the legend.
Perhaps the most famous owner is Pink Floyd drummer Nick Mason, who has had his, with the UK registration 250 GTO, for decades. That was a smart investment that could theoretically earn him almost as much as his musical exploits.
Engine 2953cc 280bhp Top speed 174mph 0-60mph 5.9secs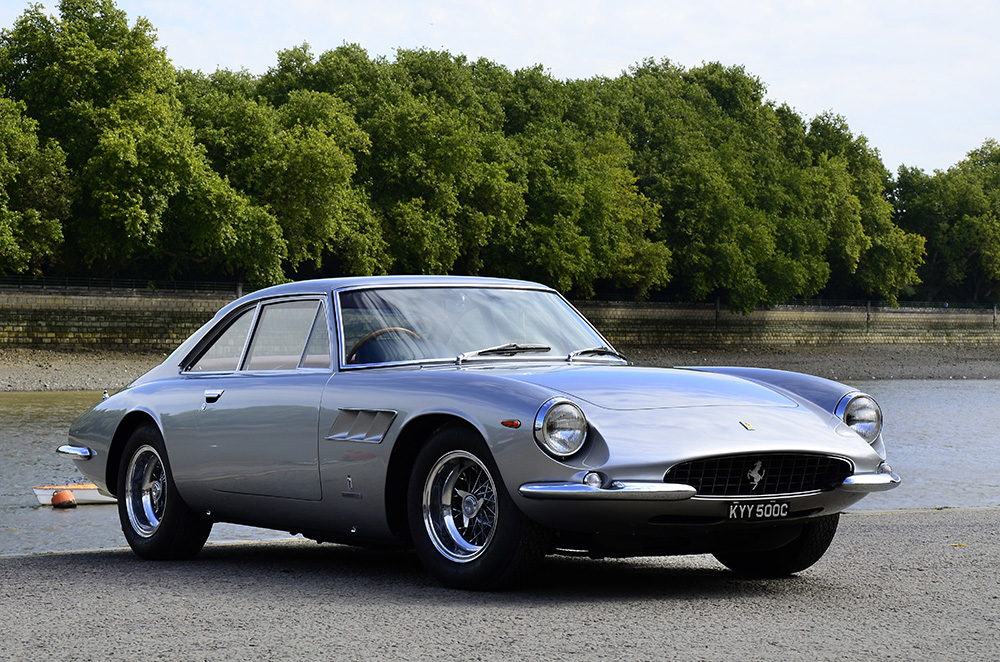 500 Superfast
This was the replacement for the 400 Superamerica, a limited-build car for Ferrari's most exalted clients. As such it followed the 400's lead in being named for its five-litre engine capacity, and had a development on Pininfarina's Aerodinamica styling, stretched over a slightly longer wheelbase and almost excruciatingly elegant and expensive looking. The exclusivity of course extended to build numbers – just 36 over the car's two year run, including a surprisingly high number – eight of them – in right-hand drive.
The exclusivity extended to the engine, with its cylinder spacing, bore and stroke created especially for this car and never used in another Ferrari. A fact that does make them a little tricky, and doubtless more expensive, to rebuild. However, the 400bhp it produced did help the 500 Superfast to live up to its name.
Perhaps surprisingly given all the above, the market values them at around 10 per cent less than the 400 Superamerica.
Engine 4962cc 400bhp Top speed 174mph 0-60mph 7.8secs
250 GT Lusso
With the 250 GTO as the track star, the 250 SWB's replacement could be drawn as a pure road car. Pininfarina turned the taps on full and created possibly the most stunningly elegant of all 1960s GTs, and what remains one of the best looking Ferraris of all time. It's one of those rare cars you can look at from any angle and still feel all warm and fuzzy. The GT Lusso also marked the end of the line for the 250 series of cars which had started back in 1954. The last GT Lusso was built in August 1964 after a relatively short production run lasting just over 18 months. During that time 350 were built.
The Lusso shared the GTO's short-wheelbase chassis, but with the engine moved forward to increase cabin space. The V12 was the usual capacity and a kind of halfway house spec between those used in the racier SWB cars and the cruising GTE 2+2. Much like the GTE, it is also common to find Lussos in other colours than red, with metallic blues of various hues really enhancing the body's curves and delicate use of chrome detailing.
For many years these cars were undervalued, but proper recognition came during the post-2007 classic car boom and values for good ones are now firmly in the seven-figure range.
Engine 2953cc 250bhp Top speed 149mph 0-60mph 8.0secs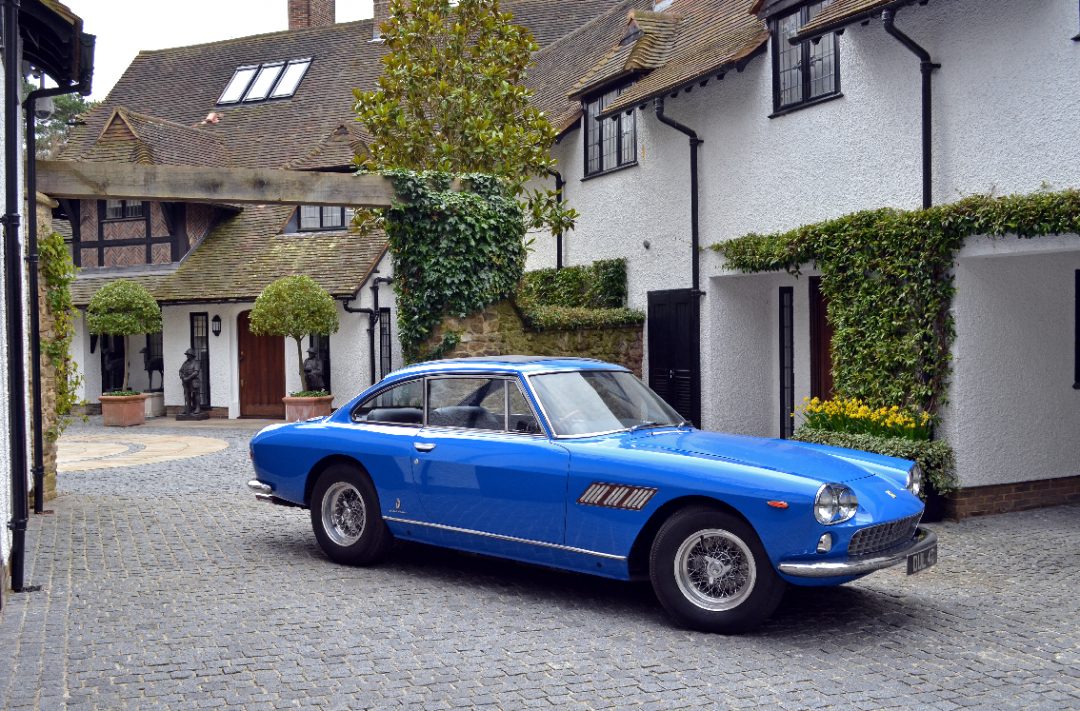 330 GT 2+2
Successor to the commercially successful four-seater 250 GTE, the 330 GT 2+2 built on that, and along the way gained another distinction. A year after its 1964 launch, in February 1965, one of these became the first car of one John Lennon, ordered the very day after he passed his driving test. That car has now been restored and in May 2013 Classic Cars magazine took it back to be photographed outside Kenwood, the Weybridge, Surrey house where Lennon lived at the time.
Powered by a 4.0-litre engine that significantly was larger than that in Ferrari's two-seater offerings at the time, the 330 GT 2+2 was produced in two distinct series. The first run wore twin headlamps, the inner pair being slightly smaller, which gave the car a slight squint. They proved a little controversial, with plenty of barbed comments in the press, so it was no surprise to see the SII cars appear in mid-1965 with a more traditional single headlamp on each side. However, history tells us that Ferrari sold 625 with the twin headlamps and only 455 of the arguably prettier single-headlamp 330 GTs. Tot those up and you have the first Ferrari to top the thousand sales mark.
Engine 3967cc 300bhp Top speed 150mph 0-60mph 7.1secs
275 GTB & GTB/4
Launched in 1964, the 275 GTB's body may have been a gentle and logical evolution from the 250 GTO, but it clothed a major step forward in Ferrari chassis technology. At last they had a road car with all-independent suspension (amazingly they'd all had live axles on leaf springs prior to this), four-wheel disc brakes and a five-speed gearbox mounted in unit with the rear axle to aid weight distribution. There was a ten per cent increase in engine capacity too, and the new 3.3-litre unit came as standard with three twin-choke carbs or the option of six of them. That released an extra 20-25bhp.
Bodies were available in steel of aluminium, the latter now commanding a 25% price premium, and after a year they got a longer nose and smaller front grille to reduce front-end lift at speed.
In 1966 the model was further updated with a four-cam version of the engine – a Ferrari first. All these came with six carburettors and a healthy power boost right across the range. Ferrari were always improving things, but were now in a kind of arms race with their new noisy neighbours at Lamborghini.
Engine:
GTB: 3286cc 250-275bhp Top speed 150mph 0-60mph 6.4secs
GTB/4 3286cc 300bhp Top speed 165mph 0-60mph 5.5secs
330 GTC
In a way, the 330 GTC felt a bit like a step backwards, certainly in visual terms. Far less sportily aggressive than the 275 GTB/4 that continued to be sold alongside it, the GTC had in effect a fixed-roof version of the 275 GTS body, with the nose of a 500 Superfast. That looks better from some angles than others, and has certainly held these back in the value stakes – they are worth less than half what you'd pay for a 275 GTB.
You can't blame that on any lack of performance as these got a 4.0-litre version of the older single-cam-per-bank V12, kicking out the same 300bhp as the 275's smaller four-cam unit. They also shared the new development of all-independent suspension and five-speed transaxle (rear-mounted) gearbox. And at the time the 330 was very much considered a success as Ferrari sold 600 of them in a two-year production run.
Engine 3967cc 300bhp Top speed 150mph 0-60mph 6.8secs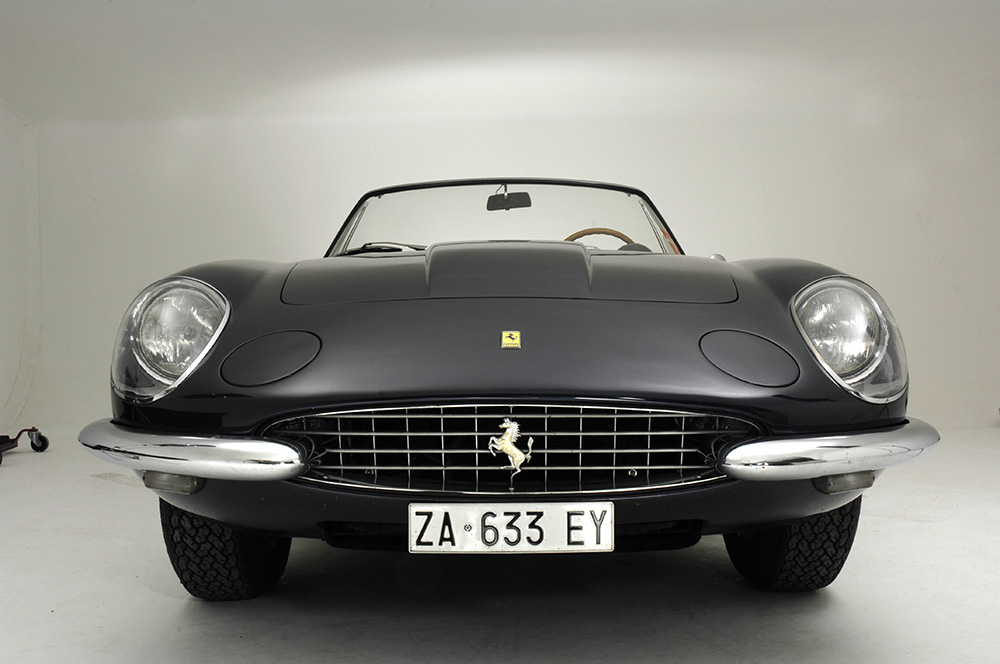 365 California
This was another of Ferrari's 'elite clientele' cars, and as ever was used to test new styling ideas and wow the crowds at motor shows. This time only 14 would be built, all during 1966. They replaced the 500 Superfast and were based on that car's chassis, so unlike the rest of Ferrari's range at the time didn't offer the advance of independent rear suspension. Most buyers would either not have noticed or worried – they were buying both exclusivity and a far more important detail: this was at the time the world's fastest convertible, thanks to a 4.4-litre version of the long-block' Colombo V12.
Pininfarina also pulled out all the stops on the styling, apart from the front end that was largely carried over from the Superfast – which is not a criticism. It was packed with details, like the door handles being hidden in the taped air channels carved into the car's sides, pop-up high-beam driving lamps, and the bootlid that sat lower than the rear wing tops, a feature that Pininfarina would employ widely in the following years. This was the future; this was expensive.
Engine 4390cc 320bhp Top speed 152mph 0-60mph 6.8secs
365 GTB/4 Daytona
Not just another Ferrari but a motoring legend from the day it appeared at the Paris Motor Show in 1968. It was both a massive leap forward for Ferrari, bearing little relation to anything that had gone before, and also an instant dinosaur. The rest of the supercar world was going mid-engined, but at this point Enzo was having none of it and kept the V12 up front. That's one thing that was carried over – the 4.4-litre engine, though tuned and topped with six Weber 40DCN carburettors to release ten per cent more power than in its previous form.
The styling was by Pininfarina's star aerodynamicist and chief designer Leonardo Fioravanti, and even he recalls it as his favourite piece of work.
To drive, it's a brute – more civilised racecar than laidback GT – and everything about the driving experience requires proper physical input, from the meaty pedals and gearshift to the steering wheel's upper body workout. It's no wonder that many owners fit aftermarket power steering systems, which do remove some feel, but allow to drive the car a lot further. And you will want to – a Daytona is quite intoxicating. Around 1300 were built, along with just over a hundred of its soft-top brother the GTS/4 Daytona Spider. One of the great collectors' cars, as a rule of thumb expect to pay four times the price of a coupé for one of these.
Engine 4390cc 352bhp Top speed 174mph 0-60mph 5.9secs
365 GTC/4
Launched at the 1971 Geneva Show, the GTC/4 was in theory a replacement for the 365 GT 2+2. In practice however, it was nothing like that car, in reality being a more civilised version of the Daytona with more up-to-date styling and just about enough room to squeeze two children in the back who were willing to suffer anything for a ride in a Ferrari. The engine was largely to Daytona spec, too, but with slightly smaller carburettors that were also side- rather than down-draft, which nipped 12bhp off the power output. On the plus side, the GTC/4 came with power steering, softer suspension – with the rear self-levelling of the 2+2 – and a delightfully lighter clutch action. They are, in short, much nicer cars to drive, which compensates for them being less visually dramatic. The deformable resin front 'lips' in particular take a little getting used to. Then again, they are appealing enough that Sergio Pininfarina used one as his daily driver for some time.
Their other great appeal is that you can buy one for less than half the cost of a Daytona. The model only lasted 18 months, with 500 built.
Engine 4390cc 340bhp Top speed 163mph 0-60mph 6.2secs
275 GTS
Though sold as a sister car to the GTB, and exactly the same under the skin, the GTS was not simply a drop-top version of the coupé. In fact its styling was a lot closer to that of the 330 GT 2+2, which gave it a more genteel appearance. It didn't do a great deal for sales appeal and only 200 were sold – about t quarter of the total number of GTBs made, though they had a longer run. We'll come back to that. The lower appeal has continued into the classic era, giving us the unusual situation where the open version of a model is actually worth less than the hardtop, something for which there are only a tiny handful of other examples. The difference is around 15-20%, which adds up to a tidy sum when you are dealing at seven-figure levels.
The GTS was dropped from the range in 1966 when the GTB got the four-cam engine, so there was never a GTS/4 as such, though Ferrari's American importer, Luigi Chinetti, did order ten open-topped GTB/4 NART Spiders in 1967, though the styling of these was based on that of the coupé.
Engine 3286cc 260bhp Top speed 150mph 0-60mph 7.2secs
330 GTS
There's not too much to say about the GTS as unlike the 275 GT range, this time the GTS was no more than a drop-top version of the GTC coupé with no other changes to report. What is significant is that this time the open car is more highly valued than the hardtop – more than three times more highly valued, in fact. Apart from the established general rule that open is worth more than closed, only 100 GTSs were built – one sixth of the number of GTCs – and one thing Ferrari collectors love is rarity
Engine 3967cc 300bhp Top speed 150mph 0-60mph 6.8secs
365 GT 2+2
Here's one for those who like to collect useless facts: at 4974mm, this 1967 creation remains the longest road car that Ferrari has ever built. This was an (almost) full four-seater rather than the previous 2+2s, yet Pininfarina managed to contain all that and the length in a most elegant body that hid the bulk and still looked like a sports car. With almost 1.5 tonnes to move, it wasn't the quickest car around, but it had levels of luxury and technical advances that set it apart from previous Ferraris, which had largely traded on looks and muscle. The 365 2+2 got the independent rear suspension that was lacking in the California, further aided by a Koni self-levelling system, so it rode and handled well. There was also power steering, standard air-conditioning, electric windows and Connolly leather.
It ran for four years, during which time 800 of them were built. Something else that for decades was held against them by Ferrari enthusiasts. Thankfully those prejudices are now behind us and the 365 GT 2+2 has gained acceptance for what it is – one of the most stylish and driveable of all 1960s GTs. Oh, one more useless fact: it shares its door handles with the Alfa Romeo Spider.
Engine 4390cc 320bhp Top speed 152mph 0-60mph 7.2sec
365 GTC/GTS
The 365 GTs were short-lived stopgap models that used the bodies of the 330 GTC and GTS and standard-tune versions of the new 4.4-litre V12. In fact the only sure way to quickly tell them apart from the older model was by the engine cooling vents, now a pair set in the rear corners of the bonnet rather than the 'gills' behind the front wheelarches used previously.
Introduced late in 1968, the GTS ran for less than a year before being discontinued when the Daytona Spider was launched in mid-1969. In that time only 20 were built, so they are highly sought after. The hardtop GTC continued on into 1970 and racked up a total of 150 examples. That relative rarity and the larger engine means they command a 15 per cent premium over 330 GTC values.
Engine 4390cc 320bhp Top speed 152mph 0-60mph 6.3secs
365 GT4 2+2
Over a year passed before the 'family Ferrari' void left by the 365 GT 2+2's demise was filled. Then at the Paris Show in 1972 they surprised us with this ultra-modern Pininfarina take on the four-door Ferrari, a shape so ahead of its time that it survived in production with only minor tweaks for 13 years. All that survived from the old 2+2 was the Alfa Spider door handles and the engine's 4.4-litre capacity, though the rest of it was different, boasting four rather than two camshafts and six rather than three carburettors.
The car's whole geometry was from another era to the older four-seater too, with a 164mm shorter body sat on a 50mm longer wheelbase – clever packaging that meant nothing was lost but plenty was gained in dynamics. The glass area was markedly larger too, creating an airy cabin that wanted for no luxury. That only 470 were sold over four years looks disappointing, but can be explained by Ferrari never homologating a version for the American market. They would have to wait.
Engine 4390cc 340bhp Top speed 147mph 0-60mph 6.7secs
Ferrari has long occupied an almost unique position, not only in the motoring sphere but in the whole commercial world. Such is the strength of the brand and the exclusivity of their products that they have rarely needed to advertise them in magazines and newspapers, particularly the V12 models. Merely announcing a new model usually brings in large number of orders, and loaning out a few press cars does the rest.
Historically we have actually more often seen Ferraris used to promote other manufacturer's products, by association or comparison. Whether it's for polish or motorbikes, it's all more kudos for the great Ferrari brand. Here are some of the more memorable and perhaps bizarre examples.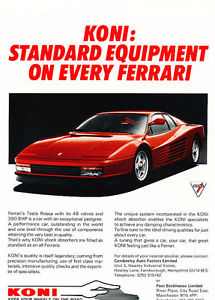 Koni Dampers
Buying a set of uprated aftermarket dampers for your Ford Capri? All the better if they are the same brand that are fitted – as standard, no less – to the Ferrari Testarossa that's been staring down from the poster on your bedroom wall for the last year or so.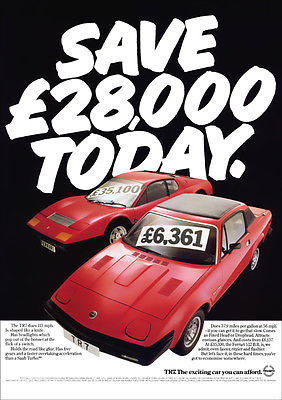 Triumph TR7
Much in the same vein as the Volvo P1800 mentioned elsewhere in this section, British Leyland tried to tout the Triumph TR7 as a bargain way to fulfil your Ferrari fantasies. No amount of Flamenco Red paint was going to fool anyone that this was a smart buy alongside a Ferrari 512BB, especially the driver of one being tailgated by an enthusiastically driven Ford Fiesta on the A34 near Oxford. Triumph might have eventually created 'The exciting car you can afford' when they dropped in a 3.5-litre V8 and called it the TR8, but that was far too few and far too late. In the meantime, everyone's looking at this in retrospect and thinking, 'Wow, a 512BB for £35,100.'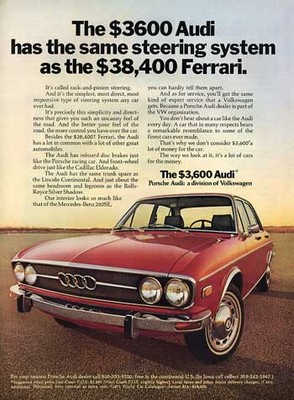 Audi 100
Whereas this just smacks of desperation on the part of Volkswagen Audi, hoping that you'll buy one of the new Audi 100s just because it has rack-and-pinion steering like they fit to Ferraris. Sadly there was no room to mention that steering racks were also fitted to the Morris Minor from 1948-71. But they didn't make many of those in red.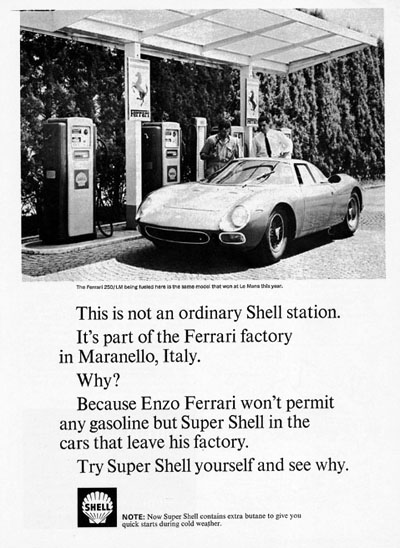 Shell Petrol
Pour in a few petrol dollars and you can have a commercial partnership that allows you to install pumps at the Maranello factory itself. Wheel out a Le Mans-winning 250 LM and you have the perfect photo opportunity – the marketing department's dream come true. We're willing to bet the Prancing Horse signs were late addition set dressing to make the shot even more convincing. Nice to see, though, that back in the 1960s we were still being sold science rather than just puff: "Now Super Shell contains extra butane to give you quick starts during cold weather." Apparently that sort of thing's too technical for today's customers.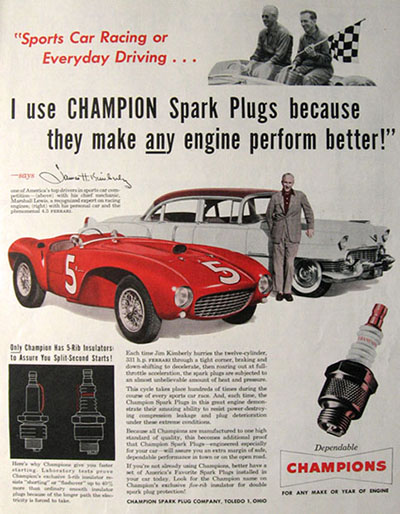 Champion Spark Plugs
Even the brand sold as 'America's Favourite Spark Plugs' can benefit from letting the public know that 12 of them are screwed into 'Gentleman' Jim Kimberly's Ferrari 375 MM Spider. One of just twelve of this model built, and the only one bodied by Pinin Farina in this style – at Kimberly's request – the car became something of a legend after winning 16 of the 20 races it was entered in during 1954. The MM survives to this day and was sold by RM Auctions in 2013 for just over $9m.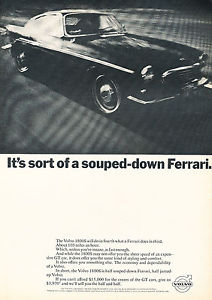 Volvo P1800
If nothing else this proves that the Swedes have a sense of humour. Despite being driven by the late Sir Roger Moore as The Saint, Volvo's was no Ferrari-baiter, and to be honest not really a sports car either, with its 1800cc engine lifted from a saloon car with barely a tweak. But it looked good and was probably ideal for college kids back in the day.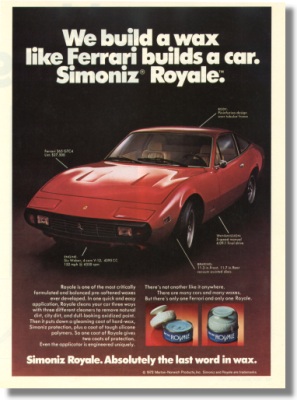 Simoniz Royale
Want to justify a hefty price uplift for your premium car care products? Speak nicely to the marketing people at Ferrari then get the valet guys to work up a real wet-look on the 365 GTC/4 you've borrowed. Get those studio lighting reflections just right and you've got a campaign that might just change people's perspective of Simoniz as that old stuff in the flat yellow tin that granddad uses.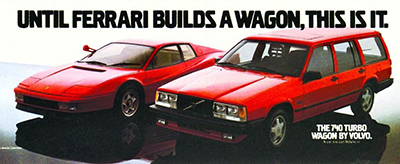 Volvo 740 Turbo
Repeat offender Volvo still has its corporate tongue firmly in cheek in plonking its 740 Turbo next to a Testarossa in this widely used 1980s ad. And at least they had the decency this time to equip the car with a bit of grunt to fit the image. With a turbocharged 182bhp the 740 would sprint to 60mph in 8.3 seconds, even with a set of antique chairs in the back.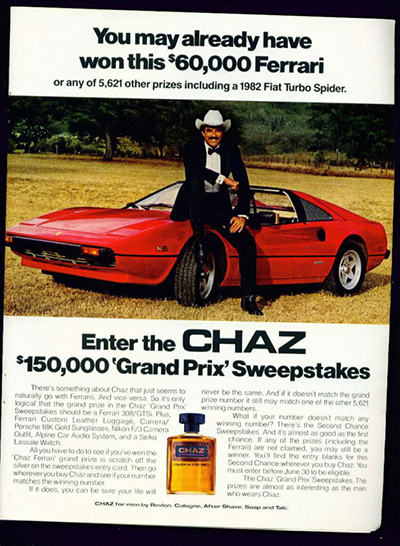 Chaz Aftershave
As if it's not enough to offer a whiff of Tom Selleck/Magnum PI, Revlon wanted you to think Ferrari thoughts when selecting your aftershave at the chemists. We are cheating a bit here as this is not a V12 Ferrari but a V8 308 GTSi. But the whole image was so wonderfully cheesy we couldn't resist. Unlike those Chaz customers. It might have been the 1976 Men's Fragrance of the Year, but went the way of moustaches and was dropped by Revlon after the 1980s. The fragrance has, however, been more recently revived by Jean Philippe, though it is said to be a watered down version of the brutal original.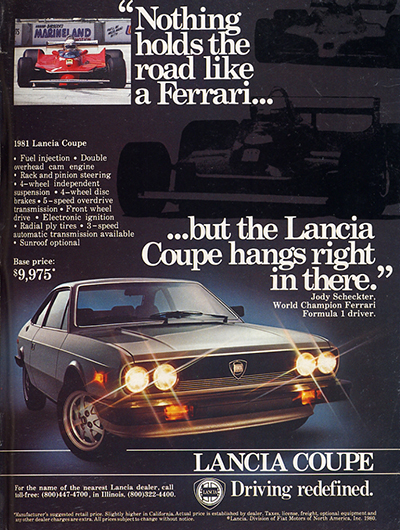 Lancia Beta Coupe
It helps that Lancia was a branch of Fiat, which by the early 1980s had a large stake in Ferrari. But it was still quite a stretch to link the Ferrari's F1 team's 1979 championship-winning 312 T4 with the front-wheel drive 2.0-litre Lancia Beta Coupe. Even with an alleged endorsement from F1 champ Jody Scheckter attached. Then again, when it came to trying to shift these decent but unexceptional coupes to an unappreciative American audience, by 1981 Lancia was willing to try anything.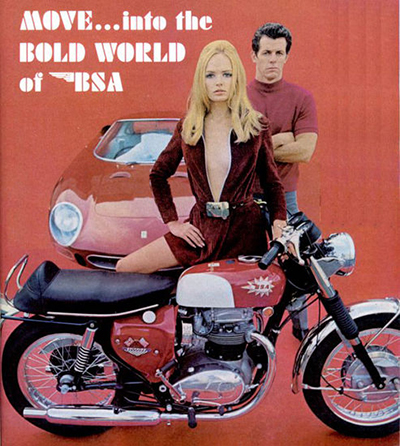 BSA Motorbike
Those stary-eyed people don't look happy – perhaps someone has suggested that a Ducati Mach 1 would be a better garage partner for their Ferrari 250 LM than a BSA 'twin', even if it is painted red. And so it proved: the 'Bold World' of BSA ended just five years later. On the plus side, if they hung onto that 250 LM, its current £10-12.5m value might put a smile on their faces.
400 Series
The grand 365 GT4 2+2 of 1972 had ushered in a new era of Pininfarina styling for Ferrari, eschewing traditional curves for a more angular, imposing appearance. Four years later, Ferrari felt little need to update its wedge profile when it metamorphosed the car into the 400. Debuting at the 1976 Paris Motor Show, the 400 featured new five-stud alloy wheels in place of the original knock-off hub items, plus a subtly reprofiled front spoiler and six circular tail-lamps instead of just four. Well, even Ferrari had to show restraint sometimes. The interior was also revamped. The quad-cam V12 was increased in size to 4823cc, giving 340bhp courtesy of six Weber carburettors. But the big news about this big Ferrari was the option of the marque's first automatic transmission, no doubt leaving many purists aghast. Fuel injection made an appearance in 1979, which dropped power down to 311bhp, but at least cleaned-up emissions so what was now the 400i could still be sold in the USA. A more comprehensive reworking came in 1982 – power swelled slightly to 315bhp, the cabin received attention and a narrower grille and more sculptured door mirrors were adopted. Production ceased in 1985.
 Engine 4823cc 315-340bhp Top speed 152mph 0-60mph 7.1secs
456 GT, GTA and M
Ferrari had gone three years without a four-seater GT model when it returned to this less frenetic marketplace with the 456 in 1992. Curves were once again in vogue on this practical Pininfarina aluminium-bodied design, which had little in common with its 412 predecessor, save for its passenger capacity and a predilection for pop-up headlamps. It would turn out to be the final Ferrari to sport them. The styling doffed its hat to the Daytona, especially around the rear end, but the retro cues weren't allowed to overpower an otherwise modern appearance. That back also incorporated an electronically-activated spoiler. Rather than carry over the earlier V12, the 65 degree-angled engine took the Dino V6 unit as its inspiration, albeit in 12-cylinder form and boasting a considerable 436bhp from its 5474cc. Only the F40 had been a more powerful Ferrari. An automatic (GTA) joined the line-up in 1996, followed by the modified 456M of 1998, which boosted the bhp to 442 and made some minor interior and exterior alterations. Specials included a pair of four-door saloons, seven estate versions – six of which were bought by Prince Jefri of Brunei – and four convertibles. Manufacture finished in 2003.
 Engine 5474cc 442bhp Top speed 188mph 0-60mph 5.0secs
F50
If the F40 had demonstrated anything, it was that Ferrari really liked to celebrate its major birthdays. And if it could come up with something as radical as the F40 to mark the start of middle age, what might it unleash for its half-century in 1995? The logically-named F50 was the answer, and while the rounded looks weren't as extreme and aggressive as the F40, it was still an eye-catching Pininfarina creation, complete with a removable hardtop for those who wanted their thrills as raw and windswept as possible. The 4699cc mid-mounted V12 was descended from the 1989-90 engines of Ferrari's Formula One racers and the car also borrowed from motorsport with its composite construction monocoque chassis, plus an interior largely stripped of creature comforts. At 520bhp, it was monstrously powerful, able to polish off the 0-60 sprint in just 3.8 seconds and go on to a terminal velocity of 202mph. But it also gulped down fuel at less than 10mpg. Exclusivity was guaranteed, with only 349 examples made from 1995 to 1997, although there were just five colours available. Two of which were, naturally, different shades of red…
 Engine 4699cc 520bhp Top speed 202mph 0-60mph 3.8secs
412
What a difference just 1mm makes. That's how much the 400i's engine was bored out to increase its capacity to 4943cc for 1985's 412 model, which in turn gave 335bhp. Although the basic Pininfarina shape dating back to 1972 was retained, there were lots of subtle tweaks to freshen it up for the 1980s. These included a bigger boot, body-coloured bumpers instead of the previous black items and a deeper front spoiler, which Ferrari did opt to finish in black instead, along with the rear valance. As was the trend at the time, the side window trim also changed from chrome to black. The five-spoke alloys went from being dished to flat-faced, although they retained kept the general appearance of what had gone before. The effect was quite a successful mild facelift and one that didn't make automatic owners feel inferior to their manual-wielding counterparts, for the transmission type was no longer branded on the body. The 412 also pioneered the use of anti-lock brakes on production Ferraris. 576 412s were produced until this long-in-the-tooth GT design finally had time called on it in 1989.
 Engine 4943cc 335bhp Top speed 158mph 0-60mph 6.3secs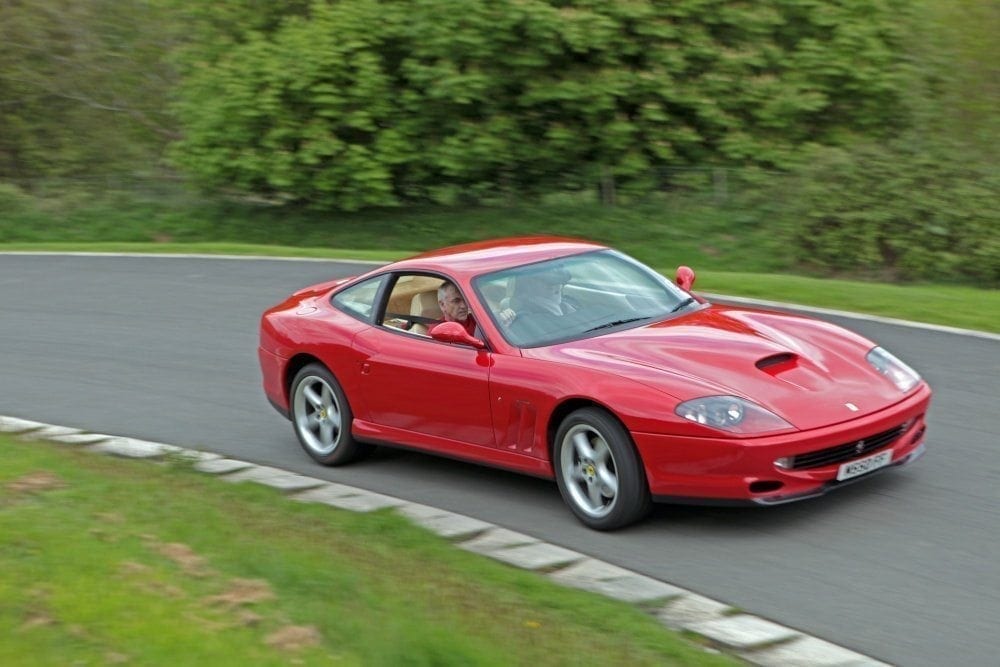 550 Maranello/Barchetta
Mid-engined machines had dominated Ferrari's two-seater 12-cylinder offerings since 1973 when the 550 marked a return to up-front engines in 1996. Technology now meant the layout could be made to behave as impeccably as a car with mid-mounted power, and Michael Schumacher, Eddie Irvine, Niki Lauda and Jody Scheckter were on hand at the Nürburgring launch in July 1996 to prove it. Electronic suspension and traction systems managed the 550's hi-tech underpinnings, concealed by a lightweight aluminium alloy body welded to a steel frame using the Feran sandwich material process. The engine was that of the 456 GT, albeit breathed upon to provide 485bhp, and mated to a six-speed transmission. Initially, the 550 – its numerical designation suffixed by 'Maranello' in tribute to Ferrari's home town – was only available in hardtop coupé form, but at the 2000 Paris Motor Show the Barchetta roadster appeared. It was a very fair-weather car, for the flimsy soft-top it was supplied with wasn't recommended for use above 70mph. And a 550 could reach almost three times that! Some racing 550 versions were developed by private teams and dubbed the GT, GTO and GTS. The type was updated into the 575M for 2002.
 Engine 5474cc 485bhp Top speed 199mph 0-60mph 4.2secs
Enzo
In 2002, Ferrari decided to showcase its Formula One know-how on a road car, albeit one that just 399 specially selected customers could buy for $659,330 (around £446,600 at the time). The Enzo Ferrari – its name needs no explanation, of course – had a very dynamic and distinctive carbonfibre body, with its chassis of the same material bolstered by aluminium in a honeycomb sandwich. Pininfarina's Ken Okuyama was the man responsible for designing this most dramatic-looking Ferrari since the F40, his emphasis on function rather than form. The Enzo's mid-mounted 5999cc V12 was a completely new design, albeit enthused by F1 expertise, and packed a 660bhp punch. Its six-speed F1-style clutchless paddle gearbox shifted ratios in just 150 milliseconds – which proved rather too abrupt for some – while carbon-ceramic brakes were on hand to quickly rein this absolute monster of a car in. Production ended in 2004, when a 400th example was built and donated to the Vatican for charity. However, the FXX, based on the Enzo but intended for track days and as a development prototype, ran from 2005 to '09 and Pininfarina rebodied one Enzo in 2006 for American collector James Glickenhaus, dubbing it the P4/5.
 Engine 5999cc 660bhp Top speed 221mph 0-60mph 3.1secs
612 Scaglietti
With its name paying tribute to Sergio Scaglietti, the coachbuilder behind some of the most stunning Ferraris of the 1950s and '60s, it's no surprise that the four-seater 612 Scaglietti of 2004 looked to the past for some of its design cues. Although a Pininfarina creation, the Scaglietti works in Modena, now owned by Ferrari, was used to build it. What made the all-aluminium 612 particularly stand out were the side-scallops and sculptured headlamps, both clear references to the beautiful 1954 Ferrari 375 MM that director Roberti Rossellini commissioned wife Ingrid Bergman. And if it was good enough for Casablanca's Ilsa Lund… However, a very modern touch was the panoramic electrochromic glass roof. The engine, placed as far back as possible under the long bonnet, was that of the 575, although Ferrari couldn't resist upping power to 533bhp. Before manufacture finished in 2011, 3025 examples had been built. Specials included the 2006 30th Anniversary Edition (20 built for Japan), the Giugiaro GG50 concept of the same year, the 2007 Sessanta (a 60th birthday model, limited to 60 units) and a single 612 Kappa. There was even a police variant, which toured Britain during 2007 and probably terrified criminals.
 Engine 5748cc 533bhp Top speed 199mph 0-60mph 3.8secs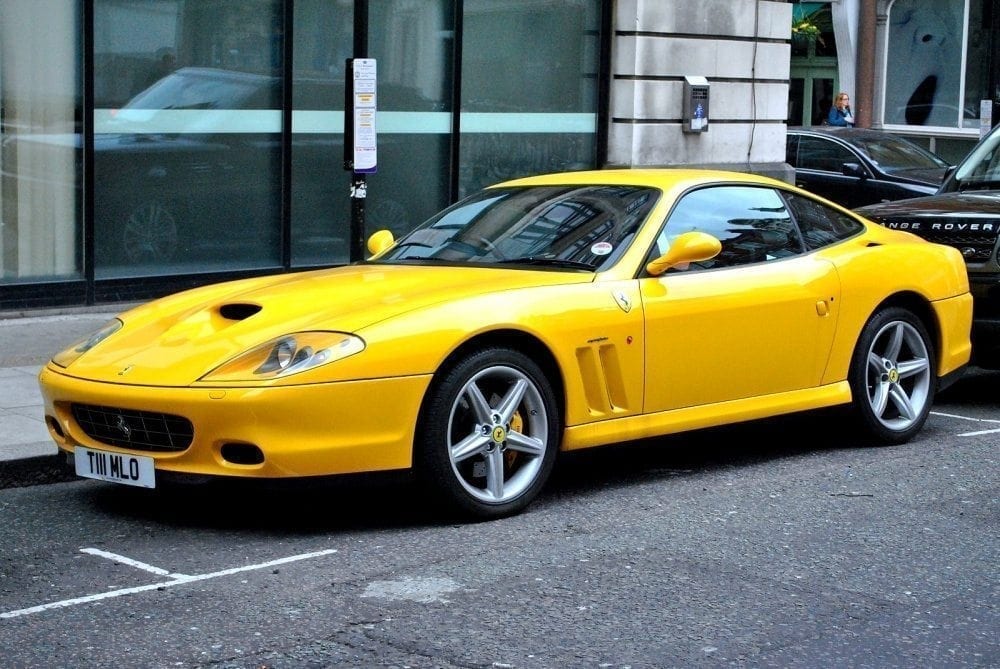 575M Maranello
Pininfarina gently wafted its styling pencil over the 575M Maranello of 2002, just doing enough to give the original 1996 550 design a new lease of life through to its 2006 replacement. A new front spoiler, redesigned headlights and some minor aerodynamic flourishes were all that was needed outside, although inside, the cabin was refreshed. It was under the skin where the real evolution took place, with bigger brakes, more electronics to control the suspension, and most significantly of all, a bigger front-mounted V12. At 5748cc, the muscle now exceeded 500 horses, maxing out at 515bhp. An F1-style gearbox was also part of the spec too, although if required a conventional manual six-speeder could be had instead. The result was a car that felt much sportier than its predecessor, yet still managed to be practical and luxurious. Owners could also customise styling and accessories using the Carrozziere Scaglietti Personalisation Programme, while the GTC handling package focused on performance and handling. Uprated motorsport-standard brakes, a tweaked suspension and exhaust, and special 19in wheels were part of that option. Zagato built a single 575 GTZ in 2006 to theatrically commemorate the 50th anniversary of the 250.
 Engine 5748cc 515bhp Top speed 202mph 0-60mph 4secs
Superamerica
You don't need to be too clever to work out which international market Ferrari was aiming this 2005 model at. The marque revived a name it had last used during the 1950s and '60s, for an al fresco version of the 575M. The new kid on the block became a convertible in a rather novel way; the electrochromic glass roof rotated through 180 degrees to lie flat on the boot between the two rear pillar buttresses when open air motoring was called for. The whole process took a just a few seconds and was guaranteed to draw a crowd. Strategically placed hinging meant the bootlid could be cleverly opened even with the roof back. Additional strengthening to maintain body strength called for more engine power, so the Superamerica had a 533bhp version of the 575M's 5748cc V12. That allowed a top speed of 199mph, meaning that Ferrari could confidently boast it was the fastest convertible in the world. That convinced 599 customers to purchase one during the two years the model was available.
 Engine 5748cc 533bhp Top speed 199mph 0-60mph 4secs
599 GTB Fiorano
Carrying on the new game of adding names to their model numbers, Ferrari paid tribute to their 34-year-old Fiorano test track with the 599 GTB. As so often with a Ferrari, when the new model arrived in 2006 it didn't just replace the outgoing 575M, it eclipsed it.
Once again the model number referred to the engine capacity divided by ten, but that small increase in capacity was just part of a raft of improvements that saw output jump by 105bhp. To help contain all that power everything else under the skin was upgraded too: a new magneto-rheological suspension system, improved traction control, a tougher and faster-reacting gearbox with optional steering wheel controls and a multi-display unit with F1-style data readouts. This was the perfect super-swift Grand Tourer for the new millennium.
The styling was equally radical. With more of wedge profile, smaller side windows and dramatic slashes and scoops breaking up the bodylines, the Fiorano screamed speed and aggression. Park one alongside a 575M and the older car suddenly seems a little too pretty and polite. There was a new kid in town.
Engine 5999cc 612bhp Top speed 205mph 0-60mph 3.7secs
599 SA Aperta
Launched at the Paris Motor Show in October 2010, the SA Aperta is a limited edition convertible version of the 599 GTO. So most of it is covered by the above entry on the GTO – the only difference is above the window sill line, where there's an even more inclined windscreen and rollbars behind the seats that are partly disguised by fins painted the same silver as the screen surround. It was designed to be used as an open car with just a light clip-on hood to use in really bad weather.
It only remains to explain the car's name and build numbers. Aperta is simply Italian for 'open'; the SA is a tribute to Sergio and Andrea Pininfarina. And as a further nod to the company that has styled the vast majority of Ferraris since the 1950s, just 80 were built to mark Pininfarina's 80th anniversary in 2010.
Engine 5999cc 661bhp Top speed 202mph 0-60mph 3.6secs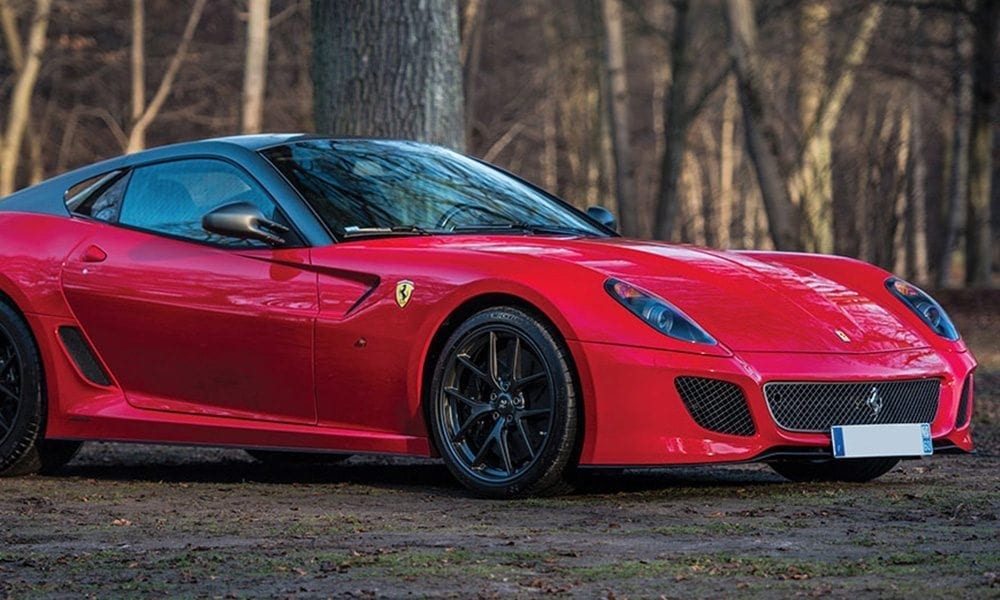 599 GTO
Carefully maintaining its hallowed status, this was only the third time Ferrari rolled out the 'GTO' label. Few would dispute that this – Ferrari's fastest ever road car at the time of its launch in April 2010 ­– was anything less than deserving of the badge. Depending on how you want a to view it the GTO is either a hot-rodded version of the Fiorano or a slightly turned down, street-legal incarnation of the 599XX track car, or both those things. Not only has an extra 49bhp been extracted from the 599 engine (or 59bhp knocked off the XX's) but the GTO is 100kg lighter than the GTB Fiorano. That makes it even more focused and capable, and the suspension and traction control systems have been further advanced to cope.
Obviously enjoying the '599' designation and keen to use it to the full as a kind of temporary sub-brand, that was the total number of GTOs that Ferrari decided to build. An instant collectible.
Engine 5999cc 661bhp Top speed 208mph 0-60mph 3.2secs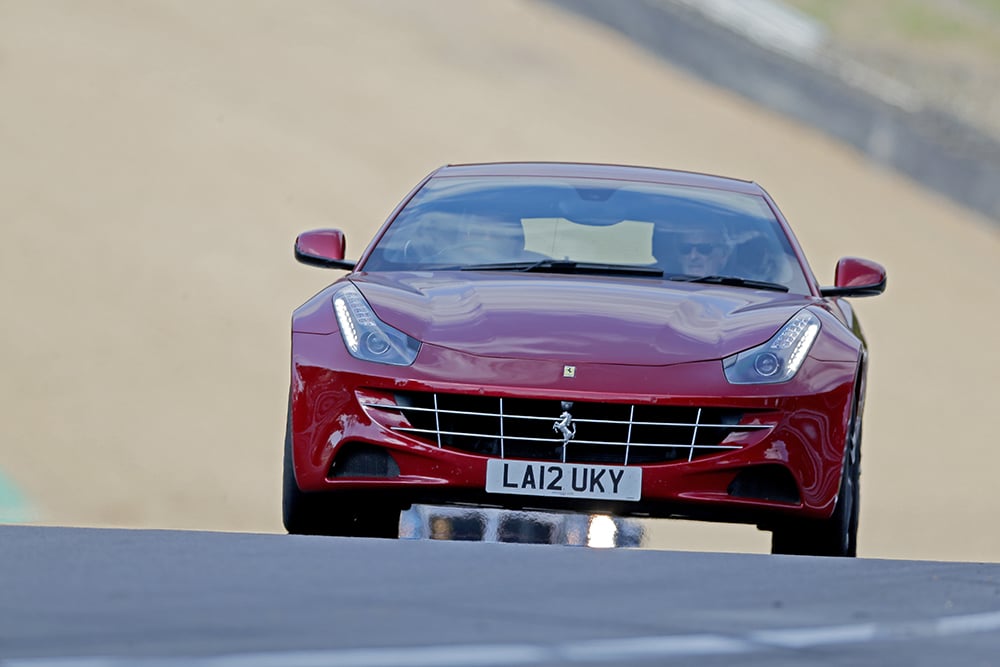 FF
This marked Ferrari's return to the four-seater GTs that Enzo was so fond of, but with a twist or two. The first of these was the three-door sports shooting brake styling – kind of how BMW must have wished their Z3M Coupé had turned out. And just like the FF that Jensen used to build, those initials  – standing for 'Ferrari Four'  –announced this as Ferrari's first four-wheel drive production car. Not just any old 4WD set-up either, but their own patented intelligent 4RM system that is around 50 per cent lighter than conventional system and can be engaged when needed from a steering wheel control. The rest of the time the car runs in regular rear-drive mode with a seven-speed semi-automatic gearbox.
It was announced as the world's fastest four-seater and cost £227,000 in the UK. Even with that price tag Ferrari still sold 800 in 2011, the first year of production.
Despite its blistering performance the interior is more luxury than sports car, and the ride is superb thanks to a third generation version of the company's magneto-rheological suspension system.
Engine 6262cc 650bhp Top speed 208mph 0-60mph 3.7secs
LaFerrari
Sometimes building the worlds most desirable supercars isn't enough; you need the cache and media buzz that comes from producing what we can only describe as a hypercar. The LaFerrari proved that the guys in Modena still had it. Where do we start? Perhaps with the carbon-fibre monocoque developed by F1 technical director Rory Byrne. There's more F1 influence in the KERS (Kinetic Energy Recovery System) technology that adds bursts of an extra 161bhp to the already outrageous midmounted 789bhp V12 engine.
A further shock is to discover that this is the first Ferrari since 1973's 308 GT4 to be designed without input from Pininfarina, it being an in-house project led by Ferrari's design director Flavio Manzani.
Starting in 2013, just 500 were built, along with 209 open-topped Aperta models from 2016. The list price was £999,999. Don't expect them to depreciate far from there. As instant collectibles, few will rack up many miles, which is a shame as CAR magazine said of it, "The most outrageous front-end response this side of a pitwall. It makes the McLaren P1 feel almost ordinary."
Engine 6262cc 789bhp* Top speed 219mph 0-60mph 2.9secs
(*plus short bursts of up to 161bhp more from F1-style KERS system)
F12 Berlinetta
In a world where every car is larger than the one it replaces, Ferrari welcomely bucked the trend in 2012 with the F12. In every dimension – length, width and height – it was smaller than the 599 Fiorano it replaced, yet roomier inside. It was a lot more powerful too, thanks to a tweaked version of the FF's 6.3-litre V12.
The body was equally hi-tech, using a spaceframe chassis clothed in 12 different aluminium alloys. It came out a similar weight to the 599 but with improved weight distribution including a lower centre of gravity. Not that it matters greatly to most Ferrari owners, but the new engine is also cleaner and offers a 30 per cent improvement in fuel consumption over the 599. I suppose we all have to tighten our belts at some point.
Unsurprisingly it uses the same seven-speed semi-auto 'box and suspension system as the FF, but the F12 does have some clever aerodynamic tricks. Thanks to plenty of F1 wind tunnel time, at 120mph it develops a meaningful 123kg of downforce – 76% more than the 599.
Ferrari also produced a run of ten roadster versions in 2014 called the F60 America. All had been sold even before they were revealed to the public.
Engine 6262cc 730bhp Top speed 211mph 0-60mph 3.1secs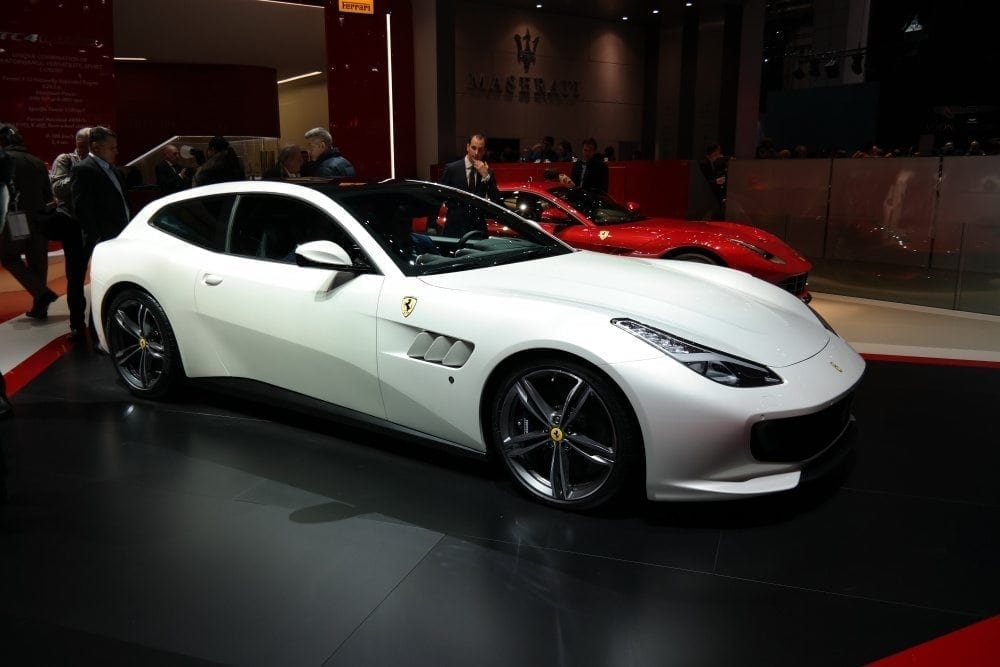 GTC4Lusso
Using a name that looks like a mash-up from the Ferrari back catalogue, the GTC4Lusso of 2016 was really just a mild update of the five-year-old FF model. Mechanically, it retains the old car's four-wheel drive running gear and updates are largely limited to an extra 31bhp. That improves the acceleration times a little, and some aerodynamic revisions help improve the car's top speed. The big improvement is in the handling department, with the introduction of rear-wheel steering. The quick ways to tell one apart from an FF are front air intakes now incorporated into the ends of the grille, and a rear roof spoiler.
Engine 6262cc 681bhp Top speed 214mph 0-60mph 3.4secs
812 Superfast
Announced at the 2017 Geneva Motor Show for introduction later in the year, the 812 makes another raid on Ferrari's heritage for its 'Superfast' name. It's a replacement for the F12berlinetta and in effect an evolution of that model with – of course – a larger engine, currently Ferrari's largest ever at 6.5 litres. This adds just 10bhp but a more substantial improvement to the torque output. The styling is also an evolution, but like the LaFerrari carried out in-house at Ferrari without input from Pininfarina.
Engine 6496cc 789bhp Top speed 211mph 0-60mph 2.9secs
V12 FERRARIS ON FILM AND TV
OUR TOP EIGHT FERRARI FILM COMMERCIALS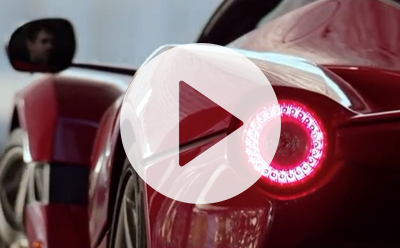 1. 'LaFerrari Aperta'
There was no real need to advertise the convertible LaFerrari Aperta, because even with a price around €2 million (£1,755,500), all 209 were pre-sold. Still, Sebastian Vettel looks very cool driving it, and the reflections on Ferrari's past are a neat touch for the marque's forthcoming 70th birthday year.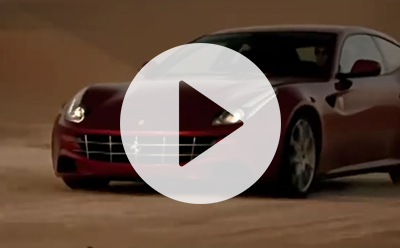 3. 'Ferrari FF'
Ferrari's first production all-wheel-drive model needed something special to broadcast its birth. And while this four-seater shooting brake may not be the prettiest Ferrari ever, isn't it reassuring to know it can be driven through a snowfield, torrential rain and sand? Try that with a 250…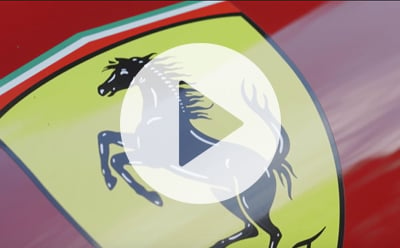 5. '1951 Ferrari 212 Export Barchetta'
Official advertising for earlier V12 models is practically non-existent – Ferrari just didn't need to do that sort of rather vulgar thing. So let's go to London dealer Fiskens and revel in this Ferrari 212 it had on its books a couple of years ago, intercut with footage of the 1955 Kirk Douglas movie it appeared in.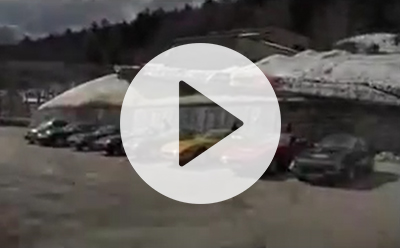 7. 'Ferrari Daytona Official Ferrari Tribute Commercial'

While this claims to be an official Ferrari tribute commercial to the fabulous 365 GTB/4 on the occasion of its 40th anniversary, we're not so sure about that. Quality aside, we've never seen so many gorgeous Daytonas gathered together at once. It makes you want to invent time travel, go back and just be there.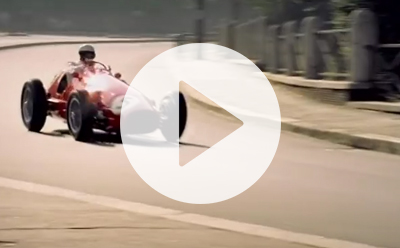 2. 'Shell and Ferrari'

Okay, so none of the V12 Ferraris here are actual road cars (well, unless you count a quick circuit around Monte Carlo). But that's why seeing these five F1 models from 1952 onwards being driven around a variety of famous 'real world' locations is so very compelling. Beautiful photography too.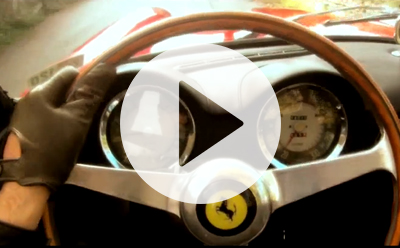 4. 'It's your turn'
Any Ferrari drive is a rollercoaster experience, but this one more than usual – it's a feature ride at Ferrari World in Abu Dhabi. Cue evocative footage of a 250 GT Cabriolet to make you forget that you'd actually be sitting in a vaguely Ferrari-shaped metal and plastic pod, probably feeling quite ill.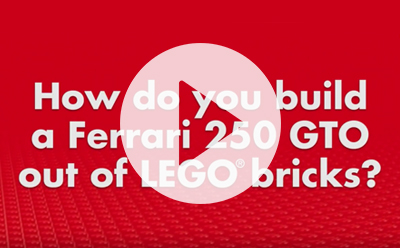 6. 'LEGO Builds a Ferrari 250 GTO Brick by Brick'

While it's unlikely that any of us will ever get our hands on a 250 GTO, there is an alternative – make one out of LEGO. This film for a promotional tie-up between the Danish toy brick manufacturer and Shell shows you how. Well, sort of. However, given how much LEGO you'll need, a genuine GTO might be cheaper…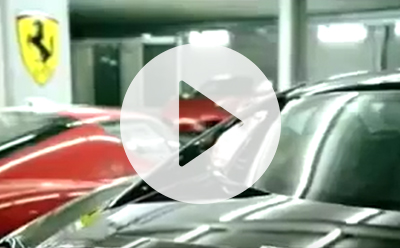 8. 'Michael Schumacher Shell TV ad'

Another Shell commercial, rather poignantly featuring a fighting-fit Michael Schumacher in 2007. He's promoting Ferrari collectable models from Shell garages and, naturally, turns up in something appropriate to collect his – an FXX. We like what else is in his personal garage too.
FIND OUT MORE
Links and references