In late July Rolls-Royce revealed its all-new Phantom. This eighth-generation model replaces the previous Phantom which, like the six generations before that, was widely regarded as 'The Best Car in the World'. However, anyone who has ever driven or ridden in the current Bentley Mulsanne might beg to differ with that assertion.
I can say this because I was among the priveliged few to attend the new, 2017 model year Mulsanne's press launch held close to the Bavarian/Tyrollian border in mid 2016. What follows is my review written soon after, and shortly before the car's first customer deliveries commenced in late August. I'll say no more on this page, except that all specs and prices remain unchanged.
Bentley's new range-topping, ultra-luxurious Mulsanne comes in three guises, but whichever you should choose, and whether in your dreams or in reality, it's the world's best luxury car.
Justification for this will follow, but meanwhile let's consider a few salient facts: each Mulsanne takes 400 hours to build, or about 50 working days. How so? Well, each Mulsanne has 2.5 miles of electrical cabling, 480 individual pieces of top quality leather and 40 pieces of mirror-finish veneered wood. Each of the exquisitely engineered fold-away tables available in the rear of the Extended Wheelbase version are assembled from 671 individual parts. From the standard palette you can choose from 12 different veneers, 24 hide colours and no less than 100 shades of paint – paint which goes through 120 different processes followed by 12 hours of meticulous polishing. And that's not even scratching the surface.
Naturally enough, this all comes at a price: £229,360 for the Signature model, £252,000 for the Speed and £275,000 for the 10-inch longer Extended Wheelbase model – three reasons why Mulsannes only account for around 10% of the 10,000 Bentleys sold globally over the past three years. (50% Continental, 40% Flying Spur). So, it's reassuringly expensive, but although a Mulsanne takes about 200 times longer to build than the average £20,000 family car, it doesn't cost £4million…
The new Mulsanne's styling is much the same as its predecessor's. It still doesn't have quite the visual showroom impact of its greatest rival, the Rolls-Royce Phantom, but a number of subtle but significant aesthetic enhancements have been made.
The Mulsanne's front is all new, with a more imposing grille, a new lower intake with widened side vents, and intricately detailed and intelligent LED headlamps. Behind the front wheels there are new chromed B-shaped wing vents, while the rear has a redesigned bumper and distinctive B-shaped rear lights. To disguise its extra length, the Extended Wheelbase version also features a noticeably more contoured swage line around the rear door handles.
Shoehorned under the huge bonnet is Bentley's time-honoured 6.75-litre twin-turbo V8. This delivers 505bhp to the rear wheels through a completely seamless 8-speed auto, unless it's the Speed model which has 530bhp. These power figures are higher than a R-R Phantom's and lower than a R-R Ghost's, but the Mulsanne has that pair, and indeed every other car engine in current production completely licked in terms of sheer grunt.
Despite its near three-tonne weight, the Mulsanne accelerates, and keeps on accelerating with bewildering grace and ease. Even the stretched EW model will hit 60mph from a standstill in 5.5 seconds, and the Speed is 0.7 of a second quicker still. 100mph comes up in under 12 seconds, while top speeds are 184mph or 190mph – conservative quotes, apparently – and not ones I'd contest. On an unrestricted German autobahn, my lower-powered Signature's analogue speedo needle swung swiftly to 175mph and the car didn't feel even remotely out of puff.
Although the super-smooth V8 is practically inaudible at lower speeds, you've paid a lot of money for it so you may as well hear it. And hear it you can with an unobtrusive but highly satisfying growl whenever the motor's called upon to do serious work. Furthermore, this pleasure isn't drowned out by that bane of big-wheeled luxury cars, tyre noise. Co-developed with Dunlop and unique to the Mulsanne, the 20-inch (or optional 21-inch) tyres have sound-deadening foam bonded to the inside which cuts tyre noise by half.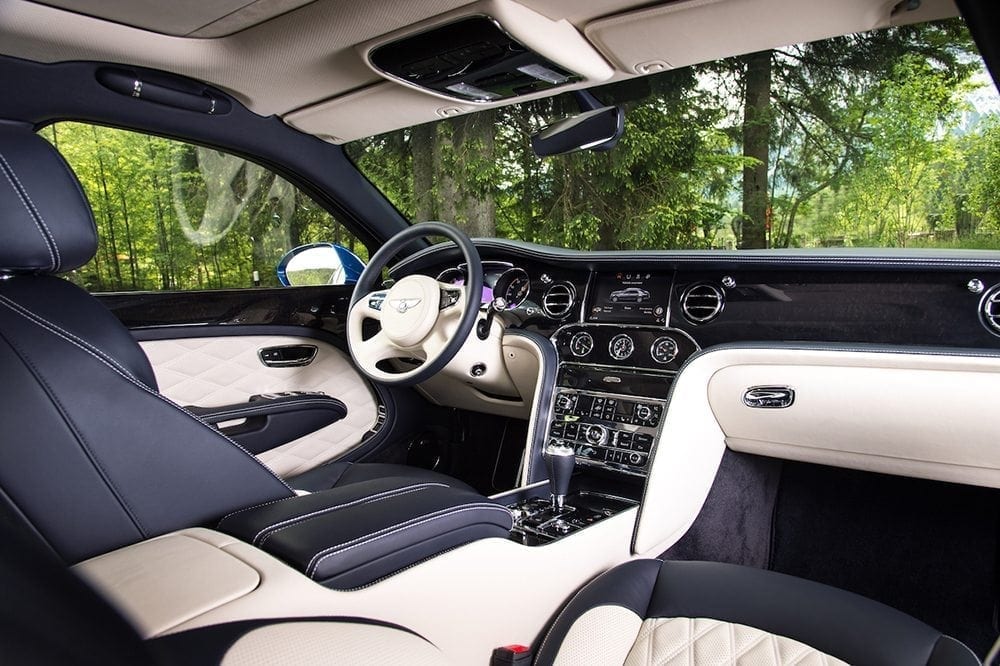 As you'd expect, the Mulsanne's chassis and underpinnings are more than capable of dealing with all this speed and weight. Although not boasting computer-controlled self-levelling suspension, you wouldn't know as the conventional air springs with hydraulic dampers do an amazingly good job. The ride at all speeds is fabulously compliant and comfy, but at the same time there's barely a hint of body roll in corners. Although not a car that begs to be squealed through tight hairpins, you or your chauffeur will also appreciate the well-weighted and responsive steering, and indeed the immensely powerful brakes. Should you find yourself braking heavily and repeatedly from three-figure speeds, then note that optional carbon ceramic discs (£13,000) are even more resistant to brake fade.
However, from the driver's perspective I have just two niggles. The Google Maps satnav displays, (part of the £14,890 infotainment system), isn't the most informative or intuitive, and identifying your chosen mode in the four-position Drive Select driving program can be tricky as the mode deployed isn't displayed in the instrument binnacle, as it is in Bentley's new Bentayga SUV. It's also worth mentioning that if you require any automated driving systems – self parking and so on – then the Mulsanne has none, and that's fine by me.
The Mulsanne's interior is as close to perfection as it's possible to achieve. Like the exterior, the overall interior design is reserved, traditional and, well, proudly British. The fit, finish and tangible quality of everything – wood, leather, Wilton carpet, knobs, buttons, controls, switchgear and handles – is all perfect. There's space and comfort aplenty in the shorter wheelbase Signature and Speed models, but the EW car I was chauffered in (equipped with £80,415 worth of options, thus raising its price to £355,415) takes back seat passenger comfort, convenience and indeed legroom to another level.
To describe it as akin to a luxury private jet would be to do it a gross injustice as no aeroplane's cabin could come even close to matching the Mulsanne's refinement, ambience and excellence. You want chilled champagne with Bentley-designed crystal flutes, TV, video, Android tablets, on-board 4G, wi-fi and Bluetooth, fully reclining seats with calf supports, electric privacy curtains and a Naim hi-fi system to satisfy even the most pernickety audiophile? It's all in there, and more.
The Mulsanne obviously isn't ideal for parking in tight spaces, or if you have limiting financial constraints, but it does provide that increasingly rare combination of contemporary opulence with good old-fashioned good taste. Equally importantly, the Mulsanne is also a genuinely terrific car to drive.
Best luxury car in the world? I certainly reckon so, at least for the time being.
'Bargain' may not be quite the right word in this case, but Mulsannes with a few short years behind them and low mileages are currently being offered from region £75k to £120k, while 2015-2016 models have asking prices ranging from c.£125k to £175k. Previously owned MY2017 examples (as reviewed here) range from c.£175k to £210k, depending on model, specification and mileage etc..
A Mulsanne on the drive will always be a dream for most, but at JBR Capital we may well be able to swiftly build a bespoke finance package to suit your needs. So if you want to make that dream come true then please speak with one of our experts today on 020 3355 0035 to explore your finance options.
BENTLEY MULSANNE MY2017
Engine:
6,752cc V8 twin-turbo
Power:
505 or 530bhp (Speed) @ 4,000rpm
Torque:
1,020 or 1,100Nm (Speed) @ 1,750rpm
Transmission:
8-sp auto, RWD
0-60mph:
5.1 or 4.8 secs (Speed)
Max speed (mph):
184 or 190mph (Speed)
Mpg (combined):
19.3
CO2 (g/km):
342
List prices:
£229,360 (Signature), £252,000 (Speed), £275,000 (EW)
Pre-owned:
from c.£175,000 to £210,000