Everything You Need To Know About Porsche
Porsche is one of the all-time great car marques. The German company has been producing world-leading cars since 1948, none more long-lived and respected than the legendary 911.
The firm is still at the leading edge of performance and technology, with supercars like the 918 Spyder and the GT3 RS continuing their proud tradition of innovation, and luxury vehicles like the Panamera and Cayenne satisfying the needs of those who prefer sophistication with their acceleration. And then there are the racing cars, which for many years have given Porsche a trophy cabinet that is the envy of their peers.
Here at JBR Capital we love Porsches. So we thought we'd put together a definitive guide to the Stuttgart supercars. There's an awful lot to talk about, so we've tried to cover Porsche from all angles – factual, historical, mechanical and cultural. We very much hope you enjoy it, and if so don't forget to share it with your fellow enthusiasts.
And if you'd like your own copy of our exhaustive model-by-model guide, just send us your email address on the form at the bottom of this page and we'll send you a downloadable and printable PDF version. We're nice like that.
Darren Selig
CEO

Russ Smith
Writer

Chris Maillard
Producer
"In the beginning, I looked around and could not find the car I'd been dreaming of: A small, lightweight sports car that uses energy efficiently. So I decided to build it myself."
Porsche: History and Horsepower
From Ferry Porsche's early frustration and engineering confidence rose not only a car company but a chunk of motoring history and a brand that is known and admired across the globe. Based in Stuttgart for all but the first two years, the firm's successes on road and track have been numerous, and their influence enormous.
But it hasn't all been an easy ride – there have been plenty of ups and downs, and more than a few times when the company was only saved from disaster by some astute and courageous thinking.
For more on Porsche's history and the men behind the marque, follow the links below:
http://ukcar.com/history/Porsche/
http://priceonomics.com/porsche-the-hedge-fund-that-also-made-cars/
The People Behind Porsche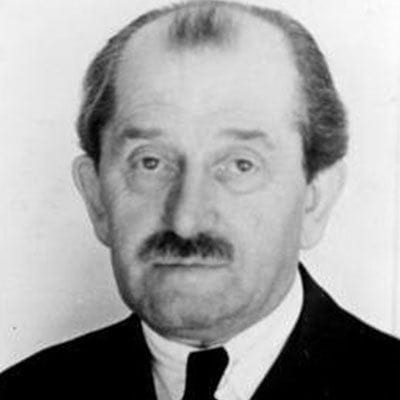 Ferdinand Porsche
A genius designer and engineer, and a very talented racer in his day, he was largely responsible for the Volkswagen Beetle. He had been designing and building cars since the 1890s. However, he died in 1951, by which time the company bearing his name had only been going for three years. Some superb photographs, and many more fascinating details, are here:
Ferdinand Anton Ernst 'Ferry' Porsche
The true founder of Porsche, he was very much a chip off the old block, and during the lean postwar years cunningly combined a Volkswagen engine with his own streamlined body to produce the rightly revered 356. More on him here:
Ferdinand Alexander 'Butzi' Porsche
A highly talented designer, F. A. Porsche (as he was often known) was responsible for the ageless and distinctive lines of the 911, among many other great designs. He also led the company into the profitable spin-off areas of Porsche Design, such as sunglasses, pens and watches. See him with many of his concepts here:
The Secret History of Porsche's Famous Emblem
Almost as instantly recognisable as the profile of a 911, the Porsche crest has adorned any number of legendary cars both on and off track. It's a mark of quality and engineering excellence. But did you know that the famous shield-shaped Porsche coat of arms was technically wrong, exactly one day after it was designed? It's an odd and fascinating story about horse-breeding, a New York lunch and Cold War geography. Read more here: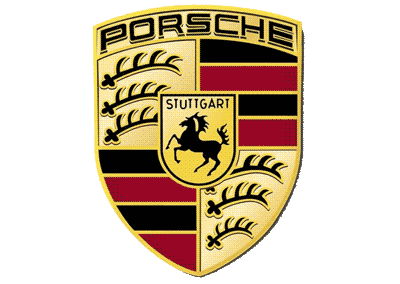 A Procession of Podiums: Racing Porsches
From the Le Mans track to the deserts of Africa, via snowbound forests and club venues, Porsches have been amassing trophies and putting drivers on podiums almost since the first model turned a wheel back in 1948. Competition is in the company's DNA, and has contributed massively to the development of their products, a process that never rests at Porsche. Find out more from the links below:
https://www.stuttcars.com/about-porsche/le-mans/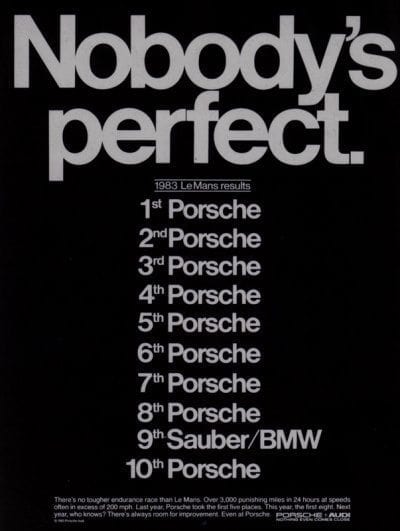 'NOBODY'S PERFECT'
Nothing quite says superiority like taking nine out of the first ten places at Le Mans, as Porsche did in 1983. And it also allowed them to make the point that there's always room for improvement, 'Even at Porsche'.
'ASPIRATION'
Not just a great Porsche ad, but a great car ad. A powerful message that has everyone nodding and smiling, both carefully constructed and delivered without an ounce of fat. A lot like a Porsche 911, in fact.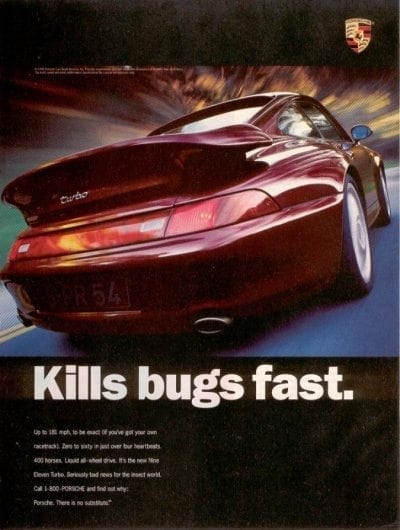 'KILLS BUGS FAST'
From the mid-1990s, to promote the supercar-level performance of the 993 Turbo. Even in a world obsessed with safety, no one cared much about the fate of a few squashed insects; not in the name of this much fun.
'WHAT IT TAKES'
Faced with the prospect of justifying why a Turbo model cost 50% more than a standard 944, this advert delivered the message in typically clever but straightforward Porsche fashion: by showing you. No argument now.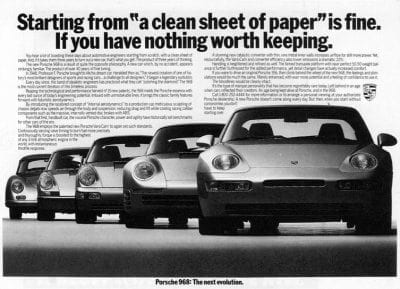 'CLEAN SHEET'
Porsche are always keen to play heavily on their heritage and lineage – and not just with the iconic profile of the 911. And they do have a point, as the clever positioning and perspective of this 968 ad clearly shows.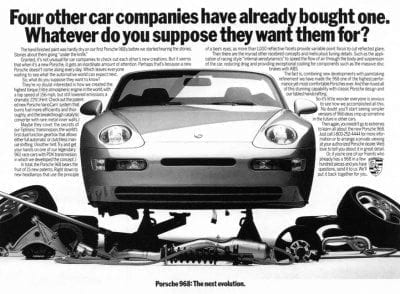 'PACK LEADER'
What better way of pointing out that your new 968 model is so advanced that the opposition is taking it apart to discover your secrets? Even if that sort of thing actually happens all the time, it's still a compelling tale.
'DUAL PURPOSE'
Quite a bit of Porsche's early advertising focused on the fact that most people could only afford one car, and that chaps who cut a bit of a dash wanted something that they could race at the weekend then drive to work.
'WE WON'T BORE YOU'
Once again Porsche went for the dramatic image backed by a simple message that plays to their audience. And once again they got it bang-on: it's almost impossible to look at this Turbo without breaking into a knowing grin.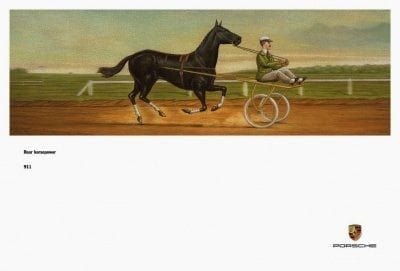 'REAR-ENGINED'
How Porsche loves to celebrate doing things differently, like putting the cart before the horse. This gem, created by Porsche China to handily coincide with China's Year of the Horse, delivered their rear-engined message.
'AIRLINE FOOD'
The romantic notion of dashing across continents in a grand tourer like this 928 GT was still just about alive in the 1990s, before speed cameras ruled the roadsides. And we all love to have a pop at airline food.
'ROCKET SCIENTISTS'
Never mind all the small-print blurb about the engine that conquered Le Mans and the proficiency of German engineers; the clear message here is that the Porsche 911 Turbo is a car so fast it can actually take off.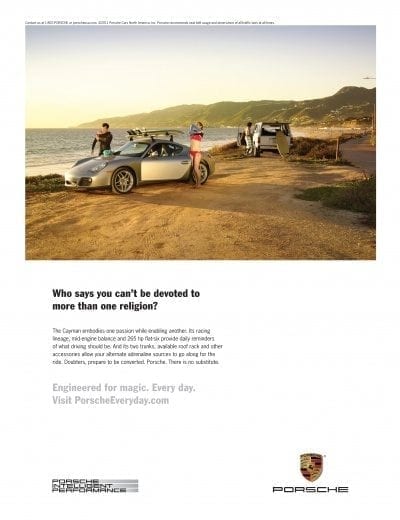 'THE PRACTICAL PORSCHE'
Even with a roof rack it's hard to sell the idea of a Cayman as a practical do-everything car, but the lifestyle image of beach, sunset and well-toned young lady in a red bikini is a strong one. 265bhp is nice, too.
An evocative slow motion 944 Turbo powerslide, smoke pouring from the rear tyres, to an orchestrated version of Hendrix's Purple Haze. So un-PC you'd never see its like today.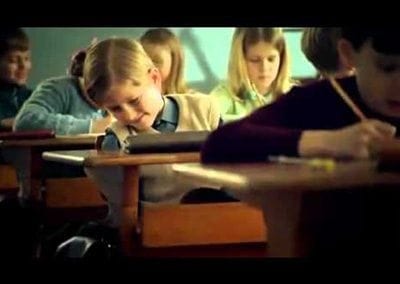 About things changing yet staying the same, with a voiceover from the Morgan Freeman school. So subtle you barely realise you're being sold a 911 until the final reel.
The quality's not brilliant but you have to love this string of excuses to an unseen traffic cop as to why people were speeding – the punchline being the 911 revealed in the last frame.
356
Project 356 was the original Porsche, designed in the aftermath of war, first built in an Austrian sawmill, and setting down the basic layout and Porsche DNA that is still evident in today's 911s. The profile, the rear-mounted engine, lightness, the ethos of getting the most out not much by clever engineering – it all started here with a pile of Volkswagen parts and a lot of good ideas.
Pre-A
'Pre-A' is the generic term given to all 1955 and earlier Porsches, with post '52 cars instantly recognisable by their V-shaped (or 'bent') windscreens, and in coupé or cabriolet form. The earliest 356s – perhaps as few as 50 cars – were built from 1948 in Gmünd, Austria, with aluminium bodies. But by early 1950 production had been moved to Stuttgart and the coachbuilder Reutter was supplying steel bodies, which were much cheaper and easier to build. Early cars used Volkswagen Beetle running gear, but with the aircooled flat-four engines bored out to 1086cc and fitted with Porsche designed cylinder heads to boost power by 60% (though still only producing 40bhp). By August 1951 Porsche brought their own flat-four engines on stream, first a 1286cc then a 1488 unit, both lighter than the VW engine, and with 44bhp and 55bhp, much quicker. Later in 1952 they added a roller-bearing-crank version of the larger unit dubbed 1500S with 70bhp. Early gearboxes had no synchromesh and took some getting used to, but from October 1952 an all-synchromesh unit was used.
Engine 1488cc flat-4 Top speed 90mph 0-60mph 13.8secs
356B
Following the company policy of not scaring the horses design-wise, at first glance there's little difference between the 356A and September 1959's 356B. In fact almost everything had changed, just not by much, in Porsche's quest for constant improvement. Bumpers were bigger and mounted higher up, headlamps more upright, the doors got quarterlight windows, then from September 1961 the engine cover and front bootlid were enlarged to improve access. Models offered were a coupé, cabriolet and more basic but poor-selling Roadster. Later, in September 1961, these were joined by a slightly awkward-looking Karmann-built Hardtop Coupé.
There were three engine options though all shared the same 1582cc capacity: the basic 1600 with 60bhp, a 1600S with 75bhp, and the 1600 Super 90 with two twin-choke carburettors and an utterly logical 90bhp. The 356B was a great success, with 30,963 sold in less than four years.
Engine 1582cc flat-4 Top speed 113mph 0-60mph 14.0secs
356A
However collectible the rare early cars are, it has to be said that the 356A launched at the September 1955 Frankfurt Motor Show was a vast improvement over them. Though obviously related, the design was more cohesive – aided by the curved windscreen – and the detail and finish work now said quality product rather than austerity. Engines were now 1300 or 1600, both in Normal or Super (with roller-bearing crank) states of tune – 44bhp or 60bhp for the 1300, 60bhp and 75bhp for the 1600. There were three body styles: coupé, cabriolet, and the Speedster with its chopped-down screen and basic (and claustrophobic) top which had been introduced towards the end of Pre-A production as the American importer wanted a cheaper soft-top to market. That in turn was replaced for the last years of 356A production by the slightly more practical Convertible D. In total, 21,045 356As were made.
Engine 1582cc flat-4 Top speed 113mph 0-60mph 14.5secs
356C
Although it was the best of the normal run 356s, the 356C – introduced in July 1963 – was also only really keeping things warm for the impending arrival of the all-new 911. That being so, Porsche didn't bother changing anything about the body, so it's almost impossible to tell a 356C from a 356B from the outside. The one giveaway is that the 356C had almost flat hubcaps where the B's had sticky-out centres. And those hubcaps offer a clue to where the biggest change was: switching from drum brakes to an ATE all-disc-brake set-up, which made a significant difference. Body choices are coupé, cabriolet and Karmann hardtop coupé. There are two options of 1582cc engine: the standard 75bhp unit or the 95bhp 'SC', which had lightweight alloy cylinder barrels. Both were developments of the units used in the 356B. Production of the final 356s came to an end in April 1965, so in less than two years 16,668 356Cs had been built.
Engine 1582cc flat-4 Top speed 113mph 0-60mph 14.0secs
356 Carrera
The Carrera (Spanish for 'race') option was offered on all 356s from the 1955 356A to the end of 356C production in 1965. The engine that powered them was a serious and complicated bit of kit, first trialled in the infamous 550 Spyder in 1954. Still a flat-four-cylinder, it boasted four camshafts, two twin-choke carburettors, two spark plugs per cylinder, light alloy construction and a roller-bearing crankshaft. The first were 1498cc and kicked out what now looks like a modest 100bhp, or 110bhp in GT form. From mid-1958 it was bored out to 1588cc but fitted with a plain-bearing crank and offered 105bhp, upped to 115bhp in 1959. The in the spring of 1962 Porsche unleashed the big daddy, the ultimate 356: the Carrera 2 with 1966cc version of the engine producing 130bhp in standard trim or 140bhp/155bhp in the competition GS and GT versions. Only 436 Carrera 2s were made, and they are among the most sought after of all Porsches, commanding £300k-£400k price tags.
Engine 1966cc flat-4 Top speed 125mph 0-60mph 9.0secs
911
Despite a high price the 911 was an instant success when it was turned loose on the public late in 1964. It wasn't without issues though, especially wayward handling and snap oversteer – a reputation it struggled to shift for decades. Porsche's quick cure for the early cars was crude but effective: adding 11kg weights to each end of the front bumper. It rather went against their lightness ethos, so later cars got suspension revisions, and in late 1968 a 57mm longer wheelbase to aid stability.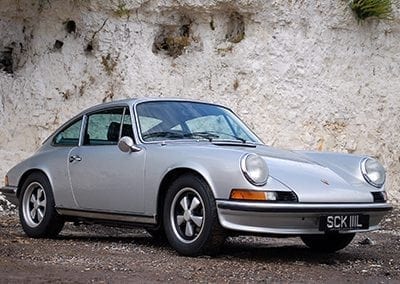 Classic Era 2.0-2.4
The first engine was a 2.0 flat-six with 130bhp, which was joined in autumn '66 by a 160bhp version in the 911 S. At the same time Porsche introduced the soft-top Targa body style to accompany the coupé. A year later an entry-level 110bhp 911 T joined the range and the 130bhp version was renamed 911 L, then 911 E a year on to mark the fitting of fuel injection.
Then for 1970 came the first capacity increase, to 2.2 litres. That left the T, E and S with 125bhp, 155bhp and 180bhp respectively. That only lasted two years before US emissions rules demanded an engine that would run on lower octane fuel, so another capacity increase was made to compensate, this time to 2.4 litres. But it still allowed further power increases, this time to 130bhp, 165bhp and 190bhp for the 'S', which was now a serious performance car. Over 80,000 of these early 911s were built.
911 2.0: Engine 1991cc flat-6 Top speed 130mph 0-60mph 9.1secs
911 S 2.4: Engine 2341cc flat-6 Top speed 143mph 0-60mph 7.0secs
Carrera RS
The Carrera name, established on the sportier 356s, didn't make an appearance on a 911 until late 1972, but boy did it arrive with a bang. Every trick in the book was applied to shave its weight, from thinner glass and steel panels to a plastic rear bumper and engine cover and no rear seats. The racier Lightweight wound up over 100kg lighter than the 911 S, though the more civilised Touring version was closer to the original weight. The Carrera looked the part too, with its name unmissably plastered down the sides, flared rear arches to cover the 7x15in Fuchs alloys, and a ducktail rear spoiler. But the best bit was beneath that ducktail: a bored-out 2.7-litre version of the 911 S's engine that boasted 210bhp. By the standards of the early 1970s this was a quick car and a lot of them went racing. Survivors of the 1580 built are gold standard collectables and regularly top the £500,000 mark.
Engine 2687cc flat-6 Top speed 152mph 0-60mph 5.8secs
930 Turbo
Back in 1975 this was Porsche's big game-changer, the hero car whose image was Blu-Tacked to a million bedroom walls and cemented in the consciousness of a generation. Porsche was now a brand, not just the maker of nice, expensive sports cars. And it was as much about how the Turbo looked as what it did, though it was quickly noted as Germany's fastest production car. Bolting a KKK turbocharger to Porsche's new 3.0 flat-six produced a handy 260bhp, enlarging the wings to make the Carrera body five inches wider and attaching that vast rear wing made it a visual spectacle. Everything else mechanical was uprated, and it wore 7x15in front and 8x15in wheels – vast for the time. But Porsche never stands still and after three years they increased the engine capacity to 3.3 litres for a nice round 300bhp and uprated the brakes too. But it didn't make a massive difference to performance as the Turbo had put on quite a bit of weight in the meantime, so those 2873 early 3.0-litres are revered for their rarity and lightness. A comparatively vast 36,876 examples of the 3.3 were built, so their values are lower today.
Engine 2994cc flat-6, Top speed 156mph 0-60mph 6.1secs
Carrera 3.2
Launched in autumn 1983, this is often known as the 'Yuppie-era' 911, once an insult, now seemingly a fond memory. Just from the name you can see that engine capacity had grown again – to 3.2 litres and 231bhp. But thanks to a clever DME engine management system, fuel economy was actually better than delivered by the previous SC model. That car's three body style – coupé, Targa and Cabriolet – were retained, but the Carrera could also be ordered with the 'Turbo look' option (only the coupé at first, then the other models from 1985). That brought not only the Turbo's wider body and spoilers, but also its suspension, brakes and wheels. For 1987 there was a new gearbox, known as the G50, which was both stronger and nicer to use. For 1989, the final model year for the 3.2 Carrera, Porsche also offered a Speedster version with the narrower body, cut-down windscreen and rudimentary hood. These are now worth around four times the price of a Cabriolet.
Engine 3164cc flat-6, Top speed 152mph 0-60mph 6.1secs
993
This will always be fondly remembered as the last air-cooled 911. Running from 1993-98, it was an even more radical reworking of the 911 shape than the 964 had been previously, with wider, flatter wings and a higher bonnet, though enough of the familiar profile remained for it to feel like an evolutionary step. Engine capacity remained at 3.6 litres, but the unit itself was completely revised to improve efficiency and durability. And of course power, which was up to 272bhp in standard trim. Gearboxes were now a 6-speed manual or 4-speed Tiptronic.
Initially only a coupé, a cabriolet body followed in spring 1994 and a revolutionary new Targa in autumn 1995. This had a electric glass roof that slid down behind the rear window. Other models were delayed too: the four-wheel-drive Carrera 4 until autumn 1994 and the Turbo until spring 1995. This used twin turbos for the first time and belted out a lag-free 408bhp. At the same time Porsche also launched the lightweight Carrera RS and completely bonkers GT2, both instant collectables that can now fetch a quarter and half a million pounds respectively.
993: Engine 3600cc flat-6, Top speed 167mph 0-60mph 5.6secs
GT2: Engine 3600cc flat-6, Top speed 183mph 0-60mph 4.4secs
997
The June 2004 Type 997 was a development of the 996 rather than an all-new car, marked out visually by its oval headlamps and wider track. Carrera model engines remained at 3.6 litres and 320bhp, but there was also a Carrera S with 3.8 litres and 350bhp, plus Active Suspension Management. There are 6-speed manual and Tiptronic gearboxes. As usual the performance models came later, the 473bhp Turbo – the first road car to use variable turbine geometry – and the sporty but normally aspirated 409bhp GT3 arriving in 2006, both with 3.6 litre engines. Then came the weapons-grade GT2 in 2007 with rear-wheel-drive and 523 twin-turbocharged bhp, and whose £131,000 price tag included a days' driver training at Silverstone.
The range was revised in June 2008 with the outputs increasing for the Carrera to 345bhp, the Carrera S to 385bhp; both get the option of a new 7-speed semi-automatic gearbox. From late 2009 the GT3 gets the 3.8 engine and 428bhp, and is soon after joined by the new and cheaper GTS model with 402bhp. The Turbo also climbed to 3.8 litres from May 2010 which unleashed 522bhp through its 7-speed gearbox. It was closely followed by the arrival of the GT2 RS with an astonishing 611bhp.
996: Engine 3600cc flat-6, Top speed 177mph 0-60mph 4.8secs
GT2 RS: Engine 3600cc flat-6, Top speed 205mph 0-60mph 3.4secs
911 2.7
For some, the 2.7 marks the point where 911s lost their purity, for the 1974 model year, as along with a lot of other cars their appearance was radically altered by the need for 5mph impact bumpers to meet US legislation. But Porsche accommodated this better than most, with body-colour bumpers with quite sexy looking rubber concertinas at each end. Now-familiar features made an early appearance, like a space-saver spare tyre and headlamp washers – Porsche always liking to be at the cutting edge, and with the former saving weight and space.
As the name suggests, all 911s now used the 2.7-litre engine from the previous Carrera RS. This was in three stages of tune: 150bhp for the base 911, 175bhp for the 'S' and 210bhp for the (now more subtle) Carrera. Then in late 1975 the 'S' was dropped, the plain 911 was given a 165bhp version of the 2.7, and the Carrera got a 3.0 unit with Bosch K-Jetronic fuel injection and 200bhp. This also handily marks where Porsche got serious about corrosion prevention and hot-dip galvanised the bodies.
911 2.7: Engine 2687cc flat-6 Top speed 130mph 0-60mph 8.5secs
911 Carrera: Engine 2687cc flat-6 Top speed 149mph 0-60mph 6.3secs
911 SC
The SC stands for Super Carrera and from late 1977 this became the only non-turbocharged 911 model, though still in coupé and Targa form. It used the 42mm-wider bodyshell of the previous 3.0 Carrera and a slightly detuned 180bhp version of its engine, though that was still 15bhp up on the regular issue 911 model that it replaced. It was offered with a five-speed manual or three-speed Sportomatic transmission. For late 1979 Porsche tweaked the engine up to 188bhp and dropped the unpopular Sportomatic gearbox. Further engine revisions, actually aimed at improving economy, raised power again to 204bhp for the 1981 model year, and the following year the SC could be ordered with the Turbo's front and rear spoilers. The big news came in spring 1983 when Porsche added a fully convertible Cabriolet model alongside the coupé and Targa, their first since 356 production ended in 1965. It's quite a rarity as the whole range was replaced by the Carrera 3.2 six months later, so one for collectors to watch out for.
Engine 2994cc flat-6, Top speed 146mph 0-60mph 6.8secs
964
After more than a decade of steady evolution, Porsche finally made sweeping changes for the Type 964 version of the 9111 introduced in 1989. The profile may be familiar, but around 85% of the 964 was new. Plastic nose and tail sections vastly improved aerodynamics, and gadget lovers were wowed by the rear spoiler that popped up automatically above 50mph, then retracted when speed fell back to walking pace. At first it was only available as the four-wheel-drive Carrera 4, allowing stocks of the older model to be cleared, but from late 1989 there was also a rear-wheel-drive Carrera 2. Both used a new 3.6-litre engine with 250bhp, and once again buyers could choose between coupé, Targa and cabriolet bodies. There was no Turbo version at first but one finally joined the range late in 1990. This retained the 3.3-litre capacity of the previous Turbo, but with a larger turbocharger and intercooler its output was raised to 320bhp. It did get the 3.6 engine two years later, raising power to 360bhp. In the meantime, for 1991 Porsche also launched the stripped down Carrera RS, which was about 130kg lighter than the standard car, sat on lowered suspension and had a 260bhp 3.6 engine. These are now worth double the price of a Turbo model.
964: Engine 3600cc flat-6, Top speed 161mph 0-60mph 5.7secs
964 Turbo: Engine 3600cc flat-6, Top speed 174mph 0-60mph 4.8secs
991
Longer and lower than its predecessor and built on an all-new platform, the current 911, launched in 2012, was also lighter and faster, returning to old-fashioned Porsche values in using the latest lightweight materials rather than just power in improve performance. The base model Carrera dropped in capacity to 3.4 litres, but still pumped out the same 345bhp. Above that there's the 3.8-litre Carrera S with 394bhp and Dynamic Chassis Control that reduces body roll through corners. Again there are two- and four-wheel-drive models, and coupé and cabriolet bodies. All have 7-speed manual or semi-auto gearboxes. From October 2014 they were joined by the sportier GTS, also in two- or four-wheel-drive. This squeezed 423bhp out of the 3.8 engine and came with flared wheelarches and 20in alloys. More recently launched are the 540bhp Turbo, 580bhp Turbo S, plus the limited edition 500bhp 500 R and GT3 RS models.
991: Engine 3436cc flat-6, Top speed 179mph 0-60mph 4.6secs
Turbo S: Engine 3800cc flat-6, Top speed 205mph 0-60mph 2.9secs
996
In a massive step-change for Porsche, the late 1997 Type 996 was the first 911 to use a water-cooled engine. And the flat-six layout of that and the Carrera name were about the only things to be carried over from the 993. The new car's body was larger, for a start, though overall it was 50kg lighter, and some panels were shared with the new Boxster. This was also the first 911 to have a smaller engine than its predecessor, though the new 3.4 unit still kicked out more power than the old one at 300bhp. Water-cooling meant it was quieter, too. Gearboxes were a 6-speed manual or 5-speed Tiptronic. There were coupé and cabriolet bodies, and just rear-wheel-drive for the first year before the four-wheel-drive Carrera 4 came on stream too, followed in May 1999 by the high performance GT3 coupé. Fitted with twin rear spoilers and 8in and 10in wheels, it also had a 3.6-litre engine that produced 360bhp. A Turbo version didn't arrive until January 2000; it had four-wheel-drive and a 420bhp 3.6 engine. Later that year there was also a GT2 version with 463bhp and rear-wheel-drive. A 2002 model year facelift also saw engine capacity return to 3.6 litres – and 320bhp – and the return of the Targa.
996: Engine 3600cc flat-6, Top speed 174mph 0-60mph 5.2secs
GT3: Engine 3600cc flat-6, Top speed 188mph 0-60mph 4.8secs
911 GT3 RS
The Porsche 911 GT3 series is built for one purpose and one purpose only – racing homologation. All of the cars in this series, which began in 1999, have been basically road-going racers, with all that implies. In other words: Maximum performance, minimum comfort. If you're after a nice little car for the occasional trip to the seaside, you might want to think again. These are fire-breathing, noisy, stiff beasts with zero compromises to luxury. The spec included things like a magnesium roof, carbon-fibre interior panels, bucket seats, a fire extinguisher and a roll cage. You'll notice the lack of words like 'air conditioning' or 'audio system'. The 911 GT3 RS almost looks wrong without numbers on the doors.
On the other hand, if you're a performance enthusiast, there's nothing better. If you take it to a track, this will enable you to get as close to a full factory race experience as you can get. Very little else will out-handle or out-brake this car. And better still you can drive there and home again (if you haven't entirely ruined your tyres). The paddle-only gearbox takes a little getting used to, and the pit lane speed limiter button may not be that much use on the A3, but if owning one of the most single-minded and exciting sports cars ever built is one of your ambitions, the 911 GT3 RS is just the thing.
GT3 RS 4.0: Engine 4000cc flat-six Top speed 193mph 0-60mph 3.5secs
959
Still perhaps the ultimate 911, the 959 was on the one hand a supercar of devastating ability, and on the other a cutting-edge technical showcase to show the world just how good Porsche was. It needed that flag-waving PR factor to justify its existence at all, as it is rumoured that – even with a £140,000 price tag in 1987 – it cost Porsche twice that to build each one of the 292 they sold. To save you getting the calculator out, that's a 'loss' of about £40m. From which you have to deduct the value of the vast amount of publicity it created.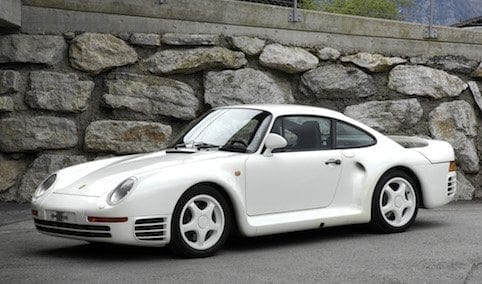 For this was a car that said: "Here's the future, now." The shell may have been 911 Turbo, but it was highly modified and clothed in aluminium and composite panels to reduce weight. The engine was a 2849cc flat-six with an aircooled block and water-cooled cylinder heads, pumped up to 450bhp by two KKK turbochargers that worked in sequence rather than parallel to eliminate turbo lag. There was a six-speed gearbox, hooked up to a computer-controlled four-wheel-drive system that gave you the choice of Dry, Wet, Snow and Off-Road settings, plus adjustable ride height, that lowered itself at speed to reduce lift. The 959 was aerodynamically honed to produce a slippery Cd figure of 0.31…it goes on and on. So of course they are now highly collectable. And anyone who bought one new and kept it is now laughing as it will now be with around four times that showroom sticker price.
Engine 2849cc flat-6 Top speed 197mph 0-60mph 3.7secs
912
As the 911 was quite a lot more expensive than the 356C it replaced, six months after its launch, in mid-1965, Porsche introduced the 25% cheaper but visually identical 912 model to keep existing customers happy. It used a mildly modified version of the 356's 1.6-litre engine producing 90bhp and came as standard with a four-speed manual gearbox, though so many buyers chose to pay extra for the optional five-speed that it became standard equipment towards the end of 1966. At the same time a Targa version was offered alongside the coupé. The 912 was notable for being easier to drive than the 911 as its lighter four-cylinder engine made it less tail-happy. Brakes, suspension and wheels were all identical to 911 kit, though the dashboard only got three rather than five gauges. In late 1968, along with the 911, the 912 got a 57mm longer wheelbase and flared arches to cover wider wheels. That turned out to be a one-year thing for the 912 as production ended in late 1969. However, it made a brief reappearance in 1975-76 as the US-only 912E with the 2.0 engine from the 914-4 that produced 86bhp. Just 2099 of these were built, adding to around 30,300 912s. Engine 1582cc flat-4 Top speed 112mph 0-60mph 11.9secs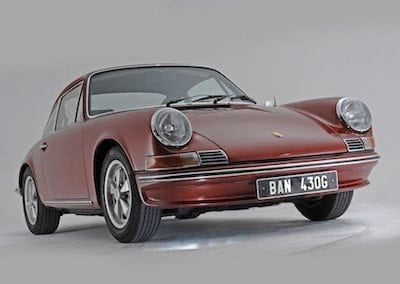 914
The offspring of another Volkswagen-Porsche relationship, the 914 was a two-seater sports car with a lift-off glassfibre roof that cleverly clips into position above your luggage in the boot. The engine was mid-mounted for best handling balance. In fact two engines were offered: a four- and a six-cylinder, sourced from VW and Porsche respectively.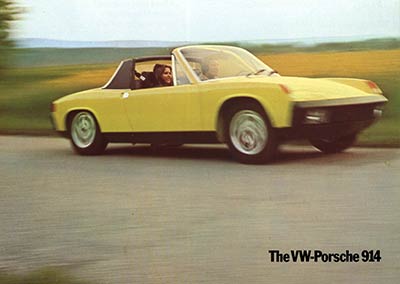 914-4
Launched late in 1969, the four-cylinder 914 was powered by a fuel-injected 1.7-litre engine from Volkswagen's 411E model, along with a 5-speed gearbox. This engine produced a modest 80bhp, but in true Porsche style the car only weighed in at 900kg and performed well aerodynamically, so it was still quite a lively performer. The 914-4 was always actually built by Karmann. After the 914-6 was dropped, in late 1972 VW added a 2.0-litre four-cylinder engine based on the 1.7 unit. This produced 100bhp. Then in late 1973 the 1.7 was replaced by a bored out 1.8 which gave 85bhp (though only 76bhp in American markets). For 1975, their final year, the car was given rubber-faced safety bumpers. A total of 115,646 914-4s were built.
Engine 1679cc flat-4 Top speed 110mph 0-60mph 13.0secs
914-6
Assembled by Porsche rather than Karmann, the 914-6 was quite a different animal to the 914-4. For a start it used the 2.0-litre flat-six from the base-spec Porsche 911T, with two triple-choke Weber carbs helping it dish out 110bhp. With a five-speed gearbox and in a light body, it made for an entertaining drive, almost racecar-like in nature. But there was a big downside to the 914-6: cost. It proved an expensive car to build and its resulting list price was 50% more than the cost of an E-type Jaguar – both a much faster and sexier car. In the end only 3338 were built, and though production finished in mid-1971, Porsche were still trying to sell them off in 1972. These days their rarity and performance counts for something, and a 914-6 can cost four times the price of a 914-4.
Engine 1991cc flat-6 Top speed 125mph 0-60mph 8.5secs
924/944/968
Originally a joint venture with VW-Audi, Porsche bought them out of the project when the market for sports cars took a dive in the early 1970s. They launched their first front-engined and water-cooled car in 1975, an entry-level Porsche that saw the company's sales rocket – by 1977 they were building twice as many 924s as 911s. It spawned several performance versions and went on to form the basis of the wider and bigger-engined 944 and 968.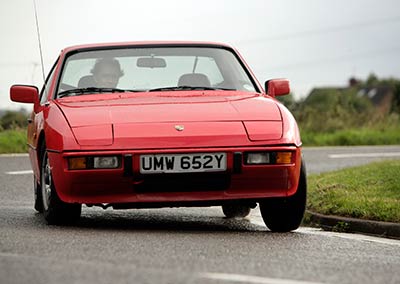 924
Pretty enough that it was swiftly copied by Mazda for their RX-7, the 924 was a sweet-handling 2+2 – aided by the gearbox being mounted in unit with the rear axle giving near-perfect 53%/47% front/rear weight distribution. In fact they only real criticism that could be aimed at it was that the chassis could handle a lot more power than the 125bhp that European versions were given. This was worse in America where they started with just 95bhp. That rose to 110bhp in 1977. That was also when the first right-hand drive versions came to the UK. As with all Porsches they enjoyed a programme of constant improvement, gaining a five-speed gearbox in 1980, a hot-zinc-dipped bodyshell in 1981 with a seven-year corrosion warranty, and a rear spoiler from 1982. Production ended in 1985 after 110,427 had been built.
Engine 1984cc 4-cyl Top speed 126mph 0-60mph 9.5secs
924 Carrera GT
This was a further development of the 924 Turbo, with fat-arched looks that were very much a foretaste of the 944 that would follow soon. It was built to give the 924 some proper competition kudos in the eyes of enthusiasts and three were raced at Le Mans in 1980 where one finished sixth overall. 400 roadgoing versions followed during 1980, with a larger turbocharger and other mods lifting power output from the 924 Turbo's 177bhp to a very interesting 210bhp. They were fitted with 7x15in Fuchs alloy wheels and stiffer suspension. Only 75 right-hand drive ones came to the UK. In 1981 there were 59 245bhp GTS and 17 375bhp GTR competition versions built. Available only direct from the factory, all were left-hand drive.
Engine 1984cc 4-cyl Top speed 150mph 0-60mph 6.5secs
944
With overall sales slowing, and the company still planning to phase out the 911 by around 1984, Porsche needed a model to plug the gap between the 924 and 928, and they hit the jackpot with the 944, launched in 1982. This used their own design 2.5-litre four-cylinder twin-cam engine rather than the 924's Audi-derived unit, with a far more substantial 163bhp. The design cleverly used a lot of the 924's panels, but with pumped-up front and rear wings that made the car 50mm (2in) wider and gave it a much more aggressive stance. Buyers lapped it up: Porsche sold a total of just 28,000 cars in 1981; two years later they sold almost that many 944s.
And the range grew and developed: the 220bhp 944 Turbo in early 1985; a 16-valve normally aspirated 944S in 1987 with 190bhp; the Turbo was boosted to 250bhp in 1988; then in 1989 the S became the S2 with a 3.0-litre version of the engine and 211bhp. The Turbo was discontinued at this point. A cabriolet was added in 1990, but all 944 production ended in July 1991 with a total of 176,126 built.
944: Engine 2479cc 4-cyl Top speed 134mph 0-60mph 7.4secs
944 Turbo: Engine 2479cc 4-cyl Top speed 157mph 0-60mph 6.0secs
924 Turbo
The world wanted a more powerful 924 and Porsche delivered it in late 1978 with the aid of a KKK truck turbocharger that added 36% more power for a total of 170bhp (though only 143bhp for the US version the following year). They are easily identified by the row of four black plastic vents across the nose between the headlights, but there are also five- rather than four-stud wheels covering the uprated braking system – all vented discs rather than the old disc front/drum rear set-up. From August 1980 power went up to 177bhp thanks to higher compression and a DME engine management computer – the first fitted to a production Porsche. US models were boosted to 154bhp. A total of 12,871 were built before sales ended in 1983.
Engine 1984cc 4-cyl Top speed 144mph 0-60mph 6.9secs
924S
Even after the launch of the 944 Porsche still saw value in their entry-level 924 model, but VW-Audi was no longer producing the two-litre engine blocks it used, so Porsche kept the 924's body the same but installed the 2.5-litre engine and running gear from the 944, detuning the engine by 13bhp to a still-good 150bhp to make sure the lighter and more aerodynamic new 924S didn't outperform its more expensive big brother. The 924S was launched in August 1985 but right-hand drive examples didn't come to the UK for another year. Then a year later, in August 1987, the 924S was given the same 160bhp engine as the 944. There was also a now quite sought-after run of 980 'Le Mans' special editions with 10mm lower suspension and gas-filled dampers, all of which were painted black or white. 924S Production ended in June 1988 with 16,669 built.
Engine 2479cc 4-cyl Top speed 136mph 0-60mph 7.4secs
968
The final evolution of the 924 dynasty arrived in August 1991, or May 1992 if you were waiting for right-hand drive. The 968 was claimed to be 83% new but still retained some elements that would fit the original 924. It retained the 944 S2's 3.0-litre four-cylinder engine but with variable valve timing and other upgrades that increased power output to 240bhp. Gearboxes were a new six-speed manual or four-speed Tiptronic automatic. The pop-up headlamp flaps were gone and – as with the S2 – there was a Cabriolet version. But it didn't create a lot of excitement or sales so in 1993 Porsche launched a stripped down Club Sport version, around 100kg lighter and with 20mm lowered suspension and wider wheels. That became in instant hit with enthusiasts and good examples are now almost fought over, especially as 968 sales were never high. By the time it was discontinued in July 1995 just 12,776 had been built.
Engine 2990cc 4-cyl Top speed 157mph 0-60mph 6.5secs
928
This was the dashing technological marvel that Porsche expected would replace the 911. We all know how that plan turned out, but that's to offer no slight to the 928. It truly is a great GT, but until quite recently has been largely ignored by hardcore Porsche enthusiasts for having the engine at the wrong end, being water-cooled, and also being quite complex and expensive to run. That's all changing, with early examples and late GTs being especially targeted by collectors.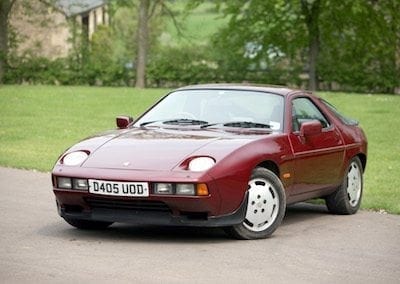 928/S/S2
Notable for being the first and only sports car to win the prestigious European Car of the Year award, the 928 was launched for the 1978 model year. With a focus on cutting edge technology and lightweight materials, it featured a 240bhp all-alloy 4.5-litre overhead-cam V8 engine with Bosch K-Jetronic fuel injection. The gearbox (5-speed manual or 3-speed Mercedes automatic) mounted in unit with the rear axle, and the front wings, bonnet and doors pressed from aluminium rather than steel.
In late 1979 the base model was joined by the sportier 928S, with its engine bored out to 4664cc and tuned to produce 300bhp. It was marked out visually by black polyurethane front and rear spoilers and colour-coded side mouldings. The standard car's V8 was reworked for better economy from the same power output, but was dropped at the end of 1982. A year later the 928S engine got Bosch's new LH-Jetronic fuel injection, which added an extra 10bhp and better fuel economy; the auto 'box became a 4-speed. This was also the first Porsche to be offered with anti-lock brakes.
928: Engine 4474cc V8 Top speed 143mph 0-60mph 6.8secs
928S: Engine 4664cc V8 Top speed 158mph 0-60mph 6.2secs
928 GT/GTS
Having tested the water with a lightweight and lowered Clubsport model for some markets, Porsche introduced the much sportier 928 GT in late 1988. Its higher-revving 5.0 V8 kicked out 330bhp and you could only buy it with a manual 5-speed gearbox and limited-slip differential. Its 'Cup Design' alloy wheels were an inch wider at 8in and 9in front and rear, and the suspension was stiffened. It lasted for three years before being replaced by the 928 GTS, which was then the only 928 available for the model's run-out years. And what a way to finish – starting with the redesigned 5.4-litre V8 that produced a peak of 350bhp and 16% more mid-range torque than the old unit. The four-speed automatic gearbox was once again made an option. Wheel diameter went up to 17inches, 7.5in wide at the front, 9in at the rear. Bodily they are recognised by their wider rear wheelarches, body-colour rear spoiler and lack of side mouldings. The last were built in 1995, and in a 17-year run during which some 61,056 of all types of 928 had been built.
928 GTS: Engine 5397cc V8 Top speed 171mph 0-60mph 5.7secs
928 S4
Despite nine years of steady development, Porsche had enough ideas in hand to give the 928 a major rework in late 1986. A more rounded nose, stand-away rear spoiler, undertray and other detail tweaks brought aerodynamic efficiency, reducing the Cd figure from 0.38 to 0.34. The engine was now a five-litre unit with four valves per cylinder, producing 320bhp, which wasn't a massive increase but it did it on lower octane fuel and also produced 22lb ft more torque than the previous engine. Rear wheel width was increased to 8in, though the front retained 7in rims.
In 1989, after the GT was introduced, the regular S4 was only available with the Mercedes 4-speed automatic gearbox, and the following year all 928s were fitted with a three-way catalyst to clean up emissions; 7.5in and 9in GT alloys were offered as a no-cost option. S4 production ended in mid-1991.
928 S4: Engine 4474cc V8 Top speed 165mph 0-60mph 6.3secs
BOXSTER
With the impending demise of the 968 in the mid-1990s – the end of a long line that had begun with the 924 in 1975, Porsche needed another entry-level model to give them some sales volume alongside their expensive 911 flagship. It came from a two-seat mid-engined roadster design concept presented at the 1993 Detroit Motor Show. Public response was overwhelming, so Porsche reworked it into a production car.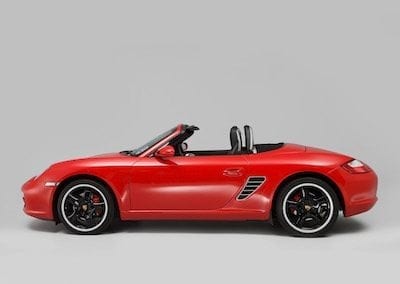 Boxster 986/987
Launched in the autumn of 1996, the Boxster started out with water-cooled flat-6 engine of 2.5 litres, mid-mounted between the seats and rear axle. Pitched at not much more than half the price of the cheapest 911, it was an instant hit, with the only criticism being – as has often been the case with first-run Porsches – that it could use more than the 204bhp on offer. That was dealt with after three years when in autumn 1999 the base model was upped to 2.7 litres and 220bhp and Porsche added the 3.2-litre Boxster S with 252bhp – almost indistinguishable from the 2.7 apart from the 'S' badge on the boot and twin tailpipes. Gearboxes were all 5-speed manual or Tiptronic auto. In 2003 both engines gained an extra 8bhp and the 3.2 S got a 6-speed manual 'box.
A makeover for 2005 got it the new model code '987' and brought some cosmetic updates, larger wheel and a revised chassis. Engine power increased, too, with 240bhp for the 2.7 and 280bhp for the 3.2. Then in August 2006 the S went up to 3.4 litres and 295bhp. More engine changes in Feb 2009 with the base engine increased to 2.9 litres and 251bhp, and the 3.4 S getting Direct Fuel Injection and 305bhp. It also got the option of Porsche's fast-shifting 7-speed semi-auto gearbox.
5: Engine 2480cc flat-6, Top speed 149mph 0-60mph 6.9secs
3.2 S: Engine 3179cc flat-6, Top speed 164mph 0-60mph 5.7secs
Boxster 981/718
A new generation of Boxsters arrived in spring 2012 with evolved styling including a notable further forward windscreen, a completely revised chassis, less weight and a longer wheelbase for more predictable handling. The engines – still flat-6s – are new too, with the base model dropping to 2.7 litres but producing 10bhp more than the old 2.9, and the 3.4 S now making 310bhp. All models now had a 6-speed manual or 7-speed semi-auto gearbox, and there was a new electrically operated roof. The sportier Boxster GTS with black Carrera S alloy wheels joined the range in May 2014 with 325bhp, capable of sprinting to 60mph in 4.7 seconds.
For 2016 the car morphed into the 718 Boxster with another styling makeover and a completely new set of engines, both much smaller but variable-turbine turbocharged flat-4 units. The 2.0 engine pumps out 300bhp, the 2.5 in the 'S' makes 350bhp, yet both are at less 10% more fuel efficient than the engines they replaced. They retain the choice of 6-speed manual or 7-speed semi-auto 'boxes.
7: Engine 2706cc flat-6, Top speed 164mph 0-60mph 5.6secs
3.4 S: Engine 3436cc flat-6, Top speed 173mph 0-60mph 4.9secs
Carrera GT
If you'd like a Carrera GT, first you'll have to find one of these exotic and rare beasts – only built from 2004-2006, the Carrera GT has become rightly legendary, often appearing high up in lists of 'greatest sports cars', and as a result is highly sought-after by those in the know.
Porsche put a lot of its heart and soul into this striking mid-engined supercar, particularly its Le Mans racing heritage. It shares DNA with the 911 GT1 and LMP1-98, and nods to the fabulous 917 of the early '70s as well. Then there's the V10 engine, which began as a potential F1 unit before making its way into a concept car, then finally under the carbon fibre rear bonnet of the Carrera GT. And of course, that impressive spoiler, which pops up at over 70mph to give a very Le Mans look.
However, in case you assume that its racing roots mean that you'll need a full helmet and fireproof suit for a trip to the shops, the interior is rather sumptuous, with full leather upholstery, a satellite navigation system and even a high-end audio set-up. Just in case you don't want to listen to that V10 singing away behind your head as it propels you to a top speed of 205mph, of course…
Engine 5700cc V10 Top speed 205mph 0-60mph 3.5secs
Cayman
Porsche wondered for decades how to replace the 911, and in a way the Cayman is it. It not only looks the part but is widely said to be better to drive than a 911, aided by the better balance of its mid-engined layout. It has that because it is, in effect, a coupé version of the Boxster. Launched in the UK in late 2005, at first the Cayman was only sold as an 'S' with the 290bhp 3.4 engine, but the cheaper 2.7-litre 245bhp unit joined it the following July. In September 2008 they were joined by the Cayman S Sport with 298bhp, Active Suspension Management and black-painted 19in alloys. That was short-lived as from February 2009, in line with the Boxster there was a new pair of engines: the smaller with 2.9 litres and 261bhp, and the 3.4 S with Direct Fuel Injection and 315bhp. Both got the option of Porsche's new 7-speed semi-auto gearbox. For 2011 there's also the Cayman R, stripped of luxuries and fitted with carbon-fibre seats to save 55kg over the 3.4 S. It also got 325bhp and sports suspension and cost just £5000 more than the 'S'.
The new Cayman with revised styling and 30kg less weight hit the UK in March 2013, and was even better than before. Engines were the same as those in the Type 981 Boxster: 271bhp 2.7, 310bhp 3.4, and not long after a 335bhp GTS version. Then came the big daddy in March 2015: the £64,000 Cayman GT4, with the 379bhp 3.8 engine from the 911 Carrera S. This enabled the GT4 to hit 183mph and reach 60mph in 4.2 seconds. A surefire future classic.
2.7: Engine 2706cc flat-6, Top speed 165mph 0-60mph 5.5secs
GTS: Engine 3436cc flat-6, Top speed 177mph 0-60mph 4.7secs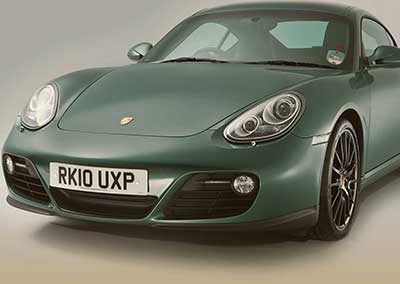 CAYENNE
We're back to the world of collaboration with Volkswagen here, as Porsche's first venture into BMW X5-rivalling SUVs, the Cayenne, shares its structure and four-wheel-drive system with the VW Touareg. That's all though, as the Cayenne's outer panels have the Porsche family face and the larger engines are different to the Touareg's. It does share the VW's 3.2-litre 250bhp V6 for the entry-level model that arrived in August 2003, but the two launch models in November 2002 were both 4.5-litre V8s: the 340bhp 'S' and the 450bhp Turbo which gets what is a large chunk of metal to 165mph and 60mph in an indecent 5.4 seconds. Not enough? Then you had to wait until February 2007 when engine capacity rose to 4.8 litres. That gave the Cayenne S 379bhp and the Turbo 493bhp, and then there was the Turbo S that arrived at the end of '07 kicking out 532bhp. This was followed a few months later by a turbo-less GTS model with sporty suspension and 399bhp. There was also (whisper it) a 3.0 Diesel S model during 2009, with just 236bhp but a chunking 406lb ft of torque.
Surprising everyone, the Cayenne became the best-selling Porsche ever, and the revised second generation model in May 2010 looked to build of that. The application of the Porsche Intelligent Performance philosophy meant better economy for each model in the range combined with increased performance. There was also a new hybrid model that used a combination of electric motors and a supercharged 3.0 V6 for a total of 410bhp. And all but the entry level 3.6 came with an 8-speed Tiptronic automatic gearbox.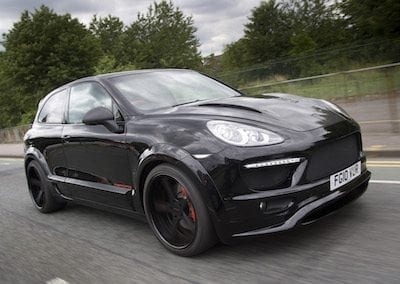 PANAMERA
Hinted at and sketched for decades, Porsche's four-door super-saloon finally arrived in September 2009 for the UK market with price tags ranging from £72,000-£95,000. There were three launch models, all with 4.8-litre V8s: the rear-wheel-drive Panamera S and four-wheel-drive 4S, both with 394bhp, and the 493bhp twin-turbocharged Panamera Turbo. All had the PDK 7-speed semi-automatic gearbox, but the rear-drive S could also be ordered with a 6-speed manual. The range was extended down in 2010 with a 295bhp 3.6-litre V6, then in June 2011 came a hybrid with electric motors and a supercharged 3.0 V6 for a total of 374bhp. This could achieve as much as 39mpg with the aid of its 8-speed Tiptronic gearbox. At the same time Porsche upped the ante with the rather less environmentally friendly Turbo S model, packing 542bhp and capable of hitting 190mph. Then to calm things down they rounded the year off with a 3.0 turbodiesel that could still hit 150mph but might also return 43mpg if driven more sedately.
A facelift in 2013 brought a more angular and aggressive front end and a restyle at the rear that made the car look less bulky. The Panamera S was replaced by a new model with a both more powerful and economical twin-turbo 3.0 V6.
MACAN
The latest model in Porsche's growing family – remember when they only built the 911? – is the Macan, a mid-range four-wheel-drive SUV that defies logic and handles like a sports car. Launched in November 2013, the big boy of the range was the Macan Turbo, equipped with a twin-turbo 3.6-litre V6 good for 396bhp. The Macan S was a 3.0 version, still with 335bhp, and of course there had to be a diesel model, with a turbocharged 3.0 V6 boasting 258bhp – and still decently rapid. A GTS model was added in 2016, much like the 3.0 S but with 354bhp and sports suspension for even better handling, and capable of sprinting to 60mph in 5.0 seconds. All Macans are only available with Porsche's PDK 7-speed semi-auto 'box. For those who actually want to play with theirs offroad, there are such niceties as Hill Descent Control, but you are unlikely to see many with mud-caked wheelarches.
Find out how to finance Porsche Macan with JBR Capital.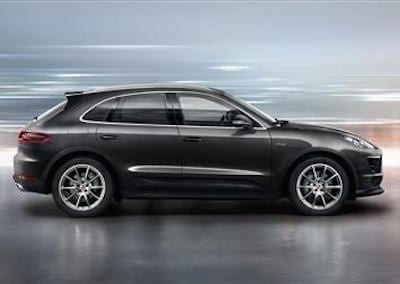 918 Spyder
If your dreams include this car, you're clearly a far-seeing futurist, because the Porsche 918 Spyder feels very much like the future of supercars. Blisteringly fast (America's Car & Driver magazine considers it the fastest car they've ever tested, taking just 2.2 seconds to go from zero to 60mph), it achieves this with the very latest technology, rather than just brute force horsepower. Classed as a plug-in hybrid, it combines a V8 petrol engine with two electric motors, one for each axle, giving it surprisingly good fuel economy for a vehicle with a 210mph top speed.
Being a Porsche, of course, it makes very few compromises in its quest for speed plus economy; while it has a short-range electric-only mode, in hybrid setting its battery is charged both by regenerative braking and the petrol engine, giving it a highly useful 400+ mile range on a full tank, while emitting less carbon dioxide than most small hatchbacks.
The Porsche 918 Spyder is without doubt a highly advanced vehicle. Made out of carbon-reinforced plastic, stopped with sophisticated electro-mechanical brakes and with all the environmental credentials you could hope for, it's an engineer's dream. But it's also shatteringly fast and very beautiful indeed. The future could be a lot of fun.
Engine 4600cc V8 & two electric motors Top speed 218mph 0-60mph 2.2secs
Porsche Taycan
After that sneaky reveal in the Superbowl advert slot, the much awaited all-electric Porsche Taycan was finally with us in late 2020. As such it has set that super car electric bar up to high.
And it should come as no surprise that these cars have been much in demand and much funded. Obviously the Taycan is not as quick as the Spyder and as with all electric cars does not have the range. The jury is undecided on the one-foot operation but all agree this is an amazing car for our current age, bringing the Porsche comfort, drive and engineering.
Engine up to 750-hp Turbo S. Top speed 161mph 0-60mph 2.4secs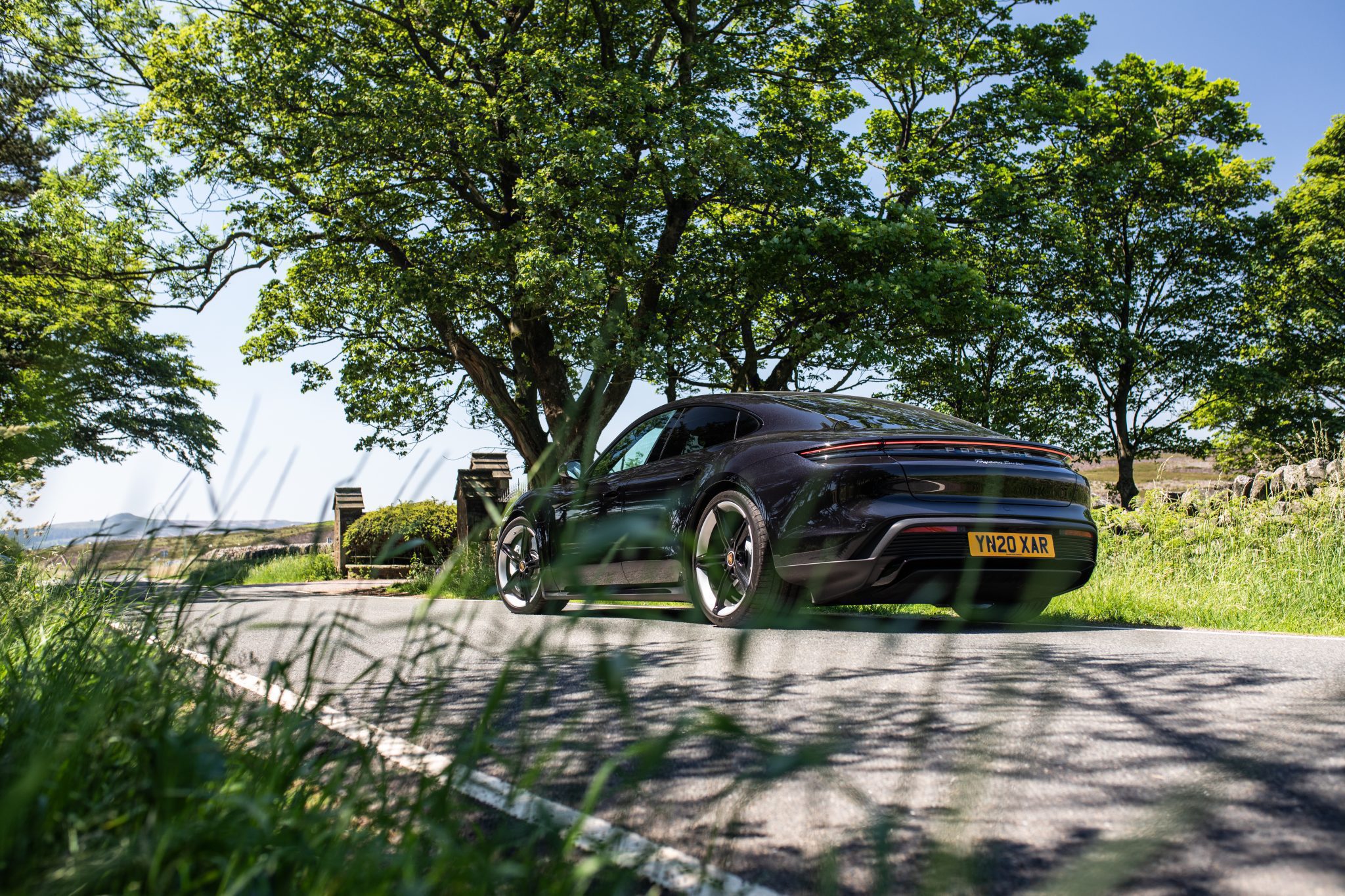 And There's More…
The internet is packed with Porsche pages – many of them fascinating, reliable and authoritative, some a little less so. If you want to delve further into this fascinating marque, we've done some of the legwork for you and handpicked a selection of sources that we think are inspiring, informative and interesting. And we've asked their makers to tell you exactly what they do in their own words too. Click this way…
We're big fans of this exhaustive site, which modestly describes itself as "A global marketplace for everything Porsche related, joined by model history articles and Porsche technical information."
"Flatsixes is the web's largest and longest running Porsche specific blog," says the woman behind it, the enthusiastic Paula, aka Pepper Girl. "We produce original and entertaining content around the cars, products and lifestyle associated with the Porsche brand. More than 200,000 Porsche fans and owners visit our site each month."
A rather good print magazine as well as a website, they claim to "deliver the most engaging, exciting and informative Porsche content in the marketplace – both in print and online. 100% dedicated to all things Porsche, celebrating the brand's rich heritage, its latest achievements through comprehensive road tests of contemporary models, insightful pieces on yesterday's heroes and accurate advice for potential Porsche owners."
Porsche Racing Drivers Association
Fancy racing? Try here. "You wouldn't believe that there could be a cost-effective Porsche racing series, but this successful championship really is – the tightly controlled Rules and Regulations set out by the PDA are designed to provide close racing, maximum driver enjoyment and a level playing field where the emphasis is on driver skill, not the size of budgets."
A venerable and wide-ranging institution that, amazingly, has been going since 1955. "Today, activities range from competitive events such as autocrossing, club racing, rallying, and Concours, to social events,such as touring, vehicle restoration, and Porsche history."
Run by George Hussey, knows to enthusiasts of these quirky Porsches as 'Dr 914', this website and forum is an invaluable source of tech info and tips. It's a spinoff of his business Automobile Atlanta which he describes as "sort of a vintage dealership devoted to the preservation of the Porsche 914. We mainly sell parts for the car, but always have over 40 Porsches undergoing restoration, as well as servicing 914s and other Porsches. We are purported to have the best 914 collection in the world."
"The world's oldest and largest classic Porsche club. Since 1976 the Registry has been the prime source for information on the first Porsches through our bi-monthly magazine, website, social media outlets and events. The '356 Talk' forum allows members to share info and solve any kind of 356 troubleshooting and repair issues. An electronic archive of 250+ issues of our magazine plus online articles comprise the largest bank of 356 knowledge today."
And a few more honourable mentions:
Porsche Club GB Does exactly what you'd think
The Independent Porsche Enthusiasts Club An alternative association for the less corporate-minded
911 UK Impressively well-populated forum for all 911 matters
Magnus Walker 911 Breathtaking custom Porsches from an eccentric legend
Porsche Hangout Info & News on all things Porsche
Did you enjoy our Ultimate Illustrated Guide? You can now have your own digital copy...