Bugatti Finance
Bespoke finance for your dream Bugatti
If you're considering purchasing a Bugatti, talk to us. We are high-end car finance experts, and can put together a bespoke, flexible arrangement to suit your financial circumstances, your car, and your future needs. Our personal service means that we can take into account many more factors than a high street lender – for instance the car's true residual value, other assets you may own or your business situation – and come up with a fast decision and a plan to suit you. We often offer lower payments than other lenders, and we can offer finance to clients who may be turned away by the computer-driven checklists of other companies. So contact us about finance, either before you start hunting for the perfect Bugatti, or after you've decided on your dream car.
BESPOKE FINANCE
Finance personally designed to suit you and your vehicle
EXPERT KNOWLEDGE
We specialise in high-end vehicles. That's our only focus
FAST DECISIONS
Face-to-face conversations, and fast decisions made by humans
Competitive rates
Fast results, with the ability to achieve low monthly repayments
Top Bugatti Models We Finance
Representative Bugatti Finance Example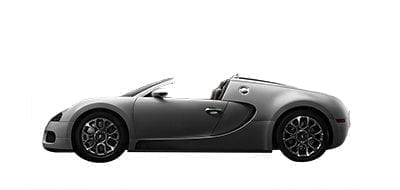 Bugatti Veyron
Year: 2008
Value: £1,200,000
Finance Product: Lease Purchase
Fixed rate of interest per annum 6.67%, Representative APR 6.9%
If you borrow £1,080,000 and pay a £120,000 deposit to the dealer for a car with a cash price of £1,200,000 over 48 months at a Representative APR of 6.9% and an annual interest rate of 6.67% (fixed), you would pay £14,819.53 monthly with one final balloon payment of £600,000. The total amount payable including your deposit and fees would be £1,431,932.44.
| | |
| --- | --- |
| Deposit | £120,000 |
| Total amount of credit | £1,080,000 |
| Total charge for credit | £231,932.44 |
| 48 monthly payments of | £14,819.53 |
| Final balloon payment | £600,000 |
| Total amount payable | £1,431,932.44 |
WE KNOW THAT EVERY Car AND EVERY OWNER IS DIFFERENT.
Car Finance Process With JBR Capital
1. Get In Touch
Call or email us today to receive a quote from our car finance experts
2. Submit Application
Once agreed, the finance proposal will be submitted to our underwriters
3. Pay Deposit
Once approved, you simply pay the deposit, sign the finance agreement
4. Drive your dream car
We pay the balance and you drive away in your dream car!
THE ENDURING LEGEND OF BUGATTI
If you are thinking about a Bugatti, the question is 'which Bugatti, exactly?'. Because, confusingly, there are three very different versions of the marque. The first, whose products are much coveted by vintage collectors, made its name during the 1920s and 1930s with a range of beautifully-crafted light and nimble sports and racing cars, usually finished in a characteristic brilliant blue and sporting a distinctive upside-down horseshoe radiator grille. The Type 35 and its successors the 37 and 39 are, in fact, renowned as being the most successful racing cars of all time; they are said to have more than 2,000 wins to their name. Meanwhile, the marque also built many handsome road cars including the stunning Type 57SC Atlantic coupés, whose many fans include wealthy car collector and fashion mogul Ralph Lauren. But sadly, the first version of the Bugatti marque petered out shortly after WWII with the death of its founder.
The name, however, carried too much of a legendary status to be allowed to vanish. In the mid-1980s, an Italian entrepreneur bought the brand and launched a new supercar, the EB110. Again usually made in bright blue, this fast and technically advanced vehicle, famously owned by F1 driver Michael Schumacher, wasn't to become a big seller despite its undeniably brutish good looks and astonishing performance. The firm lasted until the mid-1990s when a combination of economic factors and over-ambitious business deals saw it close its doors once more.
And, then, once again, in 1998, Bugatti was back. This time the brand was purchased by the rather more financially solvent Volkswagen group, who released a series of attention-grabbing concept cars before starting production of the rightly legendary Veyron 16.4 in 2001. With its eight-litre, 16-cylinder engine sporting no fewer than four turbochargers and producing more than 1,000 horsepower, the Veyron was to become the world's fastest production car with a record of 267.7mph. It has picked up a host of awards from the world's press and is without a doubt one of the greatest cars ever built. There have been several versions, including a targa-topped convertible and the frankly astounding World Record Edition which is even faster then the standard model.
The last of the Veyrons was sold in 2015 – however, Volkswagen have recently announced its successor, the Chiron, which is already on sale, and will start being delivered to lucky customers at around the end of 2016. And yes, it is said to be even faster than the Veyron…
If you'd like to purchase a Bugatti, of whichever era you prefer, do please contact us to discuss how we can help you finance one of the world's all-time great cars.