Having previously been employed by a German metalworks firm, an Italian carrozzeria and an Italian aeroplane manufacturer, Ugo Zagato founded his own bodyshop, Carrozzeria Ugo Zagato, in Milan in 1919.
Zagato soon formed close ties with Alfa Romeo, and following WW2 he was joined in business by his sons Elio and Gianni who assumed control upon their father's death in 1968. The company passed to Elio's son Andrea following Elio's death in 2009 – a role Andrea now shares with his wife Marella Rivolta-Zagato, (daughter of Piero Rivolta, the founder of Iso).
Zagato versions of standard production models are usually identifiable by their enhanced aerodynamics, signature double–bubble roof and Kamm-tail rear end with round rear lights.
With avante-garde and sometimes controversial styling, Zagato has been responsible for more than 440 different coupé, spider or speedster models by 44 different manufacturers including Bentley, Bugatti, Ferrari, Lamborghini, Maserati, Porsche, Rolls-Royce and, most importantly over the past six decades, Aston Martin.
Aston Martin and Zagato's relationship was hatched at the 1960 Geneva Show when Technical Director and English speaker Gianni Zagato met with Aston boss David Brown and Technical Director John Wyer. A deal was agreed which soon led to the DB4 GT Zagato, and ultimately to the creation of many more Zagato Aston Martins.
Quoted values are approximate as of Spring 2019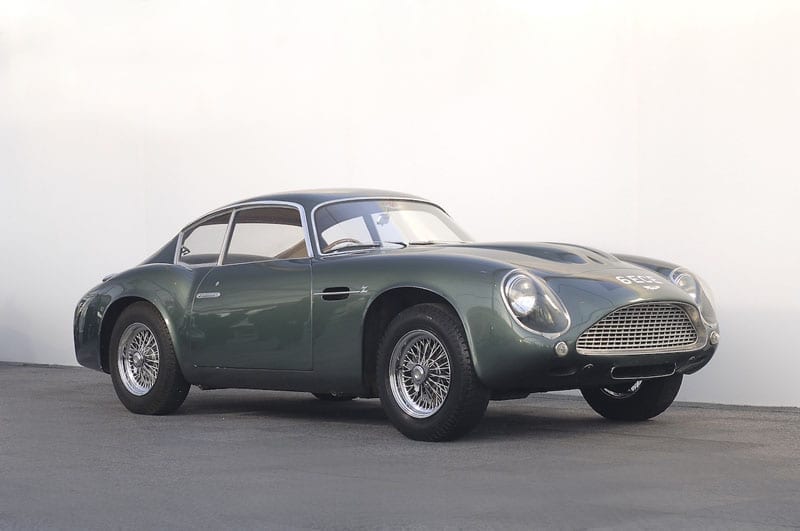 1.DB4 GT Zagato
The first product of Aston Martin and Zagato's collaboration and now the most desirable of all Aston Martin road cars, the DB4 GT Zagato was first revealed at the 1960 London Motorshow. DB4 GT chassis were dispatched from Newport Pagnell to Milan for fitment of Zagato's lightweight aluminium body. The original plan was to build 25 cars, but just 20 were built between 1960 and 1963, and 19 survive today. With an even higher compression ratio power was raised from the DB4 GT's 302bhp to 314bhp which would have given a corresponding small improvement over the 'standard' DB4 GT's straight line performance.
Approx current value: £6–10m
2. 1986 V8 Vantage Zagato
Following a 23-year gap, drawings and a scale model of the Vantage Zagato were first shown at the 1985 Geneva motorshow and deposits were taken on all 50 cars planned (52 were subsequently built). Featuring a shortened wheelbase and a completely redesigned and much more contemporary 2+0 interior, the 5,341cc V8 was boosted to 432bhp which made the V8 Zagato one of the world's fastest cars with 0-60 in 4.8 secs and a 186mph top speed.
Approx current value: £450–550k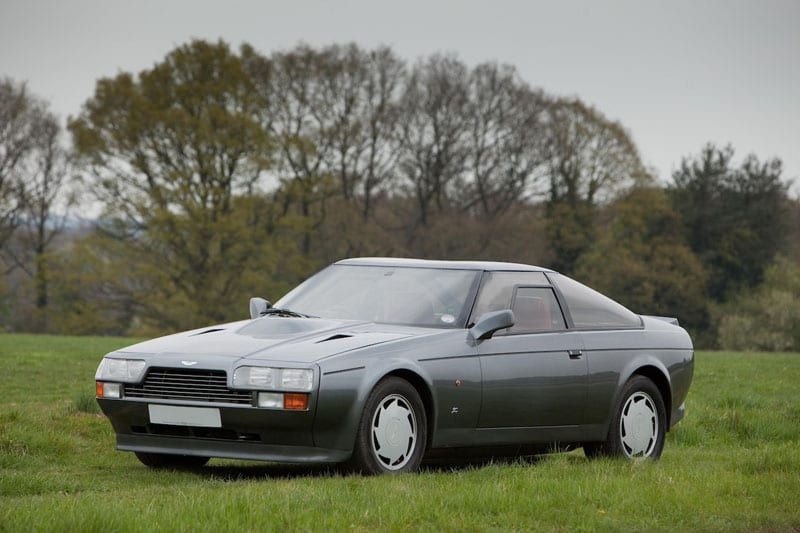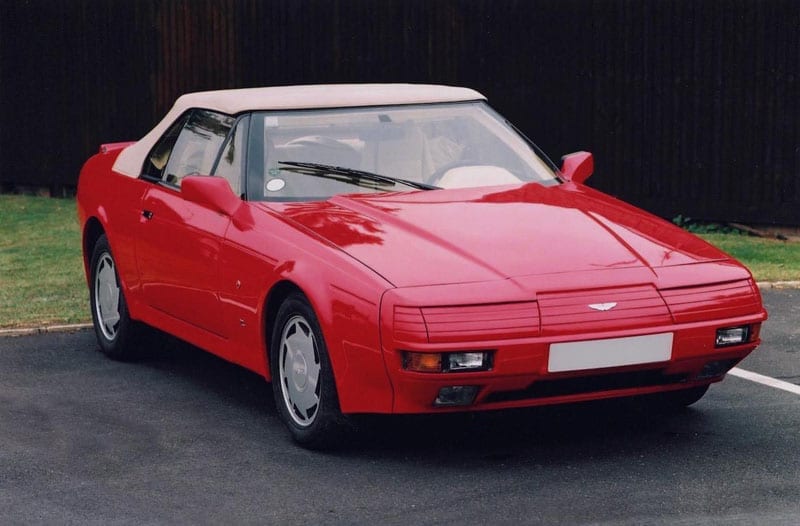 V8 Vantage Zagato Volante
3. 1987 V8 Vantage Zagato Volante
A convertible Volante version followed the Vantage Zagato hardtop in 1987 and, although an even more limited run of 25 was initially intended, 37 Zagato Volantes were eventually made. Of those just six were factory retro-fitted with the 432bhp Vantage engine and, nestled beneath the hardtop's bonnet power bulge, this engine made it the world's fastest convertible with a sub 5 second 0-60 time and a 180mph+ top speed.
Approx current value: £500–600k
4. 1988 Zagato Lagonda Rapide
Having obtained a rolling chassis intended for a 1980s Aston Martin V8, Zagato revealed its mock-up Lagonda Rapide design concept at the 1988 Geneva Show. Constructed from steel tube, plywood, expanded foam and filler, with painted windows in place of glass, the model may have been intended as a less sporty, more luxurious offering for the US market, but its looks were dubious, its purpose either unclear or misguided and it wasn't seen again.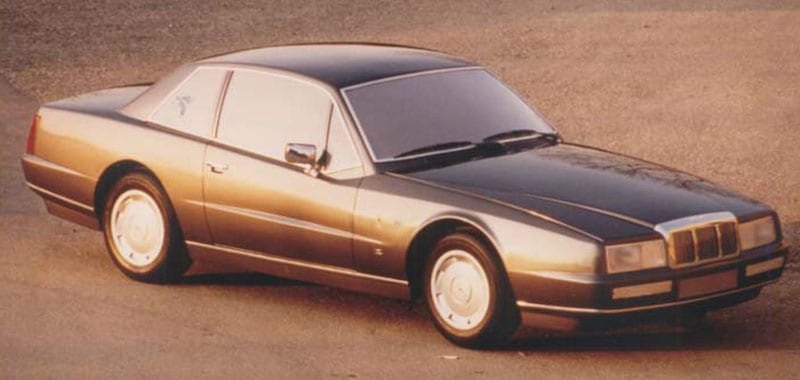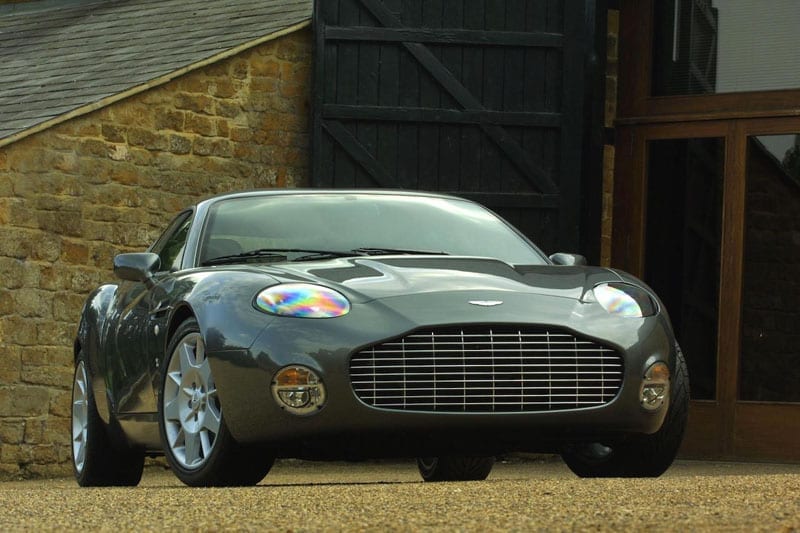 5. 2003 DB7 Zagato
Following a chance meeting at Pebble Beach in 2001 between AM's CEO Dr. Ulrich Bez and Andrea Zagato, a DB7 Zagato prototype coupé was revealed at the following year's event. Shortened DB7 Vantage Volante chassis were shipped to Zagato where the aluminium bodies were fitted before being returned to Bloxham (nr. Banbury) for final assembly. The double-bubble roof and large radiator grille were unmistakably 'Zagato', while the body contributed toward a 60kg weight advantage over the standard DB7. Powered by the 6-litre Vantage V12 making around 435bhp, top speed was a quoted 190mph. Strictly a two-seater, 99 DB7 Zagato coupés were built.
Approx current value: £250–375k
6. 2003 DB AR1 Zagato
Revealed at the LA Auto Show in early 2003, the DB American Roadster 1, or DB AR1, was based on the standard-length DB7 Vantage Volante and boasted roofless Zagato coachwork. Despite its unshortened chassis it was also strictly a two-seater. The rare 6-speed manual version produced 435bhp, or 420bhp in the more common 5-speed auto guise. Of the 99 built, most were delivered new to Florida and California, with just the one RHD example going to a UK customer.
Approx current value: £250–300k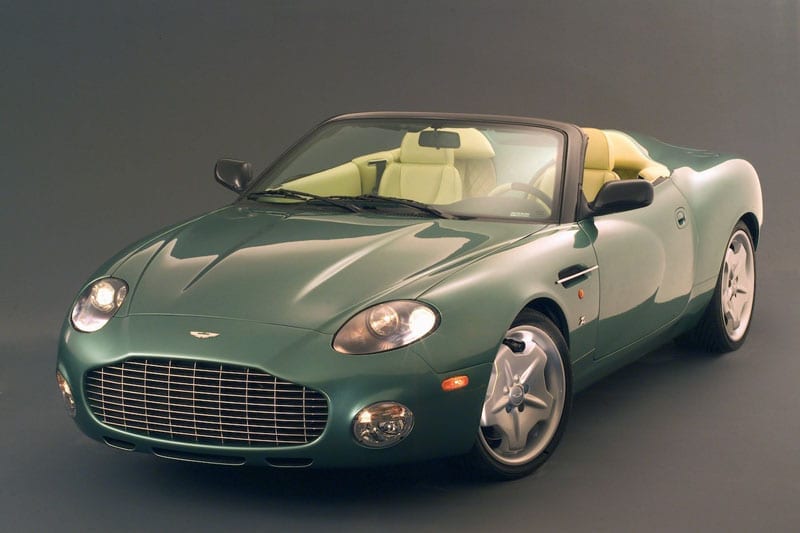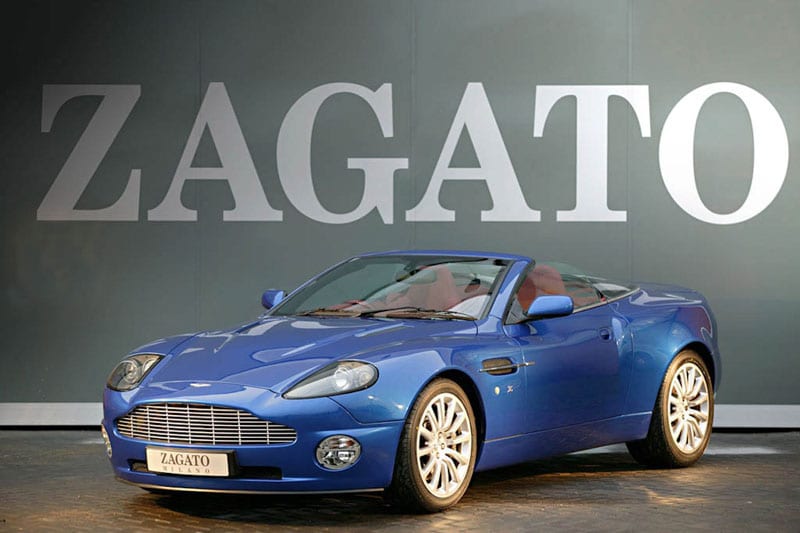 7. 2004 Vanquish Zagato Roadster
The 2004 Geneva show saw the unveiling of the Zagato Vanquish Roadster prototype. Based on a late 1990s 460bhp 6-litre V12 Vanquish, it featured clear, low-level rear buttresses, a new rear bumper, round rear light clusters and an alleged electrically-powered canvass soft-top. It otherwise retained most of the standard car's design features, being an unaltered Vanquish from the A-pillars forward. This one-off concept never reached production (the DB9 Volante made its European début at the same Geneva show) but the car has since had at least two private owners.
Approx current value: £550–650k
8. 2011 V12 Zagato
Based on the 2009 V12 Vantage with its bonded aluminium platform and 6-litre 510bhp V12 engine , the V12 Zagato was first revealed at the Villa d'Este concours in May 2011. The aluminium and carbon fibre-body was made in the UK by Coventry Prototype Panels and it featured Zagato's iconic double-bubble roof, fabricated in this case from five separate sheets of aluminium. At around £400k apiece, no more than 150 examples were due to be built from mid 2012, but when production ceased a year later, just 65 had been built.
Approx current value: £450–600k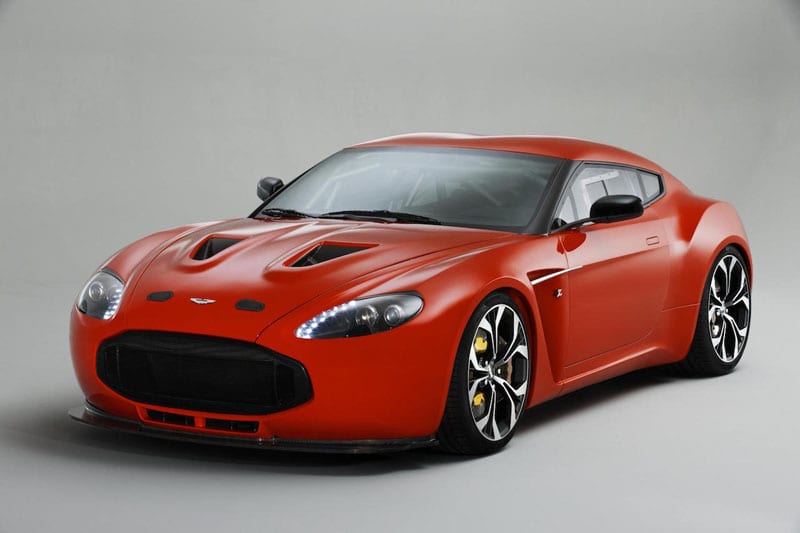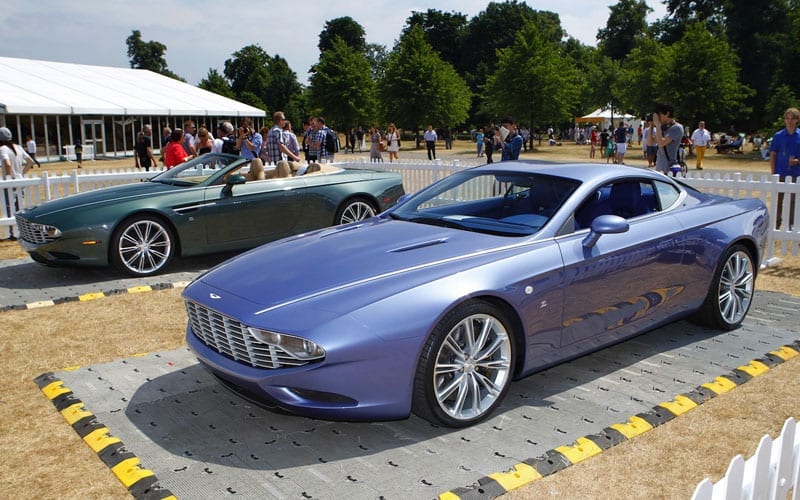 DBS+DB9 Zagato Centennials
9. 2013 DBS Coupé Zagato Centennial & DB9 Spider Zagato Centennial
Built to celebrate Aston Martin's 100th anniversary, both these cars were one-offs commissioned by private collectors – the DB9 Spider by an American, the DBS coupé by a Japanese. Both were first seen in public at Aston Martin's centenary event in London's Kensington Gardens in July 2013. The DB9 Spider was based on a 2013 DB9 Volante with its 510bhp V12, while the DBS Coupé with double-bubble roof was based on the 2007-2012 DBS with an earlier but similarly powerful engine.
Approx current value: £500–550k
10. 2014 Virage Zagato Centennial Shooting Brake
The third and final car in Zagato's celebratory Centennial series, the one-off Shooting Brake, was first shown at the Chantilly Concours d'Elegance near Paris in September 2014. Commissioned by a European customer, it's based on the 2012 490bhp Virage – itself a model only produced for a single year.
Approx current value: £500–550k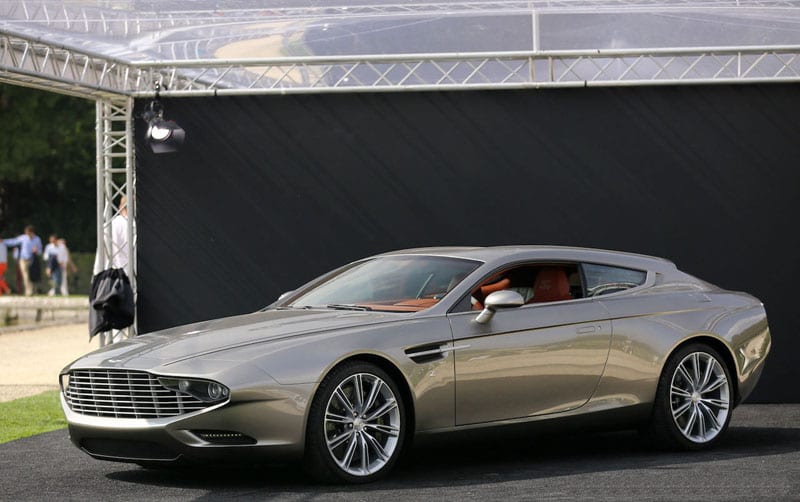 Virage Zagato Centennial Shooting Brake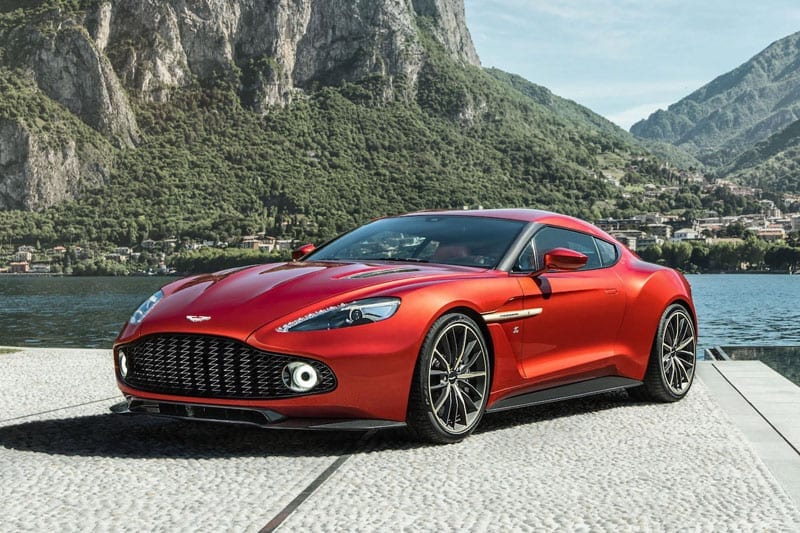 Although also strictly a two-seater, the more capacious Shooting Brake version was announced in October 2017 (99 to be built), thus completing the four-model Vanquish Zagato line-up.
All 325 examples were pre-sold for £525,000 (Coupé), £577,500k (Volante), £625,000 (Shooting Brake) and £960,000 (Speedster), UK list prices and excluding options.
Approx current values: Due to the number of pre-owned Vanquish Zagatos now being offered for sale their current values are probably around 80% of their original list prices.
11. 2016-18 Vanquish Zagato Coupé, Volante, Speedster & Shooting Brake
First unveiled as a concept in May 2016 at Lake Como's Villa d'Este concours, the carbonfibre-bodied Vanquish Zagato Coupé had its own unique suspension set-up but otherwise employed the underpinnings and 592bhp 6-litre V12 of the 2017 201mph Vanquish S. It was announced at the time that 99 examples would be built to order at Aston Martin's Gaydon factory.
A Volante version (99 to be built) was subsequently revealed at California's Pebble Beach Concours event in August 2017, along with a roofless Speedster version, of which just 28 would be built.
Vanquish Zagato Speedster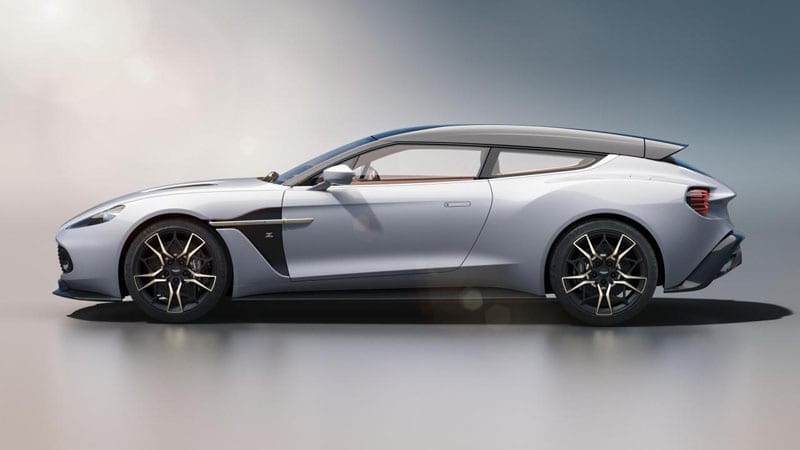 Vanquish Zagato Shooting Brake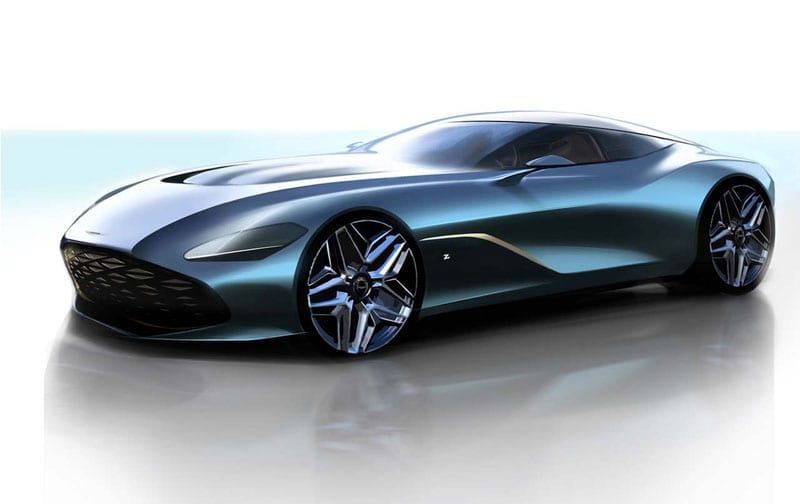 Although the DB4 GT Zagato Continuation bodies wont be fabricated in Italy, they're to be hand-made in Newport Pagnell using a blend of David Brown-era craftsmanship, with modern engineering techniques and performance enhancements, the latter including 380bhp, (an extra 66bhp over the 1960s original) from the straight-six, twin spark engine.
This more detailed rendering of the DBS GT Zagato was released in March 2019. The car is based on the 2019 715bhp 211mph DBS Superleggera model, which itself is a high-performance variant of the 2018 twin-turbo V12 DB11.
12. 2019 DBZ Centenary Collection
Conceived to mark Zagato's 100th year in 2019, Aston Martin announced its DBZ Centenary Collection in September 2018. This would be comprised of a track-only DB4 GT Zagato Continuation built in the DB4's original home of Newport Pagnell, and a road-legal DBS GT Zagato produced at Gaydon. Production would be limited to 19 pairs of cars priced at around £7.2m for the pair, and available only as a pair, with first deliveries scheduled for late 2019.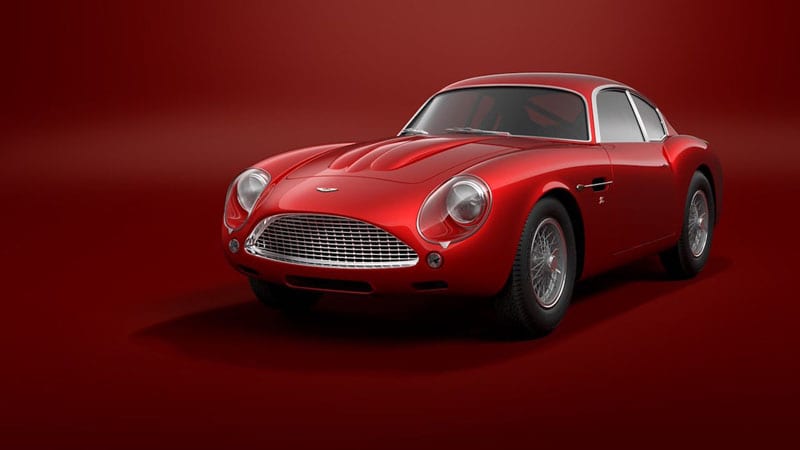 DB4GT Zagato Continuation
13. 2019 Vantage V12 Zagato Heritage Twins by R-Reforged
In late April 2019 came the news that 19 pairs of Coupés and Speedsters based on the 2011 Vantage V12 Zagato would be built in honour of Zagato's 100th anniversary. They're the first of AF Racing's new R-Reforged brand projects (AF Racing being a partner in the Valkyrie project) and they'll be assembled in Germany in close cooperation with Zagato under Aston Martin's exclusive licence by AF Racing's subsidiary Vynamic GmbH (the outfit running the Aston Martin Vantage in the 2019 DTM Championship). Prices have not been officially announced, but expect region £1-1.5 million for the pair with deliveries planned for late 2019.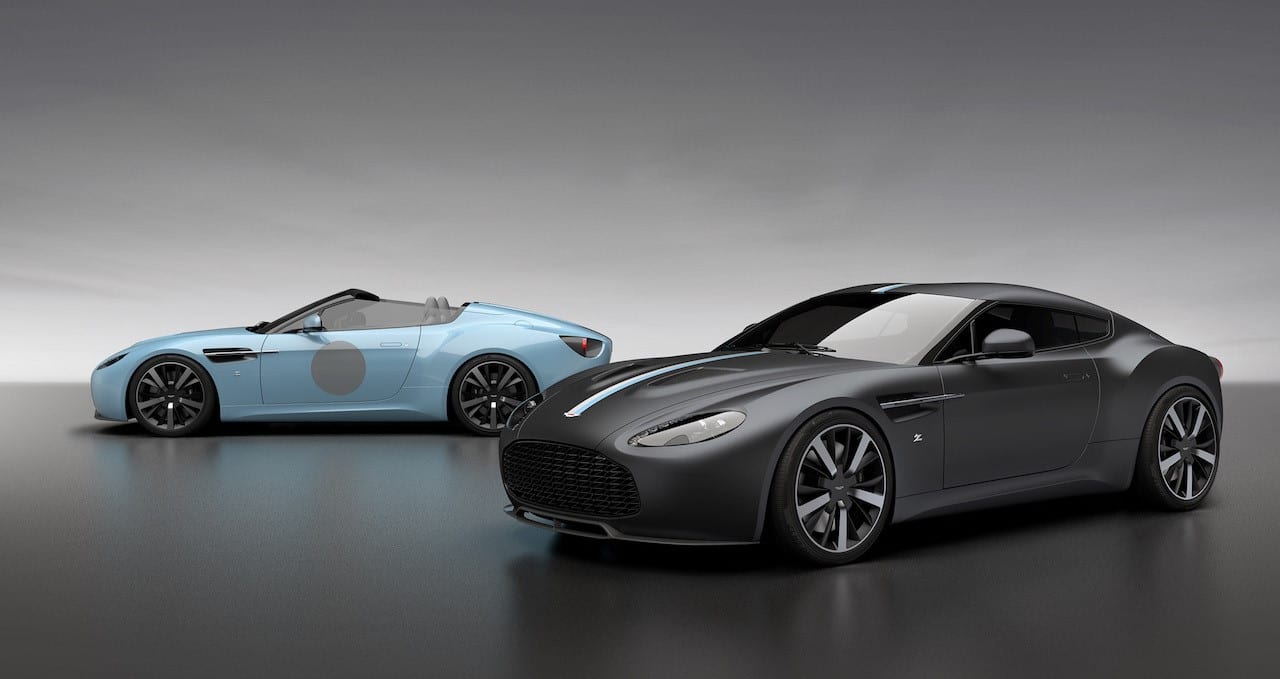 2019 Vantage V12 Zagato Heritage Twins
We love Italian style at JBR Capital and we can quickly build you a bespoke finance package to suit your needs. So if you're interested in acquiring the Aston Martin or the classic car of your dreams then get in touch with one of our experts today on 020 3355 0035 to explore your finance options.