Introduction: THE FORD GT STORY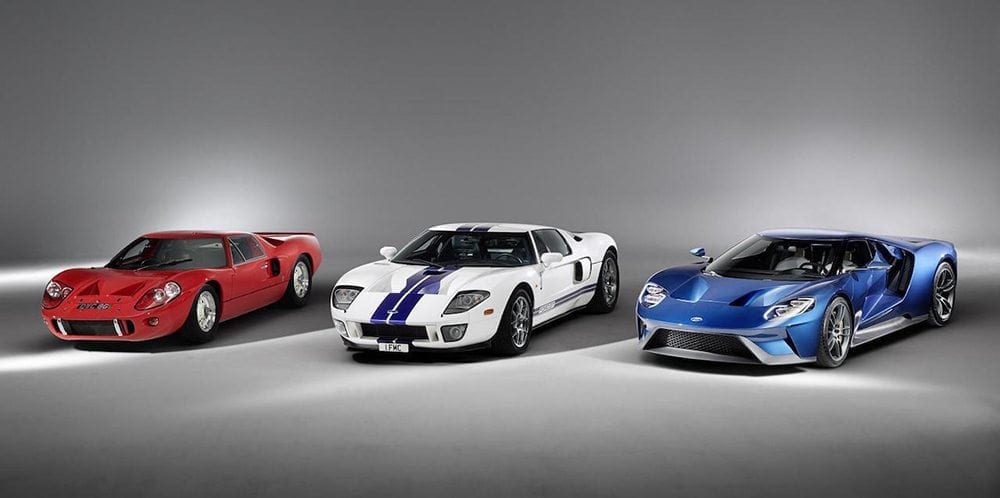 Many years ago Ford's News Bureau, based in Dearborn, Michigan, issued an important press release. The first two paragraphs read as follows:
A light rain was falling and gray clouds hung low over the rolling French countryside, producing premature twilight as three sleek prototype automobiles rolled across the finish line to end the 24 Hours of Le Mans for 1966.

This event had been run 33 times prior to 1966, but this year's race had special significance for American race fans. The first three cars that crossed the finish line at 4pm Sunday, June 19, were Fords. Never before had an American-built car won this premier endurance event.
Then, on 19 June 2016, with Ford GTs having just finished the Le Mans GTE Pro class in 1st, 3rd, 4th and 9th, the company issued another release, which contained the following:
"This is an historic moment for the Ford Motor Company," said Bill Ford, executive chairman, Ford Motor Company. "We dared to dream that we could return to Le Mans, 50 years after the incredible 1966 win, and take on the toughest competition in the world. The pride we all felt when the Ford GT crossed the line at Le Mans is indescribable…

"We cherish our history and heritage, but today we made history again and I couldn't be more proud."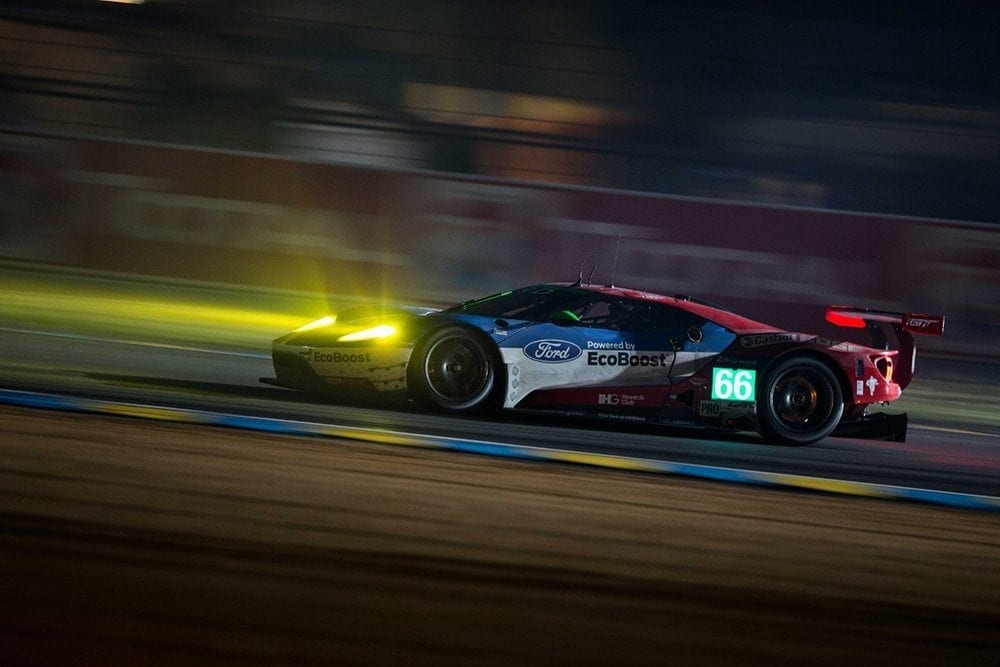 Ford revealed its current GT at the 2015 Detroit motorshow, and the car made its European show début a couple of months later at Geneva. Following that 2016 Le Mans victory, the very first production Ford GTs rolled off the line late that year, but the first UK customer deliveries have only recently begun.
So, no time like the present to bring you the low-down on Ford's third-generation GT, But the story would be far from complete without taking a look its predecessors.
The first GT was a racer through-and-through with a small handful road versions built as an afterthought. The second was a road car without any competition ambition, while the third was designed and developed simultaneously as both a racer and a road car.
FORD GT40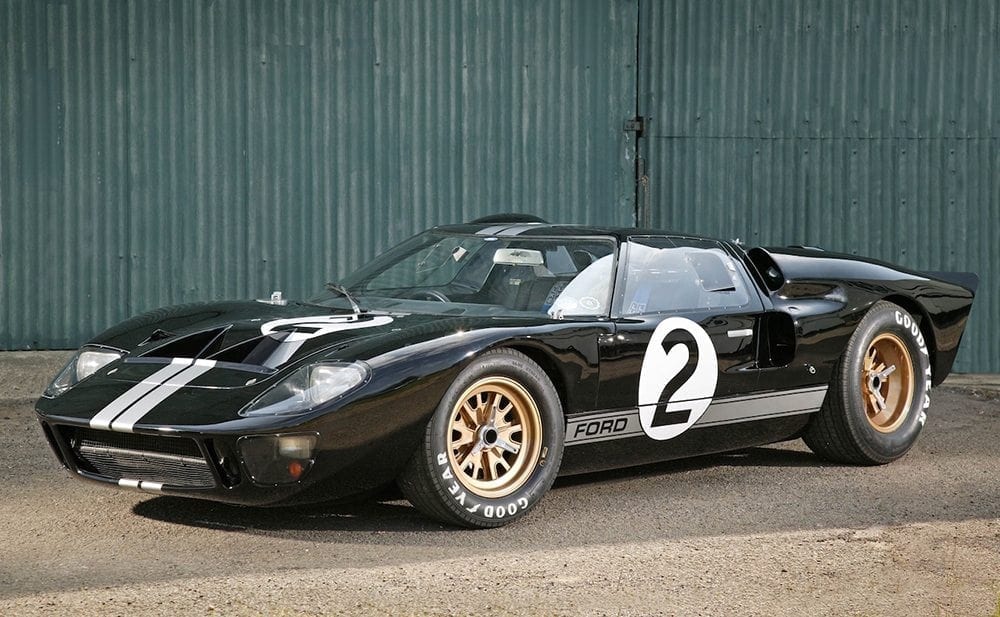 Having won the Le Mans 24hr every year from 1966 to 1969 along with a host of other major racing successes, the GT40 became the stuff of legend, as has the tale of how the car came to be in the first place, along with the events leading up to the first of those victories.
By the late 1950s/early 1960s Ferrari had become the car to beat at Le Mans with the Maranello firm winning in 1958, '60, '61, '62 and '63. However, along with its F1 and other competition activities, this success came at a cost and by 1963 Enzo Ferrari was quietly on the lookout for some outside investment.
The previous year Ford had announced that it would be disregarding the American Automobile Manufacturers Association's ban on motorsports participation. The Detroit giant had decided to go sportscar racing despite not having much of a clue as to how to go about it.
Before long, Ford and Ferrari were engaged in secret talks. Enzo's intention was that he could sell to Ford while maintaining complete control of all Ferrari's racing activities, while Ford's plan was somewhat different; that it would buy-out Ferrari lock, stock and barrel, and continue its racing operation under the Ford name.
Not wishing to relinquish control over his beloved Scuderia, Enzo unilaterally terminated all negotiations at the eleventh hour and the Ford team, headed by Vice President and General Manager Don Frey, headed back to Michigan empty handed.
Henry Ford II was most displeased, and effectively said, 'If we can't join 'em, then we'll beat 'em'.
Starting from scratch this was no easy task, so Ford's first move was to approach some British constructors who might wish to collaborate on the project, namely Lotus, Cooper and Lola. Eric Broadley's Lola was chosen, not least because Lola had run three cars at Le Mans in '63. These Lola Mk. 6s hadn't finished the race, but they'd shown considerable promise, and they were powered by mid-mounted 4.7-litre Ford V8s.
Englishman Roy Lunn, then Ford's Advanced Concepts Manager, several assistants from Ford's Reasearch Dept., Phil Remington from Shelby American Inc. and John Wyer, formerly Aston Martin's Team Manager, soon set to work, initially at Broadley's Lola facility in Bromley, Kent before moving to a small factory in Slough.
And so the first Ford GT, later to be known as the GT40 due to its 40-inch height, was born. The new car was undeniably related to the Mk. 6 Lola, but with a steel semi-monocoque tub it was for the most part an all new car and development went ahead at a pace.
The GT's first outing was in April 1964 at a pre-Le Mans practice event, and two cars crashed due to high-speed instability. Following some aerodynamic adjustments, the GT's first race was the Nurburgring 1,000km, but the one car entered failed to finish due to gearbox issues. Three GTs were then readied for the '64 Le Mans 24hr, but due due to more gearbox troubles, none finished. As if to rub salt into Ford's wound, Ferrari won for the fifth year on the trot.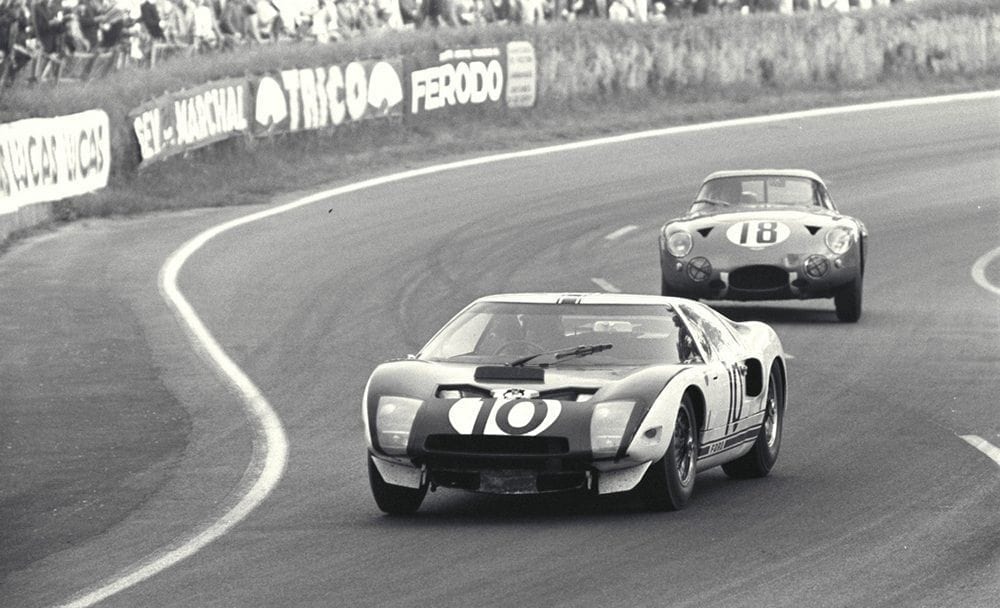 However, powered by a modified 'Indianapolis' version of the 4.2-litre V8 from the production Ford Fairlane, one GT had led the race for 35 laps while another had broken the lap record and was timed at 207mph on the Mulsanne Straight – a speed that not even the fastest V12 Ferraris could approach.
The GT's first success was victory at Daytona in 1965, but meanwhile Roy Lunn had been setting up Kar Kraft, (a Dearborn-based Ford sub division formed to develop prototypes), and work had started there on the slightly bigger and heavier but more powerful 7-litre Mk. II version. Two hurriedly-completed Mk. IIs were rushed to Le Mans in '65, along with four Mk. Is. Both the Mk. IIs failed to finish, as did all but one of the Mk. Is. And Ferrari won again.
That Sunday evening, four hours after the race had finished, Ford's PR Manager Leo C. Bebe, called a meeting at the team's Le Mans hotel. In opening the meeting he said, "I want you to know that this is a victory celebration. We're celebrating our victory in the 1966 race."
Among the conclusions drawn that evening was that the 7-litre Mk.II was more than capable of winning the event once it had been fully developed. The Mk II wasn't raced again in '65. Instead it underwent a thorough test program conducted by Shelby American and supervised by Ford's Special Vehicle Activity dept.. A new Team Manager, John Cowley, was appointed and a Le Mans committee was formed consisting of senior Ford personnel. It was also decided to retain three teams to run the Mk IIs in '66: Shelby American, Holman & Moody Inc. and the British Alan Mann Racing Ltd..
Now modified and fully tested, Mk. II GT40s finished 1-2-3-5 in the early season Daytona 24hr, and would have had a 1-2-3 at Sebring soon after had the leading GT40's engine not failed on the last lap. Ford had to settle for a 1-2.
And so it was a quietly confident group that accompanied the cars to Le Mans in '66. In addition to the early season race successes, a 7-litre Mk II engine had also successfully completed a 48hr durability test on the dyno which accurately simulated two back-to-back 24hr races on the Sarthe circuit, including all gearchanges.
The Ford Mk IIs were the fastest in practice right from the start, with Dan Gurney setting a pole time of 3:30.6 – 2.4 secs faster than the fastest Ferrari.
Of the eight GTs that started, one retired with a broken half-shaft after just a few laps, another suffered a collision and clutch trouble, two overheated while another retired with broken front suspension. However, the frantic pace set by the Fords in the early part of the race took its toll on the fastest Ferraris which all also retired.
That left the three remaining Ford GTs to complete the race without any problems, scoring an historic 1-2-3. The first two, both Shelby American-run, completed 360 laps, or 47 more than the best-placed Ferrari, a Maranello Concessionaires 275 GTB/C which finished eighth.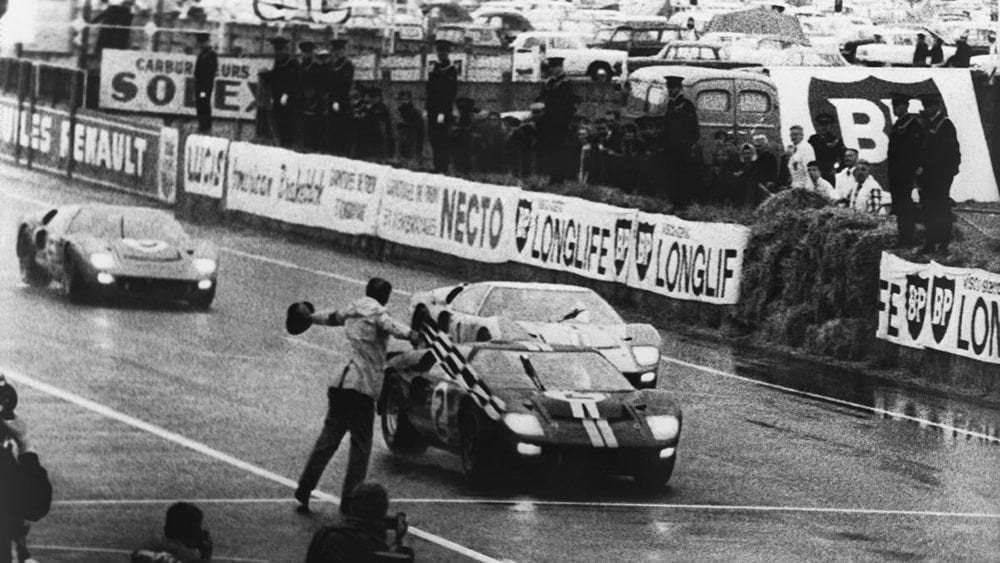 But the Le Mans '66 story didn't end there. A quick decision had been taken in the Ford pits that, as the two leading cars were running within seconds of each other, they should finish side-by-side in what would hopefully be considered a dead heat. All three Fords went over the finish line in close formation, but any chance of a dead heat disappeared when officials ruled that in the event of a tie, the car that had started further down the grid would have travelled the greater distance and would therefore be the winner. So, the Denny Hulme/Ken Miles car, which had eased off to allow Bruce McLaren and Chris Amon's car to catch up, had to stand on the second step of the podium while McLaren/Amon stood at the top.
Ford GT40s went on to finish first and fourth at Le Mans in '67 (with Ferraris second and third), first again in '68 (with the best-placed Ferrari in seventh) and first, third and sixth in '69 (with the top Ferrari in eighth).
It was job done.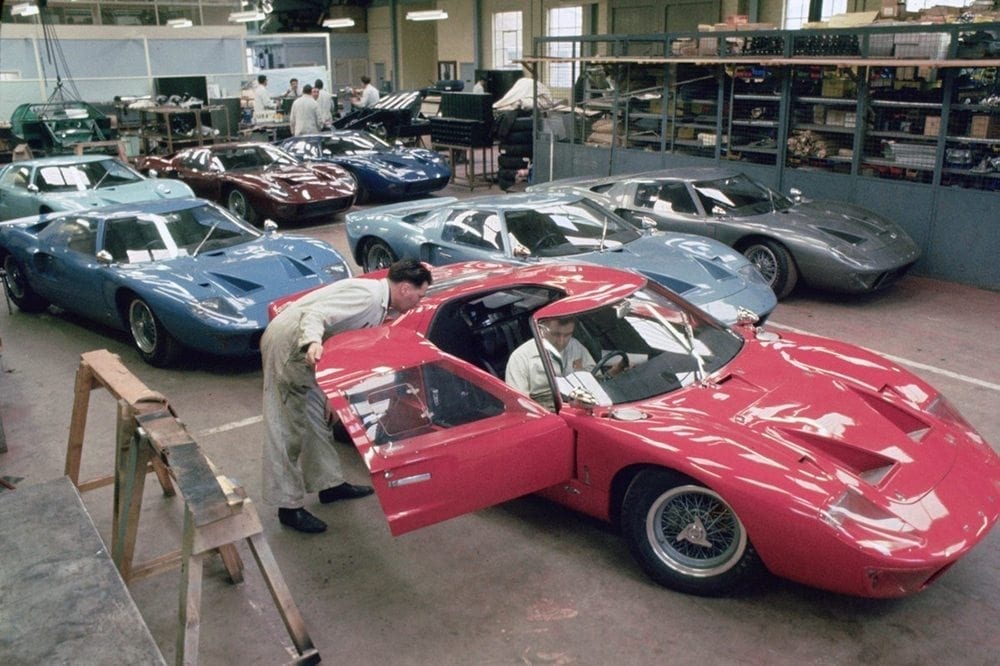 FORD GT40 MK. III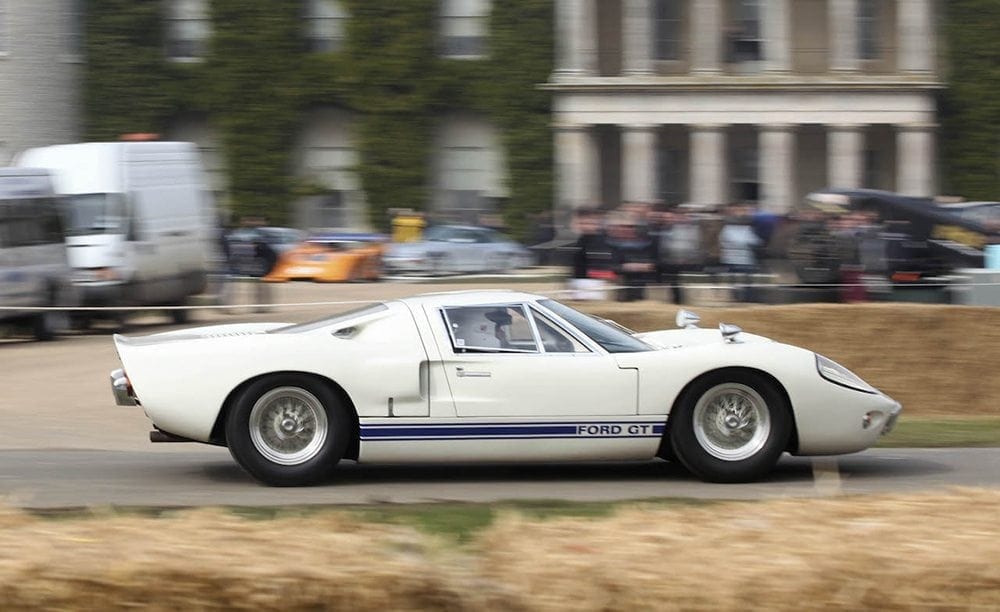 Unlike the Audi, Porsche and Toyota LMP-1 prototype racers of the modern era, back in the day there was little difference between the cars gunning for the outright win and road-legal sportscars. Cars like the Ferrari 250 GTO and even the mid-engined 250 LM were built to win on the track but they needed little more than registration plates to be driven legally on the road. Consequently, a cottage industry emerged converting new GT40 racers into road cars and a variety of prestigeous retrospective regularity events like the Tour de France Auto and the Modena Cento Ore now specifically cater for such cars.
However, back in 1967 Ford produced a purpose-built, road-legal version of its Le Mans-winning race car. Called the GT40 Mk. III, it was altered in a number of ways to make it more user-friendly. The rear bodywork was lengthened by about 8-inches to provide a modicum of bootspace, the Mustang-sourced 4.7-litre V8 was detuned from 400bhp or more to 335bhp, silencers were fitted, the suspension was softened, two pairs of round headlamps replaced the racer's rectangular lamps, it was available in LHD or RHD (racing GT40s were all RHD) and the gearstick was moved from the far right of the cockpit to the centre. Interior trim and a ventilation system were also added, and no road car was complete back then without an ashtray.
As a Ford of Britain press advertisement of the day proclaimed:
The Ford GT40
£7,540
0-60mph: 6 secs
1st gear: 58mph
Top gear: 164mph
Boot space: laughable
Petrol consumption: wicked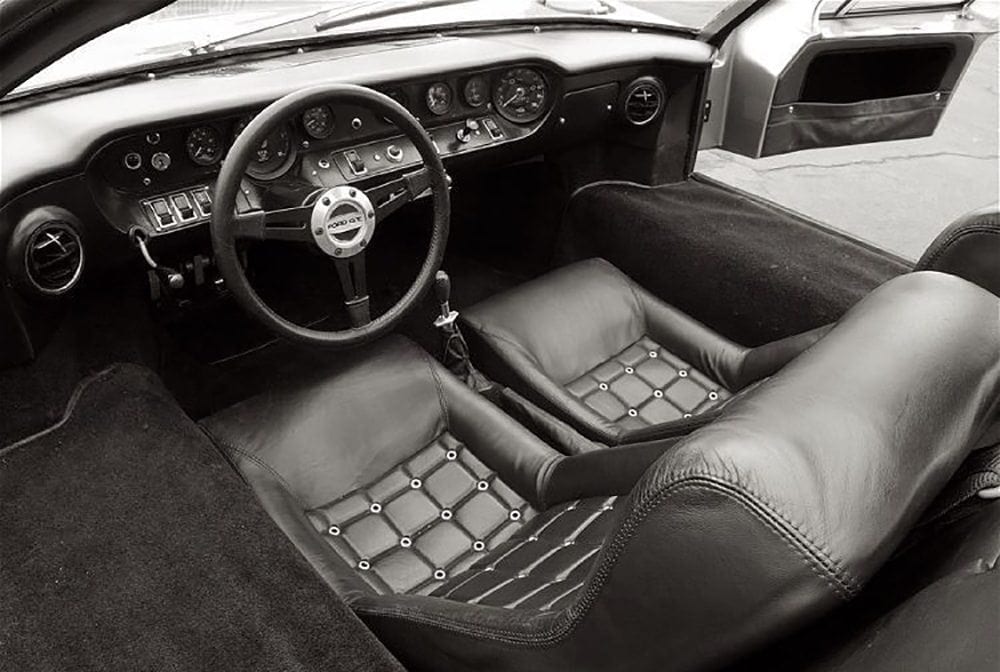 Although producing a 1,000kg road-legal version of an all-conquering racer must have seemed like a good idea at the time, the Mk. III proved to be the wrong car at the wrong time. Ford put little weight behind its development or marketing – partly due to forthcoming emissions and safety regs which the Mk. III wouldn't meet – and priced at $18,500 in the US (about $2,000 more than a Mk II racer), most of the few customers in the market for such a car opted for a converted GT40 racer. As a result, only seven Mk. IIIs were built.
FORD GT70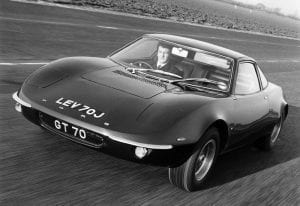 Conceived by Ford of Britain and built from 1970-73, the GT70 was a prototype Lancia Stratos rival intended for international rallying. Initially powered by a mid-mounted 2.6-litre Ford V6 with drive to the rear wheels, later cars were fitted with a 1.6-litre Cosworth 4-cyl engine. However, the many major successes of the Ford Escort as a rally car spelled the end for the GT70 project and just six were built.
FORD GT (2004-2006)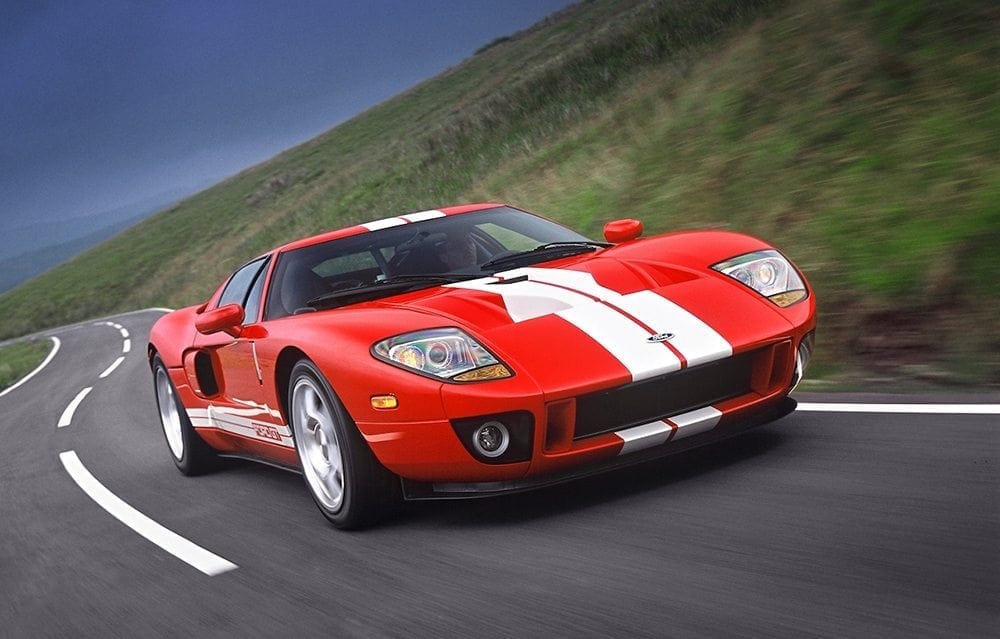 Unveiled by Bill Ford at the 2002 Detroit Auto Show, Ford's GT40 Concept bore an uncanny likeness to the original GT, but this Concept was entirely new and featured an aluminum spaceframe chassis, aluminum body panels and a fiberglass bonnet. With carbon-fibre used in the aerodynamic underbody and seats, contemporary weight-saving methods were much in evidence.
With a roomy, well-equipped cabin the car proved a massive hit and it precipitated Ford's announcment just 45 days after that first reveal that a production model was already in the pipeline. This would serve as the perfect centerpiece to the company's centenary celebrations in 2004, the same year the first production GTs, built in Wixom, Michigan, were delivered to their owners.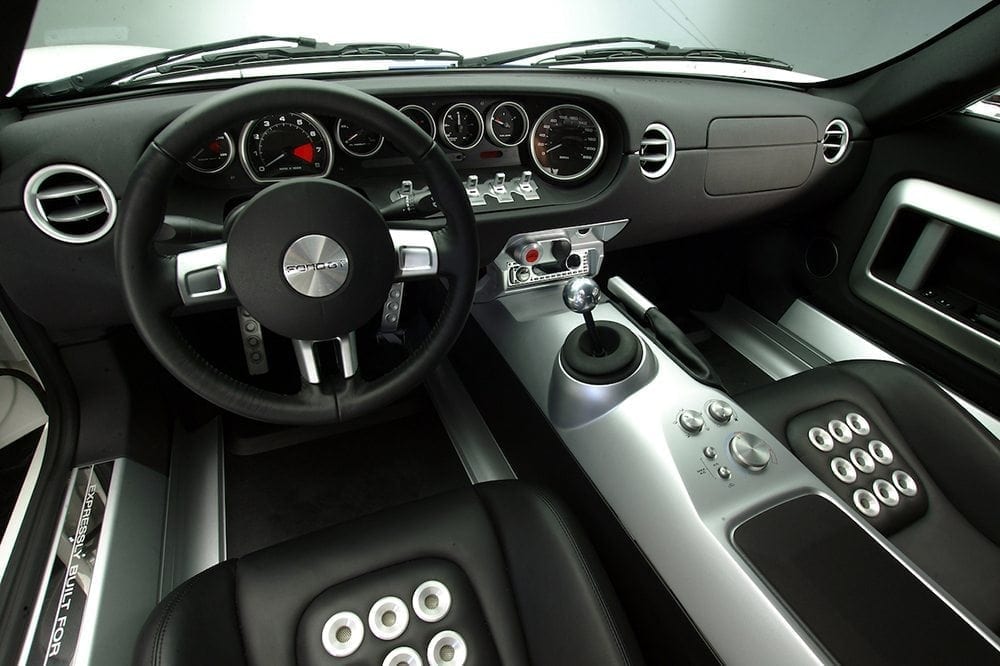 Despite being far more sophisticated, civilized and easier to drive, the new GT followed a very similar formula to the '60s GT40. With a powerful mid-mounted V8 clothed in very similar if less compact bodywork – the new GT was almost 4-inches taller and over 18-inches longer – it weighed 1,580kgs and its supercharged 5.4-litre motor delivered 550bhp with 500lb/ft – similar figures to those of the Le Mans-winning 7-litre V8s of '66 and '67. Power was fed to the rear wheels via a Ricardo 6-speed manual and a limited-slip diff.
Ford's quoted figures were: 0-100mph in 8.6 seconds, a standing start quarter mile time of 11.6 secs at a terminal speed of 128mph, and a top speed of 205mph. American magazine Car and Driver recorded 0-60mph in 3.3 seconds, while Road & Track managed 0-150mph in 19.5 secs and the full mile from a standing start in 29.9 secs at 171.4mph. Braking was taken care of by ventilated, cross-drilled steel Brembo discs with 4-piston monobloc calipers with ABS.
Of the 4,000 or so built, just 28 GTs were officially imported into the UK priced at upward of £120k apiece, although it's reckoned that there are probably about four times as many here now.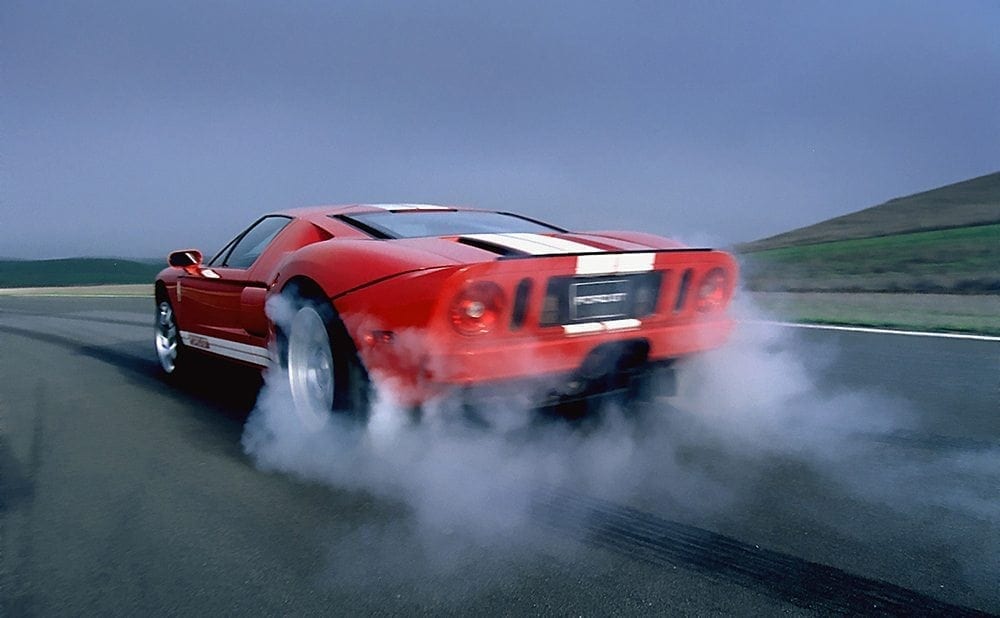 FORD GT90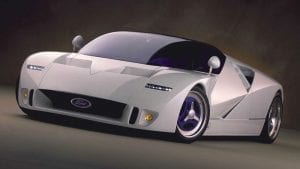 Built in secret at a cost of around £3m and using adapted underpinnings from the Jaguar XJ220 (Ford owned Jaguar at the time), the stunning GT90 predated the later GT Concept by some nine years. Unveiled at the Detroit motorshow in early 1995 it had a honeycomb-section aluminium monocoque chassis with carbonfibre body panels and it was the first example of Ford's forthcoming 'New Edge' design direction. With a 6-litre 720bhp quad-turbo V12, Ford reckoned it was capable of 0-60 in 3.1 secs and 253mph. Although it was initially suggested that the car might make production and go racing, Ford later confirmed that the GT90 was always a design and engineering project never destined for production. Shame.
FORD GT (2015 – )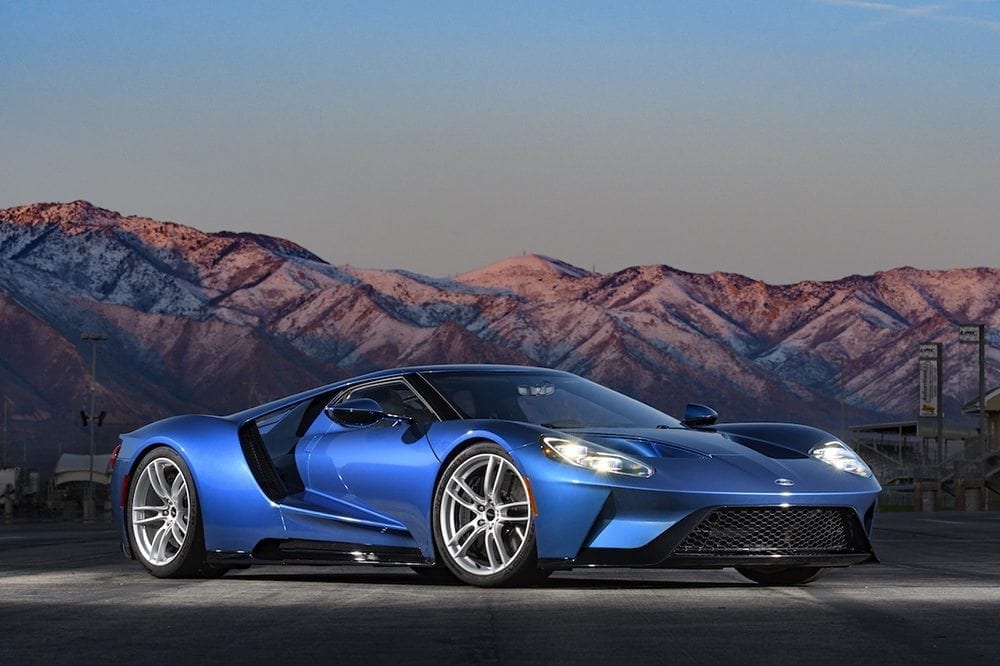 As mentioned at the beginning, the current GT was designed and developed simultaneously both as a racer and a road car, but it was most definitely conceived as a racer with the road version being the result of Le Mans rules which state that GTE-class cars must be based on road-legal production models.
Unlike its V8-powered predecessors, the new GT has a more compact mid-mounted 3.5-litre V6. Just as the early GTs employed modified Galaxie and Mustang production engines, so does the new GT as around 60% of its engine parts are from Ford's 450bhp F-150 Raptor pick-up truck. If that sounds a tad agricultural for a contemporary supercar then also consider that the GT's V6 is all aluminium with twin turbos, double overhead cams, 24 valves, variable cam timing, sequential fuel injection and, via a 7-speed, dual-clutch sequential transmission, it punches out 637bhp and 550lb/ft of torque. (Horsepower is reduced to around 500bhp in the race version due to Le Mans' Balance of Power regulations designed to equalise the on-track performance of near pure racers like the GT and modified production road cars like the Aston Martin Vantage.)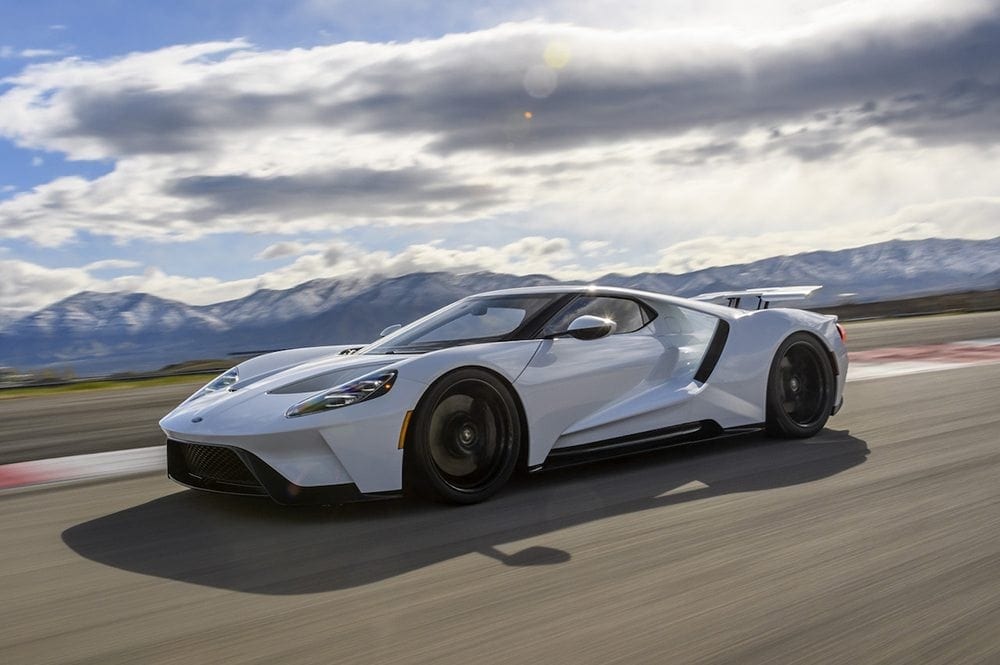 With a 2.8-second 0-62 time and a 216mph top speed, it's no surprise that the 1,385kg GT is the fastest production Ford to date, and its racing credentials go right to its very core. The carbonfibre monocoque chassis contains an integrated steel roll cage as required for racing, while the pushrod-operated active suspension assemblies (with two separate springs at each corner for road or track) are mounted inboard for optimal under- and through-the-body aerodynamics. The GT's rear wing not only moves up and down, but it also has a moving lower edge for either max downforce or minimum drag.
During development testing in 2016, a Ford GT road car was pitted against a McLaren 675LT and a Ferrari 458 Speciale on a circuit in Canada. The three cars were similarly track-prepared and were driven in identical conditions by the same driver: Ferrari 2:12.9, McLaren 2:10.88, Ford 2:09.8.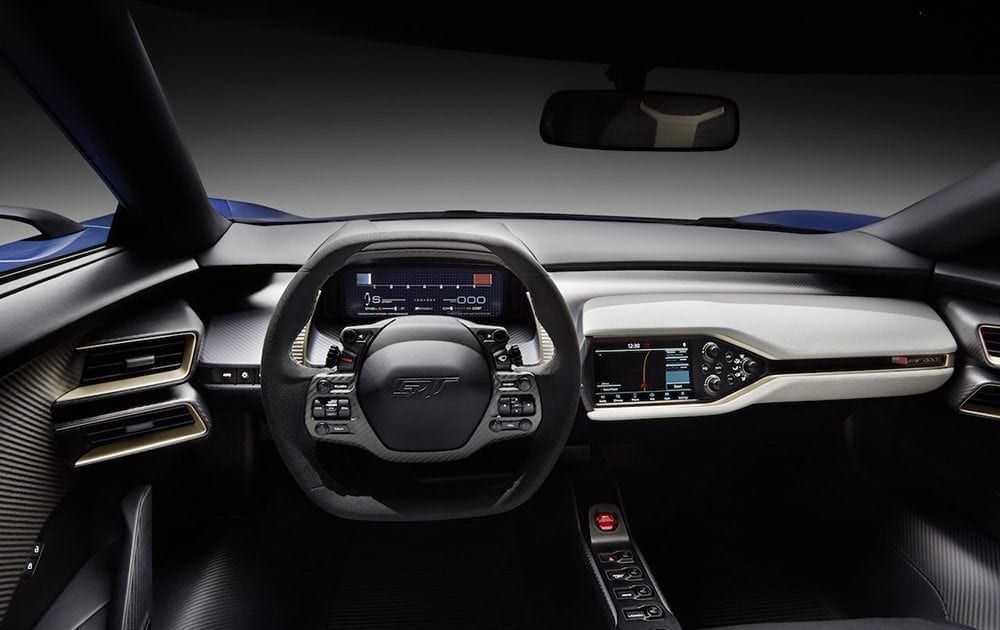 Inside, and in common with the 1960s GT40, the seats are fixed (so permitting the cabin the lowest possible frontal area) and the driving position is adjusted by moving the pedals and wheel fore and aft. Over 50 sensors monitor pretty much everything from air humidity to driver inputs. This generates 100GB of data per hour which is fed to 25 computers that together can process 300MB of data per second. Marginally less hi-tech is the pair of retractable aluminium cup holders concealed within the GT's centre console.
Needless to say, all this comes at a price – £420,000 without options – a hefty sum for the Blue Oval brand whose bread and butter is Fiestas, Focuses and F-150 pick-ups – although every one of the 1,000 GTs Ford plans to build over the next four years is already spoken for.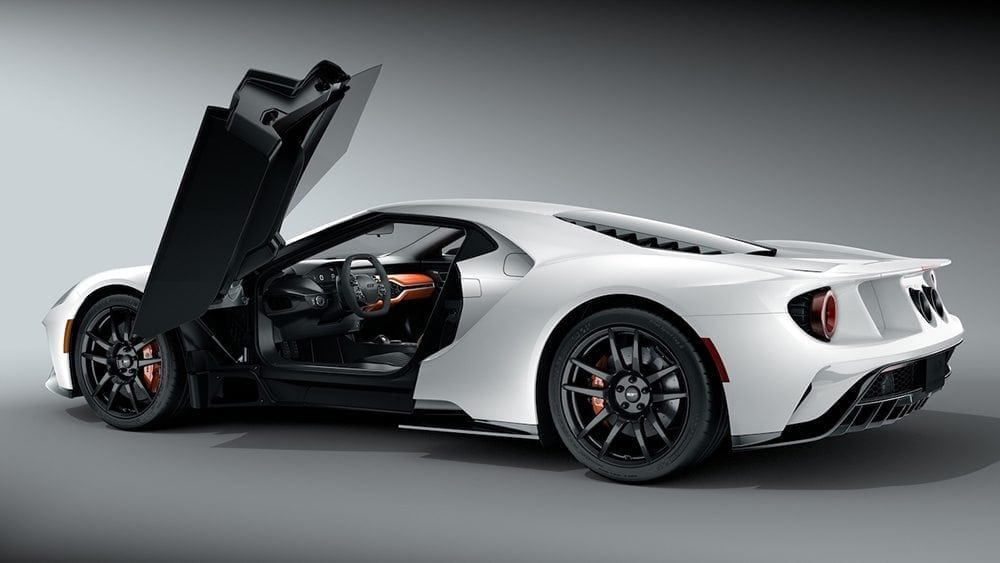 THE FORD GT – 54 YEARS AND COUNTING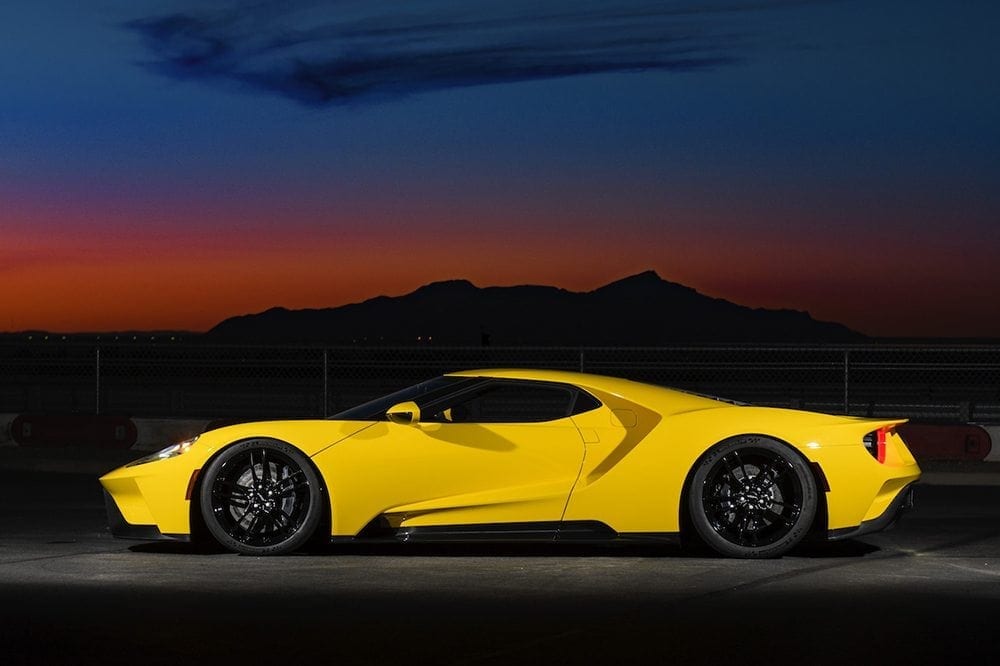 That completes our look at Ford's illustrious line of two-seater GT models. Following the current GT's success in racing, not to mention some £420 million in sales, the question now is whether instead of modifying existing production sports and supercars for GT-class racing, other manufacturers will start building pure racing cars, with road versions available to the general public. If or when that happens then both supercars and sportscar racing will have entered into new and very different eras.
Meanwhile, we've created bespoke finance solutions for all manner of classics and supercars for numerous clients. To discuss how we might help you own the GT car of your dreams, please call one of our experts today on 020 3355 0035.
CURRENT VALUES, approx:
Ford GT40 replica/evocation £50,000 – £120,000
Ford GT40 original £2,500,000 – £4,500,000+
Ford GT, 2004-2006 £240,000 – £270,000
Ford GT, 2017 £420,000+