A busy auction update showing there is huge appetite for famous cars. In this update: Jerry Seinfeld's wingless 2016 Porsche 911 GT3 RS; Jane Fonda's 1966 Ferrari 275 GTB, and a new highwater mark for a 1995 F50…
read more
200 drivers of a truly dazzling array of supercars descend on the West Sussex motor circuit on Sunday 16th May. For Supercar Driver (SCD.), which organised the event, it was a case of history in the making…
read more
JBR Capital talk with Supercar Driver member Kushi Bachada about his supercar garage, which includes a Ferrari 488 Spider, Porsche 992 Cabriolet and Porsche 991 Gen II GT3 RS.
read more
Cosworth RS Police Cars, the Carrera GT and meeting Tom Cruise – Amanda and Darren chat with Dean Bartle about his eclectic automotive journey.
read more
The US season-opening Scottsdale sales had a very different look this year with catalogues from the Big Three; Bonhams and RM Sotheby's and Gooding & Company…
read more
In these turbulent times, choosing the right car to put your money into can be a challenge. It doesn't have to be, though. Darren Selig, Founder and Chief Commercial Officer of JBR Capital, discusses future classics to buy in 2021.
read more
Footballers' cars – exploring the automotive goals of the sport's biggest stars
read more
Unprecedented demand resulted in a record month for JBR Capital
read more
FCA ban on discretionary commission models in the motor finance market and clarification on finance commission disclosure aims to see customers' financing costs reduce…
read more
Amanda Stretton and Darren Selig reflect on the last twelve months for the luxury car market, discuss electric vehicles and much more…
read more
Part of what makes up the complex identity of the supercar is its exclusivity, a factor driven not just by design or performance but by the sky-high ticket prices that come with the territory. It's the least glamorous piece of the puzzle, but it's a vital one. In...
read more
Fund Your Passion: JBR Capital will accelerate its business growth in 2021 with an even greater focus on the unrivalled service it provides to car owners…
read more
In these turbulent times, choosing the right car to put your money in can be a challenge. It doesn't have to be though, says Darren Selig, founder and Executive Chairman of JBR Capital
read more
Is the significant interest in young Porsches sustainable?
read more
Our founder, Darren Selig, takes time to reflect on our £500 million lending milestone as we continue our commitment to fund your passion. Read the story of JBR Capital!
read more
We take a look at the history of the concept car and celebrate those that pushed the boundaries of technology and design… with an eye on the Electric Cars of the future
read more
See stats, best cars sold and auction review for March – June 2020. This year's Amelia Island sales were the final top-tier 'physical' auctions to take place in the US…
read more
Our version of 'Dollar per horsepower' from the land of the muscle cars. We are looking at £GBP per mph for some of the most popular supercars at the moment. See the results!
read more
See stats, best cars sold and auction review for March – June 2020. This year's Amelia Island sales were the final top-tier 'physical' auctions to take place in the US…
read more
The automotive industry is in a transitory state – with environmental concerns leading to an onslaught of electric cars and luxury brands taking a long hard look at their powertrain strategies manufacturers are in a rapid state of change.
read more
This article was written in March 2020 and all the examples below are of actual or recent cars for sale. We've scanned all the usual classified ads – from Pistonheads to AutoTrader and Collecting Cars – and tried to align some of the most…
read more
The event was cancelled due to the Coronavirus outbreak, but the show must go on. These are the cars unveiled this week that you would've seen at the 2020 Geneva Motor Show.
read more
Here is our pick on the most iconic cars launched at Geneva Motor Show in 90 years since the event has opened its doors to the public.
read more
rrepressible is one way to describe Sheikh Amari of Amari Supercars. He greets you with a warm smile, then welcomes you inside on the the most spectacular car dealerships anywhere in the UK. He's talkative, engaging and clearly right at home among...
read more
otoring journalists, professional drivers and expert automotive engineers all agree – the most entertaining cars are those that favour light weight over horsepower. Caterham and Lotus have been getting this right for decades, and more recently – so...
read more
Spot the new Porsche 911 GT3 in this year's Super Bowl advert. Here is what you can see about the new model in one second.
read more
Here are the cars that some of our dealer friends believe demonstrate great value-for-money at present. We doubt they'll hang around for long…
read more
OK, we're prepared to go out on a limb here and say that 2020 is going to be the most exciting year for premium and supercars… ever. Bold statement, but let's look at the key cars arriving this year... Aston Martin DBX Aston Martin enters the SUV market with the DBX –...
read more
Restomods are an emerging phenomenon in the luxury and collector car market, but just what is a restomod and is it a passing fad?
read more
A regular fixture on the auction calendar, The Bonhams Bond Street Sale takes place on Saturday, 7th December. JBR Capital will be there to answer any questions about financing one of the cars under the hammer.
read more
JBR Capital signs marketing agreement with Bonhams Motoring Division, ahead of 2019 Bonhams Bond Street Sale.
read more
We've compiled a list of the 20 very best shows – the ones you really don't want to miss …
read more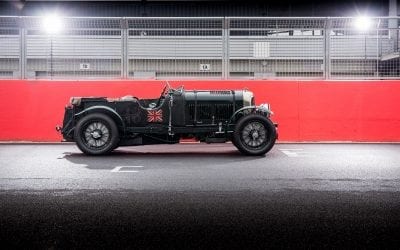 OK, we're pushing it, but the music star and the fictional hero have something in common. Find out what this is by reading further! (Hint: a well known car marque)
read more
Nick Trott tells JBR Capital, all about racing a McLaren 570S GT4 around the Silverstone Grand Prix Circuit as part of the 'Pure Mclaren GT Series' events.
read more
The JBR Capital team continued its aim to be at the heart of all the key motoring events with a recent trip to Switzerland at the Bonmont Bonhams sale. View results here!
read more
Just how fast is the automotive industry moving towards electric cars? JBR Capital attended the Frankfurt Motor Show to find out.
read more
The art-truck, named 'Turbo Zone Truck (Laugh Now But One Day We'll Be In Charge)', is expected to fetch between £1m-£1.5m, find out how you could finance this piece of art through car finance agreement.
read more
Cars are changing, the reasons we love them are changing – and so are the finance options that fund them. Our renewed mission #fundyourpassion – read about it!
read more
A guide to high-end vehicle transportation from Cosdel, experts with over 50 years of transporting classics for the world's best-known collectors and dealers.
read more
We analysed the fluctiations in currency exchange rate between Euro, Dollar and Pound to understand the impact this had across the classic car market.
read more
In Zagato's centenary year we present an A to Z of the Milanese firm's collaborations with Aston Martin.
read more
Here is our celebratory round-up of all the more generously-cylindered engines available now or coming soon the UK – V8, V10, V12 and W16 engines to own.
read more
See stats, best cars sold and auction review for RM Sotheby's Youngtimer Collection. This highly anticipated event saw 140 modern classic cars go under the hammer, across 4 events between February and April 2019.
read more
The Geneva International Motor Show has once again set tongues wagging. Here is our round-up of the 10 most exciting supercars from Geneva 2019, as well as COO Stephen Halstead's reasons for choosing these.
read more
Country-by-country bullet-point round-up of the good, the mad and the obscure in the world of Hybrid & EV Hypercars.
read more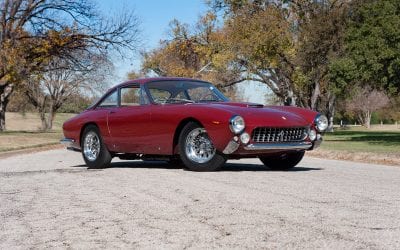 The expectation is that of a more affordable purchase than buying a factory-new model, with an increase in value in the coming years. But what is the basis of this expectation…?
read more
Dr Vincent van der Vinne looks at the intriguing history of the Dino, and it's transformation from 'affordable' Ferrari to the collector gem it is today…
read more
We review the 'car of the year' – the Alpine A110. We take the car on the road and on the track at Goodwood, as well as getting some insights from BTCC driver Jake Hill and Alpine's John Fuggles…
read more
Two auction houses held three sales in early December with 174 cars coming under the hammer, we look at the car sold and how much they went for…
read more
Thinking about going green without sacrificing creature comforts or performance? To help guide you through what's what eco-wise, we take a look at what the prestige brands have to offer now, and what's in the proverbial pipeline.
read more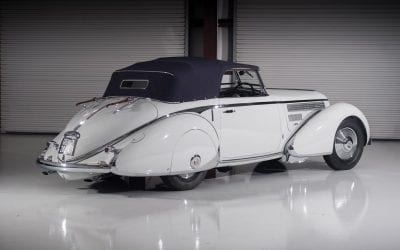 In part two of this in-depth article by Dr Vincent van der Vinne we look more closely at the connection between the classic car and art investment market, and how it correlates to today's economy.
read more
Saloons too ordinary? SUVs too large? Sounds like you're in the market for a distinctive prestige coupé. We've selected five of the best two-seater and 2+2 hardtops to help you choose a prestige coupé….
read more
With the 70th anniversary of the Land Rover behind us, and the 50 years of Range Rover celebrations ahead, we've decided to take a look back at the Range Rover's history, plotting its progress over four generations…
read more
When is an SUV not an SUV? According to Lamborghini, when it's an SSUV – a Super Sports Utility Vehicle – and right now there's only one of those: The Urus. We take a look at the new Urus, and find out exactly what makes it a Super SUV.
read more
In this in-depth article Dr Vincent van der Vinne looks at classic car investment market, and how it parallels that of the arts.
read more
How many people are familiar with the Lamborghini Islero? Dr. Vincent van der Vinne, helps us turn the spotlight on this little-known Italian thoroughbred.
read more
Following the three major auctions held during Monterey Car Week in late August, momentum was maintained by RM Sotheby's and Bonhams again holding sales…
read more
An introduction To the benefits to classic vehicle ownership of 3D Scanning , by KW Heritage, a division of KW Special Projects.
read more
A clear sunny day, an empty runway circuit and a 60s-styled GT supercar. The David Brown Speedback Silverstone Edition, lived up to its supercar credentials and looked stylish doing so!
read more
In Part 1 we considered our pick of the more affordable Low Stress Classics and here in Part 2 we look at some higher-end classics.
read more
British-made luxury cars rank as the most popular in 2018, according to JBR Capital, the UK's leading independent finance provider dedicated to high-end vehicles.
read more
We were lucky enough to test three Morgans: The V6 Roadster, the 4/4 and the 3 Wheeler. You can view our video review, and read on to see what I thought of each car.
read more
In the first of our new series of 'Classic Drives,' we take a closer look at a beautifully-restored Aston Martin DB6 and see why it may trump the DB5 as a grand tourer.
read more
Something rather special: the new Rolls-Royce Phantom VIII – a car that redefines luxury and is, perhaps surprisingly, as enjoyable to drive as it is to be driven in.
read more
Cars have always been an important part of our lives. However, for some, they are a social symbol where no expense is spared. The figures paid for the following majestic vehicles are almost unbelievable. See the list of the 75 most expensive cars sold at auction.
read more
I recently spent some time with the 50th Anniversary edition of the Morgan Plus 8, thanks to our friends at Beamish Morgan, and it's fair to say that I was blown away (both literally and figuratively!) by the car.
read more
We caught up with our friends at Ginetta to find out more about the Ginetta Racing Drivers Club (GRDC) – a racing programme designed for newcomers to motorsport. We joined them at Rockingham for the British GT event…
read more
This Saturday (March 24th) we were lucky enough to join 300 supercars at Bruntingthorpe Proving Ground for SuperCar Driver's season-opening event, the 'secret meet.'
read more
Aston Martin has produced some exceptional cars over the years and we were lucky enough to get our hands on one – a Vantage GT8 that is currently for sale at GT Heritage in Henley…
read more
In the supercar category, the debuts and premieres really stole the show, with the likes of Aston Martin Lagonda, Hennessey, Porsche, Ferrari and McLaren bringing their latest and greatest to the Palexpo in Geneva.
read more
The options are plentiful when looking at 0-60s, brand new technology or sublime comfort but what about when it comes to needing all of the above AND four seats? Check out JBR's list of best in class answers.
read more
No hard and fast rules govern these topics, but excellent racing provenance, originality and number of private owners are the key golden guidelines to drive the price of your rare beast through the roof.
read more
There have been many quite modest cars which were appreciated for their practicality and affordability when new, but it was inconceivable that they would ever become sought-after by collectors and, in some cases, quite valuable.
read more
For reasons of safety, continued reliability and value preservation, proper care and maintenance is crucial whether the car is driven frequently, occasionally or it spends much of its time in hibernation…
read more
The Lancia Aurelia is one of the most famous cars of this Italian marque. From the original sporting streamlined coupe, a Spider version was born in the mid-'50s, later replaced by the Aurelia Convertible…
read more
Last year, JBR Capital – providers of high-end vehicle finance – revealed its top 10 supercars of the year. These are the most popular luxury high-performance models that JBR Capital has provided loans on over the last 12 month.
read more
It's that time of year when we look back on the past 12 months and take stock. With that in mind we invited Dr. Vincent van der Vinne, author of 'Investing in Cars,' to look back on what has been an exciting year for auction houses around the world.
read more
See a Lamborghini Huracan in action at Goodwood, as our coach Steve Glynn reveals why improving your driving skills is the number one consideration to getting the most out of a track day.
read more
Sometimes the efforts of the industry's finest manufacturers don't quite satisfy our clients' desires for individuality. In those instances, they turn to the modifiers. In the first of our two-part, we look at the history and recent projects from Brabus and Kahn.
read more
We recently held our first track day at the Goodwood Motor Circuit as part of our Drivers Club programme. A stunning selection of cars took to the track.
read more
Our very own Martin Moore gets to drive the McLaren 570S. Watch the car in action in our video review.
read more
The McLaren 720S, launched at the Geneva show earlier this year, is a stupendously, staggeringly, mindbendingly quick car. Read our full in-depth review of this latest hypercar by McLaren.
read more
Follow us on a journey through 54 years of Ford's illustrious line of two-seater GT models in an in-depth feature about these legendary sports cars.
read more
In late July Rolls-Royce revealed its all-new Phantom. This eighth-generation model replaces the previous Phantom which, like the six generations before that, was widely regarded as 'The Best Car in the World'. However, some might beg to differ with that assertion.
read more
Evoque comes top of a league table of luxury cars bought by footballers – the Top 10 is dominated by supercars and high-end models. Read on to see the full list…
read more
The calendar for classic car shows seems busier every year, but there are two events that are particular highlights: Salon Privé and the Concours of Elegance at Hampton Court Palace.
read more
August is a time of great anticipation in the collectors car world, with much of it centered around the Pebble Beach Concours and the big three auctions staged by Bonhams, Gooding & Co. and RM Sotheby's during 'Monterey Week' in California.
read more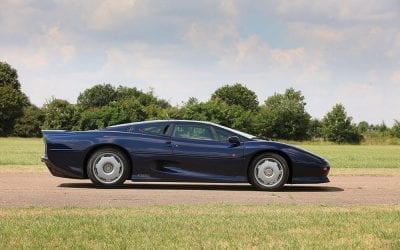 The Jaguar XJ220 – when will it be appreciated?
read more
Twenty years ago, in December 1996, Brooks auctioned a nice original Maserati 3500 GT Spider for £29,000. In February 2015 Artcurial sold one in similar condition for £620,000. Why, you may ask, is the Maserati 3500 GT/GTI Spider such an interesting car?
read more
Following our round-up of 2017's classic and supercar events in the UK, here as promised is our pick of the best similar happenings abroad.
read more
Bonhams' 18th annual Aston Martin sale at Aston Martin's spiritual home in Newport Pagnell on Saturday 13th May achieved over £5 million.
read more
JBR Capital names top five automotive investments, which are more affordable than you think – A future classic could be yours for less than jetting off to Edinburgh on a city break
read more
Dr Vincent van der Vinne returns as our guest blog writer this week, and this time he offers his analysis on the phenomenal recent growth in values of the Bentley R-Type and S Continental Fastbacks, as well as some insight from two owners of these fine historic cars.
read more
Say hello to the Abarth 595 and 695. Yes, they're based on Fiat's cute and hugely popular 500 citycar, but nothing comes closer to being a baby supercar, especially if it's a limited-edition gem of which Abarth has now turned out several.
read more
Owners of supercars and classics are often in need of a more practical car, and there are some fast, luxurious and highly desirable grand tourer prestige cars out there. We recently took the stunning Rolls-Royce Wraith for a spin.
read more
Following our blog on the 'instant classics'– supercars that have attracted a significant premium as soon as they've been delivered – we bring you another that is a stunning driving machine…
read more
In recent blogs we've brought you the lowdown on the most recent hypercar Holy Trinity, a 1960s Classic Trinity and another from the 2000s.
read more
Coinciding with the famous Retromobile show at the Porte de Versailles, three of the leading auction houses recently held their European season-openers in Paris: RM Sotheby's, followed by Bonhams and then Artcurial.
read more
We very much hope to see you at the show, which takes place at the Excel Centre on February 23-26. Our stand is B25, located close to the main entrance. If you have trouble finding it, look for the stunning Aston Martin DB4 Zagato we're displaying on the stand.
read more
Having covered the recent Holy Trinity of hypercars, we then jumped back half a century to the Holy Trinity of the early 1960s, we now take a leap forward again to the 2000s. A closer look at the Enzo Ferrari, Mercedes-Benz McLaren SLR & Porsche Carrera GT.
read more
Prompted by the first episode of Clarkson, May and Hammond's Grand Tour, last November we wrote a feature on the Ferrari LaFerrari, McLaren P1 and Porsche 918 Spyder, aka The Holy Trinity. And that got us thinking about similar Holy Trinities of yesteryear.
read more
Having covered the 1960s and 1970s, here's our wish list from the 1980s. These cars from the '80s are no less exciting, and provide food for thought regarding their investment potential.
read more
In the UK it's generally thought that if you need a large and luxurious SUV that's as capable on a muddy moorland track as it is in the badlands of Belgravia, then the preferred choice would likely be a Range Rover. Or possibly a Toyota Landcruiser…
read more
Our run-down of the five classic cars we wished were on our parents' driveways in the 1970s, with accompanying value increases.
read more
Following our blog on the 'instant classics' of 2016 – supercars that have attracted a significant premium as soon as they've been delivered …
read more
We look at the top five classic cars we wished were on our parents' driveways in the 1960s, and have appreciated in value nicely over the years.
read more
Ever dreamed of discovering a lost classic car? We spoke to eight car experts who did just that. They share their stories of memorable classic car finds.
read more
As Jeremy Clarkson and The Grand Tour team hit the track to give their views on the Holy Trinity, we take a closer look at these hybrid hypercars with insight from two collectors who own all three.
read more
This year, and neatly coinciding with the 20th anniversary of the original SLK class, Mercedes has launched a new version of their SLK range, and with it a facelift and an update to the long running name.
read more
Tom Stewart has been reviewing cars professionally for 25 years but was yet to get behind the wheel of a McLaren. At last, his McLaren cherry has been popped, as he gives us his 'first drive' impressions of the McLaren 570S, 650S Spider and 570GT.
read more
If collectors' car auctioneers ever have a chance to sit back and take it easy, it's certainly not during August and September. As usual, most interest is focussed on the high-end sales held by Bonhams at Quail Lodge, RM Sotheby's at Monterey & Gooding & Co at Pebble Beach.
read more
The major sports and supercar manufacturers have treated us with a veritable feast of special limited-edition variants over the past 12 months. These cars are not only stunning but are also becoming instant classics and attracting a significant premium as soon as they have been delivered.
read more
Being a British Luxury car finance company we are big fans of Aston Martin, and the DB9 is an unexpected favorite of ours. Read our run through the specs over the years…
read more